Well, I decided it was time to change out the Santee for a very slightly longer, very slightly narrower plastic rec boat. There are times I don't want to take either of the Impex fiberglass kayaks, and I wanted an appropriate alternative.
I did a lot of research online to find just the one I wanted. Interestingly, the shop (Paddlers Paradise) near Atlanta, where I got the Mystic and therefore of course one place I looked at kayaks via their website, had one that fit the bill measurement-wise. 12'5" long, 24" wide. I talked to Mike, one of the owners of the shop, several times about their Riot Stealth. I had not paid any attention to Riot boats in any of my research forays since I associate them with white-water kayaks. Wrong.... They have a very respectable line of rec and touring boats as well. I found some favorable reviews about the Stealth. The price was right. I was ready for a short road trip with an overnight, so I headed out there yesterday morning.
They had a blue/white mix, a red/yellow mix, and a plain yellow. While my very first yak was yellow, I have tended to prefer other colors. The red/yellow mix had a sort-of skeg, and from what I had read, these boats track very well, so I didn't want the skeg. Looks like it's the blue and white! Fine with me!
I got there around 2 pm. Of course I immediately sat in the boat on the showroom floor--and WOW, this is one comfortable boat. Clearly the Riot people have listened to kayakers' complaints about seat comfort. Yikes. It's luxuriously padded with a high back that is adjustable from inside the boat. I was surprised to find that it had padded thigh braces, as well as adjustable hip braces on either side of the seat. It was easily twice as nice as I had expected it to be at that price (you can find one for $600 on sale). It has the most bizarre bottom. It's like it has a shallow trough in the center, which actually creates a hump in the floor of the boat (which I discovered makes for a nice foot brace if you're changing position and shift your feet off the foot pegs) (which reminds me, I need to order another set of "Peg Pads"--a must for barefoot paddlers!). This trough creates sort of
rails
on either side, which contribute greatly to the tracking ability. And yet it turns very easily via a sweep stroke or ruddering. I'll get a picture of it upside down when I get it out of the car to show you what I mean.
Mike asked if I wanted to try it out on a nearby lake. Are you kidding? I hadn't expected to get a paddle in on this trip so I jumped at the chance. He loaded up our PFDs and paddles (of course I had taken mine) and put the Stealth on his truck next to his canoe and we headed out for a private cove on Allatoona Lake.
We paddled the cove for awhile and I got to know the boat. He took me down a narrow creek, very like the backwater areas on the Wakulla. The boat felt great. The sides seem extremely high to me compared to the Mystic and Montauk, but this contributed to the "rec" part of this boat--I was getting it for its stability for use in the lakes around here, which have an abundance of just-beneath-the-surface timber. Too bad I didn't take the camera--lots of ducks (but not woodies) that I wanted to photograph. I was particularly impressed again with the seat. I'd been driving for about 5 and a half hours and then went right to sitting in a kayak--the fact that I didn't get kayak butt says a lot about the comfort! We were out about 45 minutes (long demo!).
I stayed overnight in a motel very near the shop. I paid for the boat yesterday and arranged to pick it up early this morning. I got it after breakfast and headed back south.
When I got to Cordele, GA, it was only about noon, and that is perhaps 2 hours from home. Hmmm...and there is also a state park there on a lake. Might as well do a recon of that to see if I might want to camp there this fall and winter.
Well, to get it out of the way, I can say that the camping at this park (Georgia Veterans SP) is completely geared toward RVs. While the sites are nicely spaced and right down at the water, they are 100%
gravel
. Not dirt with some stones,
real gravel
. Not too tent-friendly.
At any rate, I put in at the boat ramp and headed for the least populated area. But of course I first took a picture of the Stealth.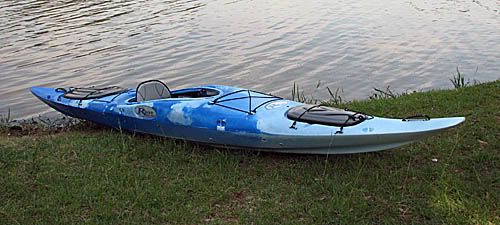 There are remarkably few birds on this lake. I saw one great blue heron fly overhead, a little blue heron flying across the water, and some turtles that leapt into the water in terror as I approached. On the other hand, the shoreline looks like it was landscaped! It's very pretty and a joy to paddle past. I even saw one lone water lily among some oversized lily pads.
This turned out to be a great first official paddle with this boat, since it was the kind of water that it will mostly be used in--a lake with power boats and underwater stumps, etc. This lake seems particularly popular with wave runner-type jet skis, but there were also some really large power boats zooming around. You know how when you get a lot of those sort of craft on the water and the wakes from all of them seem to get together to create conglomerate swells that are larger than any of the individual wake waves? I got to see how this boat does in riding those, and I let them come in from the side instead of putting the bow into them (might as well find out now how it does...). It was great. They refer to this boat as both a "light touring" boat and a "river touring" boat. Personally, I'm not sure about applying the term "touring" to any kayak under 14'... I still think it's a rec boat. But it did well. It's not super-speedy (as you may have picked up if you have read other entries, neither am I), but it tracks wonderfully and turns easily.
I paddled as far as some railroad tracks that cross the lake. There were a lot of wildflowers growing along the shoreline there.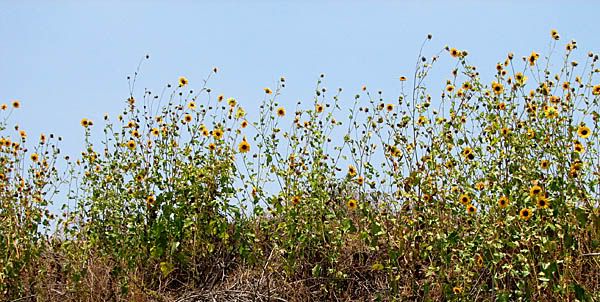 I left the boat loaded in the car; weather permitting, I'll take it out again tomorrow. The Mystic's replacement skeg is still not here--I may have see how well it does without it after all. I miss my #1 boat.
Stand by for the next report.