Finally got back out in the Mystic again, skeg installed and in place. I put in at about 11:30, at which time there was one car in the parking lot, belonging to a couple who set up lawn chairs by the river and settled in. (They were still there when I got back to the ramp a little over 4 hours later.)
There are always several little egrets hanging around the area just off the boat ramp.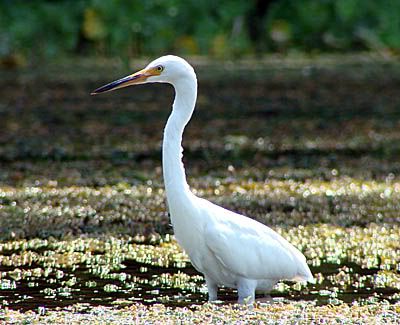 The day started out windless, with the river glassy smooth and with no discernable current. I drifted and paddled downstream without encountering any other boaters of any type—even the seaweed harvesters were elsewhere today. I saw several female wood ducks, but no males. They must be in hiding again, I haven't seen any for several trips now. This egret seemed to think it was completely camouflaged in the tall grass—it didn't move from the time I approached, was alongside, and paddled past.
I decided not to circle Cedar Island today, nor to get out there. Instead, since it was early, I decided to investigate the river a little farther downstream from the island—new territory for me. One of the main book references for paddling this river suggests that if you are doing an out-and-back paddle, it's best to not go past the island because the current picks up. I didn't notice any particular increase, but I didn't go that far. I think I might save that exploration for a day when it is not 95 degrees when I still have to get back upstream. While the current was still mild, it had picked up a bit, and the wind had come in as well. Maybe in the fall.  Before I decided to turn back, I saw this green heron on a fallen tree at the shoreline.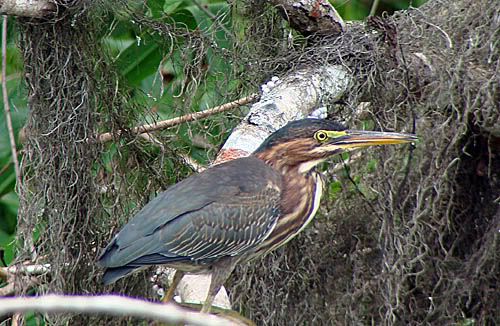 Shortly after turning around, I spotted this ibis in a tree, just watching me go by below it.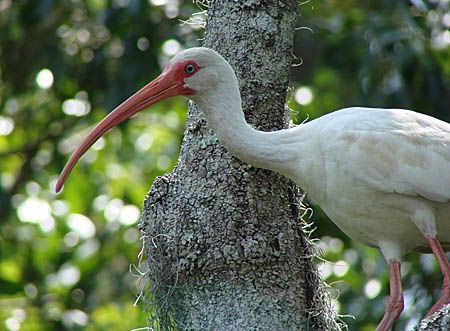 It was an easy paddle upstream, except for one little patch that has a lot of springs under it. Some powerboats had put in at the boat ramp and were zooming around. When you put a kayak on a river or lake that has powerboaters on it, you pretty much have to go into it assuming that you are completely invisible to them. I was way off to the right on a side channel that paralleled the main river when I heard one of them coming back upstream. It seemed so unlikely that they would choose that route rather than the deeper center section, but,
being invisible
, I decided to pull even farther over to the side and park in the reeds till they went by. Good thing I did. They came zooming up exactly where I would have been paddling. There was a guy in the back of the boat steering, and two women perched on the bow, completely obscuring his view (of the river ahead of him; I'm sure he was perfectly content with the view he had), and the motor was loud enough that had one of them said "Don't hit that kayak," it would likely not have been heard. They threw out a huge wake, which was not really a problem for me but would not have been appreciated by a beginner paddler.
After they went by, everything calmed back down and got very quiet and peaceful again. The adult limpkins are still very shy, but this smaller one, probably younger, did not mind my watching it hunt for apple snails at all.
Got one!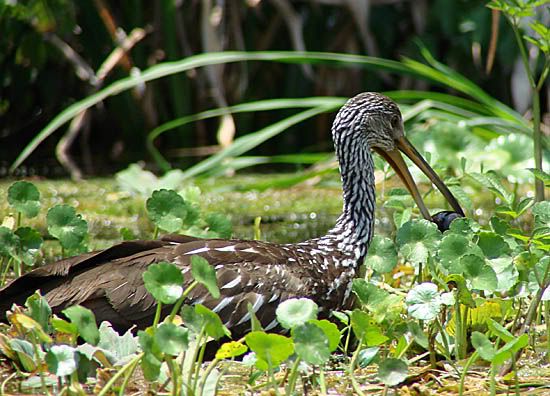 I saw more of those black and white birds that I have not yet identified. This one was in a tree, looking very mussed:
It watched me watch it.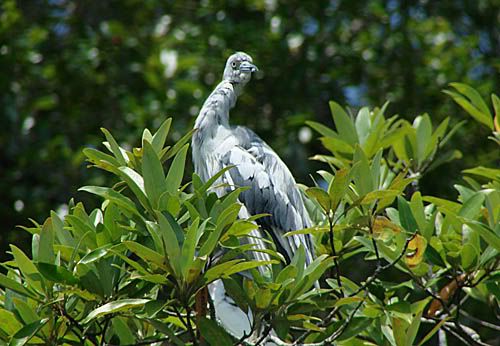 I went into the Blue Spring inlet, but other paddlers had gone in right before me so the birds had left. Still, it's nice in there.
And then back to the boat ramp.  I passed some of what must have been more tricolored herons, although their coloring was more muted and they seemed a bit larger.  But the color pattern is so distinctive, they must have been tricoloreds. This one stood tall as I went by.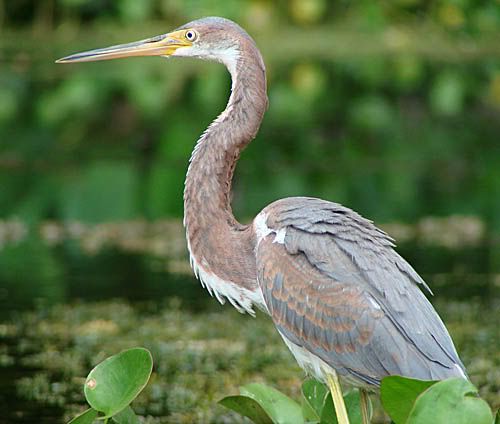 Of course it depends somewhat on your monitor, but that sort of light brown that it has instead of the redder color of others caught my eye.
As I got near the boat ramp, I started peering into the woods to the right, which is where I have spotted a yellow crowned night heron before. They are pretty territorial, so it seemed possible I might spot it in roughly the same place. Sure enough, it was tucked back a few feet from the shoreline.
I'm not sure if it only has one leg or is holding the other one up. It would not surprise me to learn that birds on this river tend to have only one leg, given the gator population....
One last note—the pictures in this post were taken with a new camera making its debut today. It's a Sony DSC-H5. It's on the same consumer level as the Canon I was using. However, it offers better resolution, and the teleconverter lens has just the smidgiest bit more power. I haven't decided whether I like it better than the Canon. It has some excellent features, but lacks others that the Canon has. I like the pictures better—what you see here is pretty much straight out of the camera, only resized and then sharpened. It does have one very annoying feature. Every time you turn it on, you get this little short song with the Sony splash screen. So there I am, quietly approaching a bird to get a picture….the bird has not seen me yet…I turn the camera on….and this ditty plays and the bird looks up and then flies away. I need to find out before I go back out if there is a way to silence this!
Stand by for the next report.