I met my friend Abby (aka
pineyflatwoodsgirl
, aka the Bird Magnet) (and her magnetic powers were working today!) at the boat ramp on Lake Munson at about 11:30 or so. We launched and went to the left. Almost immediately we spotted this giant egret sitting high in a tree, in classic pose: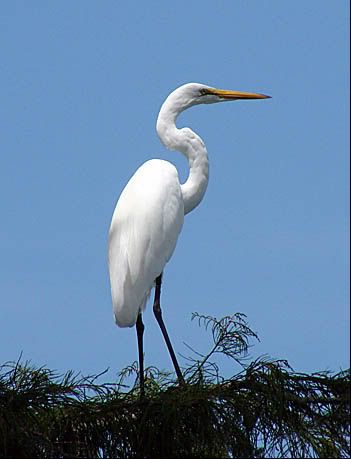 I paddled this lake a few weeks ago and had little luck photographing the many, many birds that fly over it and along the edges—they are very shy. So I was happy to get that picture of the egret and thought that might be about it for bird photos. Meanwhile, it was fun having another person along to talk to and share the experience with; I usually paddle alone.
We made our way around the outside of the lake. We investigated one cove that seemed to be very popular with the resident gators, so we didn't spend a lot of time there.
We noticed a tricolored heron perched fairly low on a tree ahead of us, which was not fleeing at the sight of us. I started taking pictures from a distance. It stayed on the branch as I got closer and closer. Eventually I knew I would have to pick up the paddle before I bumped head-on into a cypress tree—an action I was sure would scare this bird away. Nope. I continued to snap pictures until I was just about beneath it.
A little while later I spotted what I think was the same bird, but in brighter light and facing the other direction, so of course I took another picture of it.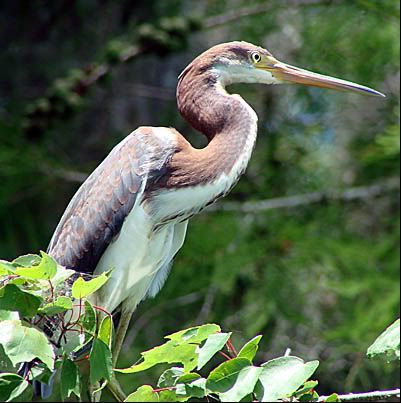 The last time I was on this lake I had gone into a pretty little cove, with wonderful shoreline greenery unlike the rest of the lake, which is mostly layers of cypress trees. There was a channel off the cove, but I did not take it at the time—seemed like something best explored when another person was along. Like today. So off we went.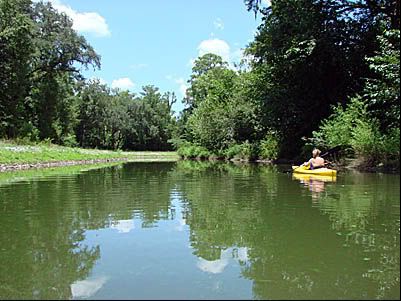 This channel goes a long way, with rocks and some flat grass on one side and grass, trees, and shrubs on the other. It gets shallow in spots, and there is no algae in the water (as there is in the rest of the lake at this time of year).
While we were paddling the channel, we spotted (and disturbed) these two small limpkins, who were having quite a feast of apple snails.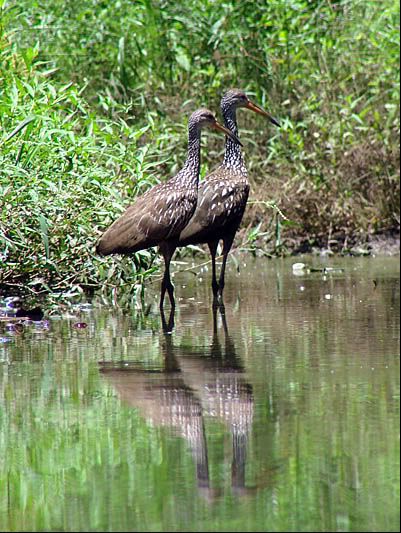 We finally came to the end—not the dam that creates this lake, but just some large round concrete pipes letting water slowly trickle into it.
We paddled out of the channel and continued on our journey around the lake. We came to another scenic area of shoreline, with many birds perched in the trees and at the lake level. I spotted this young brown ibis: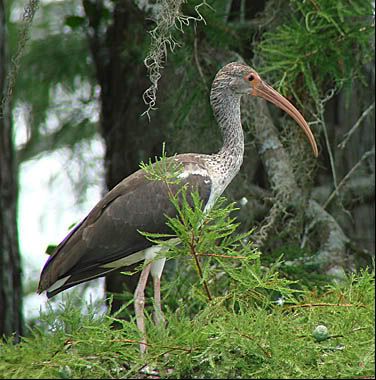 and nearby, this whiter one: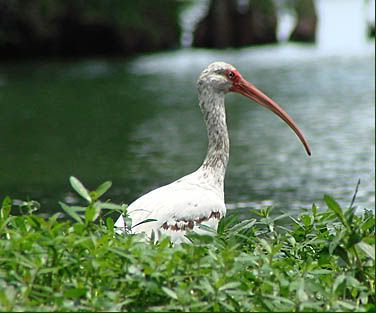 They got nervous enough about our proximity to retreat to a tree branch and kept an eye on us from there: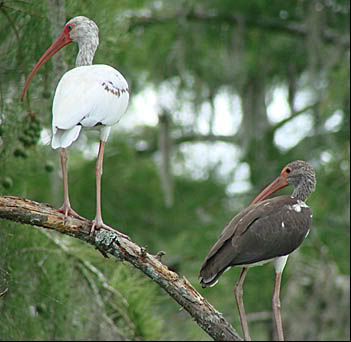 This little egret was watching the action from nearby.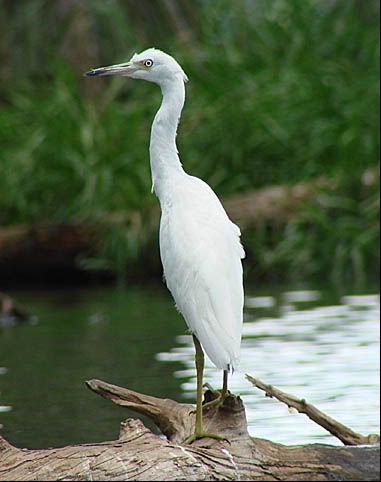 We made our way back to the boat ramp. It was a very hot day—I'm sure health professionals would advise against spending four hours in the middle of the day doing anything even remotely exertive outside in such heat. However, that's Florida in the summer. This day did seem to be unusually blistering, though... As we approached the ramp, we saw a limpkin grooming itself on a dock. I sat there for awhile watching it and waiting for its head to appear from behind its own back. Finally it saw us and stopped preening for a moment.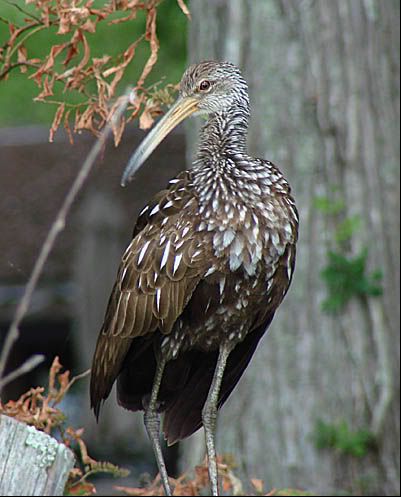 Despite the heat, this was a really fun paddling day!
Thanks to Joe from
Bloggaru
for the link on his site. He has put together a nice reference list that I'm sure will keep growing!
Stand by for the next trip report.