I got back from a month-long week in Ohio yesterday afternoon and headed out to the Wacissa this morning. I have yet to find a better
reset
button than paddling alone on a river with a lot of big birds; great way to de-stress.
I got there early, around 11. We are getting closer to the good paddling days on this river—weekends are ill-advised year 'round because of the air boats, but as soon as school starts, the weekdays will go back to being ideal.
This post will be a little heavy on tricolored heron pictures—there were many of them there and I like all the pictures. Many of the birds seemed a little smaller than the norm, so may have been somewhat young. This one was very near the boat ramp area.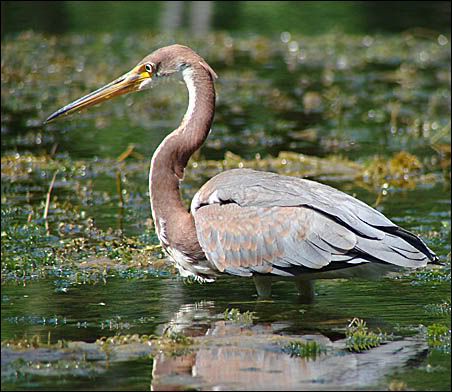 Shortly after taking that, another one came in for a landing nearby and settled in to do some fishing.
That area near the boat ramp and the small island across from it was unusually populated with birds today. Not just the tricolored herons but also small egrets--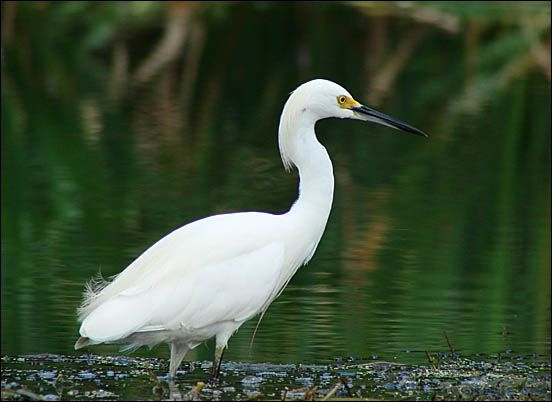 and little blue herons.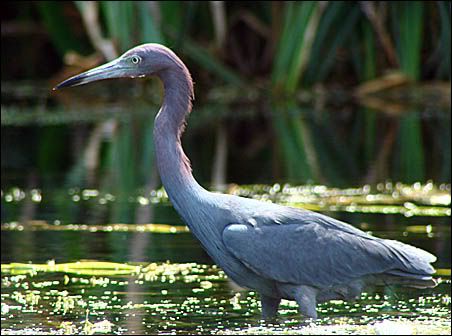 This juvenile little blue heron (thanks, Alabama Naturalist, for the ID) was so intent on prey in the water that I don't think it even knew I was there.
Most pictures that I take of tricolored herons show them with the water at about chest-height or so.  Look! Tricolored heron legs!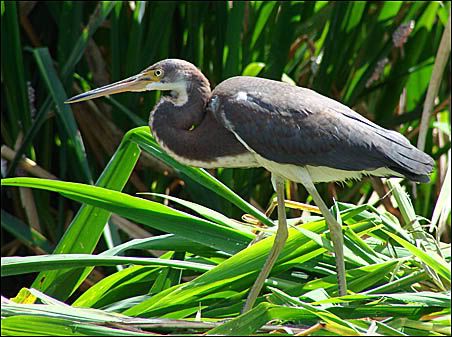 I was pleased to come upon a green heron in the middle of the river.
As in the rest of the eastern US, it is very hot here (actually, interestingly enough, it's hotter right now in Chicago and Cleveland than it is here in Florida—but it's only a matter of degree (no pun intended)), and so this was a shorter trip than usual, a little under three hours. I drifted with the current for quite awhile, though not all the way to Cedar Island. Most of the limpkins were in the trees, except for this one. Notice the two apple snail shells nearby. Lunch time!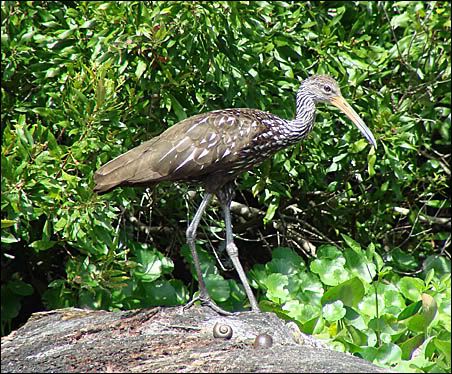 I came to a bird I have never seen before. It was exactly the same size as the common moorhens that are everywhere on this river, and it also made a sound when I was nearby that resembled the sound moorhens make. I looked it up when I got home and it seems it is a juvenile moorhen. I find it odd that so many of these birds change their coloring so drastically as they mature. Here's the little moorhen I'm talking about. If you think it's something else, let me know.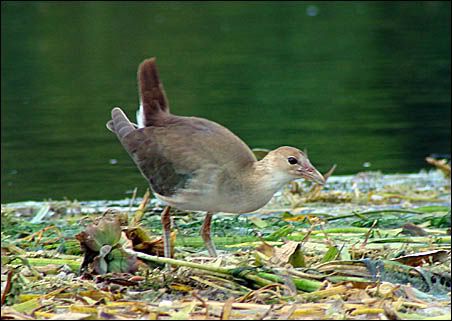 Here's another picture I took as I passed by. It did not seem to mind my proximity at all.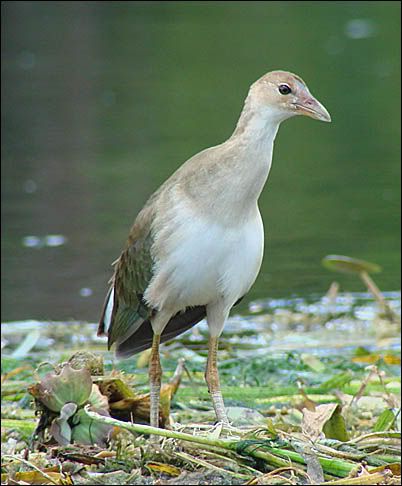 And speaking of birds changing colors, I have to conclude that the birds I have been spotting for months now are, indeed, juvenile blue herons in the process of maturing. I saw this one, and it is decidedly more gray than white at this stage: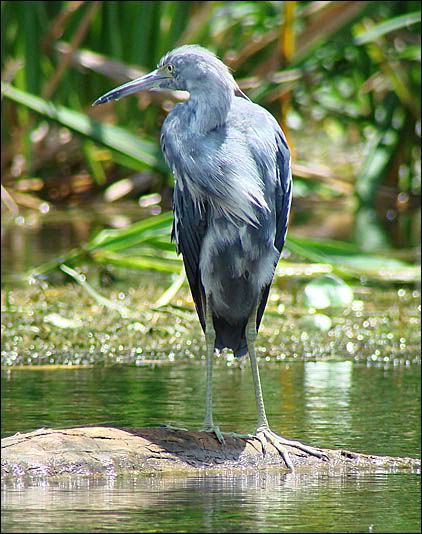 The current lets up considerably as you approach the headsprings and so I dawdled a bit toward the end. This tricolored heron (I told you this post was rich in photos of them...) was grooming itself in a tree, but would periodically stop to gaze out at the water.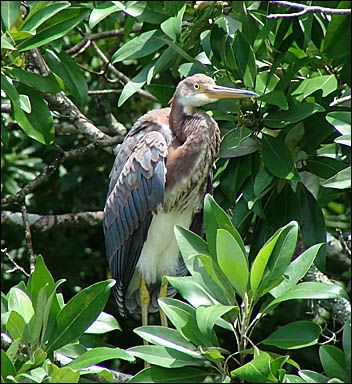 You know, while no two pictures are ever exactly alike, this blog is filled with
similar
pictures of herons and egrets and other shorebirds. However, the next photo is not only different from any pose these birds have assumed previously in this blog, I suspect very few photos exist that show a tricolored heron (the same one pictured above) in precisely this position:
(My husband could not make sense of that picture when I showed it to him. This was during the grooming--it is twisting its neck around to look at and/or clean the underside of its wing, in case you are also not sure what you are looking at...) You saw it here first.
When I got out, the sky was dark and very threatening--we are presently in our mode of afternoon thunderstorms every day. Nonetheless, three college-age boys were in the process of loading up a canoe they had just rented. It was getting very windy. One of them commented "This is like the opening scene of The Perfect Storm." And yet they evidently went out anyway.  They had rented the canoe from the Wacissa Springs Livery, which I believe is a new business. It's located a short distance from the headsprings, between the river and where Hwy 59 makes a turn. The sign by the road says "By Appointment Only." Their phone number is (850) 997-2324. I overheard the boys say that they paid $25 for their canoe for the whole day. However, they opted while at the river to trade it out for a larger one (the livery person and his trailer of canoes had not yet left), and I think that cost more.
It's great to be home and paddling again.  Stand by for the next report.