This time I was staying at Crystal Isles, an Encore RV park located in Crystal River, down the road from the Plantation Inn. I had rented one of their cottages for two nights (they usually have a 3-night minimum but had several vacancies so they let me get by with 2 this time). One of the women working the front desk is a paddler and was very helpful with local boat ramp locations and so on.
I liked it a lot, it had a good feel to it and was extremely well maintained—the grass is kept mowed, absolutely no trash on the grounds at all. The cottage was small but clean, with no odor (of cleaning solutions or otherwise). It was well stocked with supplies. I would definitely stay there again, and I recommend it. However, I suggest that if you have room in the car, you take a chair for use on the patio—they only have picnic tables. Also, the glassware (at least in the cottage I occupied) was limited to white coffee cups and plastic tumblers of two sizes. A wine glass might be a good idea.
There is a boat ramp that leads to a canal that leads to Crystal River itself.  This egret was on the dock by the ramp getting considerably ruffled in the wind.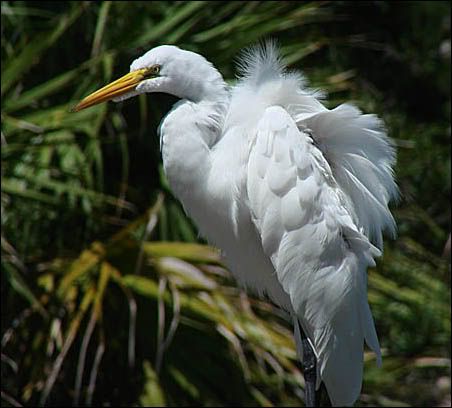 Lately I have enjoyed getting photos of birds in the process of preening, so of course I took one of the egret.
I launched from the ramp and went to the left, which took me to the river.  This was a very short
paddling trip, maybe an hour. The wind was blowing with some strength, and there were many 
power boats on the river. That combination made for some really big waves and less than 
relaxing paddling conditions.  Last time I was in this area I paddled around King's Bay, which I
found much more enjoyable and interesting.  So I didn't stay out long.
While heading back to the boat ramp, though, I noticed that a channel went off to the left, so I 
followed that. The water was calm and flat with no current, and I had it to myself. It was very 
pretty and looked different from my usual paddling spots, probably because of all the palms
along the edges.  No gators, which surprised me.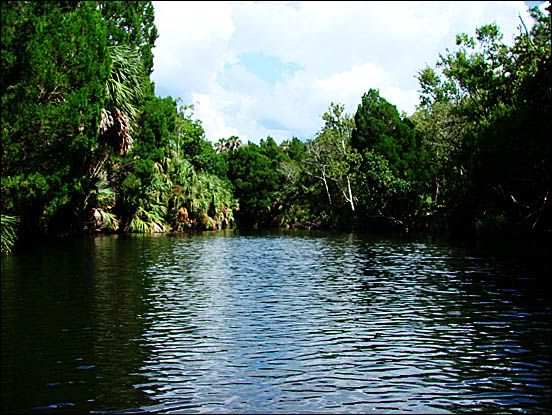 When I got back I saw both ibis and an egret (maybe the same one) wandering around near the 
ramp. The egret seemed fairly at ease with my presence.
And of course I love taking pictures of these birds looking at me.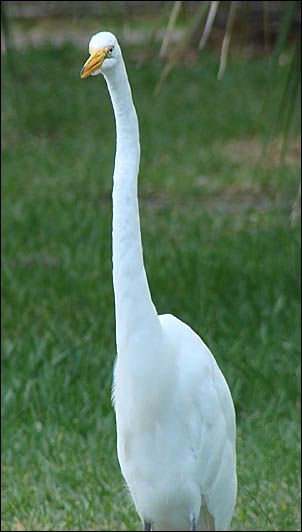 I spent some time walking around the property. There is a large pond there (as well as a small one, both of which have fountains in the middle--the large one also has an island. It's very pretty) that has two black swans in it. Unfortunately they were not swimming when I was there, but rather were cooling off in the shade (and preening, of course!).
Much more paddling the next day, in Kings Bay, which is described in the post that follows this one.