I've decided to split this trip report into two posts, which will reduce the number of photos on this first page of the blog (by rotating one post into the archives), which might help shorten the loading time for any dial-up users who might visit.
Day Two was a big day!  I was on the water by 9:15, at which time it was almost comfortable outside. The heat didn't settle in till later.  I put in at the Plantation Inn boat ramp since I knew it was near a number of islands in King's Bay, and most birds  hang around the islands, which are wildlife refuges.
Several snowy egrets hang out near this end of the bay, including this group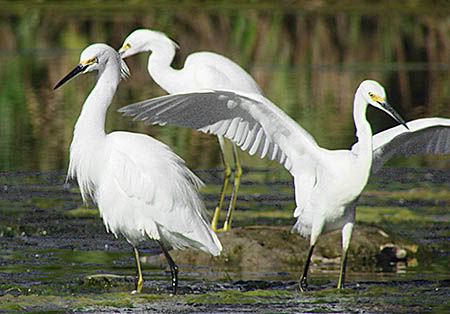 as well as this single one.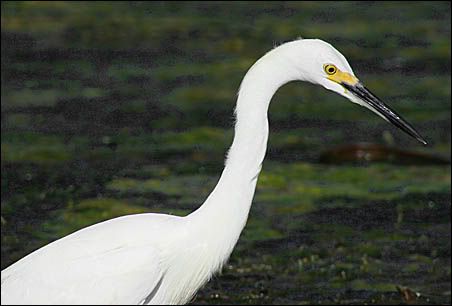 (I felt like I was on the Wacissa!)
It was a gorgeous morning for paddling, and certainly a far cry from the last time I was here, which was in early summer when the kids were out of school.  The bay was filled at that time with power boats and sea-doos, and crossing to the other side was decidedly dangerous. Not this time--it was only after about 30 minutes that I saw another boat anywhere on the water, and that was a kayak!  Later some very slow-moving pontoon boats leading river tours hit the water, but they were no threat.  The water was flat and clear and manatees could be seen in every direction!
This is the area where all the yellow crowned night herons are. I see them occasionally on the Wakulla and Wacissa--they are
everywhere
here. Of course that doesn't mean I stop photographing them whenever I come upon one....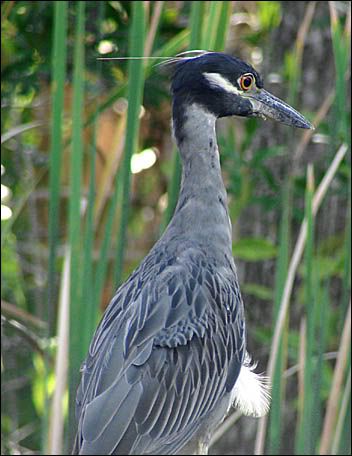 Love the little crest on that one!
I passed this next one as I came around a point in the bay, heading for the Three Sisters springs.
Shortly after snapping that photo, a pontoon tour boat passed me.  The woman leading the tour was in the back of the boat and she got my attention and asked me if I knew what kind of bird that was. I told her, and she relayed the information to her passengers. Then she turned back around, pointed at me, and announced "They know all the birds!" I assume she meant kayakers.
The last time I was here I missed the springs, since I did not realize you had to pass through a narrow channel to get to them. This time I was armed with that information but had another problem.  Just as I got there, a dive tour was unloading and several divers were moving very slowly toward and through the channel. There was not room for the kayak and I didn't feel inclined to wait till they were back out. Next time, I guess.
I hate to prove the tour woman wrong but I have no idea what this bird is--but I liked it and it posed nicely so I took its picture.
This rusty boat was washed up against the reeds near one of the islands. Maybe a hurricane victim that was never recovered. It was somewhat picturesque, though.
I planned on paddling again the next day and intended to launch from Hunter Springs park, which would have me starting in a different area of the bay. I decided to see if I could find the boat ramp from the water, so I headed in that general direction. I never did find it, but I found something better. I heard high-pitched bird noises coming from a small island of trees. When I looked up, I discovered that it was an anhinga nest, and it was lunch time! The mother was there feeding the babies.
They were so cute!  Very fuzzy, but pretty big so they probably weren't all that far from time to leave the nest.  This one looks like it's practicing the wing-drying stance, with its mother in front of it.
I stayed there below them for quite awhile; so long, in fact, that I think the mother became uneasy, as she moved away from the nest as if to draw my attention.  So I paddled away and left them to their meal.
This green heron was feeding in the sun along the edge of one of the islands.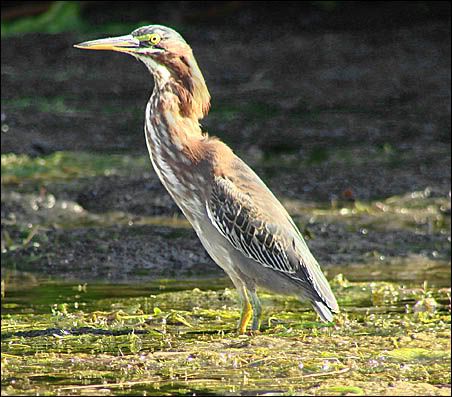 I was on the water for about three and a half hours. Had I known that it would be raining the next morning and that this would be my last paddling time of this trip, I'm sure I would have lingered longer.
I went back to the cottage and grabbed some lunch and then headed out to the
Homosassa Wildlife State Park
.  Even though this part of the day was off the water, I have decided to post some of the pictures here anyway since they fit this blog.
It's a neat park, the type where you walk through on a path and see various animals in more or less natural habitats.  Manatees, of course (this whole area is very proud of their manatees), a Florida black bear, and even a hippo. But of course I headed for the bird area.
The birds are behind a fence but able to fly out--I guess they don't because they are well-fed in that area. Egrets and ibis fly around from area to area.  I saw some roseate spoonbills for the first time: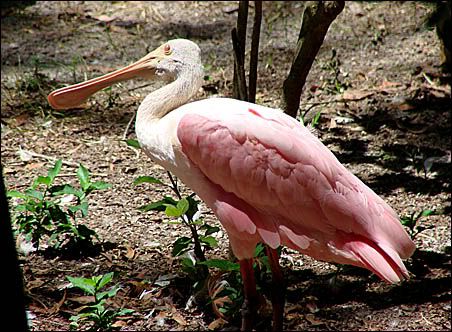 Continuing with a trend of showing birds preening, I got this picture:
And of course what would Florida be without pink (actually more reddish-orange) flamingoes?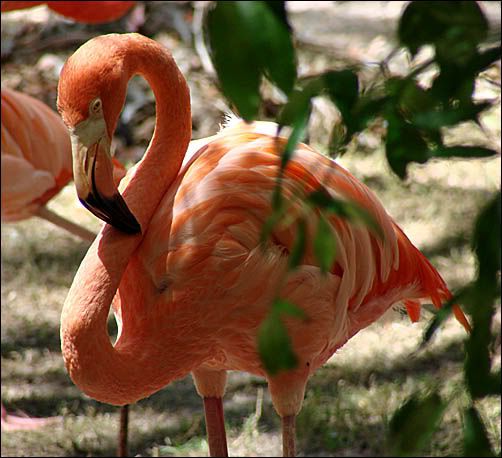 I was a little concerned that this might just look like a photo of someone's front lawn...
This one was enjoying a little water on this hot day.
It was pretty cool to see sandhill cranes there.  There was a huge flock that used to hang out in a field behind our house during migration, but the people who own the field replanted it and the cranes stopped coming.  This one was too close to the walkway to even get the whole thing in the picture, but I do tend to like bird faces best anyway.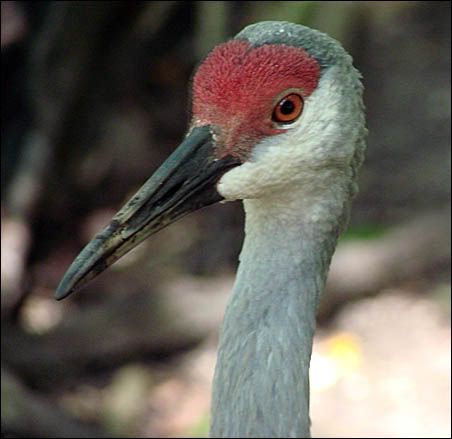 And of course the profile view:
If you have been reading this blog from the beginning, you may remember a couple of bizarre pictures from early last fall of a great blue heron "flashing" me as I paddled by on Lake Seminole. I had never seen one in that position before, never seen one since--until this one.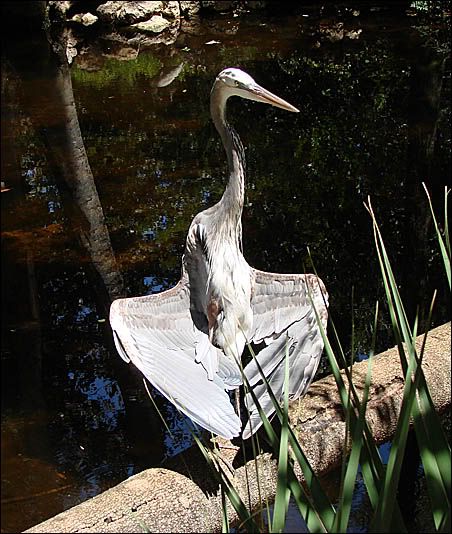 The park has this neat little building that is set deep in a spring. You can walk down into it and see out into the caves of the spring and the fish (and manatees, but they were cleaning the spring area and the manatees were stuck in a small holding area till they finished).  While I was taking some pictures of the fish, people on the other side said they were snook. Sounds good to me.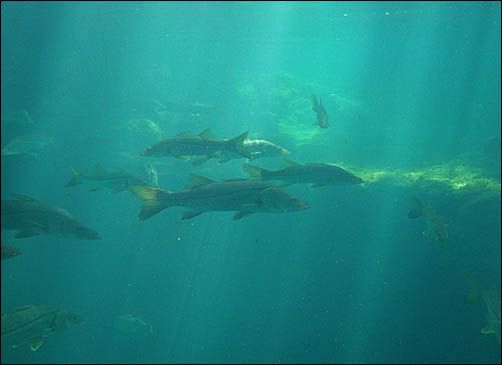 And of course the lovely faces they have...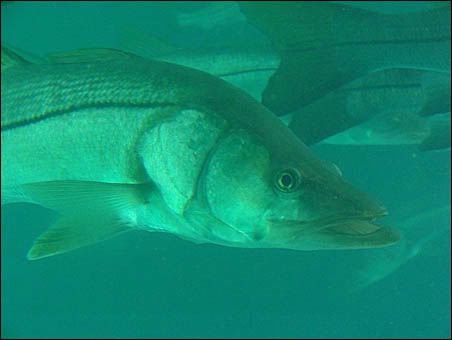 I spent several hours in the park.  
On the way back to the cottage, I decided to follow the road all the way to the end, which would take me to the Gulf.  There was a small beach there with lots of gulls and a few people (very few people, given the heat) in the water. I got one of my favorite pictures of the trip while I was there--this gull was perched on a painted wall, looking a bit sleepy.
Then back to the cottage and out for dinner at the Plantation Inn, which was very nice. I will be going back to Crystal Isles again, but I think I'll wait until October and cooler weather. And maybe stay one more day.
And so now it's back to my regular paddling places.  Not as often as in our season, but eventually.  Stand by.