Two paddle trips in two days!  I should be about caught up now.
I wasn't sure I was going to post this trip--nothing photo-worthy presented itself in the first hour of paddling. However, it was comfortable on the river--certainly less sweltering than elsewhere. The breeze blowing over the 72-degree water was actually cool at times.
And then this red-shouldered hawk (the Florida sub-species variety) appeared on top of a wood duck house, so how could I resist?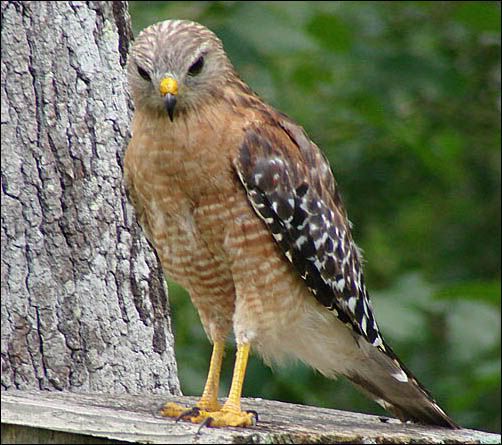 The river was pretty empty today. In fact, the parking lot to the boat ramp was completely empty when I arrived.  There were two cars parked at the adjacent canoe and kayak rental place. I did pass two people in rental kayaks shortly after launching.
Lots of little gators perched on logs along the river--I think these are last year's babies off on their own now while Mom prepares for the next batch.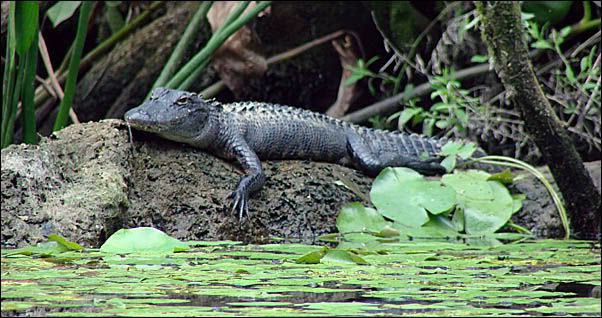 I ducked into the only backwater area I could access at low tide (the tide table website I use was
way
off this time as far as both timing and the amount of the drop at low tide). I followed an otter swimming some distance ahead of me. The picture just looks like a bump in the water (its head), so I will not include it here. It's pretty in the off-river areas. I surprised a little blue heron to my right; it was so nearby that I would have had to remove the zoom lens to get a picture of it! I was surprised it did not fly off when I passed so close, but rather walked calmly in the other direction.
This ibis, in contrast, was extremely shy. It hid from me in the bushes and kept peering out, peek-a-boo style, as I paddled by.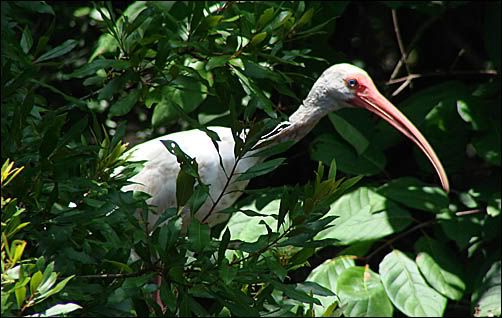 I reached the upper ramp and got out to submerge in the cold water. It's amazing what a difference that can make--and it's
cold
water!  Thus refreshed, I started my drift downstream.
What would a Wakulla trip report be without a turtle photo?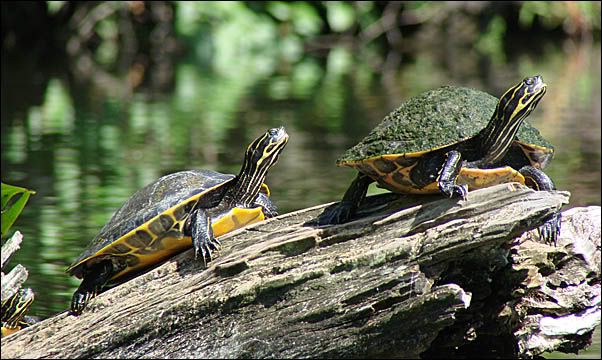 I had a somewhat disconcerting moment during the downstream journey. I was above about 6' of water, which is of course crystal-clear (this river is spring-fed). The bottom had no vegetation, so I could see the sand and small shell bits covering it. I was mostly, though, watching the shoreline for green herons or other small birds that tend to hang out along the edges. Therefore, I did not notice until it was pretty much directly below me that I was passing over a fairly large alligator, lying on the river bottom perpendicular to the direction I was going. I don't like passing over harmless manatees, much less carnivores. The only up side to this was that I believe it heard me coming, so it was not startled (which might have not worked out so well for me and the camera, staying-in-the-boat-wise). Shortly before reaching that point, I had dipped my hands in the water and swirled them around a little to cool off my arms. I read that alligators have very acute underwater hearing, so it must have heard this splashing. Nevertheless, it was disconcerting, and in all the years of paddling this and the equally-clear Wacissa, I have never had that happen. (I figure the gator probably told its friends later "I've never had one of those things actually
pass right over me
! Scary!")
And speaking of gators, here's another one that was basking in the sun rather than totally submerged on the bottom.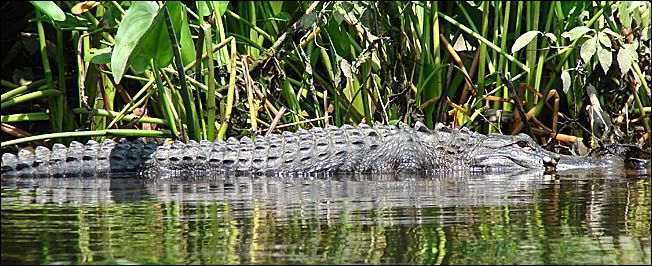 I saw an ibis in a tree and crossed the river to get the picture. Looks like a youngish one, finally getting the last of its solid white color.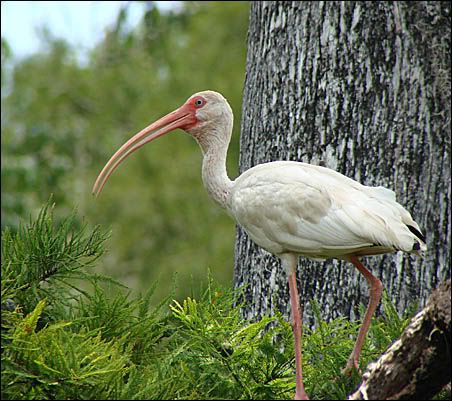 It was a nice day to be on the river--I certainly was a lot cooler while in the kayak than in the car coming home.
Stand by for the next trip (I have no plans to go tomorrow and make it a 3-day run...).