We are deep in the middle of our paddling off-season--the short period of time each year when paddling conditions are less than ideal.  I find myself limited to spring-fed rivers only because of the opportunity to get into the cool water to get some relief from the heat.  Lake Munson is filled with potentially dangerous algae bloom, Lake Talquin water is tepid and there is little shade. The Suwannee and Withlacoochee river levels are very low, revealing obstacles in the water (semi-moot since there's not much wildlife on those rivers in this area, so I never
have
spent a lot of time on them). Lake Seminole, Merritt Mill Pond, and the Ochlockonee River are too far for daytrips so I paddle them when I camp, which happens from about November to April. This leaves me with the Wakulla and Wacissa, which is why lately this blog primarily includes trips to those two rivers. Pretty soon there will be more variety, as soon as our season starts again.
Meanwhile, it was very nice on the Wakulla. I submerged myself in the river for awhile before heading out, which keeps the heat at bay for a surprisingly long time.  There is shade on this river as well. All in all, it's pretty comfortable, given the air temperature.
There is one area where I often spot redwing blackbirds flitting around.  Today I took a picture of one of them.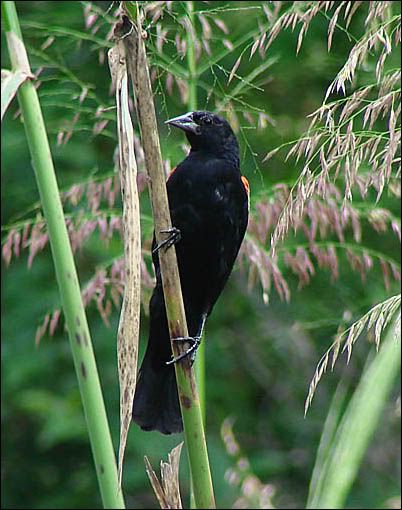 In the same area, I spotted an anhinga. I thought it was drying its wings, and maybe that was the original plan, but it took off immediately after I took this picture.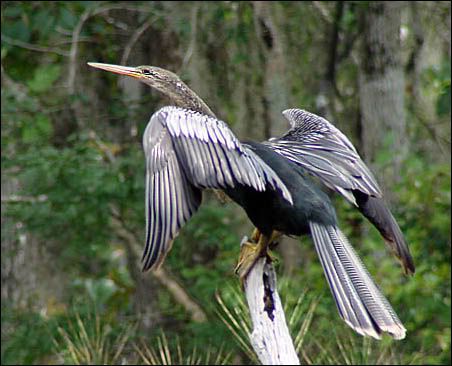 Here's a little trivia about anhingas--anhinga means "water turkey" in Tupi, a South American native language.  Bet you didn't know that!
Still in that backwater area (the birds were scarce elsewhere on the river today), I came upon this little blue heron, who just watched me paddle by.
I paddled to the upper ramp but did not get out (the only people there were 5 guys drinking beer...I decided to stay on the water and head back downstream). The current was swift since the tide was going out, so it was a nice easy float downriver.  I was very happy to come to this green heron--first, because I don't see them on this river a lot, and also because it was sticking its neck out while fishing, and I rarely get pictures of these birds with their necks extended at all.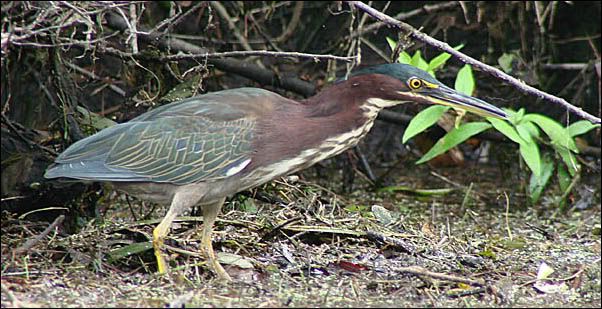 The remainder of the downstream trip was without birds, though this big guy was lounging around at the edge (hmm, hope there's no connection there..).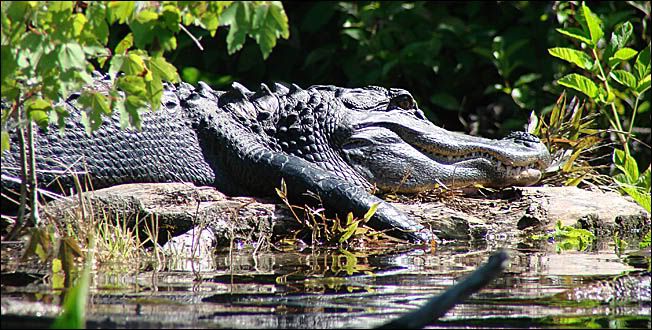 I have decided that (as if my paddling options weren't limited enough right now) I will not be going back to this river when the timing is such that I will be leaving at low tide.  There is a very big sign at the ramp that indicates there has been work done on the boat ramp.  The only evidence I see of this is the large No Parking sign in the turnaround area.  When the tide is all the way out, the concrete part of the boat ramp is not of much use in a kayak, because the inclined paved part stops short of the water and so there's really no place to get out, since it drops off somewhat sharply after the pavement ends.  This leaves the dirt area to the side, which at other times is ideal for kayak hulls (much better than concrete). However, at low tide, the water is (of course) farther from shore, exposing mud that is usually underwater.  This time I very nearly lost one of my favorite they-don't-make-this-style-any-more Keen sandals when I stepped out of the boat and my foot sank ankle-deep in the muck. I had to slog through this stuff for several steps before reaching solid ground. Not good. Not going to do that again. (I tend to avoid stepping barefoot into ankle-deep muck since there could be broken glass, etc. just under the surface.)
But other than the messy exit, it was very pleasant on the water.  
Stand by for the next trip.