Whew, what a day. I'm exhausted, but in a good way.
I decided to head down to the Ichetucknee River, which is only a tiny bit farther from my home than the Wakulla. This is a very popular tubing river during the summer—and with good reason, it's very Disneyesque, not to mention spring-fed so refreshingly cool—and so paddling is less than ideal then. However, they stop running the tube shuttles on September 4.
I got to the
secret
put-in spot at about 11:30. Details about river access are given at the end of this post.
The current is very, very, very—and at the risk of being redundant,
very
—strong at this lower-most put-in spot and for most of the way to the end of the river, though it does let up somewhat about 20 minutes from the top. While much of it this can be partially escaped by paddling close to an edge, there is a large section that is fast across the whole surface.
As I was paddling upriver, I was deciding to go as far as I could, since I did not plan to do this again, it was just too much current to be constantly struggling against. If you plan to paddle this river and have not done so before, my #1 suggestion is that you keep the bow of your boat pointing upstream at all times. If the water catches so much as a whiff of the side of it, it will spin you around sideways so fast that, well, your head will spin. This of course eliminates any chance of scratching your nose, never mind picking up a camera to take a picture, unless you park in the horticulture along the edge. It's not like paddling into wind, though; you
will
move forward steadily.
The shoreline changes considerably as you travel upstream (you can't go downstream from that launch area, they have it blocked). (You really don't want to do this river downstream-first, anyway.) It is beautiful in every part. The water is as crystal clear as the Wacissa and Wakulla, and the underwater vegetation is similar to both, in different sections. The first part has a woodsy shoreline.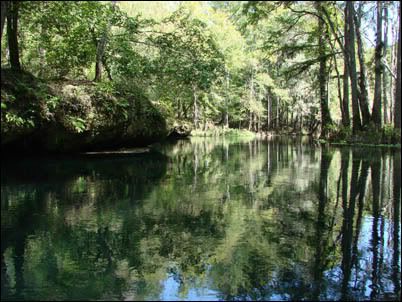 A little while later, it turns into grassy wetlands--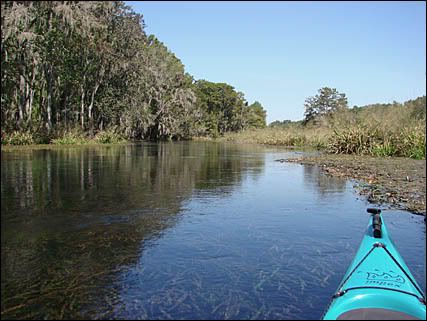 --eventually both sides are wetlands. It was in this area that I saw more wood ducks, including males, than I have ever seen in one place. Unfortunately they invariably saw me first, which was sort of moot anyway as I moved upstream since there was no way I was going to stop paddling to take a picture. In this wetland-like area, the current is the same no matter where you are, and it's at its fastest here.
(These first pictures, taken going upriver, are all of the river since I needed something large and basically still to take quickly!)
Several areas have large trees across them.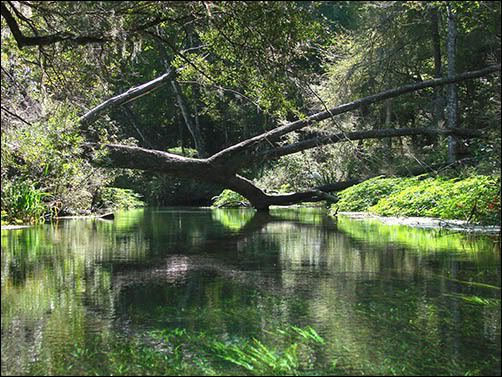 After about 90 minutes or so, the river narrows, and the current lets up somewhat.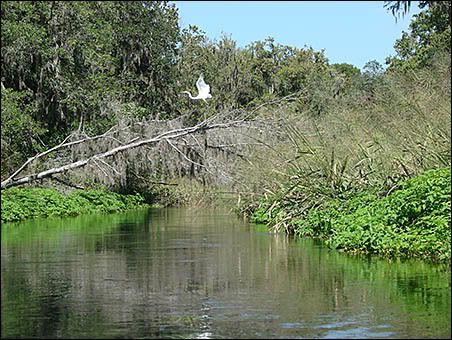 I was a little confused about this since their map had indicated that I was paddling toward the headspring, which should have increased the current. Well, as it turns out, the river came to an unexpected stop at a platform on which park visitors could look out over the river but there was no way to get out of the boat to walk around. That was sort of anticlimactic! It had taken me about 2 hours to get to the top (which it turns out is not really the top).
I was still thinking as I turned around and started drifting back downstream that I would not be doing this again.
However, I sort of changed that tune about 10 minutes into the downstream float. Now that I wasn't having to work so hard paddling against the current, I could look around and enjoy the scenery. And the utter quiet and stillness. I had passed about 4 tubers and one canoe during the upriver paddle, so I had it almost to myself. The edges are 100% unpopulated. I heard no man-made sounds except when a plane went over. It was serene and sublime.
I came to this egret on one of the trees that crossed overhead, and got a preening picture similar to one earlier in this blog taken of a tricolored heron.
I had a great time with this bird, since it was completely unafraid of me.
And you know how I like it when these long-necked birds look right at me.
These ibis were sitting in a tree in the wetland area.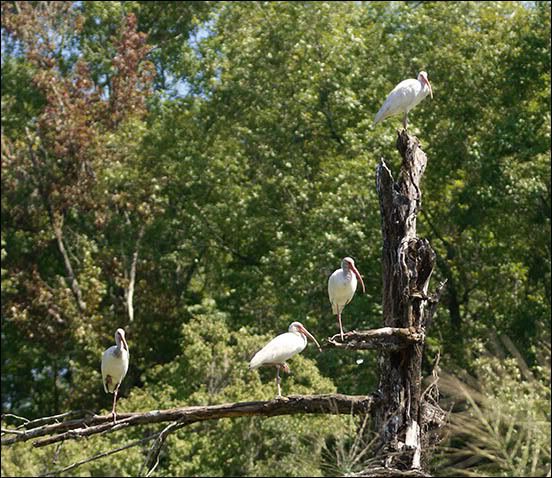 I saw several otters, who moved around also without much fear, but they move quickly and so was I, so no photos came out. The one otter that was holding still was under a large horizontal fallen tree trunk and so was in dark shadow. Argh.
No such problem with this turtle sunning. And there are many, many turtles on this river and they also are used to people and most of them stay right where they are when you pass.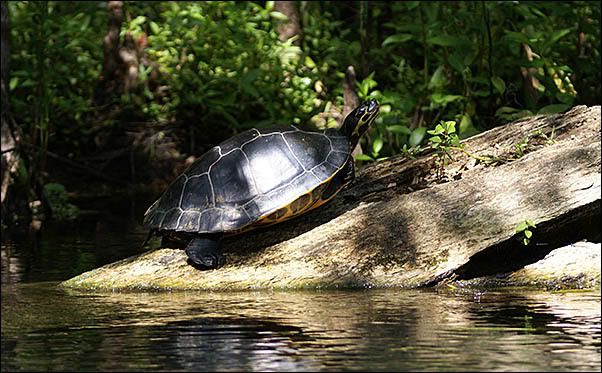 I saw several green herons, and was able to get a photo of this one as it fished in the wetland area.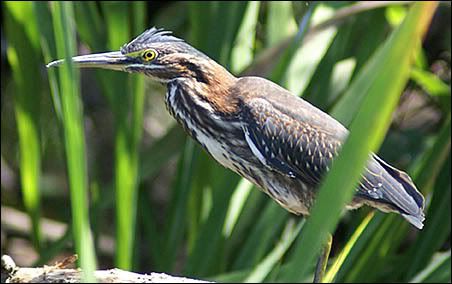 I thought I would be back to the launching place in less than half the time it took me to paddle upstream, but in fact it took only slightly less time to get back down. I stayed mostly near the edge coming downstream as well, which slowed me down.
There is a launch place called Dampiers Landing. I wondered if it was any more accessible than the one I launched from, so I got out there and walked up the slope to see where the road/path went. It seemed to go on for quite a way, so I gave up on that, and continued on downstream.
This great blue heron was hanging out along the shoreline.
Two people who had been snorkeling were just getting out when I got back to the launch area, and the man kindly helped me tote the Mystic back up to my car. Which brings me to access to this river.
I read a trip report on paddling.net that discussed paddling this river. The person said that next time they would put in at the southern entrance to
Ichetucknee Springs State Park
and paddle all the way upstream, instead of putting in at the northern entrance and paddling a short distance to the springs. That sounded like a good idea, so when I arrived at the park area, I went to the southern entrance.
There is no river access for canoes or kayaks at the southern entrance, only for tubes. The woman ranger told me that I could either go up to the spring area, or I could put in down the road and paddle up the whole river. Ok, I asked her just where "down the road" I would put in. She told me to go out of the park and turn right and just before the bridge, turn in where there is a double gate. Ok...
This entrance is not marked in any way, although there is a small brown sign on one of the gates that says it is only open when the tram isn't running (this sign is all but invisible when the gate is open). This entrance looks exactly like a dirt road leading to private property. It's only after you have driven in and gone a short distance that you come to the honor-system pay station ($5 if you don't have a park pass). Rather well-hidden access, I'd say.
After passing the pay station, you follow the one-lane road till you get to a sign that says it is the canoe drop-off area, No Parking. This is in front of chained-off access to the river.
I had not taken my kayak cart. This is my second piece of advice for you if you put in here—if you are alone, I suggest taking a cart. You have to lug your boat across a concrete walkway and down a rocky slope. Not great on fiberglass boats (which was why I was so happy to have help when I got back).
If you are traveling on Hwy 27 east toward Fort White from Branford, this gate will be on your left after you pass over the river. If you are on 27 heading west toward Branford from Fort White, it will be on your right before the bridge over the river. There are restroom facilities there.
I'm sure I'll go back again, with my cart, and with the knowledge that I have to do some hard paddling before I get the payoff of a drift back down this beautiful river. Maybe when the weather cools just a bit...
Stand by.