Back to the Wacissa again, since today was a day I didn't have to worry about rain. It was a nearly perfect paddling day, except for a few
idiots on a boat
moments, one involving an air boat that managed to pass me three times, the other a speedboat. Oh well, these things happen.
Interestingly, on the way out, there were few birds in the usual spots near the boat ramp. But they showed up before I had gotten too far downstream. Even though all trips to the Wacissa seem to include photos of tricolored herons (just like most Wakulla pictures feature turtles and ibis), I can't resist taking them, and then of course posting them.
The ones for today are this: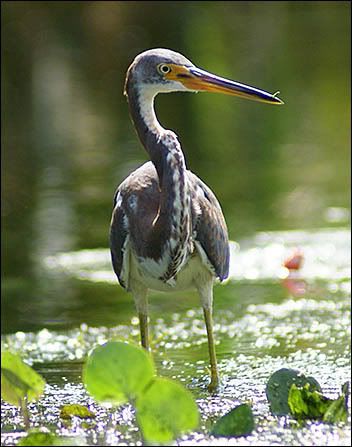 and this: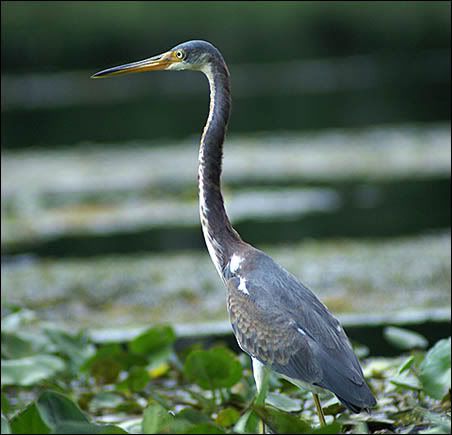 I drifted slowly downstream, barely paddling at all. I encountered two other paddlers coming upstream and we briefly chatted as we passed. It was nice to see other kayaks on the river.
I came to these two limpkins, which I suspect might be the same two from Tuesday--they were in approximately the same spot as in the picture in the previous post.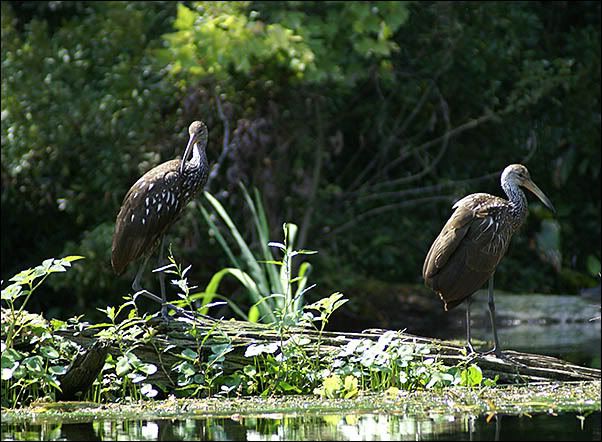 A little farther downstream I came to a juvenile moorhen.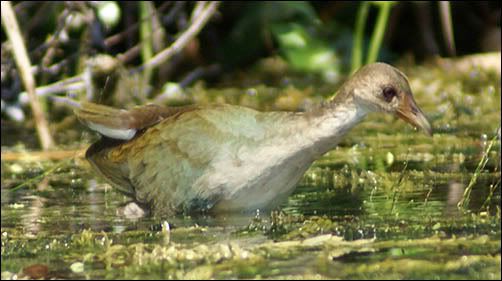 I also saw more babies (or the same ones as before?) but they were hightailing it into the reeds along the edge so I didn't pursue them to get another picture.
I really enjoy seeing green herons and I am always watching for them. I've figured out the kind of places they hang out on the Wakulla and Wacissa, which has made them easier to spot. This one has a definite punk-like look going on.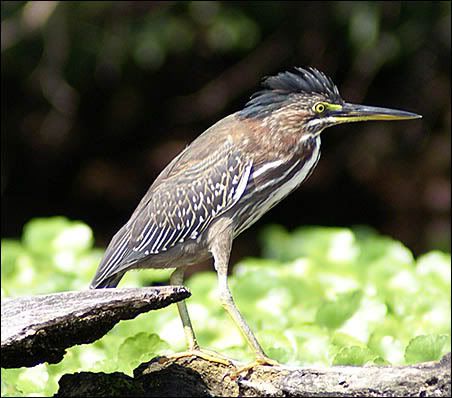 I saw this one fishing later in the day as I was on my way back upstream.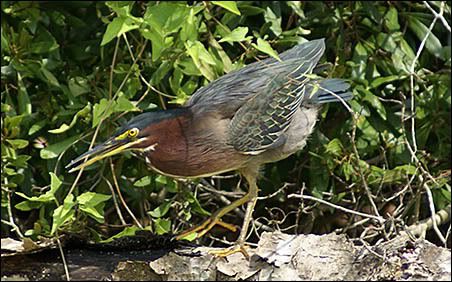 I haven't seen these little sandpiper birds for awhile on this river, and this one was in the middle all alone, just head-bobbing away.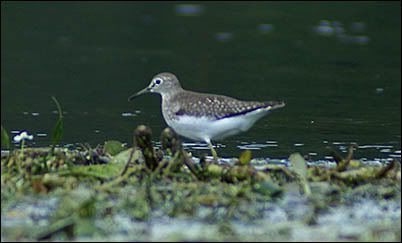 I got as far downriver as the little dirt ramp area just short of Cedar Island, and got out and stretched my legs (and took a picture).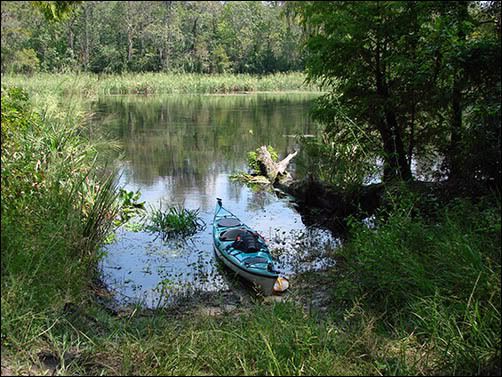 I decided to turn around at that point. It was a very hot day, so still not quite time to explore the area downstream of the island.
When I got to the channel that leads to Blue Spring, I decided to go in. I don't always, but it was still early and I was in no hurry to get back to the parking lot. These two female wood ducks were perched on a branch of a tree right where the channel begins (I have taken a lot of pictures of a lot of different birds on this same branch--must be a popular perch).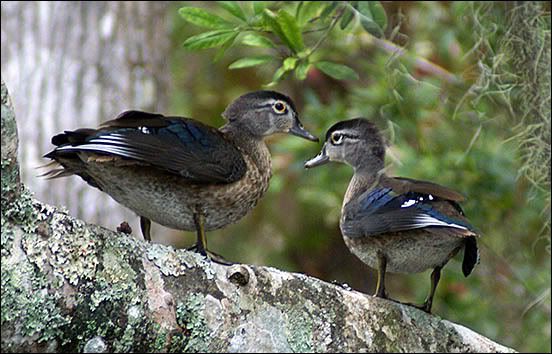 Speaking of wood ducks, no sign of any males this time (the air boat probably sent them far from the main part of the river!). This female was just sitting on a log and I passed very near. She didn't move. She was almost too close for the zoom lens and the picture is not as sharp as I would have liked. I don't think I have ever been this close to one of them.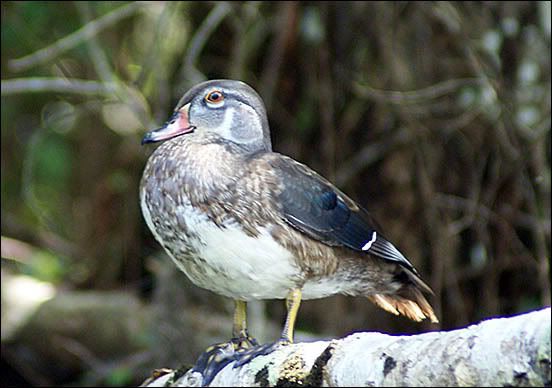 It was very, very quiet in the channel. This little blue heron was fishing along the edge.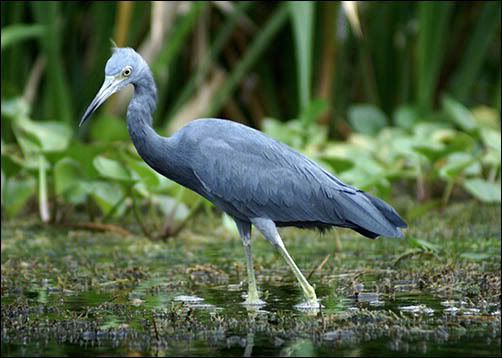 I went all the way to the spring (not that far). The raft that has been there for as long as I have been paddling this river, and which is used a lot by kids and families in the summer, was not there. I wonder what happened to it.
I continued on back to the boat ramp. Two egrets were hanging around in the grass at the edge--first time I have ever seen any there, particularly when other boaters had been coming and going. Here's one of them: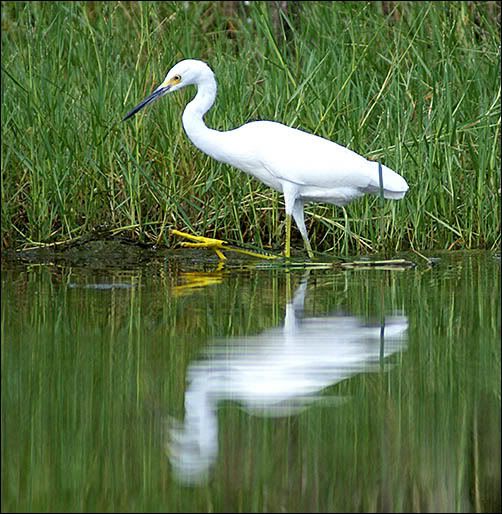 and here they are passing each other. This was moments before a large truck with music blaring out of it pulled into the parking lot and they flew away.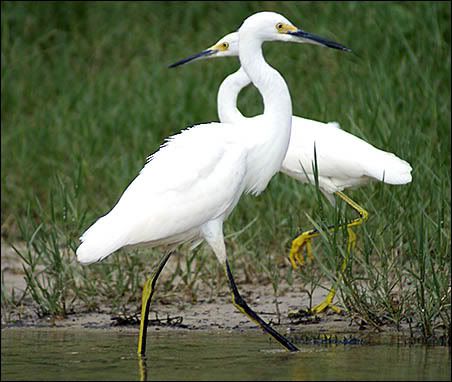 A good day on the Wacissa, all things considered. If the forecast weren't calling for wind tomorrow I would head to a nearby lake. That might have to wait till next week. Stand by.