Tuesday's paddle on the Wakulla, while it produced some unusual pictures, was the kind of paddling trip that makes days like today seem even better by comparison. Since this will be my last trip before I head to NC for a week or so, I decided to spend a few hours on the Wacissa. My brother, a flat-water kayaker himself, could never understand why I keep going back to this river over and over instead of always seeking out someplace new. My brother never paddled on the Wacissa. When you find a place this good, it removes a lot of the motivation to go elsewhere.


This tricolored heron was fishing near the ramp—a lot of them hang out there.


I drifted slowly downriver with the minimal current. No wind today, and while I was going downstream I did not encounter any other people until I turned around short of Cedar Island. Some seaweed harvesters were working nearby.

Shortly after turning around I encountered some grebes diving underwater and swimming about on the surface. I really like these little guys.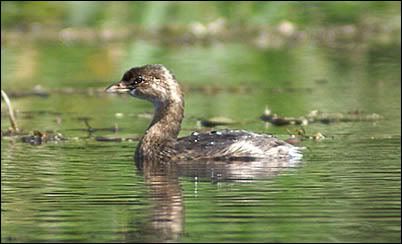 Of course as I was paddling, the belted kingfishers were swooping around and chipping away at each other as always. I was only paying slight attention to them until one landed far up in a tree not too far ahead of me. Hmmm…I wonder if I could actually be lucky enough to get another picture of one?


Later either that same one or one of her buddies showed up at the outside edge of a tree branch, also high and ahead of me.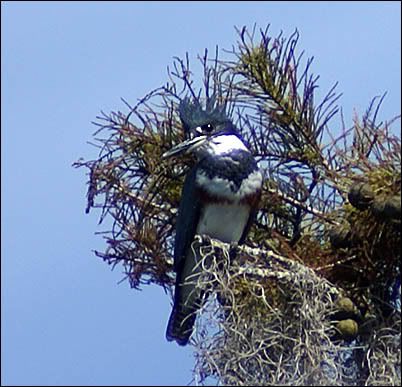 I've certainly been fortunate with them lately.

I continued paddling upstream slowly, enjoying the utter peace and quiet and the easy paddling. Since there were no sounds of air boats or power boats, I decided to paddle on the east side, in among the tall reeds. This is not advisable if there are power or air boats about, since they like to cut through there at high speed, even though they can't see anything ahead of them because of the patches of reeds. But today I had the area to myself. It's pretty paddling in there, and there are many moorhens (no babies now).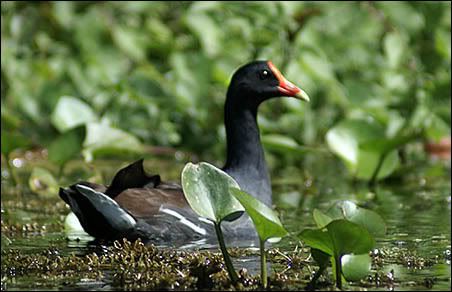 This egret was standing looking regal along the edge.


I was paddling straight toward this great blue heron, and it was not moving much, didn't seem to mind my being there.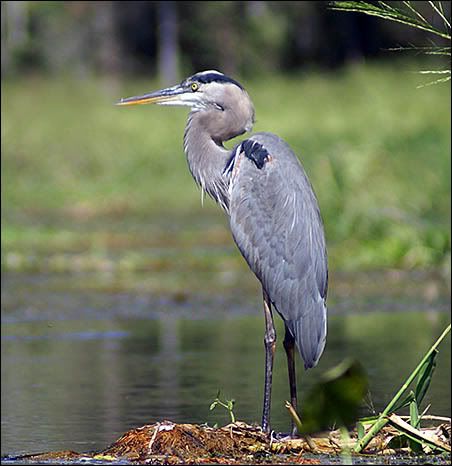 As I got a little closer it became concerned enough to stand tall.


And as I got closer still, off it went.


On the way back upstream I pulled into the channel that leads to Blue Spring. As I was coming to a shady spot, several wood ducks, including at least one male, took off in a great flurry of wings and calls upon seeing me approach. I pulled over to the side into the surface greenery and decided to have a snack and see if they would return if I was (relatively) still. As I was sitting there, I noticed another paddler pulling into the channel. I always enjoy seeing other kayakers on this river—it's such an ideal place to paddle.

It was a woman paddling solo. I told her I was waiting for the wood ducks to come back and commented on her boat, which was similar to though not exactly like a Pygmy Tern. She said someone in Tallahassee had built it for her and she had picked it up today so it was on its maiden voyage(s) (she had been elsewhere before putting in at the Wacissa). We ended up chatting for quite awhile and, despite the fact that she has seen more of the world than I ever will, we seemed to be kindred spirits and share our enjoyment of paddling and camping as well as our opinion that air boats should be banned on this river. The air boat discussion came up when one roared by as we were talking, and then later actually came through the channel. She decided not to continue downstream since the air boat had gone in that direction when it left the channel, and so we went back to the ramp together. This great blue heron was on the shoreline, mouth open. It probably just ate—hope nothing got stuck in there…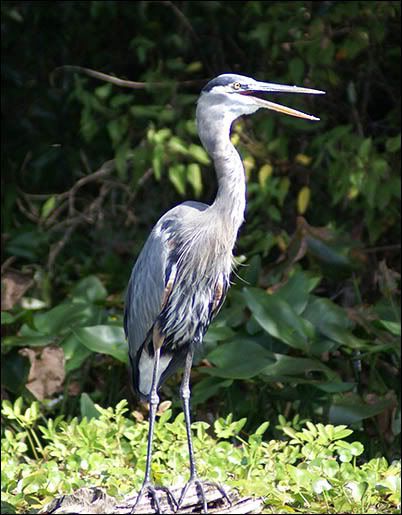 Meeting a potential new paddling/camping friend was the perfect ending to a great day.

This will probably be the last post until I get back from NC. Stand by.