So, the long-awaited North Carolina trip!
I picked a rainy time to go. I was gone 7 days. Of those, only 2 were sunny. Of those, only 1 wasn't a driving day. But I get ahead of myself.
Stopped on the way up at
Southern Cross Guest Ranch
. What a fantastic place, and I highly recommend it if you will be in the Athens, GA area. It is a working dude ranch (in Georgia!). Since I was just staying overnight en route, I went on the B&B plan, with no riding. It's very scenic there and the rooms are spacious and wonderfully furnished (with no cowboy influences at all). I liked it so much I stayed there on the way home as well. My room on my way north was large and comfortable. My room on my way home was actually a suite, with its own outside entrance and a small patio with two chairs. When I arrived Saturday, one of the two sunny days, I walked across the driveway and took this picture.
You can wander around the pastures or in the barn area. This was a very friendly horse that I spent some time chatting with.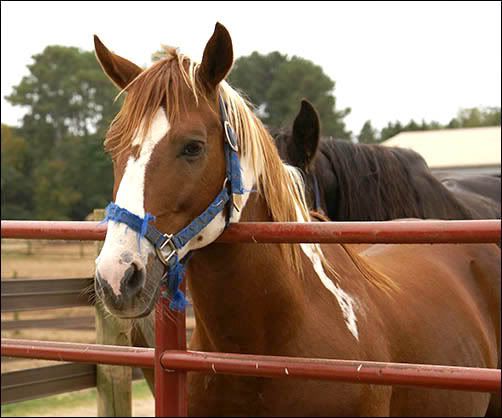 On the way back to my room, I passed this young one heading back to the barn.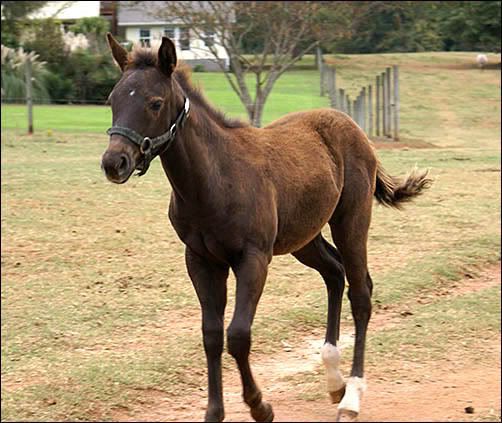 They give riding lessons and guests can schedule rides on their own. The nearby town of Madison has several restaurants (and many shops), but the folks at Southern Cross put out a buffet dinner that far, far exceeded my expectations, so I ate both dinners there, as well as breakfasts.
On to North Carolina. I was staying on Lake Nantahala. It was raining when I arrived and the power was out due to someone crashing into a power pole down the road. I'm afraid that for several reasons I can't recommend the accommodations I had selected for this part of the trip, which can be summed up as saying it was seriously underfurnished, with a flashlight being one of many,
many
things not provided. However, it redeemed itself considerably with the amazing view (but is still not a destination of choice) (you win some, you lose some…).
I happened to hit peak leaf season. As a Floridian, fall color is other-worldly to me—our trees either have green leaves or no leaves, with a few exceptions. The color in the mountains was amazing. This was the view out the kitchen window.
Shortly after taking that, I went out to the porch and took a photo of basically the same view as shown above, but from outside (just can't get enough of it!).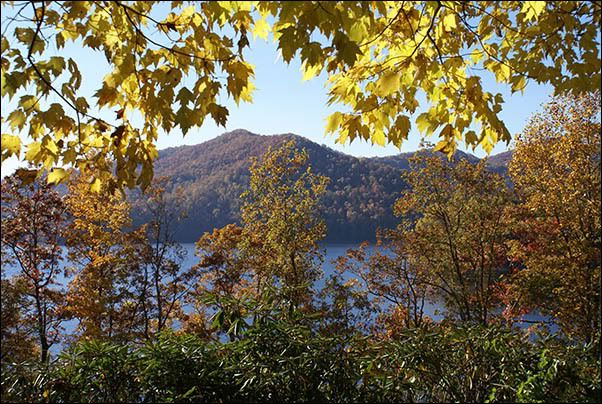 On Wednesday I had a perfect day—a day that made up for all the rainy days. I spent five hours on the lake and it may have been the best paddling day I have ever had. This water is crystal clear; it's blue when you look across it (under the brilliant blue sky I had that day), and lake-green when you look down into it. It's a man-made lake and so the water level varies; it's low this time of year, which made the banks rocky in most spots, dirt-covered in others. I pulled into this cove:
…and found that there were some small falls at the far end of it.
Here's one of the more rocky shoreline areas.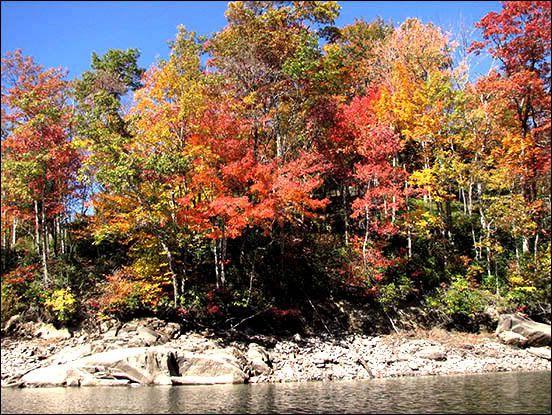 There is an island in the lake and I paddled around that.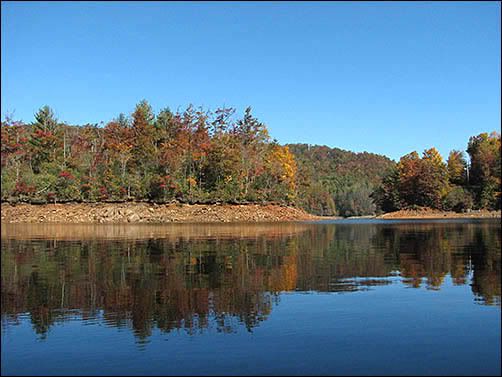 I did not expect to see any wildlife—when I was on nearby Lake Santeetlah in 2005, I saw none, so I didn't expect any here. I did see a couple of grebes, though, late in the paddle when shade was coming over the lake. This one appears to be taking its catch back to the other.
I include this picture to show the clarity of the water at the shoreline.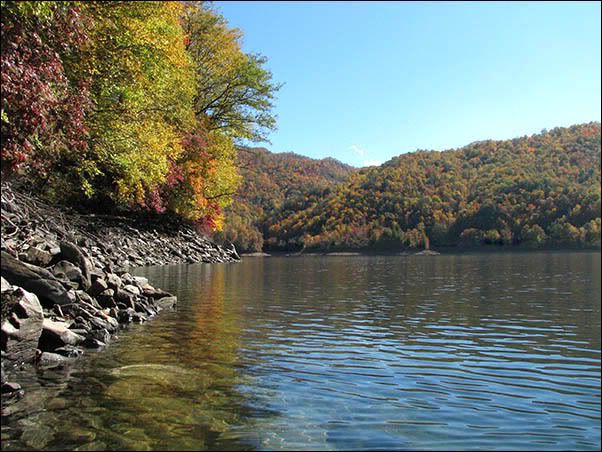 The next day was overcast and drizzly so I made my way over to Dillsboro, a town I enjoy visiting for the shopping opportunities. Had a good time strolling around there in between rainshowers. The next day was a constant downpour. I got a
lot
of reading done on this trip.
As I was packing up to head back south, I noticed that even the road leading to the house looked picturesque, so I took the camera back out and took this photo.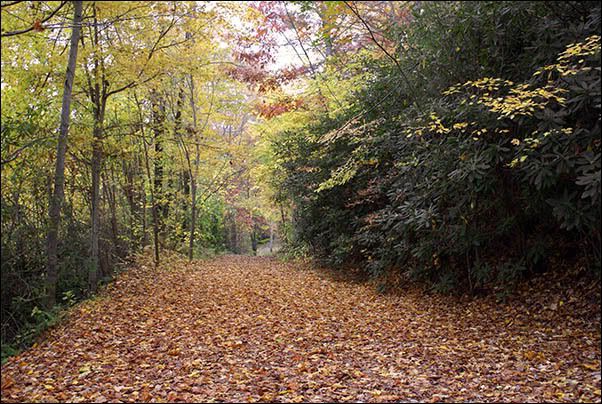 I took many pictures of the fall color both while paddling and while walking around, as well as more photos at the dude ranch. I've put the overflow on the
Photo Miscellanea
blog.
Camping season is here, which means more paddling opportunities. And cooler days for trips to my regular spots. Stand by.