What a pleasant surprise this river was today! I haven't been on it since early spring 2005. At that time Hurricane Dennis had swept through and the water was murky brown and the current was swift because all of the underwater vegetation that usually slowed it down was gone. At that time there were also few birds to be seen.
Well, there are still few birds to be seen, but the river itself is absolutely wonderful. It's as clear and green as the Wakulla, and the shoreline is woodsy—very like the first part of the Ichetucknee. (Without the strong current!)
I timed this trip just right—low tide had been at about 7:30 a.m. and I got there around 11. As a result, there was very little current during the entire 5 and a half hours that I was on the water (long day!).
This is a river to paddle just for the sheer joy of paddling. Unlike the nearby Wakulla (the two boat ramps are only about 10 miles apart, if that, on Hwy 98), this river is almost entirely unpopulated except for the area right by the boat ramp. It's kind of puzzling why there are so few birds on this river—it seems to have all the necessary factors. But the birds follow the food, and so perhaps there is some reason that heron and egret delicacies cannot survive here. The river passes in part through the St. Marks National Wildlife Refuge area, which you would think would guarantee bird sightings. The lack of housing along the river makes for a very peaceful paddle—no sounds of chain saws, lawn mowers, or leaf blowers.
I paddled upstream for about 2 hours. The shoreline stays the same and is very picturesque. I encountered one boat in that first 2 hours, carrying a diver who was looking for prehistoric shark teeth on the bottom of the river. It seemed like a place where deer and raccoons would be present at the water's edge, but no such luck.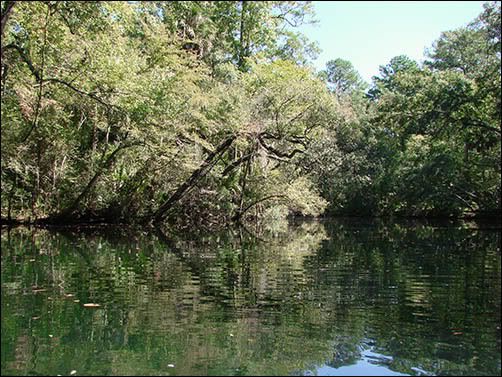 After turning around, I drifted back downstream, having to paddle occasionally just to keep moving. For a long time as I approached, I thought this great blue heron was a bit of fallen tree sticking up out of the water—I had not expected to see one of these!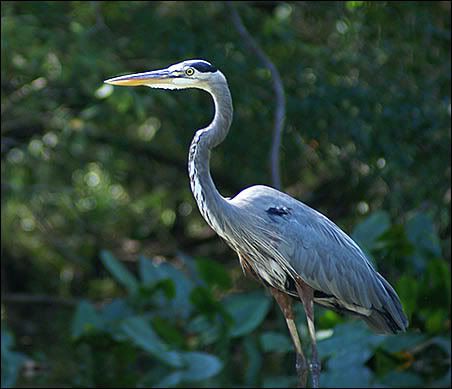 A little while later I came to a couple of grebes who were diving under the water doing what grebes do. Very cute little birds.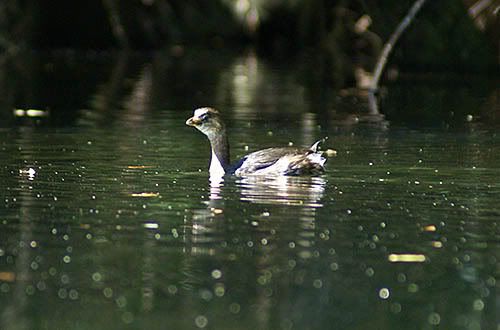 If you paddle south of the bridge at the Wakulla boat ramp on Hwy 98, the river becomes very boring very quickly. It widens and the edges become grassy and monotonous. Well, I came back to the bridge after my downstream float a little earlier than I needed to leave, so, since there was no current, I decided to explore beyond the bridge. Good news—for at least as far as I went, which was perhaps another 45 minutes of drifting, the shoreline remains interesting.
And check this out—fall foliage (Florida version)!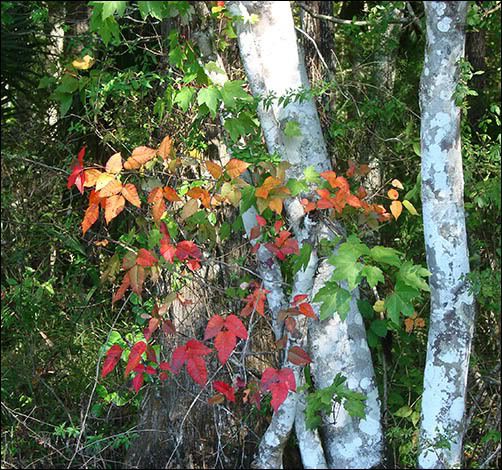 My plan for my next visit to this river is to catch it on a similar day—little or no wind, no chance of rain, and launching a few hours after low tide. I want to paddle the lower part from south of the bridge to the Gulf—if it is all like the first section. That might have to wait till late in the month or November, but I'll get there. I have put this river back into my regular rotation of paddling destinations. If seeing shorebirds is not a priority for you, I actually recommend this river over the nearby Wakulla, since it is not populated and so it's quieter and the shoreline is uninterrupted woodlands instead of dock after dock after dock. I will probably save it for trips shortly after those to the Wacissa, which is All Birds, All The Time.
Stand by for the next paddling outing.