I'm qualifying this as a paddling tale since I did get out paddling and the results will most likely appear later in this blog.
We decided to go to Tallahassee to the kayak demo that was put on today at Maclay Gardens State Park by
Wilderness Way
outfitters. I'm not really in the market for a new kayak, but I figured they might have some models there that my email buddies who live elsewhere paddle and it would give me a chance to see what their boats are like. And it was a beautiful day—warm and windless.
Given that I so rarely see anyone else on any of the waterways around here (though that may be largely because I don't go out on weekends…), I didn't expect to see much of a turnout here. I was wrong about that! We got there at about 12:30 and they were going strong. Lots of boats, too.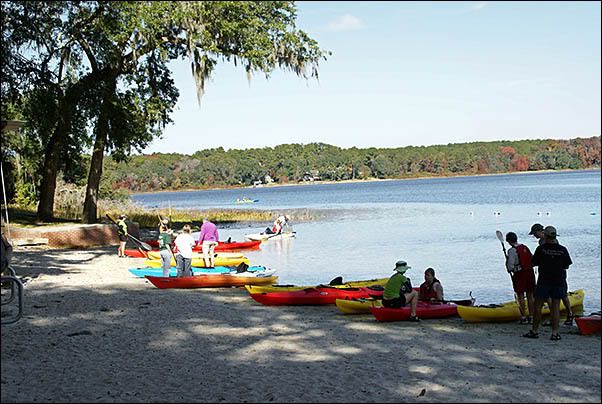 I walked the line of them and saw a couple of boats that indeed are owned and paddled by people I email with, so I went back to the car to change into proper paddling shoes and get my pfd. Of course they had pfd's available for use there, but I have found from experience that a high-back pfd lets you take advantage of a high-back kayak seat since it doesn't interfere with the seat back.
The boat I wanted to try was taken out about 5 seconds before I got to it, so I settled for another. It was ok, but not one I would choose to own and paddle (I'm purposely being vague on the models—my friends like their boats very much. I know I wouldn't appreciate someone casting aspersions on my favorite kayak). I got back to the beach area and the one I had wanted to try was back. This is an extremely popular model and a consistent best-seller.
It felt like a barge to me. The cockpit was so long and wide that it bordered on simulating an SOT (sit-on-top). I'm of average size. Having paddled that boat, I'd like to take this opportunity to urge everyone to consider the fit of any kayak they plan to buy (that isn't an SOT). There was a world of difference between paddling that one and the Mystic or Montauk (or even the Riot Stealth). It comes down in large part to control, which is much more easily attained if your body is in contact with your boat in places other than the seat. Even people (like me) who paddle only calm, flat water can occasionally get caught in a strong current that wants to sweep the kayak sideways, and that's just plain easier to overcome (without capsizing) if you are in a boat that fits you. When I was contemplating purchasing the Mystic, a small boat, I came across several articles about boat selection that suggested that people tend to choose kayaks that are more boat than they need. Today I finally understood exactly what that means.
I was wandering the beach area and looking only at cockpits, to see if I could find anything less bathtub-like. A little red-orange boat caught my eye. Very nicely outfitted with a little day hatch in front of the seat that could replace the need for a deck bag, netted rigging on both bow and stern, and bow and stern hatches. It had a small cockpit and a low deck, which I greatly prefer to the high rounded decks that a lot of kayaks have. It was a Motion by Prijon.
I climbed into it and one of the people working at the event gave me a push off into the lake. I stopped the backward momentum and turned the kayak around to head out.
It took all of about 15 seconds to realize that this boat was nice.
Very
nice.
Nice-to-own
nice. I turned back around and signaled to the guy to come over. I told him I needed to know more about the boat before I took it out (since this boat had suddenly come under some serious consideration). I found out it's a shade under 15' long, which is a good length—right between my 14' Mystic and 16' Montauk. It's 23.5" wide, which would give me the extra stability I want on lakes with submerged timber, which was the reason I bought the Stealth. It's plastic instead of fiberglass, making it an ideal alternative boat for use at new boat ramps on rivers (since I keep forgetting the kayak cart and find myself having to drag a fiberglass boat across pavement and gravel…). The seat is comfortable.
So I took it for a fairly lengthy paddle around the lake. It turns well. It moved swiftly when I sped up my paddling. It's a really fine kayak.
When I got back I wanted to get a picture of it on the beach to put in this blog post. However, a guy got into it before I could get the camera back down there. So I took a picture of him paddling it.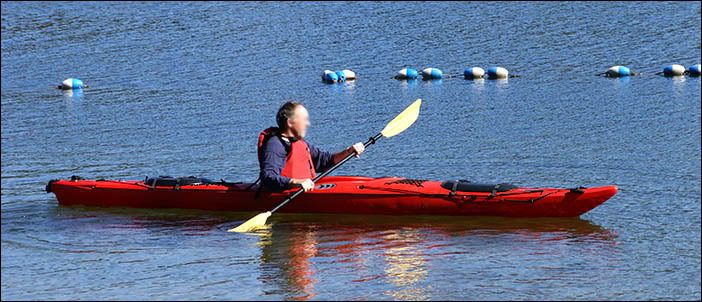 (Yes, it's true, I blurred his face… Hey—maybe he was supposed to be somewhere else other than paddling around at a demo day, and his face was pretty recognizable in the photo. In fact, while he was out, he spent some time on his cell phone…probably complaining about having to be inside his stuffy office on such a nice day… while he paddles around the lake in a Prijon.)
Christmas is coming. I suspect that before 2007 arrives, this blog will include a post about the new addition to my fleet. I haven't decided whether to keep the Stealth if I add this boat, since the Motion will pretty much be replacing that one for all trips on which I don't want to risk the fiberglass.
Camping trip coming up at a new place on a lake. Stand by for that.