First camping trip of the season! I went back to Three Rivers State Recreation Area, a personal favorite that is located on Lake Seminole near Sneads, Florida.
This park had the distinction of being the only state park I have camped in and never seen a single deer. The rangers have said they are there, and I'm sure they always have been—but I have never spotted even one. On this trip I spotted four within hours of arriving—all of them from the car while driving through the park. So I got up early on Wednesday morning and after breakfast I set out with my camera to walk the park and look for deer.
I did see two, finally, as they darted away after seeing me. This is not an overly-visited park and the deer are not accustomed to seeing humans walking around. It occurred to me that they were much less alarmed by a human in a car than a human on foot. It's been my experience that deer are seldom frightened at the sight of a silent paddler on water…so clearly the way to find these deer is to get in the kayak and look from the lake.
This strategy worked.
I was really pleased to have come upon a deer at the water's edge so soon after leaving the boat ramp. The timing could have been better from a photography standpoint—it was about 10 a.m. and I was shooting into the sun. This also gave the deer a really good look at me as I passed nearby. But again, I don't think they consider danger to come from the water, only the woods.
This great blue heron had been swooping around me for awhile—always flying away when I got too close. But for only a moment it stood still enough for me to get a picture.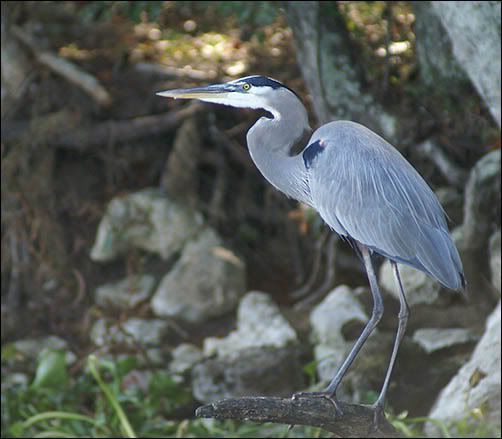 I heard a loud splashing ahead and first assumed that I had again startled a group of deer. But I couldn't see them yet around a bend in the water, so they presumably couldn't see me either. I slowly approached and saw that it was several young deer playing—chasing each other in and out of the water. They left before I caught up with them, and made their way through the woods only a few feet in from shore.
So I followed them. It was an adult female and three youngsters. I watched them play in the leaves and run around in the woods, always near the water. There were too many leaves still on the trees to get any pictures, but it was fun to watch them, knowing they had no idea I was there. And of course they finally came back down to the shoreline. The mother came first and spotted me. I had seen them approaching and stopped my forward momentum and was sitting still in the water. She peered out at me.
I guess she thought it was safe to come down, and so they did.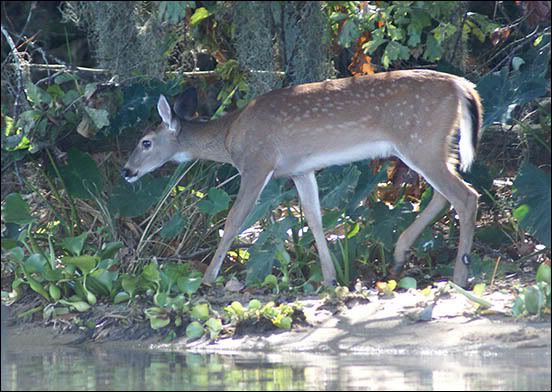 They played and drank water and wandered around for a while—the little ones paid no attention to me whatsoever.
After a while they returned to the woods and headed back in the other direction, toward the park (interestingly, they made this direction change very near to the park boundary…can they possibly know where they are safe from hunters?). I continued on. It was early enough that I thought I could finally get farther along the shoreline than I had before.
However, this has been a very dry, still summer for this part of Florida. There was more underwater growth than I have ever seen on the lake, it broke the surface in many large areas along the shoreline. And then I came to a portion that had some kind of brown slime over it. It extended farther out into the lake than I cared to go, and it seemed to follow the shoreline for a long distance. After paddling through it for about 5-10 minutes and seeing no end to it, I decided to turn around and head back. Maybe I could catch up with the deer again.
I thought there were a lot of coots on the Wacissa a few days ago, but there were literally hundreds in groups on this lake. And then there were a few of these little ducks—I don't know what they are. This one swam along with me trailing behind—it did not seem to want me to get beside it. I wanted to get next to it to get a picture, but decided to take this one from behind it just in case that didn't work out.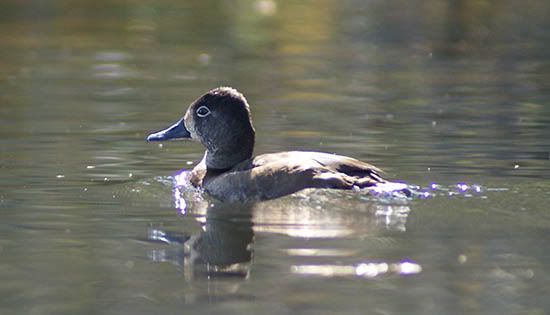 And sure enough, when I paddled faster than it could swim, it took off and tried to blend in with a nearby group of coots. Most of the ducks like this that I saw were alone. I did see one group of four, but that was the most in one place.
As I made my way back to the boat ramp and the campground, the belted kingfishers were of course swooping around and diving into the water. This one landed on a tree branch not too far overhead.
There's a grassy area near the ramp, and this great blue heron was fishing amongst the reeds.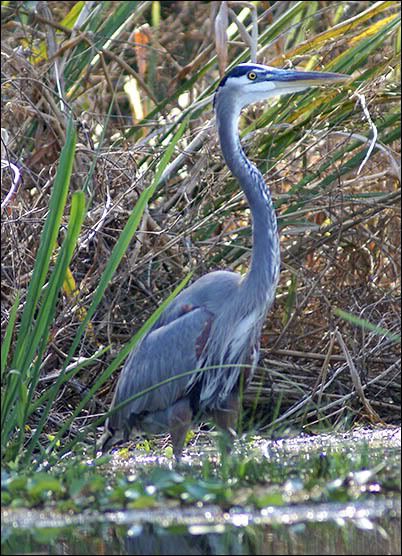 A great paddling day. As my dinner was cooking and the sun was setting, I took this picture of the pier near my site.
I decided to take a stroll over there and got this picture.
I'm planning to go back again soon. I only had one paddling day this time and that wasn't enough to satisfy me! This camping trip was similar to previous ones, including my selection of site #9, and so there is no accompanying post in the camping blog since this campground has been well covered there.
Stand by for the next report.