My husband and I decided to go walking at St. Mark's NWR today. So technically this is not a Paddle Tale. However, I don't expect to get out again this coming week due to rain in the forecast (though they could be wrong…), so I'm going to post the pictures here.
The day started out sunny but it was overcast by the time we got there. This was not an altogether bad thing. It was warm, and the advantage to no sun was that there were no pesky shadows to worry about in pictures. We started out at the lighthouse at the Gulf (of Mexico), where I got this picture to show the way that the water and the sky merged—you couldn't tell where one left off and the other began. There was a pelican flying over the water when I took this.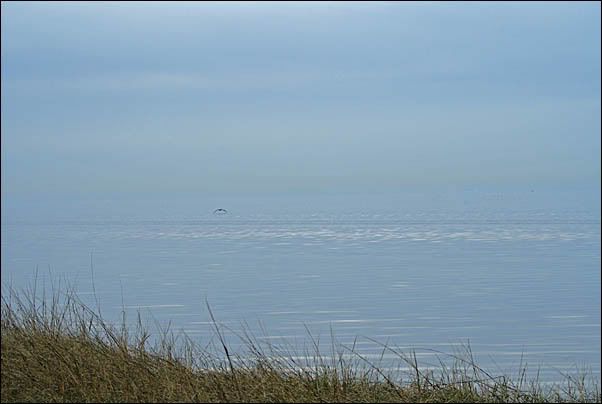 We walked along the shoreline for a short distance. These two people were fishing with nets; I loved the way the shadows looked—like they were stitched in.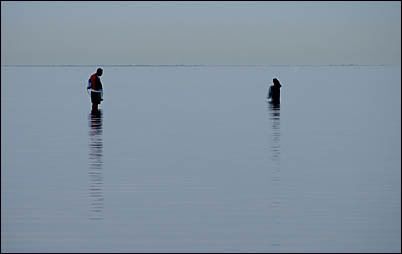 Pelicans often hang out on the pilings near the lighthouse, and today was no exception.
We walked alongside the road, which has water on either side. This juvenile little blue heron was sitting on a branch, blending well with the colors of the day.
I was so pleased yesterday when I saw the wood storks, since I rarely see any (see the post below this for those photos). Imagine my surprise to see several here. This one was looking for food in the reeds at the edge of the marshy area.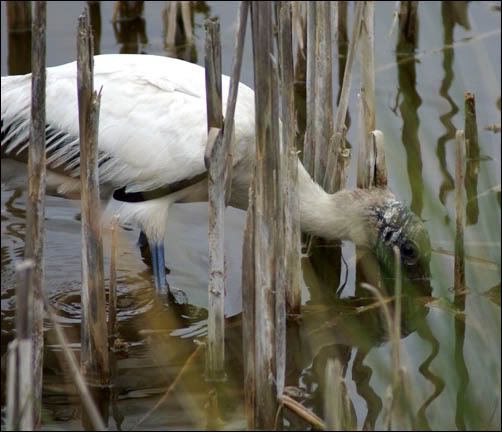 We came to a large group of blue winged teals, a new bird for me, so of course I took some pictures—these of a male and female pair.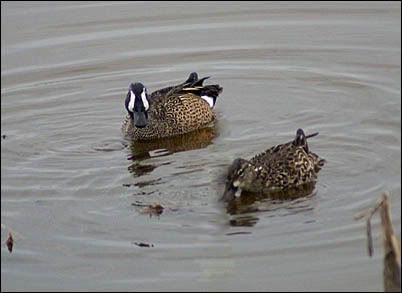 When she dove for food, she was very subtle and elegant about it.
When he dove, he really put his whole body into it, his feet kicking in the air.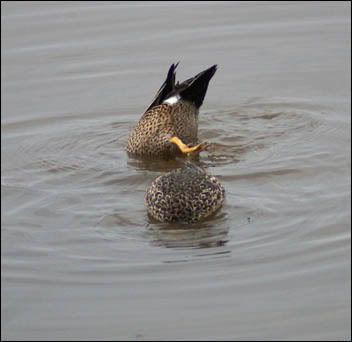 There were also a lot of hooded mergansers swimming here and there.
On our way out we saw this gator enjoying the uncommonly balmy air so of course I had to stop and get a photo of it, particularly since I missed that one yesterday.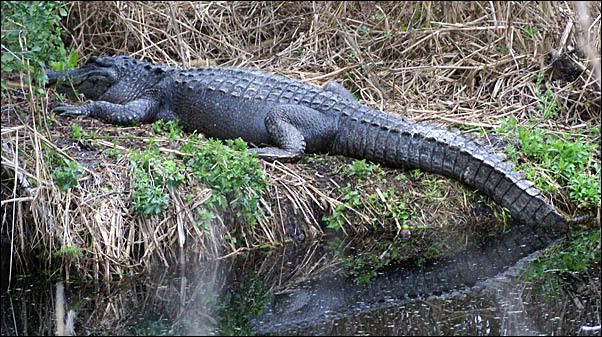 It was raining lightly when we left the park. It says something about the appeal of this place that not only had people come on such an overcast day, they were still coming in while it was raining—including people on bikes. This is a great place to walk around and you could easily spend more than a full day here and not see it all.
Not sure when the next paddling trip will be. Stand by.