Well, it was a little nippy today, but it was also sunny with a clear blue sky. And sunshine here can be pretty warming, so I decided to head out again to the Wacissa (everyplace else is too far to take a chance on in uncertain weather).
I was the only one in the parking lot when I got there, I did not see another person the whole three hours I was out, and I was the only one in the parking lot when I left. Somewhat different from my recent Saturday trip. This time the ambient sound came from hawks rather than air boats.
I took the Mystic today. I've been in the Prijon for the past several trips and have become very familiar with it, so I decided it was time to take the Mystic out. I like them both. When Abby and I were out on Saturday we explored several areas that required passing over some surface plant growth. When the fiberglass Mystic crosses over such growth, it is silent; the smooth surface offers no resistance. I noticed on Saturday (not for the first time but it was distinctive that day) that when the Motion goes over surface plants, it makes a lot of noise. This is less than ideal when you are trying to sneak up on a bird to get a photograph. This surface growth is mostly encountered on rivers. On the plus side, the Motion moves like a touring boat but has the stability and cockpit roominess of a rec boat. I think in the future I will take the Mystic to rivers and the Motion to lakes; that way I can use them both for what they are, for my purposes, best designed for.
This little egret was hanging out between the boat ramp and Blue Spring.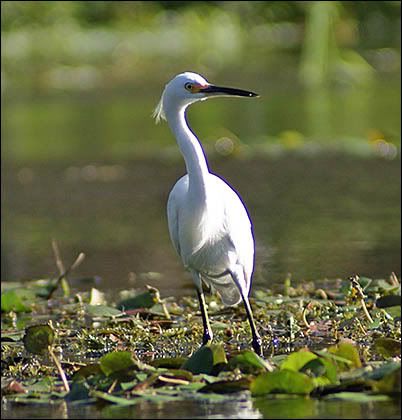 The wind was gusty, and blowing downstream, which is not good on this river. But between gusts all was calm, and as long as I stayed in the sun I was comfortably warm. I drifted slowly downstream.
As on Saturday, I saw fewer birds than usual on this river. In fact, almost none until shortly after I turned around, which was less than 2 miles downstream—that wind had me concerned.
I saw a few egrets ahead of me so I decided to go as far as to where they were and then turn around. This one was posing nicely for me, facing into the sun.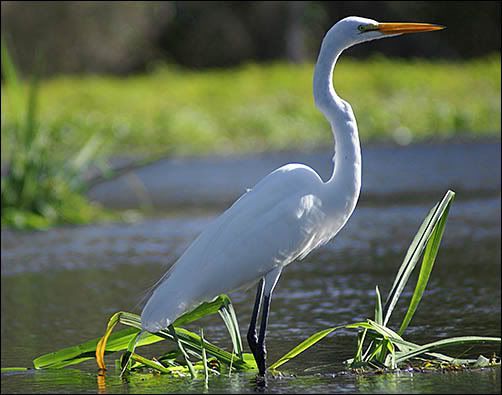 On the way upstream I saw a duck that looked like a merganser. It unfortunately saw me and flew across the river. I was in no hurry to get to the boat ramp so I crossed to follow it. It flew back across; I followed it back, and this time I sat for awhile in the grassy area to see if it would come out so I could get a picture. No such luck. I paddled on. And wait! There it is again! And…off it goes across the river.
About that time I was near the Blue Spring inlet again so I crossed the river (again) since I wanted to go back in to pursue my quest for raccoons. I spotted four otters playing and got a very blurry picture of one otter head sticking up out of the water (not shown here). It's been my experience that the best way to get any good otter pictures (unless they are the used-to-people sociable type) is to have them come upon you rather than coming upon them. Since I came upon this group, I could only watch them as they dove and swam into the shallows along the edge, hidden by all the horticulture. Meanwhile, this little blue heron let me take its picture.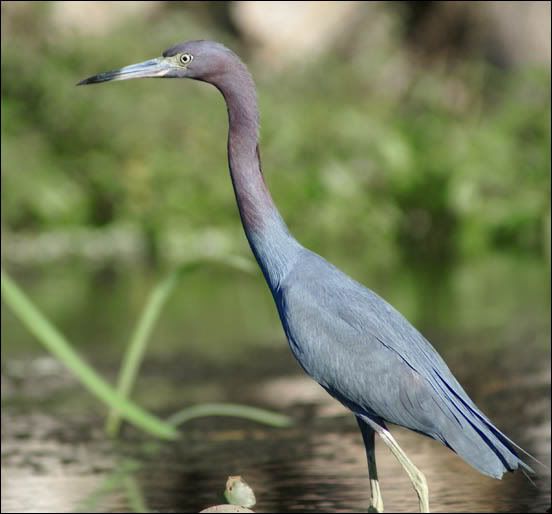 Still no raccoons or other photo subjects around Blue Spring, but it was still wonderfully quiet and peaceful in there, as always. When I came out, I saw this egret on a branch at the edge of the river. It saw me, too.
The wind picked up considerably, and paddling against it proved to be a great workout. I was glad I was in the Mystic, an ideal boat for those conditions. I saw a few other birds at the edge as I paddled upstream but taking my hands off the paddle would have meant drifting downstream fast so I just enjoyed seeing them and moved on. I was able to pull over to the side and park in some surface growth to get this great blue heron.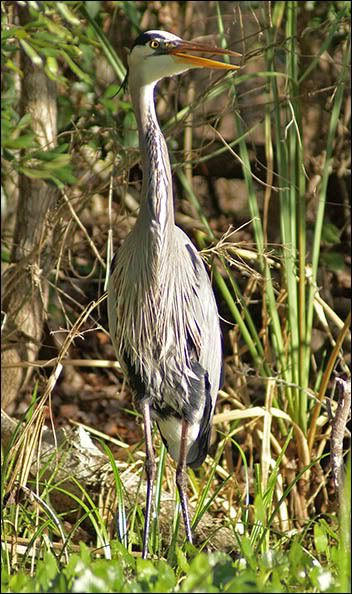 This was a wonderful day on a river that never disappoints. Seems like there might be a few more good paddling days coming up, and maybe even camping next week. Stand by.