Woke up this morning and what to my wondering eyes should appear? Blue sky and sunshine!
After picking myself up from the floor, where I had landed after falling out of bed in shock, I made plans to go to the Wakulla. Checked the tide table…hmmm, not a good morning for the Wakulla. Also, by the time I had finished a hasty breakfast, gray clouds were rolling in. So I decided on the Wacissa, since it is closest. I hadn't planned on being out more than an hour before the rain would arrive, so I took no snack or lunch food.
I prefer not to go to the Wacissa on Saturday because of the air boats that disrupt the peace of the river and present a general safety hazard for paddlers. However, this was a special circumstance so I made an exception. When I got to the parking lot, I saw a truck that looked a lot like my paddling buddy Abby's. There were several vehicles in the lot, indicating a fair amount of river traffic.
I put in and started my drift downriver. How great it was to be back on the water! I passed this juvenile little blue heron near the boat ramp.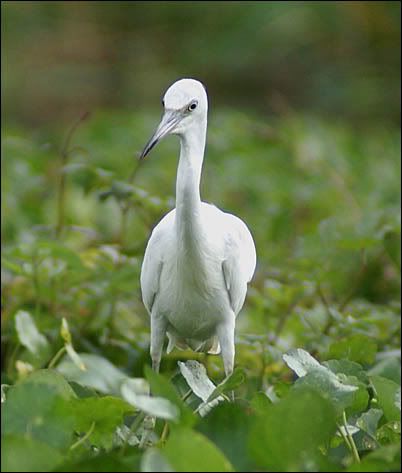 I had been on the water maybe 10 minutes or so when I spotted a familiar-looking yellow kayak on the other side. I started to cross the river, fairly certain it was Abby. I saw the distinctive posture of someone holding binoculars up to their eyes as she checked out who this approaching paddler was. So I waved, thinking
that better be Abby
. It was, which made this day even better! She had been out since 9 am; it was now a few minutes after noon. Since she had been searching for woodpeckers (particularly the elusive ivory-billed variety), she hadn't covered much ground and was agreeable to turning around and going back downstream again with me.
We passed this little blue heron, who had something to say about it.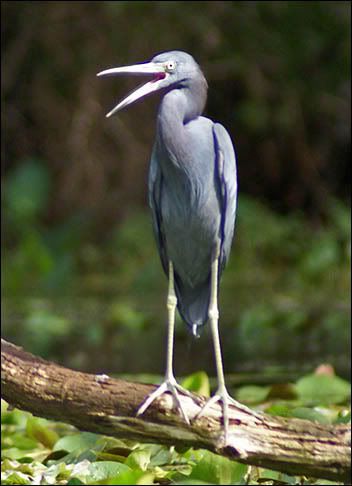 We went into Blue Spring (Abby for the second time)—I am on a quest to see another raccoon on a paddling trip. No raccoons, no woodpeckers, but it was nice and quiet in there.
Shortly after we emerged from that channel and rejoined the main river, the first (of many) air boats passed us. So much for peace and quiet on the river. Conversation comes to a complete halt for quite awhile before the air boat actually gets to you, is of course impossible while it passes, and continues to be on hold for longer yet until it is farther away (think being on a runway while a propeller plane taxis by you at 45 mph, and then multiply the noise level to allow for how it carries over water).
A few minutes later tranquility had been restored and we continued on downstream.
There were surprisingly fewer birds than usual on the river today. It's been so long since I have been out that I was twitching to take some pictures so I defaulted to photographing the ever-present moorhens. Actually, this plump round one
is
kind of cute…
We heard the sound of a woodpecker attacking a tree on the other side of the river and crossed to investigate. Sure enough, a pileated was hard at work.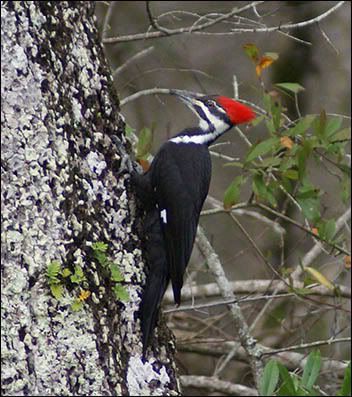 Abby had her camera up and ready for it.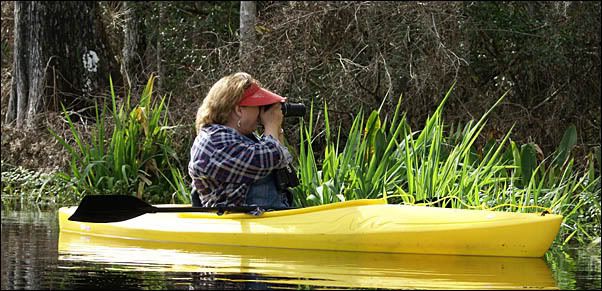 While she focused on the woodpecker, which had moved to ground level, I spotted this little Phoebe (?) on a branch nearby.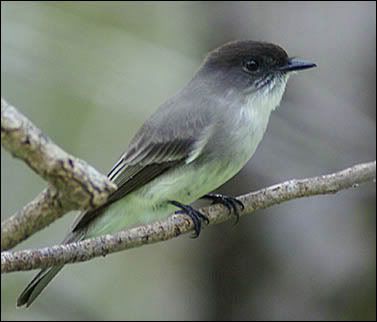 We decided to see if Bob (the Tame Limpkin) was in his usual spot. On the way there we passed this egret, who posed for us and then flew a bit ahead, posed again and flew, posed again and flew. I love it when they are so accommodating.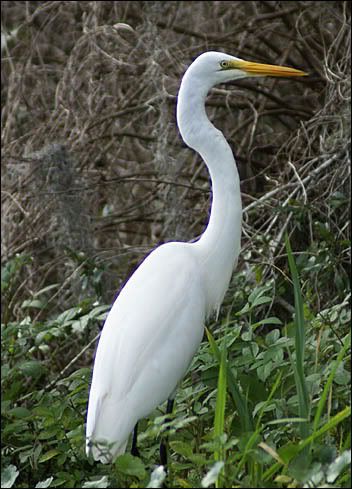 We heard Bob before we got to him. I wrote in an earlier post that I couldn't be sure if any particular limpkin was Bob, but I was wrong. When I saw him this time, I did recognize him. First, he's very young (of course, that will change). Also, he is the only limpkin that will let you get within a couple feet of him and seem totally unconcerned.
As long as I was so close, I took several, including this Portrait of Bob:
Shortly after that we turned around and moseyed back upstream. The weather had been amazing—for the most part blue sky with large white clouds. This day turned out far better than expected.
We had many eardrum-shattering air boats pass us. During the approach of one, Abby turned to me and said "
You want birds? Here they come
!" and indeed, the air boat had startled several different varieties, who had all taken to the air in our direction to escape the cacophony. Later we came to a man and a woman who were new to this river. As we neared them, an air boat was approaching from upriver. It was too late to greet them audibly so we just smiled. The woman and I could only shake our heads at each other in mutual paddler dismay as the air boat passed, and by the time we were adjacent, I could hear her well enough to understand her "this
was
so peaceful!" comment. Needless to say, I suggest picking a non-weekend day to paddle this river, if possible. You may still have to endure the noise of an air boat, but it is unlikely that you will encounter so many of them.
And then stillness settled once again over the water and we continued upstream. These two turtles were sharing a somewhat small perch.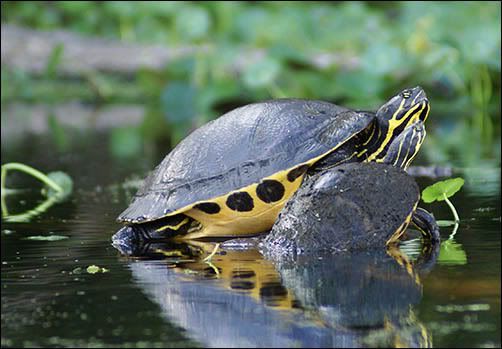 The little sandpipers were out and about near the boat ramp, as usual.
Abby was out for a whopping and impressive 7 hours today—I was out for 4. It looks like we are in for more cold and rainy weather in the next week or two, but I hope to get out again soon. Stand by.