I've been meaning to get back out to this lake for a long time. It's a bit of a drive, so I was waiting for a rain- and wind-free day, and this was it. It was nippy for Florida but that's why they make fleece.
The main purpose for paddling this lake (for me) is the possible opportunity to see wood storks. These birds are somewhat rare, making herons and egrets seem a dime-a-dozen. While I have seen one wood stork on the Wakulla, that was unusual (again, for me) and a one-time event. This is where you need to go to see them.
The first 90 minutes on the lake were just for the joy of paddling. Not many people frequent this lake (I was the only boat on it for the entire 4 hours I was there), and as a result, the birds are extremely skittish and shy. They saw me coming and off they went.
I have never seen so many great blue herons in one place, and never so high up in trees—it was very odd. I was able to get one picture of one.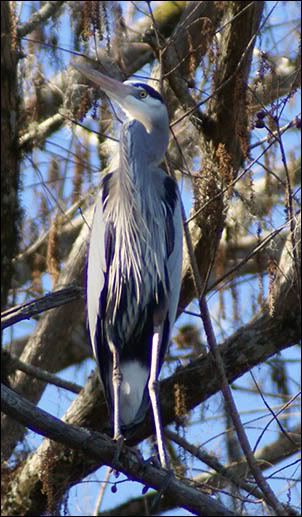 I saw a group of hooded mergansers, and one bufflehead, all of which flew far away when I approached. Argh. I continued on. While this lake is not as quiet as the Wacissa since there is constant distant highway noise, and the airport is nearby so periodically planes can be seen and heard as they come in low on the horizon, I would still qualify it as peaceful. It's not a very clean lake—the water itself is less than clear, and the shoreline has a lot of litter. It has so much potential, and maybe over time the city will do more with it. They built a park and a nice paved boat ramp so they are on the right track. And portions of it are very wild and natural.
Things picked up considerably bird-wise in the last two hours I was there. I came upon a wood stork in the grass along the shore, which was wonderful. These are strange-looking birds.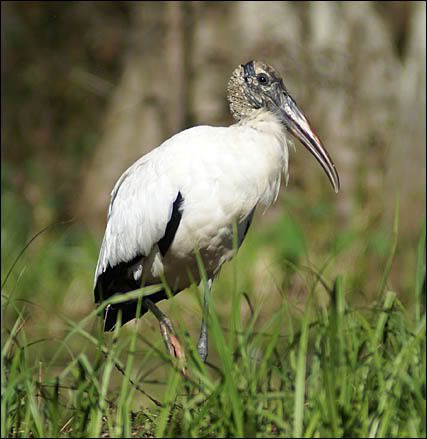 It watched me go by, much to my surprise—every other bird would have been long gone.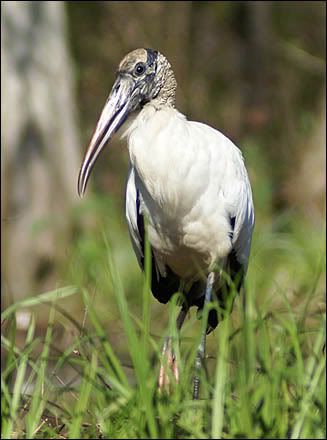 Belted kingfishers are always around, no matter where I go, and it sometimes takes awhile for me to even be aware of their calls. Once I realize they are there, I watch for them. I was able to sneak up through the cypress trees that line this lake and get a picture of this one.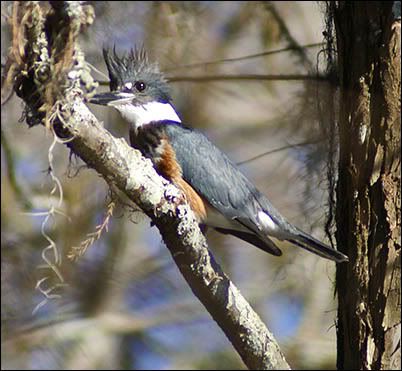 While looking for those mergansers through the binoculars, I saw a gator on the grass of the bank across the small finger of the lake that I was paddling. Good, I thought, I know it's there, I can get a picture of it. No such luck, I didn't expect it to be afraid of me and run into the water; I'm used to the Wakulla gators that barely rouse themselves to open one eye when you paddle by.
I circled the lake. As I got to the last quarter or so of it, I came to a tree with two wood storks and an ibis (on the left). The ibis was probably thinking "you guys make me look almost normal!"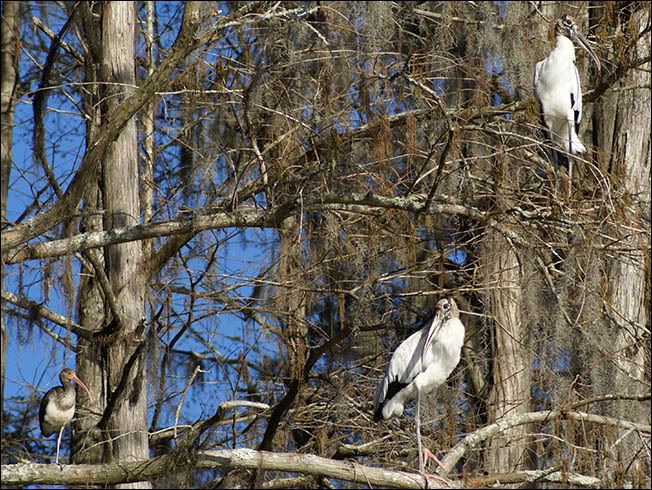 I got there after noon and so I was out as the sun was getting low in the sky. The lake water is pretty much brown, the trees are either gray or brown, and when the sun is low, the whole shoreline takes on a somewhat sepia tone. This turtle was sunning itself.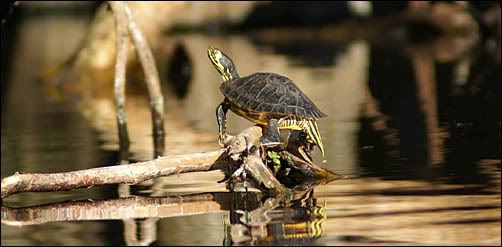 I passed a familiar bird, only on this shoreline it blended in well with the background.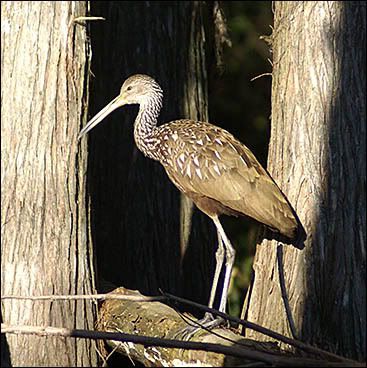 There are some houses and docks in the area near the boat ramp. This anhinga was on one of the docks—now this what it means to stick your neck out!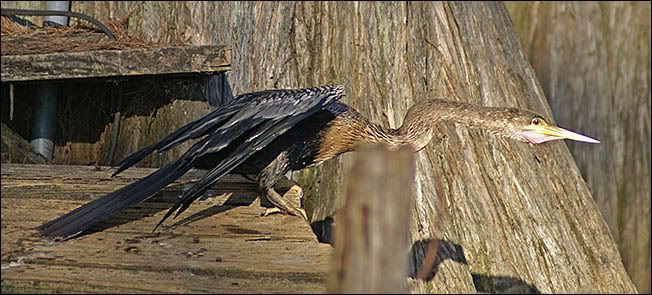 It was a good paddling day. Hopefully there will be more soon. Stand by.