And blue sky! It's amazing what one day of sunshine and blue sky can do for one's well-being.
It was a tad cold, though, and also a tad windy, so I decided to pass on driving all the way to Lake Munson and instead went to my go-to river for iffy weather, the Wacissa. It's Saturday, a previously-mentioned bad day for this river, but that was the choice.
I got there and put in at 11:15 (in a recent post, Abby referred to me as a "10 o'clock scholar"; shows what she knows. I am clearly an
11 o'clock scholar
, give or take). The wind was much lighter at the river when I got there than it had been at home. I wore a lightweight black first-layer long-sleeve shirt under a heavy fleece sweatshirt. For a while this seemed like a mistake, the sun warmed me up and I ended up taking off the fleece and then putting it back on when I was in the shade, then taking it off, etc. However, toward the end of the 5-hour paddle, when the sun was getting low in the sky, I was very happy to have it. Florida can't produce a wind cold enough to penetrate heavy LL Bean fleece.
I passed some grebes early on. On lakes, these birds seem to be mostly unafraid, but on this river they are shy. I did get this picture of one out of the large group:
I drifted down to the entrance to Blue Spring. Shortly before arriving there, I spotted a very large group (flock?) of ibises in a tree. When they saw me coming, they all flew,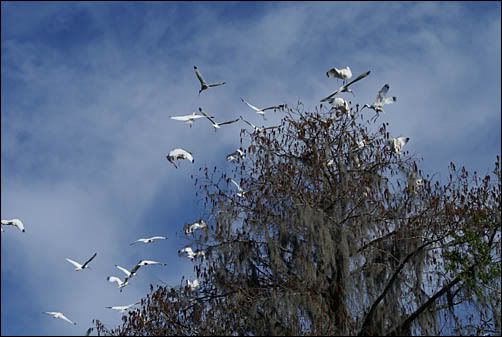 some to this tree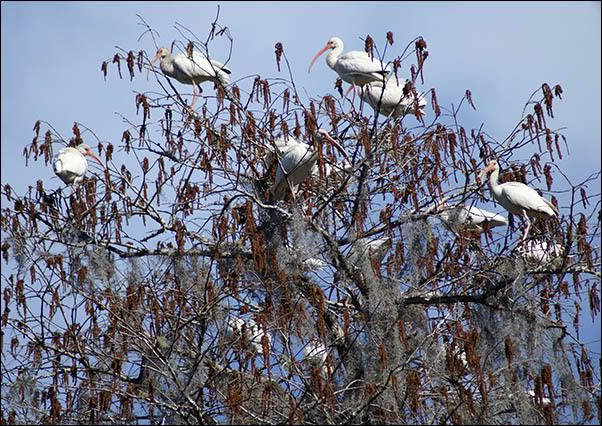 and some to this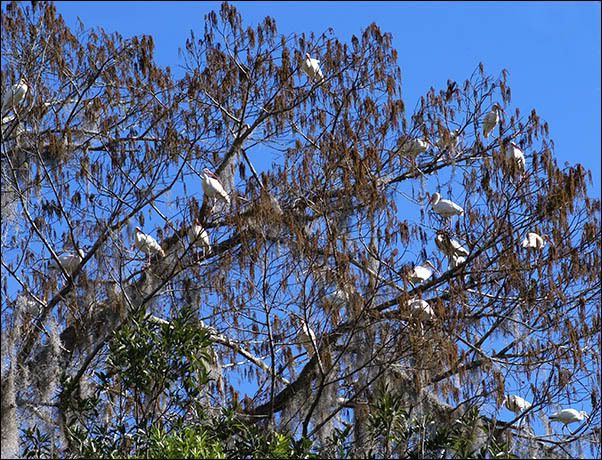 There are always little blue herons on this river.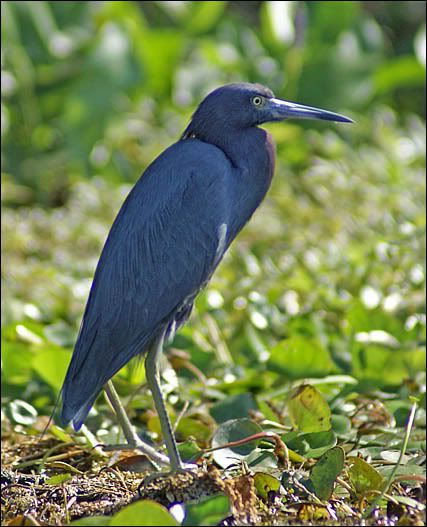 I went into Blue Spring looking, as always, for raccoons along the edges. No luck (again). I've seen them there before, I'm sure sometime I will see them again.
I was out for an hour and fifteen minutes before I saw another boat. That boat happened to be an air boat. As it approached, I was lining up a nice picture of an egret in front of some tall green reeds; I like the way their white feathers pop out against the green. Unfortunately I didn't get it before the air boat roared by. And there went my egret.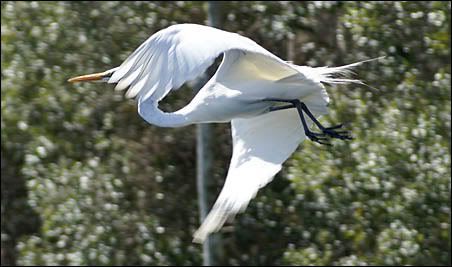 I drifted downstream through Bobville, but I didn't see the limpkin. Strange. (I also didn't see him when I passed through again on my way upstream.) A little beyond there my old friend the belted kingfisher sat for a moment on a limb above me.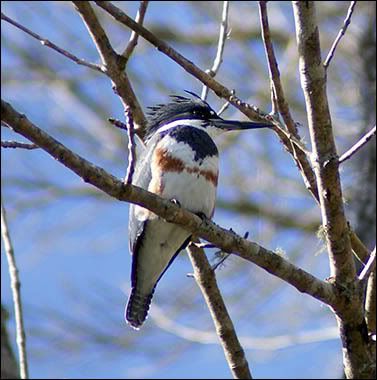 If I had the equipment, this would be a great river on which to record an "environments" CD. So many bird sounds, and the wind blowing through the reeds makes a nice background. There seemed to be more songbirds today than usual. And I ended up with another cardinal picture—they really stand out.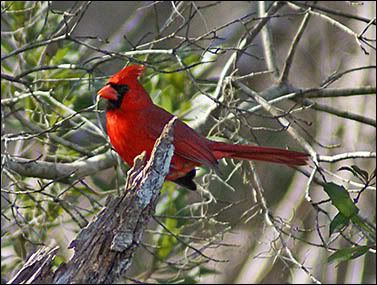 As it got cooler, the birds seemed to be hunkering down a bit more, like this egret.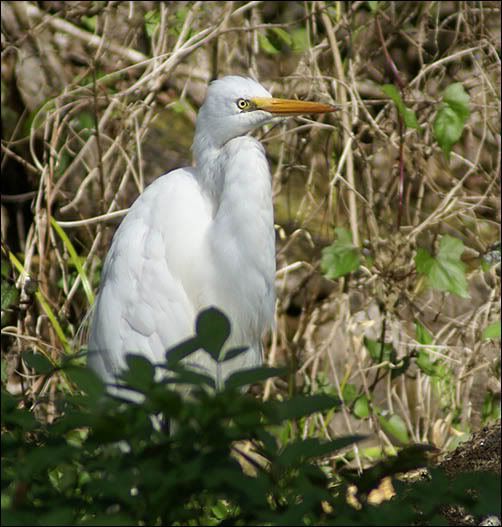 When I got about a mile from the boat ramp on my way back upstream, I spotted a familiar yellow kayak to the right—Abby had come to spend a little time paddling the Wacissa. At that same time, I looked to my left and saw a limpkin and thought it looked a lot like Bob, though this would have put him about a mile upstream from his usual place.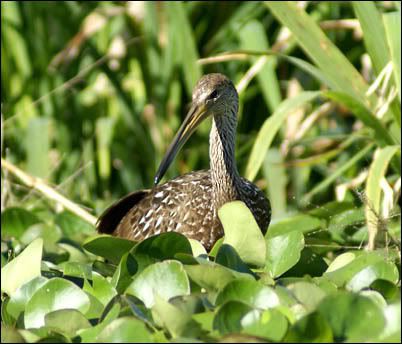 There's one way to find out if it's Bob or just a random limpkin, so I paddled over there while Abby was coming my way. Yep—I've only come to one limpkin that lets you get this close. He was busy catching snails.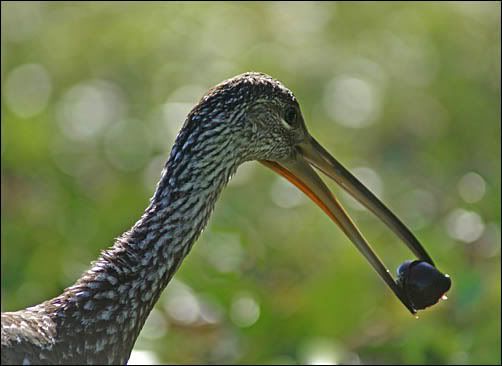 Abby and I talked for a while. I'd already been out 4 hours and had battled wind coming upstream, so I decided not to go back downstream with her and so we parted company. I crossed the river to see some cormorants and got this portrait: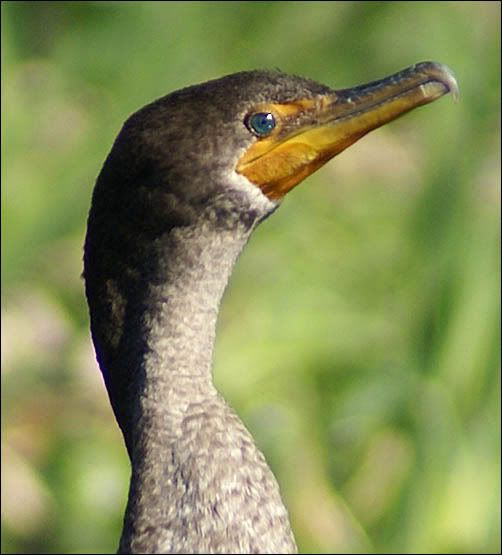 Back to Blue Spring, where I made an interesting discovery. There is a narrow channel that leads off from the back of the spring. I have tried to paddle it in summer and got only a short distance before becoming mired in surface growth. I decided to try it again. Much to my surprise, it led all the way back to the main river! Gorgeous scenery along the way, and completely passable. I made a note of some landmarks where it veers off the river and will go through there again before summer brings new growth.
As I got closer to the ramp I saw a bird that I have only seen once before, a couple of years ago on the Wakulla. It's a juvenile black crowned night heron (Abby, I think you got a photo of this a while ago as well). The color of the lower part of the beak is what sets this apart from juvenile yellow crowned night herons.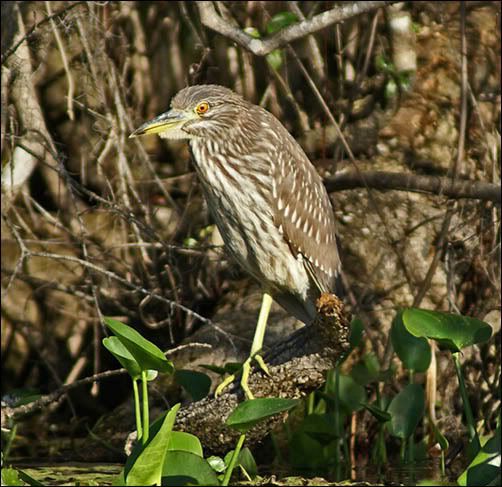 The sun was low when I approached the ramp area. I couldn't resist getting one last picture of a limpkin in silhouette.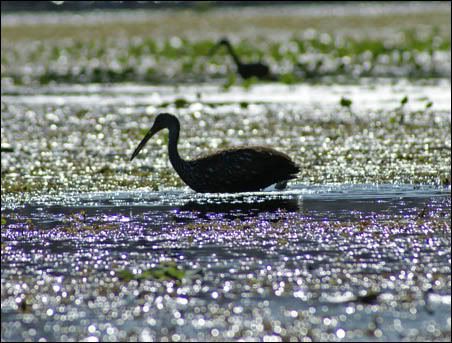 All of next week is predicted to be cold, rainy, and windy, so I don't know when I will get out again, but when I do, I'll tell you about it! Stand by.