I decided to go back to St. Marks NWR to paddle in either the Gulf or one of the pools (or both). There was a bit of a wind, but the Gulf seemed to be minimally choppy when I arrived at the lighthouse so I thought I would start there. I put in at the boat ramp—actually a grassy/sandy spot near it, since the ramp itself is not at all kayak-friendly, between the concrete of the ramp and the gravel on either side.
The first photos of the day were of this pair of ibis that were hanging out in the area where the boat ramp channel opens up into the Gulf.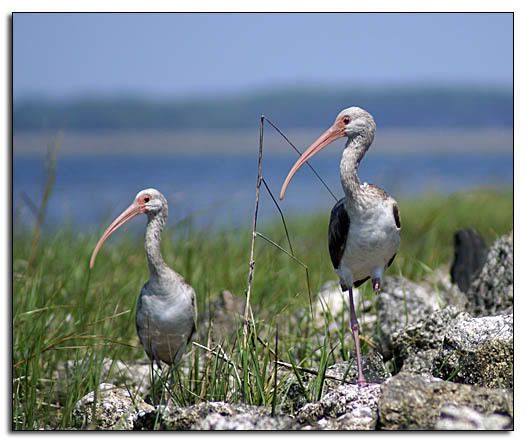 I decided to go to the right this time to see where it led; the lighthouse is to the left. I was paddling close to the grassy shoreline.
There was some splashing in the water ahead and farther from the shoreline than where I was. One of the reasons I have always hesitated to paddle in saltwater is my concern about hammerhead sharks, which frequent these waters. This splashing appeared to be one of two things: a friendly pod of dolphins or some sharks in a feeding frenzy. I was in about 18" of water and very near the edge so I progressed forward to get a better look.
There were fins in the water, but that could be either dolphins or sharks.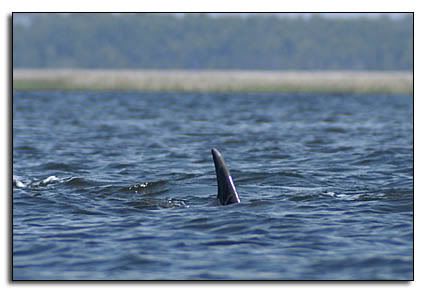 Then one of them came out of the water and splashed back down on its back, and it was clear these were dolphins.
Whew
. I watched them swim around for a while.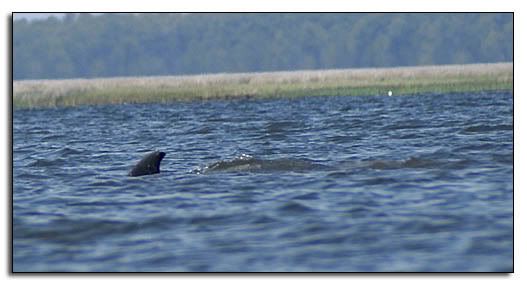 And then oh, look.

They are coming over to say hi.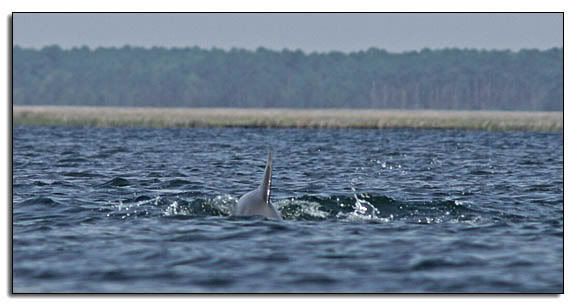 I watched them approach, two in particular were making a beeline for me. I took a lot of photos, but I had to be on manual focus since the camera has trouble focusing when most of the background is water. However, I was bobbing like a cork in the small waves, which were pushing me against the grass along the edge. They came fairly close, closer than I expected, so those additional photos are too blurry since the focus was way off. There was a drop-off in the water about 10 feet out from where I had stopped to watch them, and they couldn't pass that, so they turned around and went back out into deeper water. It was extremely cool to be paddling so close to dolphins! (But not too close…)
The shoreline in that direction got boring quickly and so I decided to turn around and head over to the lighthouse and beyond.
Taking pelican photos is a lot like taking moorhen photos—they are always there and so I don't find them very exciting. However, this one glided past me nearby and so I decided to take it.
It was a hot, sunny day. These cormorants were enjoying the sun on some old pilings.
As I approached the lighthouse, I spotted a pelican sitting on what remained of a pier. I don't know if it is yawning, stretching, or swallowing a fish in this picture, but it's a different pose!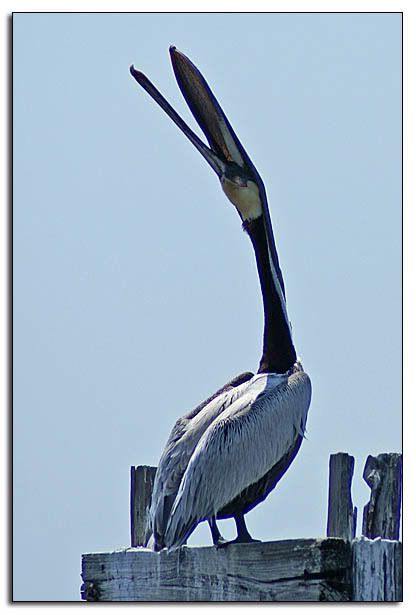 I wasn't the only kayaker on the water today, this guy was fishing near the shoreline.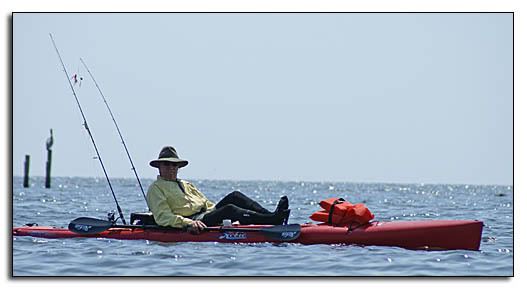 I passed the lighthouse and continued in that direction. It's very scenic along this route, as if it could be in some more exotic locale than the Florida panhandle…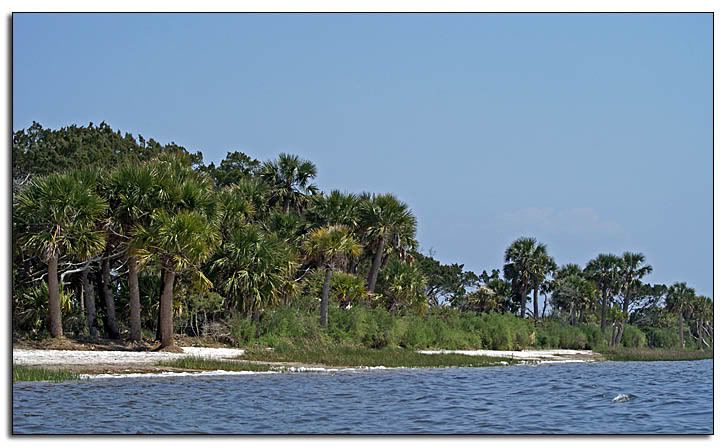 This little willet was looking for food in the shoreline grass.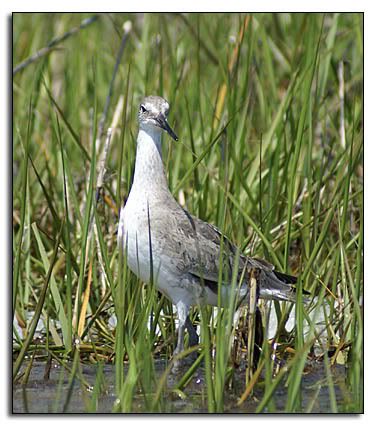 Two hours of paddling against a breezy wind and Gulf waves feels like 4+ hours on a calm river, and so I decided to go back to the boat ramp (some day I have to get here on a windless day!).
It was still early, though, so I left everything in the boat and loaded it haphazardly in the car and drove a mile or two to one of the pools in the park to see how paddling was there. The water was very still and flat. Here's the view from the boat ramp:

Only electric motors (or boats with no motors) are allowed in the pools. This pool (there are several) actually extends for some distance to either side. The alligators were grunting along the edges (it's courtship time for them). I spent about an hour in the pool, just enjoying the easy paddling and peace and quiet. I went through areas heavy with lotus leaves and flowers so I took this picture, which is remarkably similar to one taken last spring (and at the risk of being predictable, I'd say there's a good chance there will be another one like it taken next spring).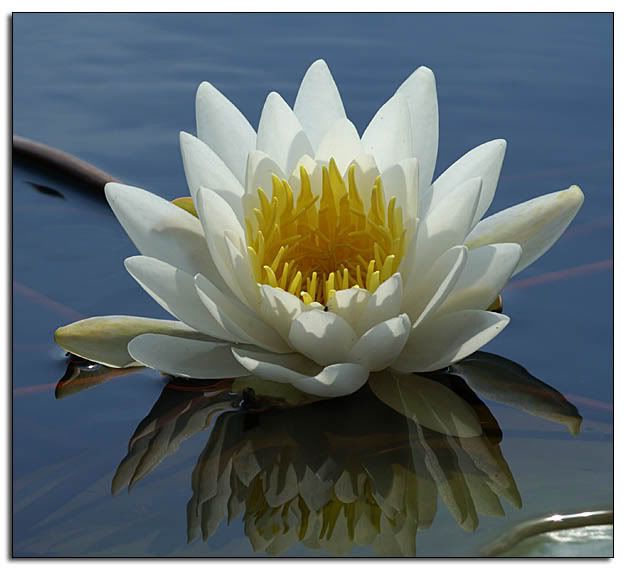 I'm thinking about having the optional rudder put on the Prijon since I think that would help a lot with the wind situation here. I prefer to take this boat to this area rather than either of the Impex kayaks, since I would rather not subject their fiberglass to the cement and rocks that may be encountered.

My arms are beyond tired right now, but knowing me (and I do), I'll be back out again before the week is up. Stand by.