What a super day on my favorite river! My paddling buddy and I have both noticed a conspicuous lack of birds lately on the Wacissa, so I decided to go to the Wakulla on this warm spring day. This river is normally the go-to water for scenery, manatees, gators, and, this time of year, ibis. It offered more than usual today!
This great blue heron was standing along the shoreline very near the boat ramp.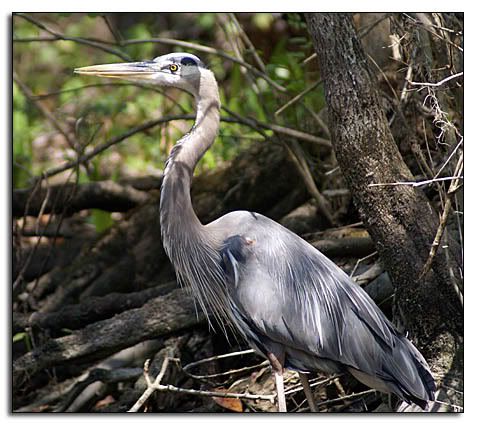 This river has more surface growth on it than I have ever seen before; it looks a lot like the Wacissa in parts. This has to be the reason for the many little blue herons I spotted along the edges—this photo looks like one that would be taken on the Wacissa.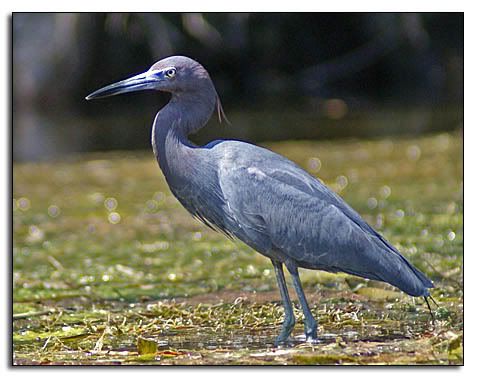 Later I saw this little blue heron perched in a tree. Now that's something you don't often see on the Wacissa…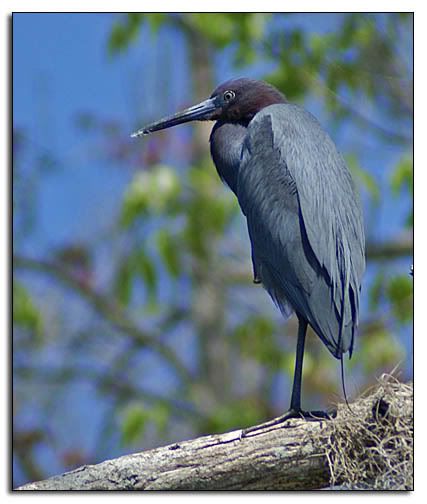 There were dozens of ibis along the shores of the river. This one was fishing alone.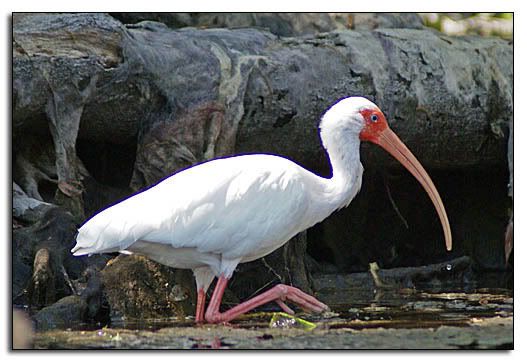 These two, on the other hand, seem to be scoping out each direction, maybe deciding where to go next…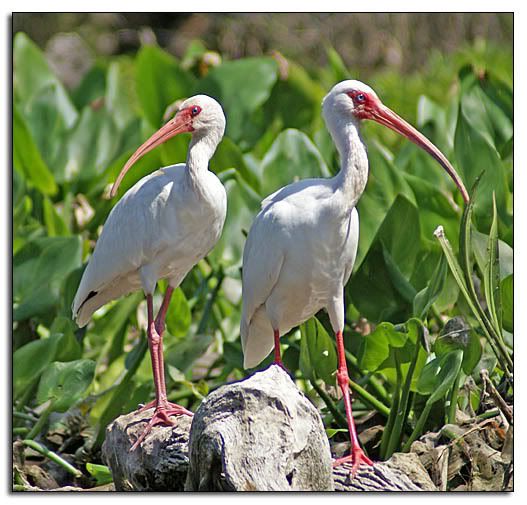 The surface growth is almost absent in the upper half, and the shoreline is turning green and spring-like, with yellow flowers everywhere. Very pretty and peaceful.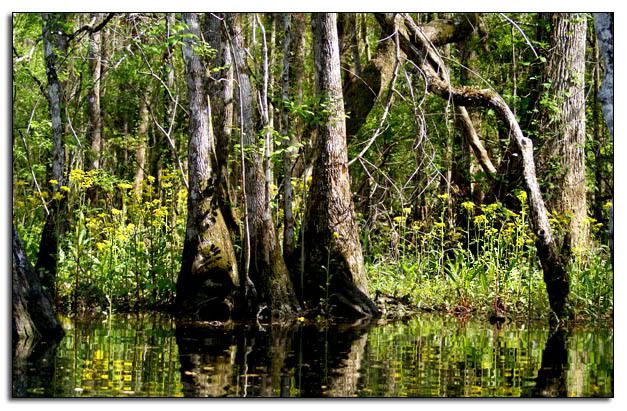 I have been concerned that I used up all my male-wood-duck luck last year when I was seeing them everywhere—this year my only spottings have been from a distance as they fly away in fear of me. So I was very happy to see this little guy along the edge!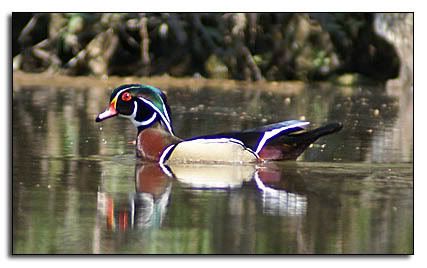 This snowy egret is also a common sight on the Wacissa, less common on this river.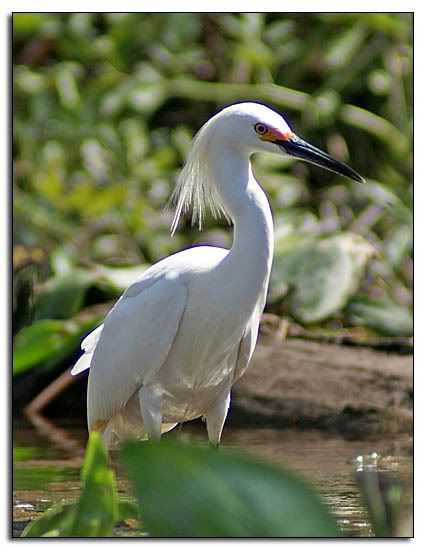 Meanwhile, the larger egrets still have that gorgeous breeding plumage.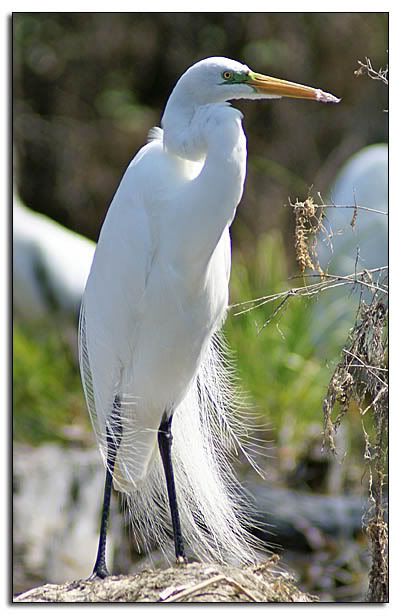 I was drifting downstream and spotted a wood stork, of all things, over to the side. I took this picture quickly before it disappeared from sight behind trees.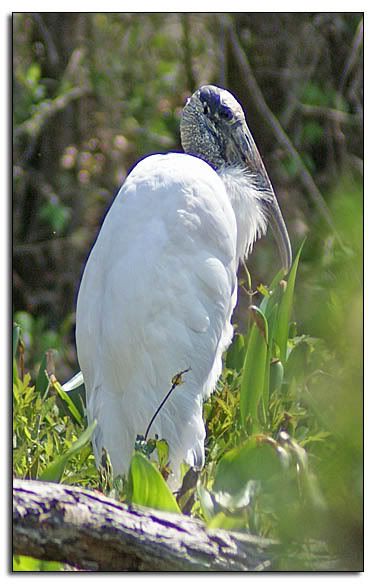 After I got passed those trees, I discovered that that wood stork was one of two that were hanging out there! What a surprise!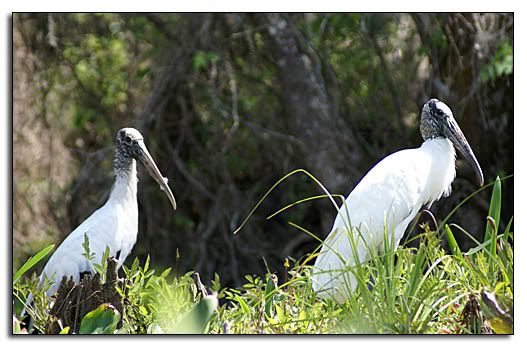 I am completely puzzled about why these turtles, which are called Suwannee cooters, spend so much time doing their balancing act on logs—why the legs akimbo? The smaller one to the right must be an Amazing Balancing Turtle in training.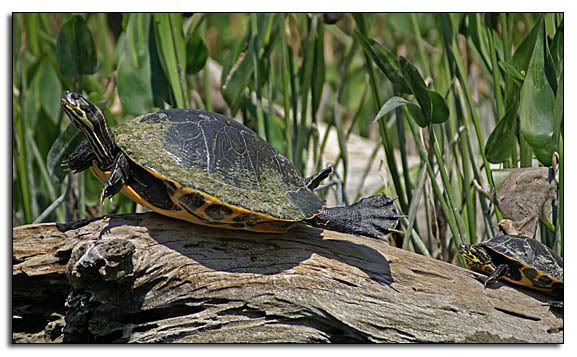 It was a great day. There were many other paddlers on the water today and a few power boats. I found out after I got out at the boat ramp at the end of the paddling trip that the no-wake rule is back in place on this river, as a state law now! Yay! They have yet to put the signs back up to that effect, but one speeding power boater got stopped by patrol officers and told to slow down. This is
very
good news. The manatees will be here soon.
I hope to get out again this week while our weather is so pleasant. Stand by.