I went on another camping trip to Three Rivers SP, again getting my favorite site, #9. They have changed some things and #9 is now a pull-through, which made it less cozy, but I still think it has the best view of the lake.
Abby joined me for the afternoon and dinner the first day. We had hoped to get out paddling but it was extremely windy and so we settled for a hike instead. Two of the campground volunteers/hosts, Sarah and Mary, stopped by and chatted for a while before dinner.
The next day was not as windy and so I was able to get out and paddle around. I went into the area across from the campground, which is grassier than the shoreline of the park. This egret was fishing in the grass. I get a lot of egret photos, but very few on grass—they are usually in the vegetation that line the rivers around here.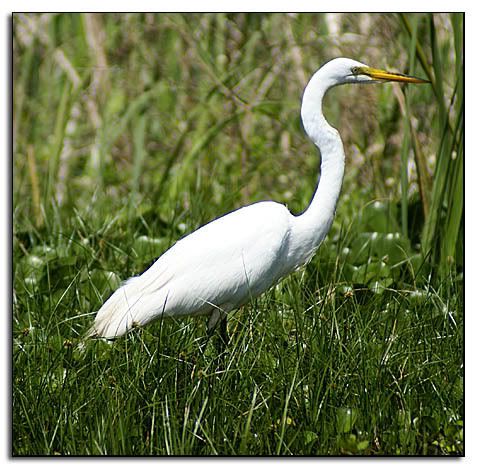 A little farther along I spotted this little blue heron—again, a common bird for me to photograph, but rarely in this setting.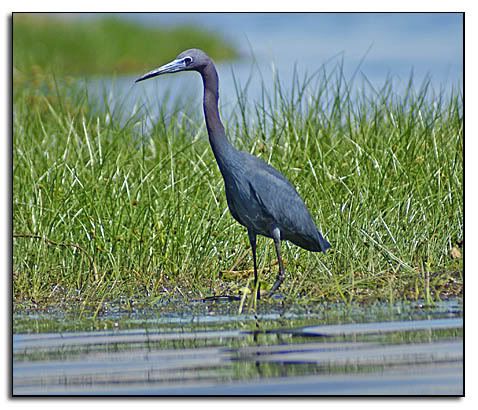 It watched me go by.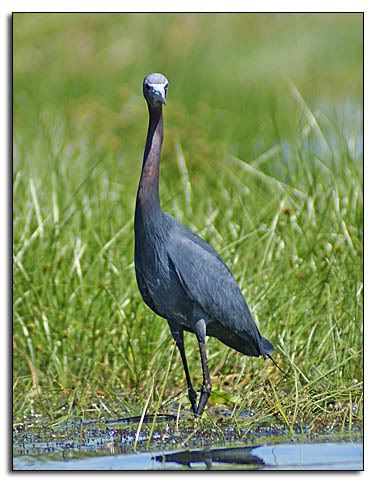 Last month I posted a black-and-white photo (coincidentally taken at this same park) and stated that it was a first, and likely the last. One reader commented that I should never say never, and he was right. I went through this patch of lily pads (or lotus leaves, whichever they are) and noticed that several of them had droplets of water rolling around on top, which was a nice effect. I took a picture of one, but I wondered at the time how it would work out as a 2-dimensional image (or did you just have to be there). It occurred to me even then that it might be destined to be rendered black and white. And, having seen both versions, I like this one better—the drops show up better without the color of the leaf interfering. And so once again, a black-and-white photo appears here…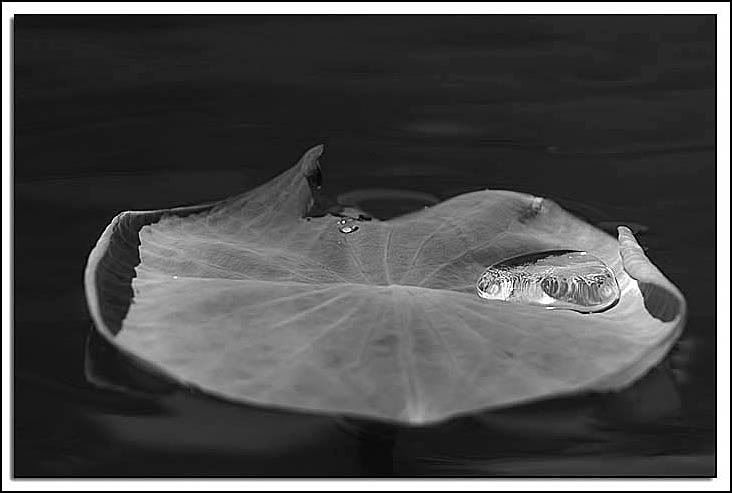 This wren landed in some reeds nearby and just sat there so of course I had to take a picture of it.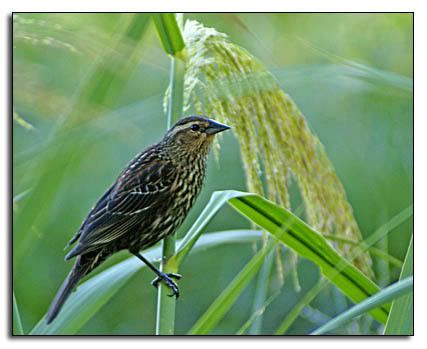 The sunset the evening before had been very impressive, so I had an early dinner and got in the kayak and paddled out into the lake with the idea of taking a photo of the sunset from the water. I had quite a bit of time before it went down so I moseyed along the shoreline, hoping to see a deer, but no such luck. I then positioned myself at some distance from the shore, with a good view of where the sun had set the night before. There were no other boats in sight, and I would be able to hear a power boat in plenty of time to get out of the way, so I just sat there and enjoyed the peace and quiet. I took this while I was waiting, looking across the lake in a northward direction.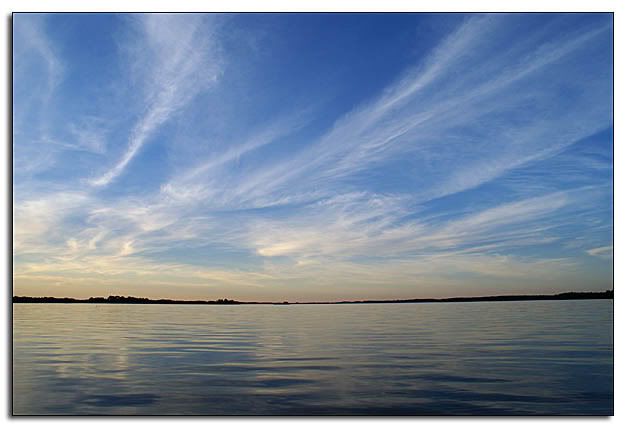 Unfortunately, last night's sunset was not nearly as spectacular as the night before. I kept waiting for the brilliant color but this was about as brilliant as it got.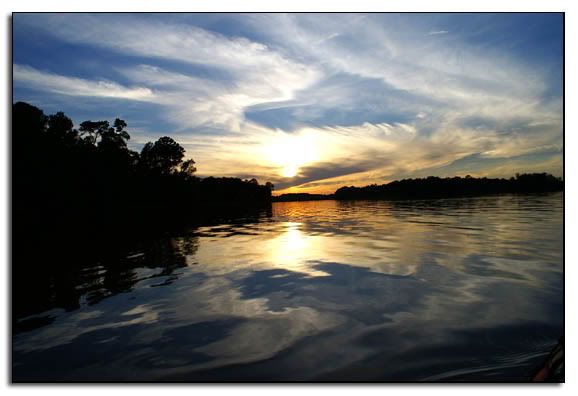 I realized that if I waited till the sun actually set, I would then have to find my way back using a flashlight, so after taking the above photo I started paddling back to the campground. As I got close to it, the sun was very low, lighting up the water, and a coot swam across in front of me, so I took one more photo. The sky wasn't all that impressive at the time (everything above the top of this photo was gray), but the water looked good!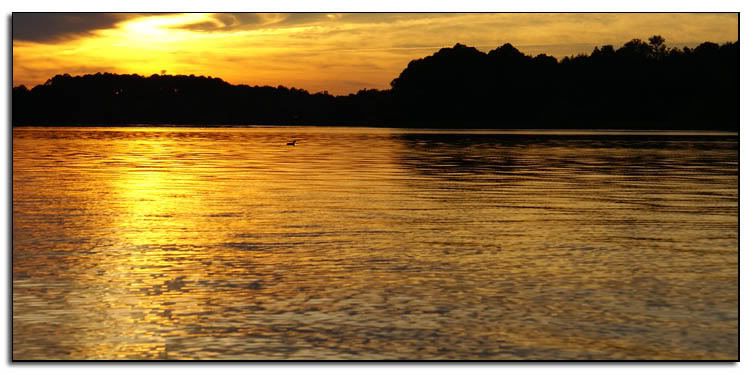 It was a fun trip and I look forward to getting back to this campground. I have plans to return to the Crystal River area as soon as we get through this windy spell, and in the meantime will be paddling in my usual spots. Stand by for those reports. P.S. Thanks for all the positive feedback, via email and post comments, regarding the addition of sound! I'm glad you could hear it; I look forward to adding more.