What a great day on the river!
I noticed that for the most part I saw birds in clumps…a lot of one followed by a lot of another. So that's how we'll see them here.
I launched around noon, on a day that anywhere else or at any other time might have seemed to be threatening rain. Hahahaha! Not here! (Although actually, forecasters are insisting that this drought is about to end. That would be great.)
I first saw several tricolored herons, which was a joy since they haven't been here in the numbers I have seen in previous years. For this first photo, I paddled over along the shoreline to include the river behind the bird. This was a possible mistake. Our yellow flies (horrible fierce biting flies) are swarming now (in fact, I had some around me in the middle of the river…surrounded by water…they are getting desperate). Weirdly, the photo ended up with a blue cast. Not sure why, but I like the effect so I left it (it's the only one that came out like this).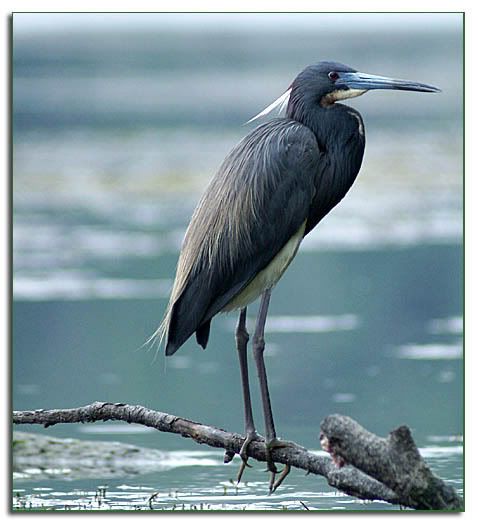 Near that heron was a second.
I came to a great egret on the east side of the river, sitting high on a branch. I could tell as I approached it that it had unusual plumage, which was blowing in the breeze. This is one of the prettiest egrets I have ever seen.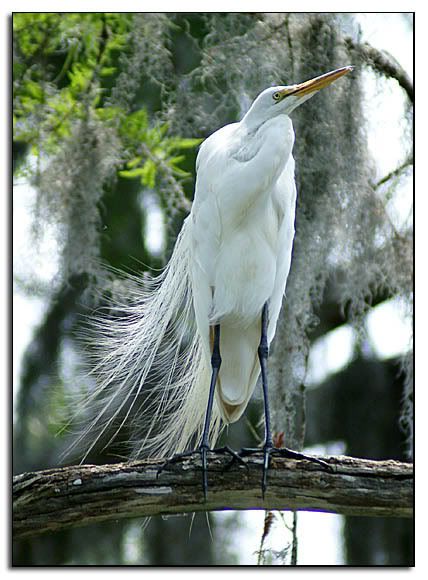 And then we come to the green heron photos. I'm always on the lookout for these birds since they seem to be rare this year. This one was in the middle of the river as I slowly drifted downstream toward it. I was positioned well to take the photo…but it was facing me head-on and not looking away. Here's what a green heron looks like when it tries to stare you down.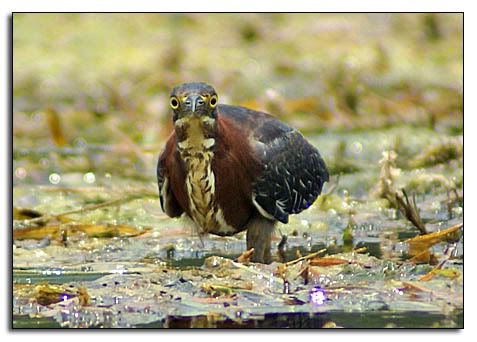 Kind of like a turtle-face, if you ask me. It did finally get bored and start looking for some food.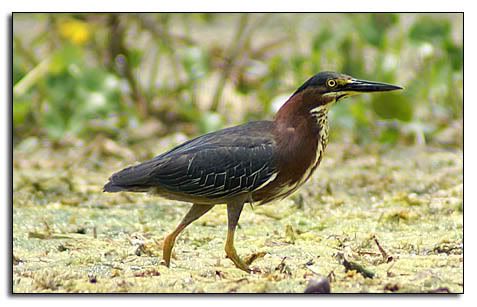 A little later I saw another one with its neck extended. It's so strange the way these necks elongate when you had no idea there was so much neck there in the first place.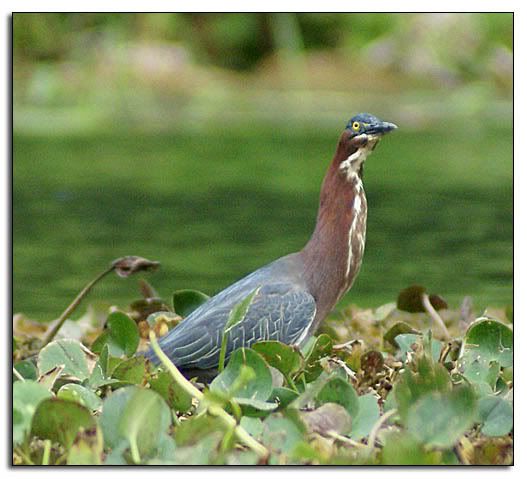 Now that I can paddle much more often than usual at this time of year (given the total lack of rain), I am getting to see the rail chicks mature. Here's one that was in the vicinity of the very young group I saw on my last visit here, but I don't think this is from that group, I don't think they mature that fast. As far as I can tell from my bird ID book description, this is a purple gallinule. I discovered where all the purple gallinules hang out, and this one was near there.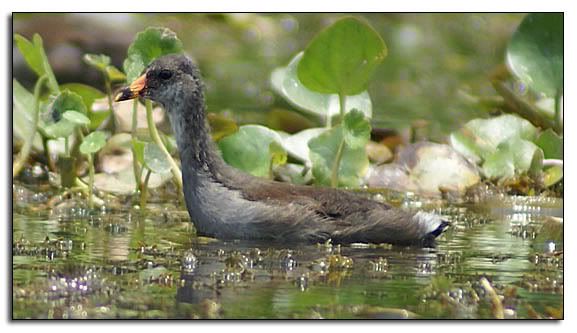 In the same area but far enough away to not be related to that one I saw these three chicks in the grass at the edge.
And finally, of course, an adult purple gallinule. I'm glad this photo came out as it did. Notice the very long toes on this bird—they help the birds walk across surface growth. In fact, an adult purple gallinule can walk across a lily pad without sinking it.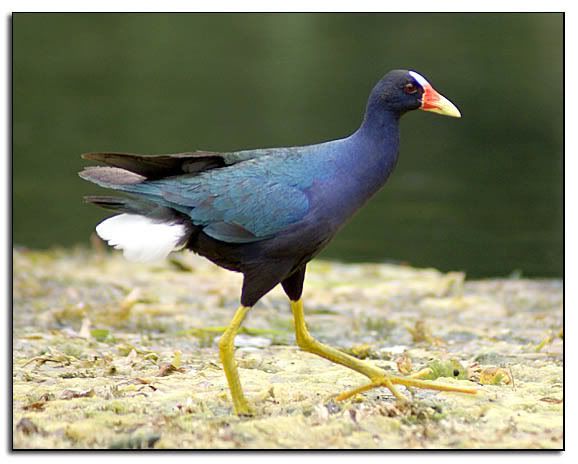 Near those I was surprised to find a single pie-billed grebe. These are so cute—they are on my Top Five Favorite Birds list. This one was diving after food.
I turned around near the snowman boat ramp and headed back upstream, a gentle wind pushing me along. As has happened before, I almost ran into Bob before I saw him. I am sure this is Bob—I've never encountered another limpkin so completely at ease with my presence. Is this not a glowing example of limpkin perfection?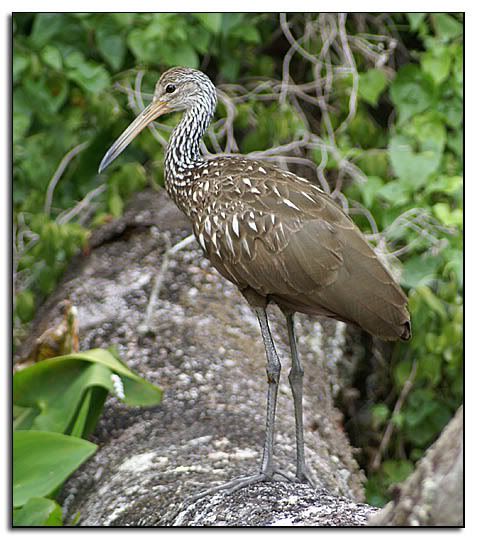 This was a day when a lot of white birds flew away from me. This great egret is my favorite—taking off so abruptly that water flew off its feet.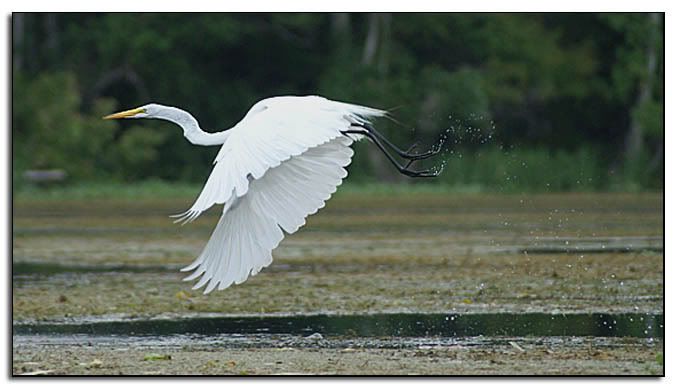 This snowy egret also decided it didn't like me being so close.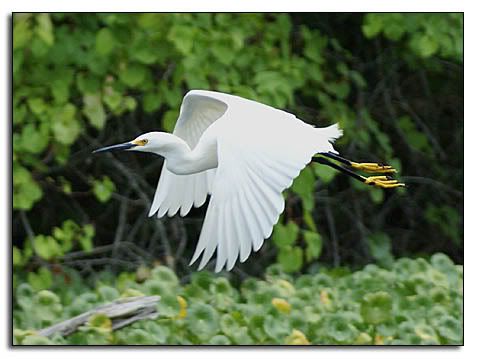 This one was actually coming in for a landing when I snapped the photo.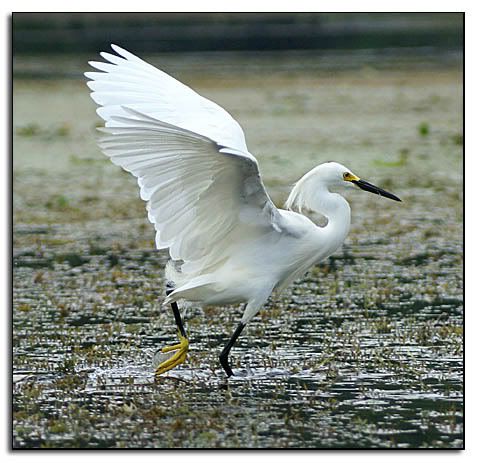 I was heading back to the boat ramp when I spotted my #1 birds, a pair of wood ducks. So of course I took a picture of them.

I recently mentioned to someone that wildlife photos from a kayak can occasionally be a challenge because you are photographing moving objects
from
a moving object. But now and then a bird gets so focused on the hunt that it holds stock-still.
How conveeeeenient
.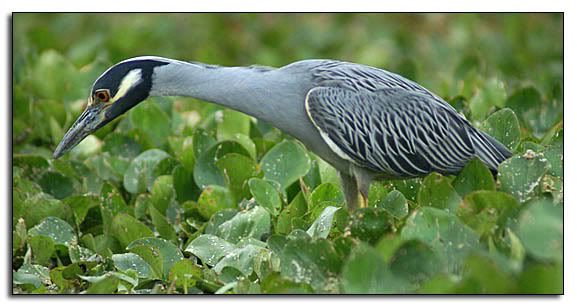 A super paddling day. I'll be getting out again soon. Stand by.