Yesterday my husband and I decided to go paddling on the Wakulla. We have historically always taken the canoe when we paddle together, but I am on a campaign to switch our mode to two kayaks instead. He fits very well in the Prijon Motion, so he claimed that one and I was in the Impex Mystic, as usual. We did discover that we are going to have to come up with a new way to transport two kayaks to the river other than the one we used yesterday, but that's another story.
I was amazed at how relatively quiet the river was, considering it was the first day of a holiday weekend. There were many paddlers, a few powered fishing boats, and many large pontoon boats, but the no-wake policy that covers this whole upper section of the river made for a remarkably peaceful holiday weekend paddle. We actually had portions of the river to ourselves.
This great blue heron was perched on a tree near the boat ramp.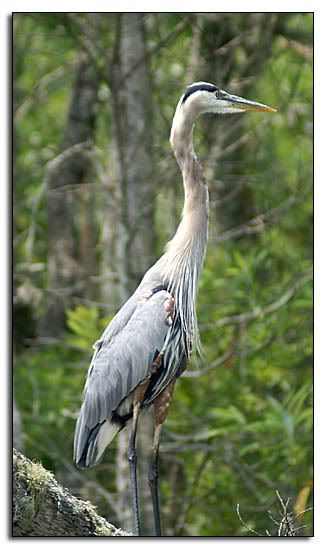 A lot of people were out on their docks and swimming in the water. Most wildlife were absent—I'm sure the manatees decided to stay out of this area of river during all the activity, and even the gators must have been hunkered down off the main water, probably tending nests.
I have always said that SOT (sit-on-top) kayaks are very stable in flat water. This guy standing in one pretty much proves that point. (I blurred the faces a bit just in case they were supposed to be somewhere else, maybe a picnic with the grandparents…)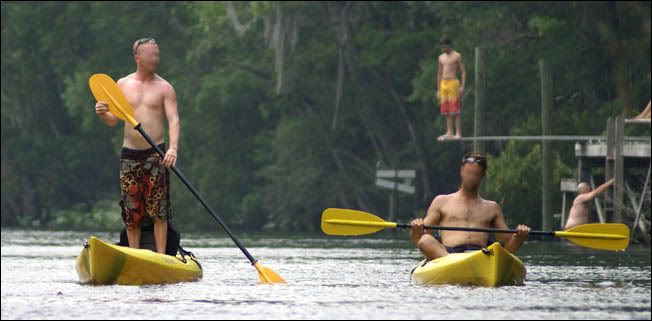 We had gotten a very late start and so did not go all the way to the top of the river. My husband is a little uncomfortable with the thought of paddling near gators, so he stayed in the main part of the river. Once in a while I would take a detour through the water channels that go off the river and that were easy to paddle since the tide was in. And I found where the birds were hiding. I was very surprised to find two wood storks there, and was able to get a few photos of them.
I believe they were juveniles, based on the fuzz they still had on their heads and the color of their beaks.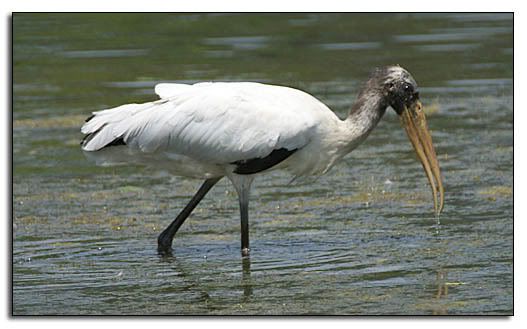 On another short detour, I spotted these wood ducks trying to hide in a tree. The male looks exactly like a wood duck decoy I have on my mantle.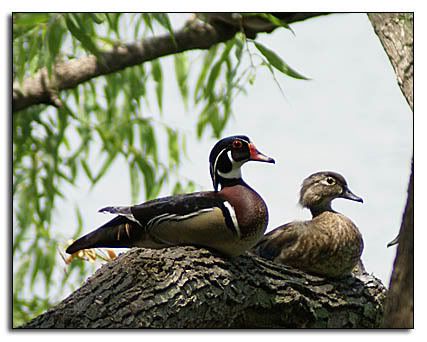 As we neared the boat ramp my eagle-eyed husband saw a great blue heron in the water a little way up a narrow channel, so of course I paddled over to photograph it. Herons are territorial and it seems likely this is the same one as pictured above.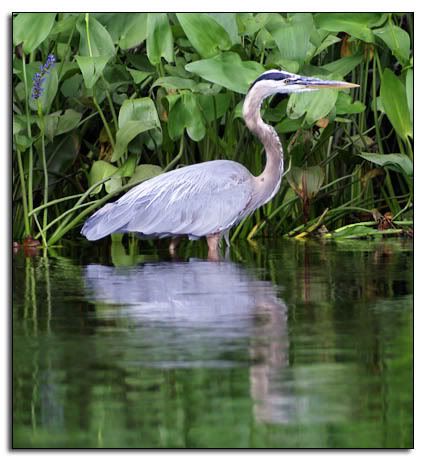 And then we came to two yellow crowned night herons fairly close together. There was a large one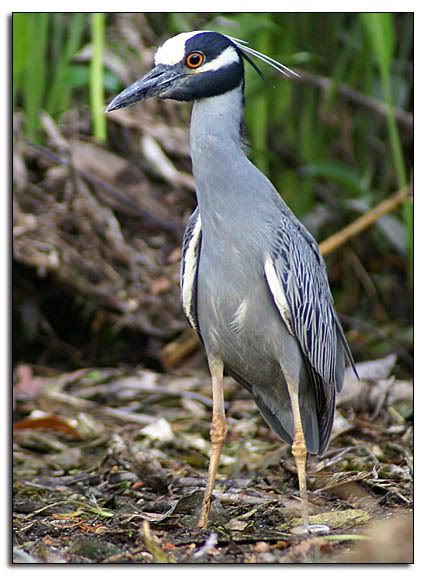 and a smaller one that was looking very nice against the shoreline greenery.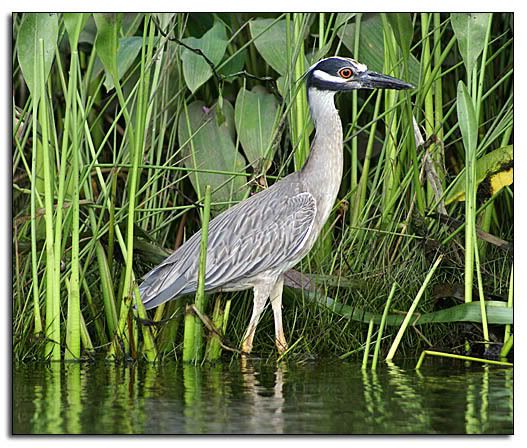 We reached the ramp, loaded the boats, and headed for home, which is an hour and fifteen minutes from the boat ramp if driven with no stops. However, we stopped to gather some provender (human variety) on the way. We arrived in our small north Florida town at about 8:00 pm.
There is a little pond next to a nursing home in this town; we pass it often while running errands. It is currently at a reduced level, as are all bodies of water due to this drought. When Abby recently came to visit, she commented that she had seen an egret in the pond; I've never seen any birds of any sort in that pond. When we drove by it last night on the way home, I was utterly amazed to see more than two dozen wood storks in the pond. We pulled into the nursing home parking lot and I jumped out of the truck with my camera in hand and, while sustaining many yellow fly bites (yellow flies are the scourge of the south and elsewhere, basically a fierce biting fly similar to deer flies and horse flies; the bites are painful and raise large welts. But I am willing to suffer for my art), took photos of them. This is a long view. Basically the entirety of the pond is contained in this photo, only a little of the sides are cropped out. This pond cannot support anywhere near this many birds. I imagine they had stopped there on their way to someplace better.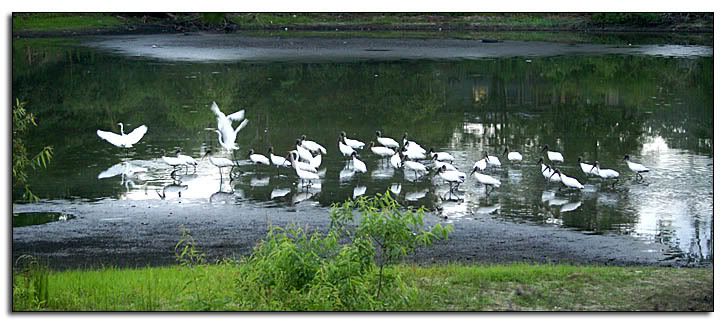 Here's a closer photo of the group of them. There were a few egrets in the pond as well.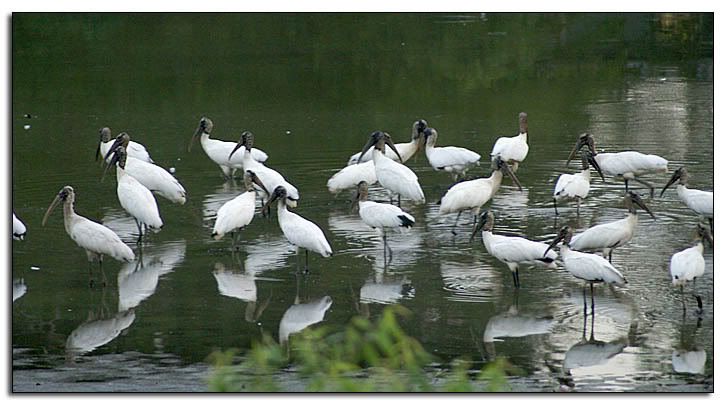 I'm not sure anyone else in this town would care about this visitation by so many members of an endangered species except as a passing curiosity, but I was very excited by it. I plan to bundle up in long pants and long sleeves (less than ideal when it is over 80 degrees outside but it cuts back on yellow fly bites) and drive to the pond later today to see if by chance they are still there.
I'll be back next time I get out paddling. Stand by.