I spent a couple of days in Homosassa this week, where I stayed at the
Blue Moon Bed and Breakfast
. This is a fantastic inn located on a waterway that leads to Homosassa River—if you are going to be in the area and looking for lodging, put this at the top of your list. Beautiful place.
While they have canoes there for guest use, they do not have a boat ramp (canoes are easier to get into from steps or a dock), and so I planned to launch from the public boat ramp that has just opened at the end of Yulee Drive, which is right down the road from the Blue Moon. This is next to
Riverside Resort
, which has a restaurant. So I went in there first to check out the menu and see if I wanted to have dinner there that night (I did, and I did). In the course of conversation with the restaurant person, it came up that the
kayak shop
across the parking lot had a carpeted ramp, and that the owner, Kirby, might let me use that. Kirby indicated that he was amenable to letting anyone "nice" use the ramp at no charge, so if you are worried about your hull on a concrete ramp and want to launch there, just be nice to Kirby. Don't necessarily tell him I told you this, though.
It's becoming a little redundant in this blog lately to mention that it's windy out. Nonetheless, Tuesday was an extremely windy day. And that part of Homosassa River is considerably wide. So it was another paddling trip battling wind and waves, and didn't last long. But it was long enough. In the short time on the water, I saw two dolphins very close to where I was paddling, manatees, and assorted birds, including, of course, a lot of pelicans. As I've mentioned before, I tend to not photograph pelicans very often. But, really….how could I resist when I saw this one, which had just gotten very lucky.
----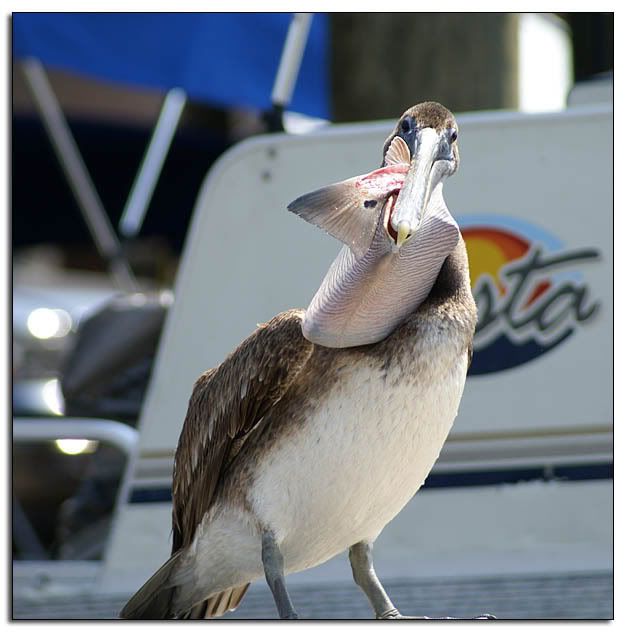 What are you looking at?
There are many great blue herons in that area and they perch anywhere they want. This one was high on the roof of a marina I passed by.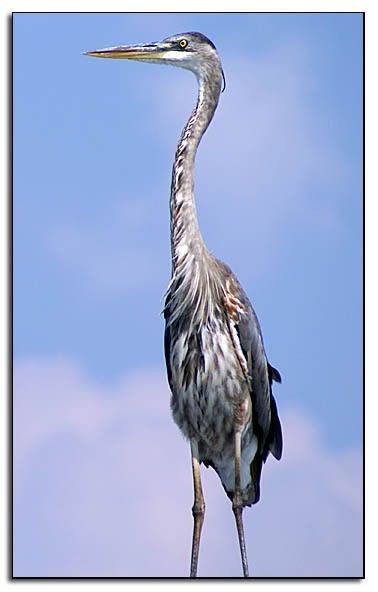 This one was sitting on someone's moored boat.
I decided to go into an inlet to get out of the wind, and paddled the flatter water in there for a while. That is, until it occurred to me that it is in precisely surroundings like those that I have seen
huge
alligators, and I was the only one in there. So I turned around. That area is called Buzzard Point, or something like that, with good reason. Now here's an attractive bird.
And here's something you don't want to see watching you from the bank as you paddle in alligator territory… What are they waiting for? Sizing me up as potential dinner,
just in case
?
Around the bend from those vultures/buzzards, I came to a welcome sight—a juvenile ibis. Our ibis seem to be all gone now. I mentioned this to Laura at the B&B and she said that the ibis are attracted by the
wildlife park
that is just down the road from the inn. I visited there last time I was in Homosassa and saw that there is a large uncovered area that contains herons and ibis and flamingoes and assorted other birds, some of which, including the ibis, can come and go as they please. So it's a free meal year-round, and that's why they stay.
The next day I decided to return to Kings Bay in Crystal River, one of my favorite paddling spots (from September to April—we are now getting into the time when college kids are out of school and that area is filled with jet skis and Sea-Doos and Mom and Dad's power boats, churning up waves, piloted by kids not really watching for paddlers). It was—guess what—exceedingly windy, making the water very choppy. I had to change my plans to head down Crystal River itself (directly into the wind), and instead decided to stay closer to my launch area (this time I put in at Hunter Springs Park, at a little tiny beach area). In fact, I decided to try, for the third time, to find the Three Sisters springs. The first time I had poor directions, the second time the directions were spot on but when I got there it was filled with divers just entering the area and I couldn't maneuver past or around them. This time was perfect.
I am well acquainted with springs; I spend a lot of time around Blue Spring (and others) on the Wacissa, and springs on the Wakulla. I've visited other springs located in parks.
This set of springs is something completely different. It looks completely fake, yet another Disneyesque scene encountered while paddling. The only people in the fairly large spring area were me and four people from England who were in a canoe and two SOT kayaks.
This is how it looks when you are paddling through the channel that leads to the three springs.
The center spring area has a (
looks totally fake and put there by those Disney people
) palm tree that extends out over the water and then turns upward.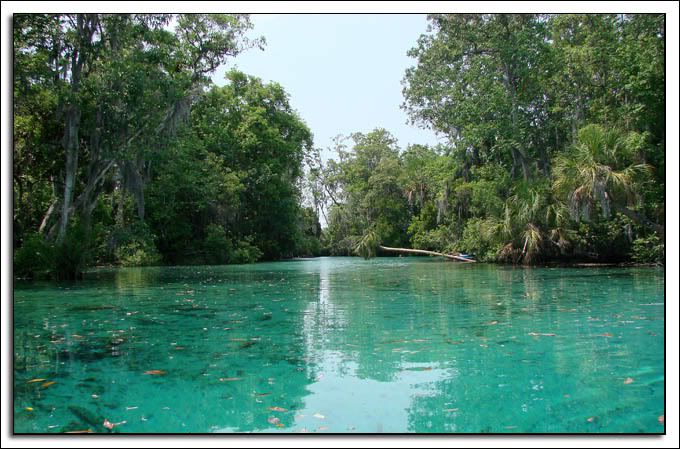 This is the center spring. I have not altered or enhanced the colors in these photos at all—the water is an unreal turquoise shade that becomes even more vivid as the water gets deeper. This reminded me of Manatee Springs, except at this set, you don't have to just stand on a walkway and look down on it, you are actually in it.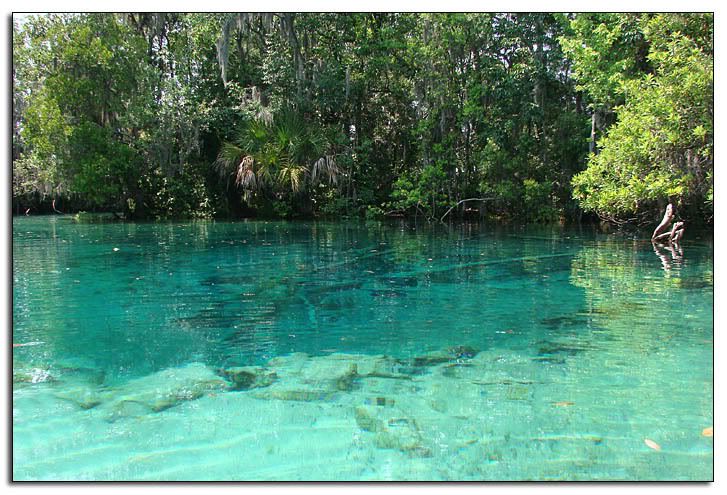 At the far end, a rope hung over the third spring—I'm sure that is well-used a little later in the season! I can only imagine how crowded this area gets once school is out.
After reaching the end, I turned back and noticed that one of the other paddlers was near the palm tree, so I took this to try to give some perspective of how large this area is. The other paddlers left shortly after I took this, and so for a little while I was alone in there.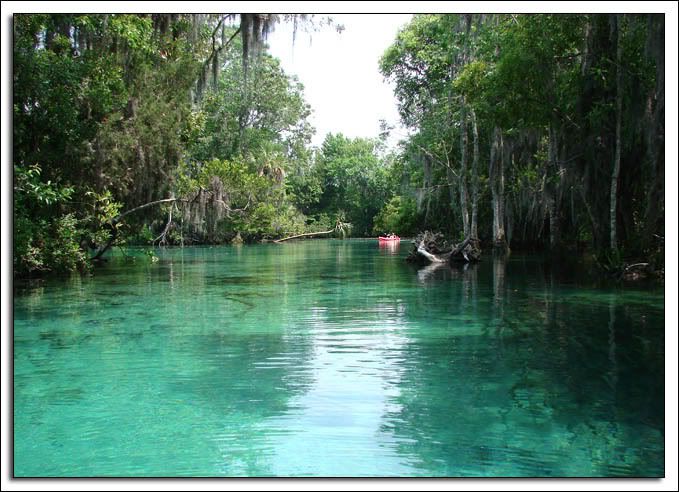 I reluctantly left the springs area. I'll be back next fall. The house-lined inlet off of Kings Bay that leads to this spring area was calm and flat. However, Kings Bay itself was still extremely choppy and the wind felt even stronger than when I had gone into the inlet. I thought about looking for another inlet to get out of those conditions, and continued on away from my launch spot, but I could see that it would be a long distance between calm inlets and it was just too hard to navigate. I saw the British paddlers lined up against the shoreline of a nearby island. I would not want to be in a canoe in chop like that, nor in an SOT. The SOT would be stable enough, but the waves that were just slapping the sides of my Prijon cockpit and breaking over the bow would be coming right into the laps of the SOT paddlers. They were rental boats so the paddlers may not have had much experience. Which is probably why they were parked along the shore.
So it was back to the inn for me, and later out for another great dinner, this time at Nicole's in Crystal River.
This is a beautiful area of Florida, and a paddlers' paradise when it isn't so blustery out (and when the kids are in school). Get there for a visit if you can.
And now it's back to my regular spots for a while. Stand by.