I was filled with trepidation on my way to pick up my newly-repaired Mystic. I'm sorry I didn't take a "before" picture, but the fiberglass carnage was just too distressing to want to commit to the permanence of a posted photo. There were two damaged areas—a very large gaping fissure from the hatch across the deck and down into the hull, and two holes on the bottom.
When they took me to the repaired boat, it was sitting hull-side-up on sawhorses. The bottom looked fine, but my concern was for the deck. How much of a scar was there going to be? We flipped it over.
I was literally open-mouthed. Not only was there no (
no
!) sign of damage, the repaired area looked like the boat looked when it was new. The only way you could tell where it was repaired was that that area was not sun-faded with light surface scratches, like the rest of the deck!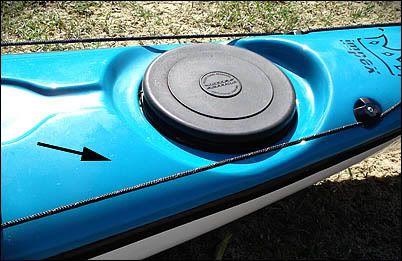 The arrow points to where the gaping fissure was. I have now looked twice and cannot locate the repairs to the hull. I don't remember exactly where the holes were. FYI if you are in the Tallahassee area and need anything fiberglass repaired, I can now highly recommend "Tracy Haire Fiberglass and Boat Repair" ((850) 576-0999).
So off I went to the Wacissa. Abby and a friend of hers were coming later, so I set off alone downriver, very happy to be back in my #1 boat. I hadn't gone far when I saw the first tricolored heron. These birds were more plentiful last year. It sat nicely for a while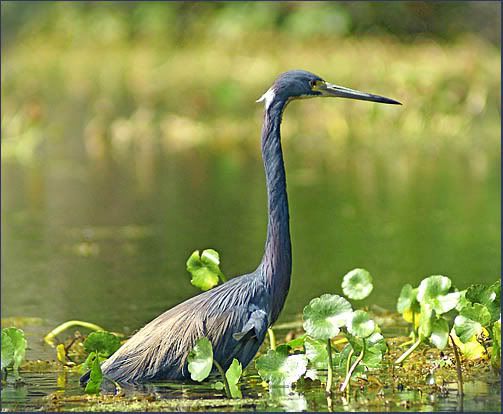 And then flew away.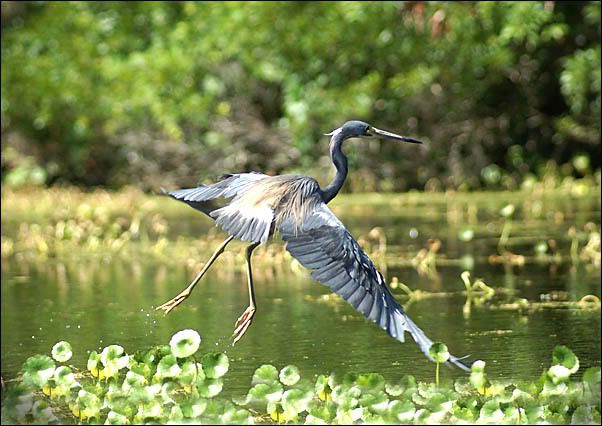 I watched this egret in the grass for a while. It was so busy fishing for lunch that it didn't seem to notice me. When it saw something of interest, it dropped its head down to get it and nearly fell over into the water, waving its wings around to regain its balance.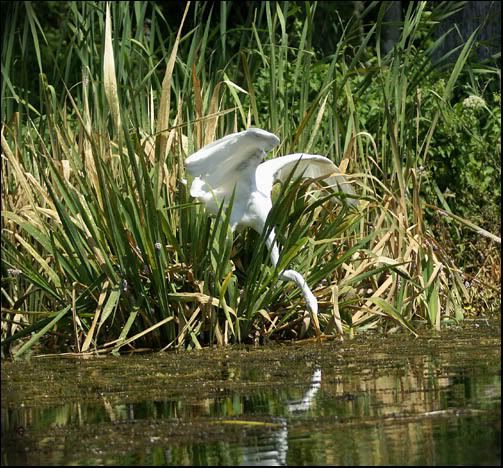 What's a trip to the Wacissa without a visit to blue spring? As often happens on a weekday, I was the only one in there. There's a small downed tree on which a yellow crowned night heron usually sits. As I approached the tree, I thought I saw the heron on it. However, as I got closer, I noticed that it was a hawk. And it did not move as I got even closer. And then I heard what sounded like a juvenile hawk in the woods nearby, which might have explained why this one did not fly away. It did spread its wings a little and just sat like that as I went by, I assume to appear larger and frighten me.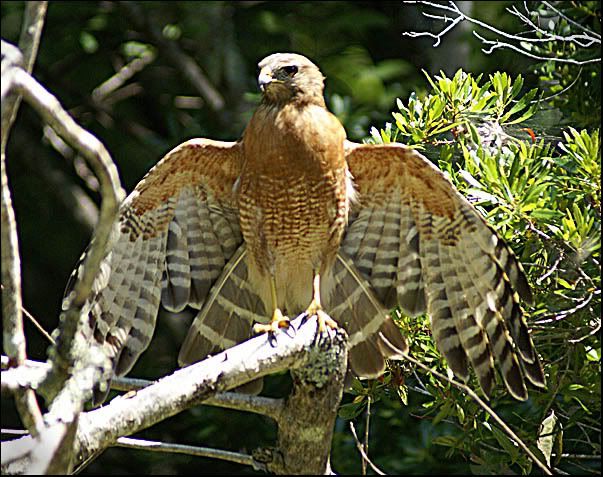 I floated on down to what has now been dubbed "Purple Gallinule Alley," a stretch of water that winds between reeds and tall grasses and is where all the purple gallinules hang out (you probably figured that out). There are still young ones in there.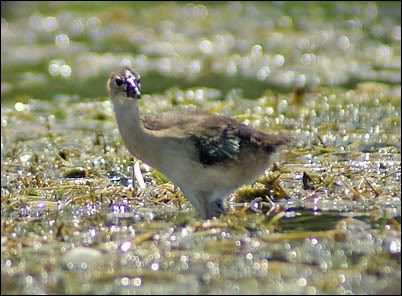 There are also moorhen chicks. This seems to be three generations: the one in front is a juvenile, then chicks, then the adult.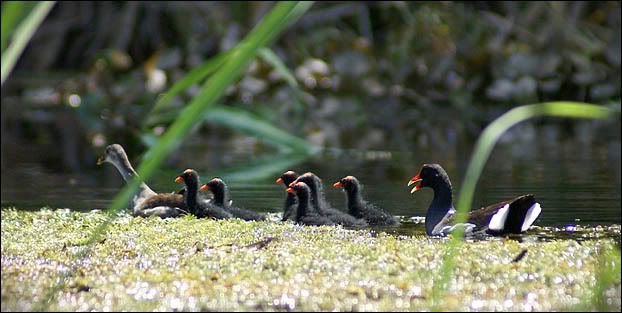 These babies were on the opposite side of the channel from their parent, who made a lot of noise the whole time I passed. I particularly like the one on the left, who is watching me go by.

It was about the time Abby and her friend were to arrive at the river, so I turned around. This snowy egret took off and went swooping by in front of me.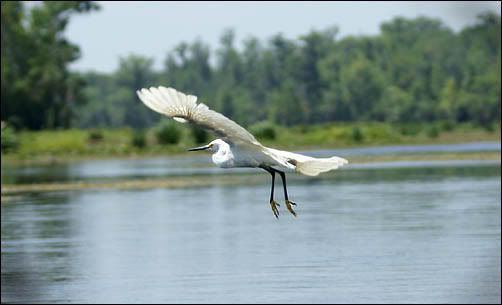 On the way back upstream, I came to another tricolored heron, this one perched on a stump in the water. It sat there for a long time while I paddled toward it,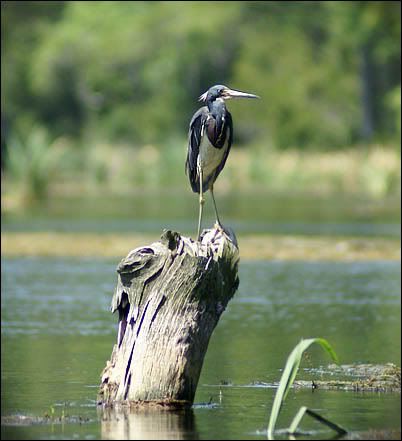 and then left to look for someplace less crowded.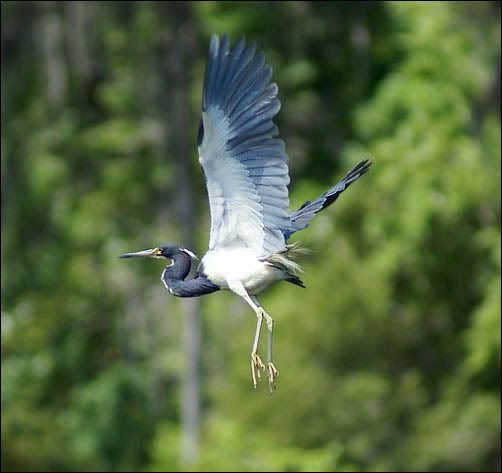 I met Abby and her friend near little blue spring and so I turned around and we three progressed downstream again. This snowy egret was fishing in the surface seaweed. I really like these little birds, particularly when the topknot blows in the wind.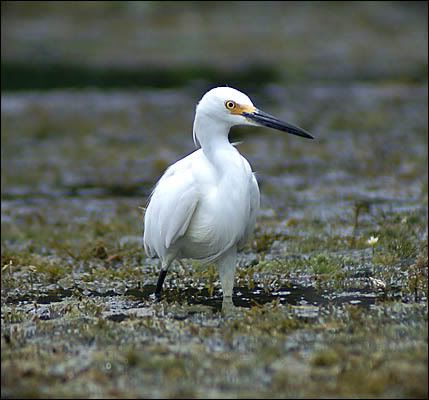 And then Abby spotted some swallow-tail kites circling overhead. These are gorgeous birds when they are flying, their shape is very distinctive. In a departure from the usual format here, I am going to show you two versions of the same photo. This one shows the bird overhead against the clouds.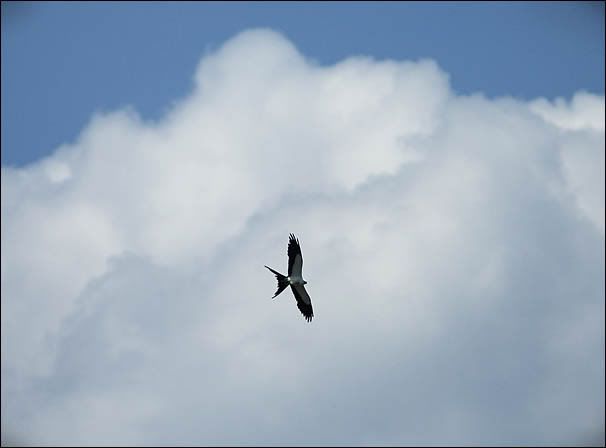 This is the same photo, cropped a bit and enlarged so you can see the coloration better.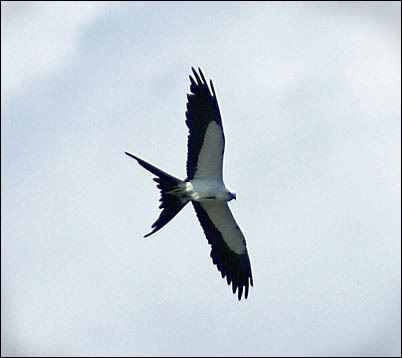 As we were nearing the boat ramp, I spotted a great blue heron on the shoreline.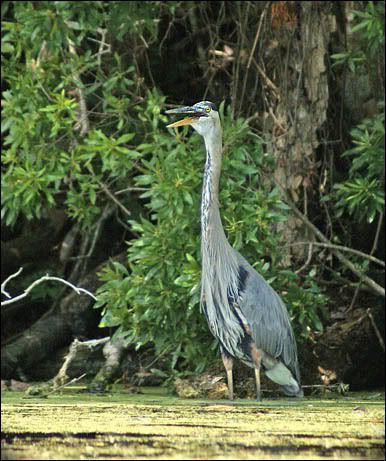 It took off and flew in front of us as we got closer.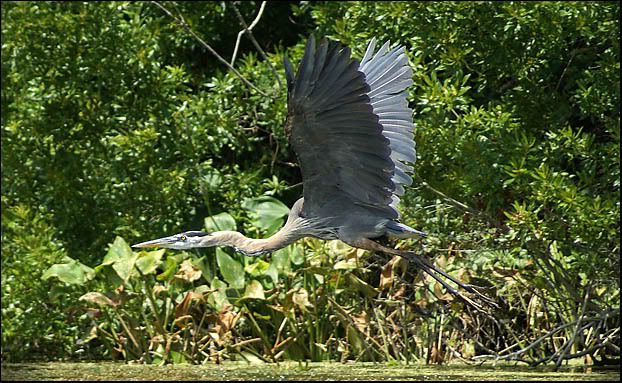 I like these birds and have often thought about how prehistoric they look, particularly the great blue herons and great egrets. So I looked around on the web and found some information about pterosaurs, which lived over 65 million years ago. I'd say there's a certain similarity.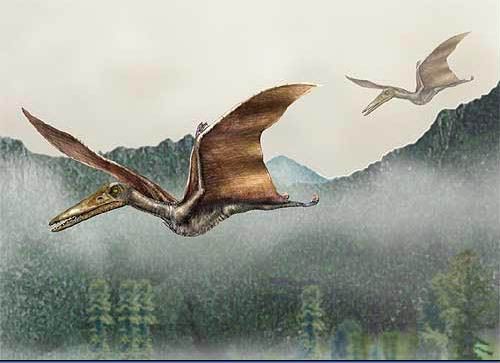 (I didn't take that picture…)
As we got even closer to the ramp, Abby and I spotted a yellow crowned night heron drying its wings, and the sound of camera shutters clicking filled the air. You don't often get to see birds in this position, which it held the entire time we were parked and photographing it.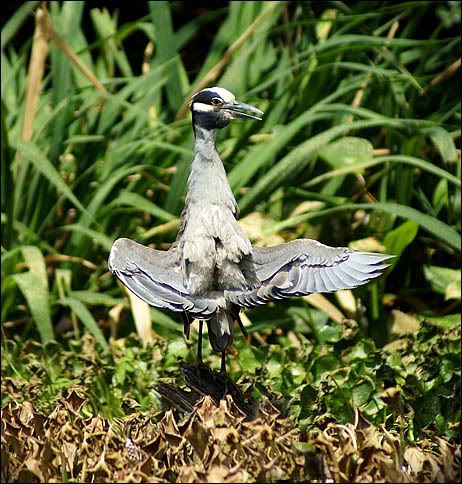 It was a long day of paddling and a wee bit warm out, but great fun nonetheless. Stand by for the next trip report.