You can't ever get tired of this river. The birds change according to season and day-to-day (chicks grow into adults, migrating birds pass through) and the shoreline changes as well as the seasons pass. And this really is the Bird River.
One of the first birds I saw was a green heron along the shoreline. This is a bird that is only on this river around this time. First it watched me approach—here's another photo of a green heron head-on (I wonder if this is the same one as before?)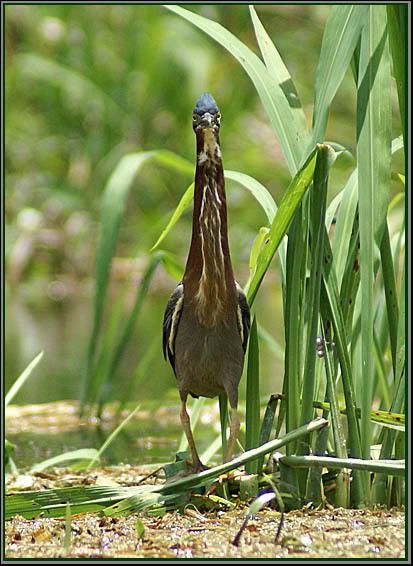 As before, it lost interest and stopped staring at me,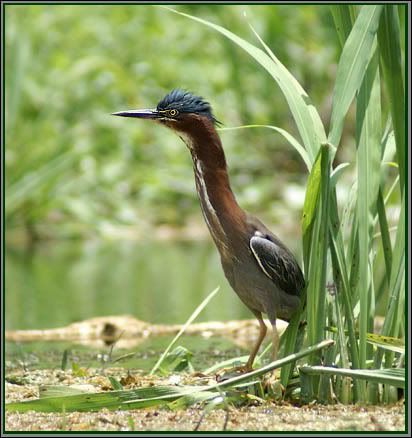 but only briefly, before it decided to hang out elsewhere. Now here is an attractive bird… (ok, so they can't all be graceful-looking!)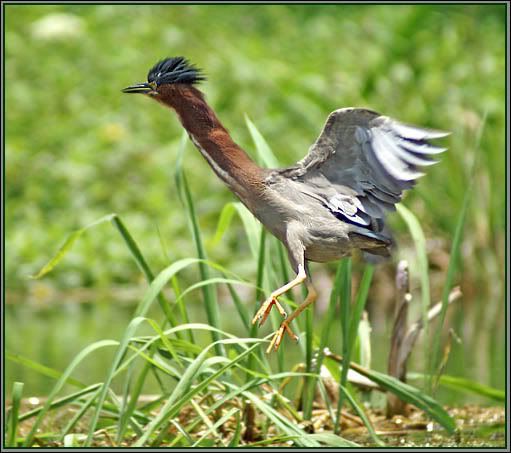 A little while later I came to this snowy egret, who was tiptoeing across the surface in pursuit of some prey. I guess you had to be there to watch it to get the full effect, but it was quite comical in its sneakiness. Nice yellow feet, too.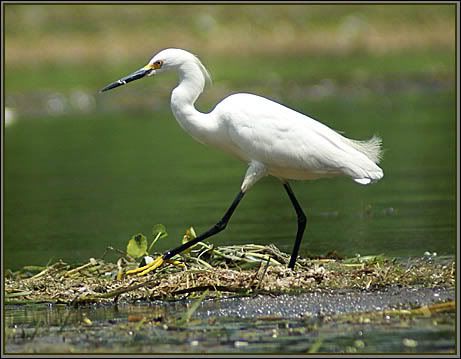 Speaking of egrets, this one was striking the classic pose on some vegetation.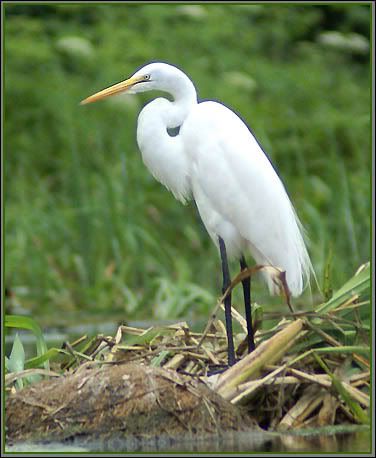 I came to the area where the purple gallinules hang out and saw two adults today, including this one.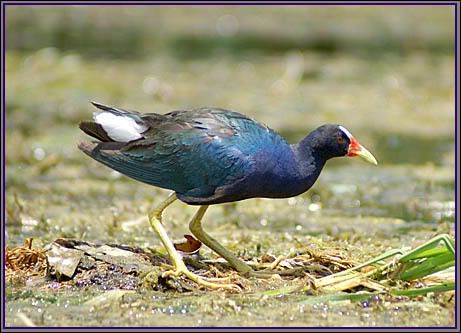 They are really pretty birds. Across a small channel from that one I spotted some growing chicks, this one alone near what must be the nest.
And two of them were hunting for food together.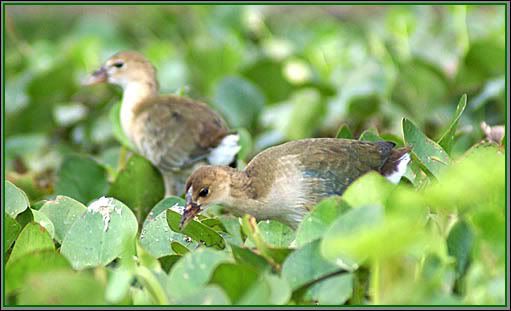 After I passed by, the adult in the photo above flew over to be with them so they must have been a family.
I turned around before the snowman boat ramp again. As I was paddling upstream I approached this tricolored heron, who flew off when I got too close for its comfort…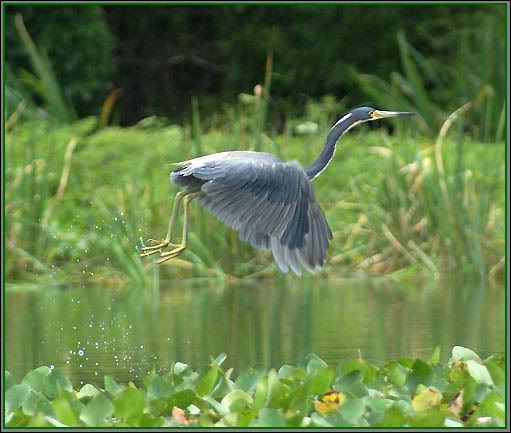 There are dozens of little blue herons on this river now, and yet the juveniles are fairly rare. I did see this one all by itself—it seems that the dark color is starting to come in stronger now.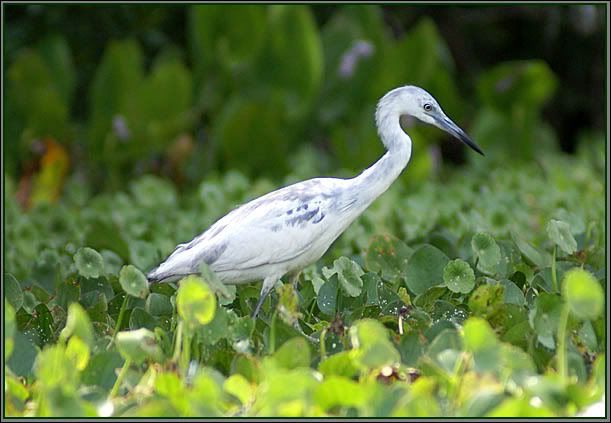 I paddled up to this anhinga sitting in a small cove and parked my boat to see what it was doing.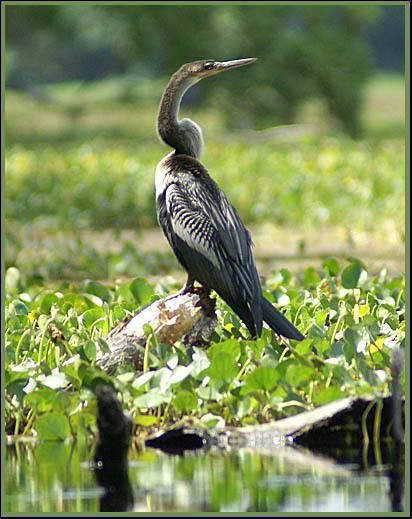 It stretched its wings out (I thought to dry them), but right after I took this photo, it flew away.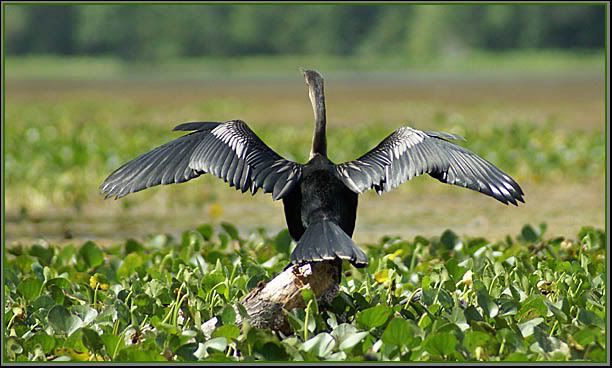 While I was parked there with the anhinga, an egret came in for a landing nearby.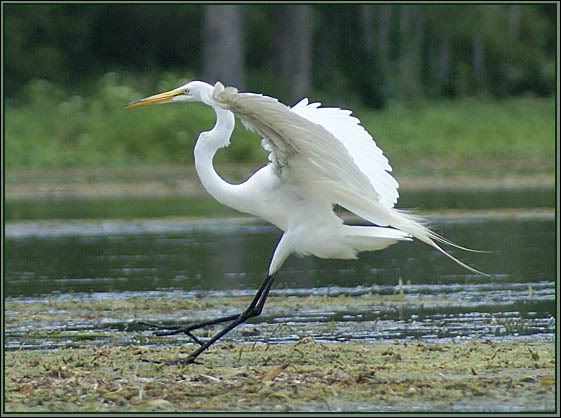 It saw me and turned and immediately took off without ever actually even settling. Looks very fluffy as it makes the transition from landing to taking off—
I saw a few other paddlers today and one power boat and otherwise had the river to myself. The wind was light and it was a pleasure to be out.
As I entered the narrow channel that leads to the boat ramp I passed very close by this female wood duck, who surprised me by staying put while I took a photo of her.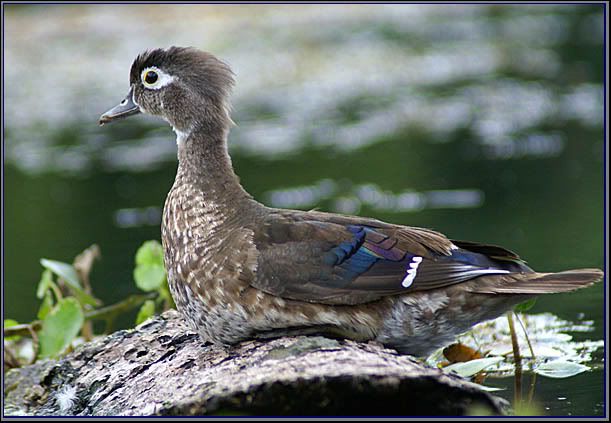 And then she flew away—I think I saw her later with her babies. I felt guilty for interrupting what was probably a short break for her from being mother duck.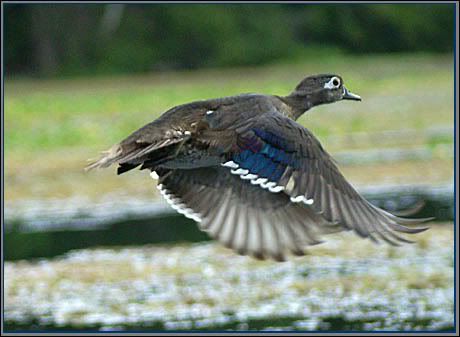 This was the day I was to pick up my repaired Mystic but a call to the repair place revealed that it is not done yet (so I took the Prijon to the river today). The good news is that I was assured that this extended labor period would not raise the price. The new pick-up day is Monday. I am still filled with confidence about this fiberglass guy, but we shall see if that is warranted. Meanwhile, the next paddling trip will be next week (maybe Monday in the newly-repaired Mystic?). Stand by.