I always think that on these short paddling trips, I will get few, if any, photos to post (I do actually go on some paddling trips that never get posted). Usually the more certain I am of that, the more photos I end up taking. I'm glad Abby got a high-speed connection so she can see these without having to go to the library to use their computers…
Another Wacissa trip—it's the only river that makes sense during this rainy season since it is the closest (least gas potentially wasted if it's storming when I get there). I am really enjoying this new Rack and Roll kayak trailer, it certainly has made things simple. When I got to the river and was about to launch, I saw four people standing looking into the little lagoon that goes into the woods near the ramp. I assumed there must be an alligator there, but one of the people informed me that "There's an otter in here." Well! That's something I have to see. I went to the kayak to retrieve the camera and moseyed over there.
Now, you would think that getting a photo of an otter who is swimming in a small area in crystal-clear water while you are standing on a vantage point above it would be a piece of cake. I would have, too. No such luck. Those guys are fast! But I did catch it during one surfacing moment, when it looked right at me.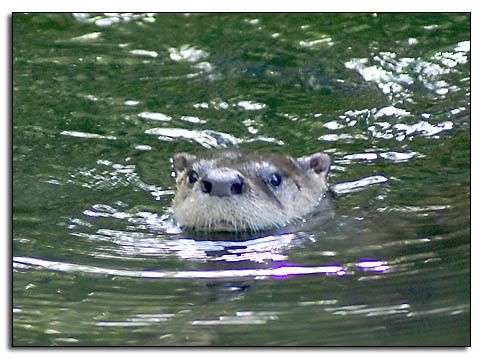 I asked if it was always there (I have actually never paid any attention to that area); one of the men has named it, which would indicate it has appeared before, while the younger guy said it's the first time he's seen it. I guess I will check in the future when I get there before the sunbathers and swimmers.
Of course the snowy egrets were out near the top of the river.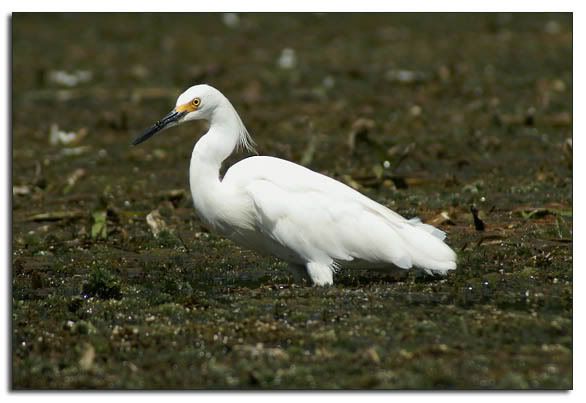 When I got there the sun was shining, it wasn't too hot, and there were white, though large, clouds in the sky. The wind was blowing upstream, which is always good, particularly if a hasty retreat from the water is required. So I drifted happily downstream.
I came to a juvenile little blue heron.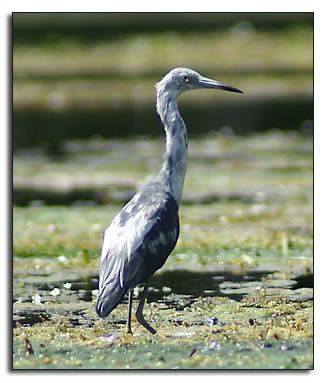 I have never seen as many little blue herons on this river as there have been this year, yet the juveniles are not as common (they must stay off the main river). This one was nice enough to spread its wings out so you can see the changing colors of them. They start out white and ultimately end up a bluish-gray with a somewhat magenta neck.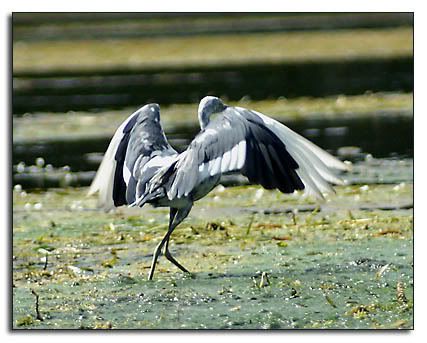 Of course there were green herons—in fact, more than usual today. This one sat and posed for me. It's interesting how when I have the camera set for a bird-flying photo, they always just sit there and tolerate my presence. When I decide to take a portrait of one just sitting there, they take off. I finally re-set the camera for a portrait photo when this heron clearly wasn't going anywhere.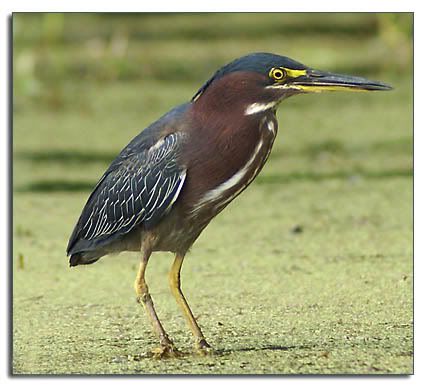 One bird I seldom see here this year is a great blue heron. So I was glad to see this one standing along the edge quite out in the open.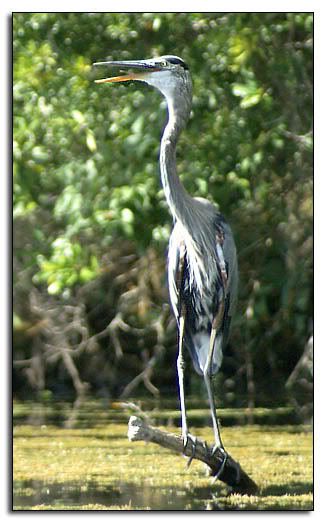 Maybe the reason I don't see many is because they have become shy. I was still some distance away when it decided to vacate that spot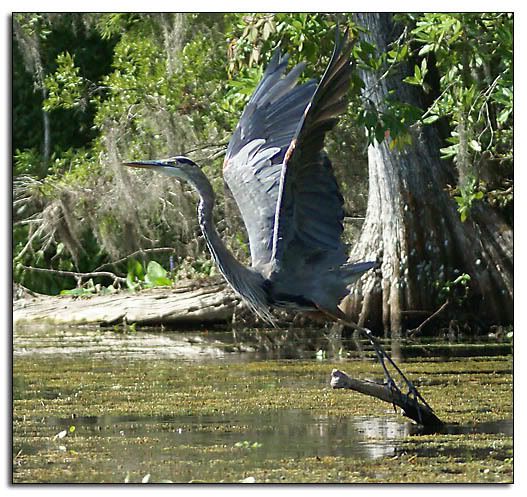 and fly downstream (you can see a limpkin along the shoreline showing up a little below the heron's chest area).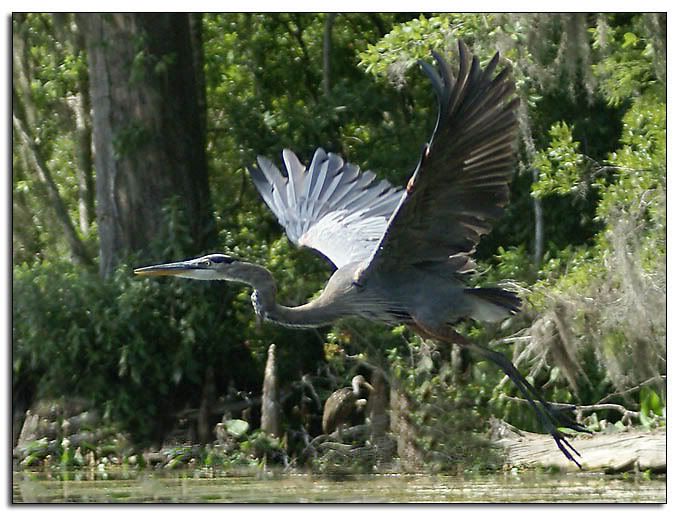 I went into blue spring, as always, and was the only one in there. Ibis predictably hang out near the entrance.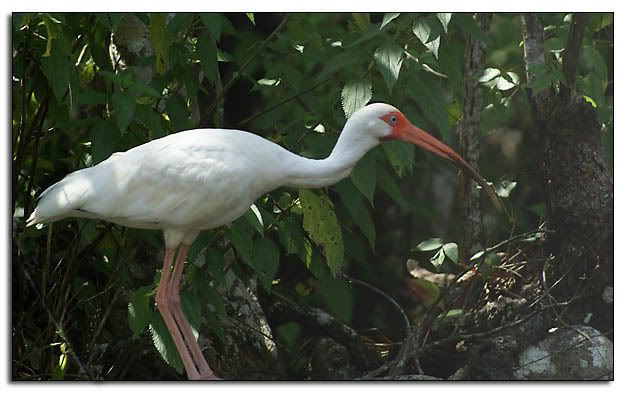 When I got to the spring, which I may have mentioned before I do not like to paddle over, I spotted a belted kingfisher in a tree on the opposite side. I haven't had a photo of one of them for a very long time so it seemed I had to at least drift across the abyss, camera up, shooting photos as I got closer and closer to it.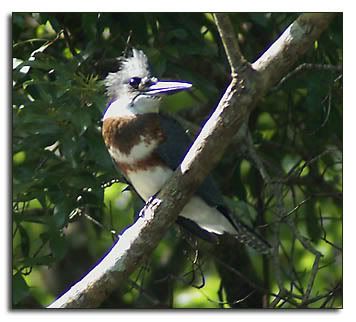 On the way out of the spring inlet I saw one in a tree, which was probably the same one.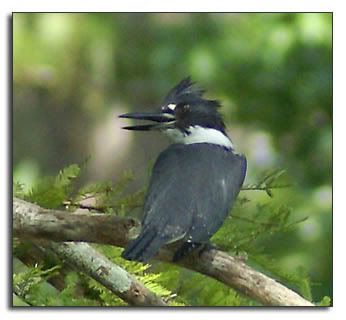 There is a raft that has mysteriously appeared in the middle of the river a little over a mile downstream. It's not the one from blue spring; it might be the one from the little spring upriver of the boat ramp. This snowy egret was using it as a large perch.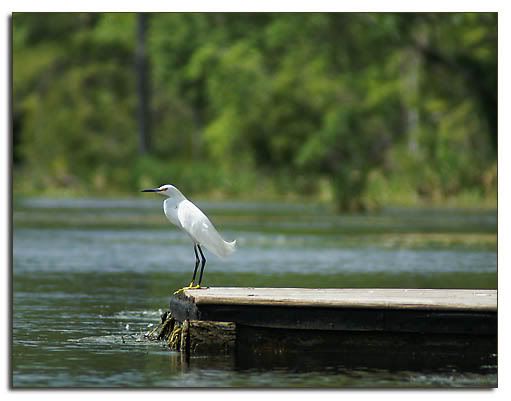 The sky was darkening. I decided to turn around when the downstream direction looked like this.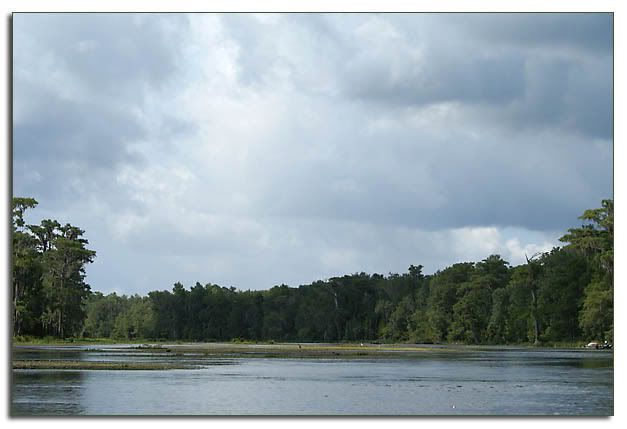 I came to another green heron in the surface growth.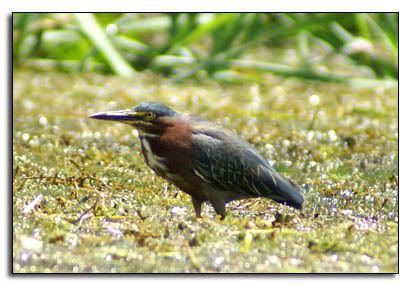 This one was not as interested in posing as the other and did take off flying when I approached.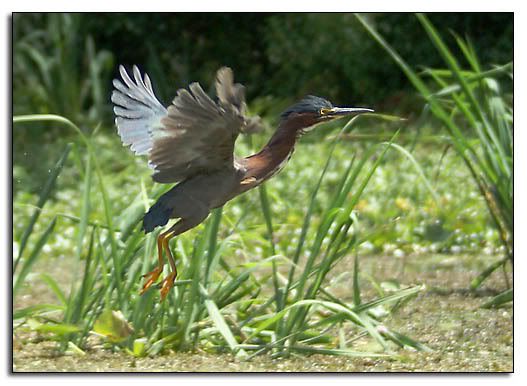 Thunder started to rumble in the distance.
I spotted a yellow crowned night heron in the trees on the left side of the river while I paddled upstream. I kept watching it and wondering if I would ever get to a photo-taking position where the leaves of the tree wouldn't block its head. And then it peered under them to watch me—solved that problem!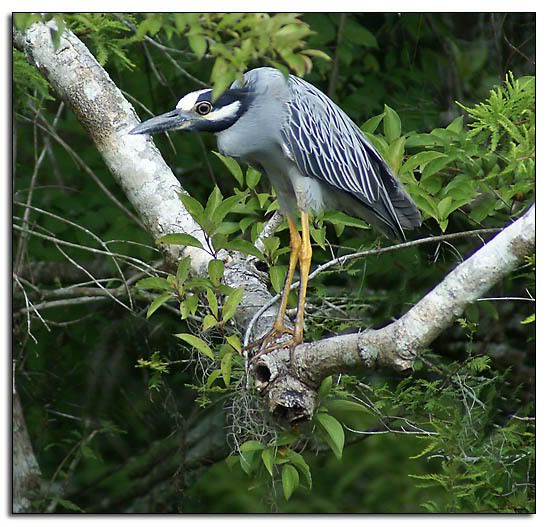 As I got nearer to the boat ramp (under considerably louder thunder), I saw what is probably the same juvenile tricolored heron as previously posted. Its colors are noticeably more vivid than most tricoloreds on the river.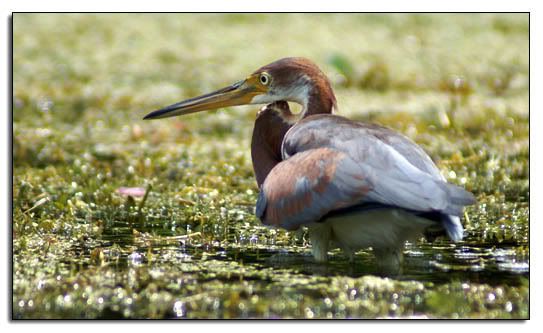 And of course, as is becoming a little common here, I have a black-and-white photo from this trip. Another one in which the colors were muted and boring, but that I didn't want to let fall by the wayside as unusable. While I generally prefer flying birds to be wings-up in photos, I'm starting to like this look of the neck sticking out of the body-cover of the wings. This little blue heron had just taken off from the river when I got this.
Paddling days are unpredictable, but I'll be back. Stand by.