My brother Gary came down from Ohio to join me for some paddling in Lake James and sightseeing in Western North Carolina.
We were fairly surprised to spend so much time on the water next to thick woods and not see any wildlife (not even a squirrel!). (One morning after Gary had left to go drive around the mountains, I was sitting outside having coffee. When I stood up to refill my cup, I discovered that a rabbit had been lurking near our deck stairs--it of course went hopping back into the woods when it saw me stand up. During that second cup of coffee, two female deer meandered slowly through the woods quite nearby--this time I was sitting still. A gray fox darted through the woods next to them. That was all the wildlife I saw (and of course the camera was in the house; a moot point since the movement of lifting it would have startled the deer), and all of it within a span of 20 minutes.)
The lack of wildlife at the lake means there are few photos. The lake was clear water with a sandy bottom. Some of it had high dirt cliffs at the shoreline, some of it was level with the woods. There are many coves and fingers to explore in a kayak. I enjoyed being on a lake surrounded by mountains but missed the birds and critters that we so often see on our local rivers and lakes.
Here are some photos I took while we paddled in the coves and near the shoreline of the main part of the lake: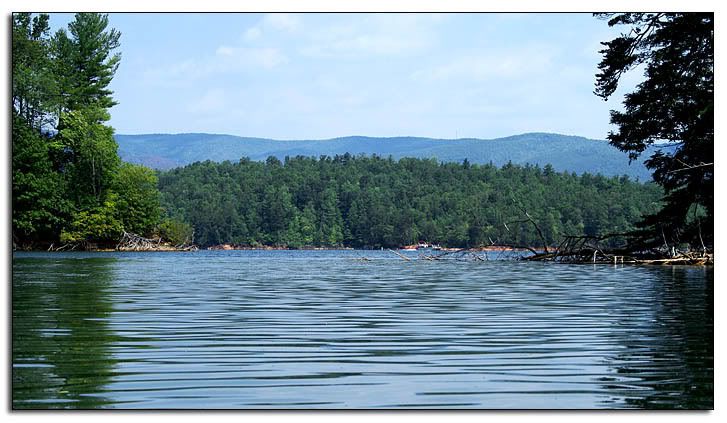 ---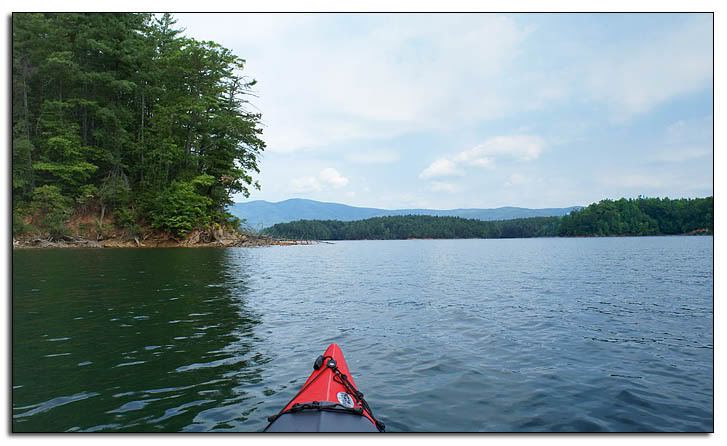 --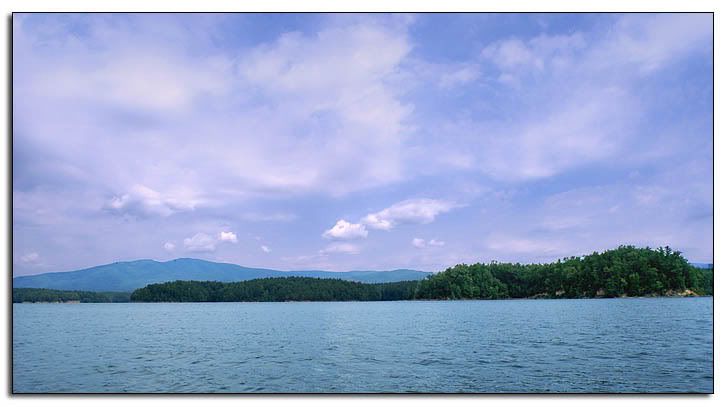 ---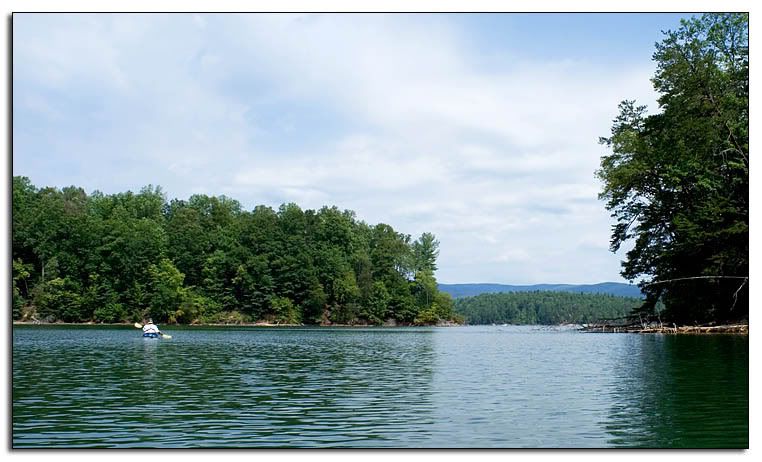 And of course the becoming-more-common black-and-white version of a photo taken on the lake: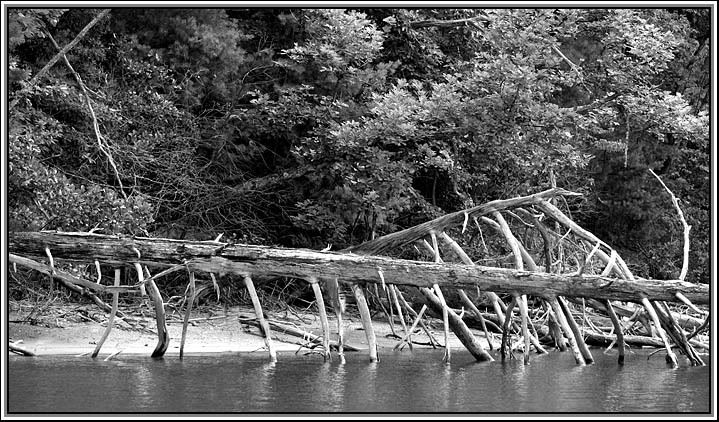 I have posted some photos on the
Photo Miscellanea
blog taken at the inn that was my overnight lodging on the way north. My other non-paddling photos were taken during a drive on the Blue Ridge Parkway. Since there aren't many paddling photos, I have decided to add the mountain photos to this post. I had left our vacation rental house to drive the Parkway several hours after Gary had left (this was on the wildlife-viewing day), but through some quirk of fate we ended up at Craggy Gardens at the same time and continued on to Mt. Mitchell (highest point east of the Mississippi), where we had lunch in a restaurant at the top of the mountain. I was dressed for Florida weather and it was very chilly up there so I ended up buying a sweatshirt in the gift shop more out of necessity than a desire for a souvenir...
Here are some photos from the Parkway drive: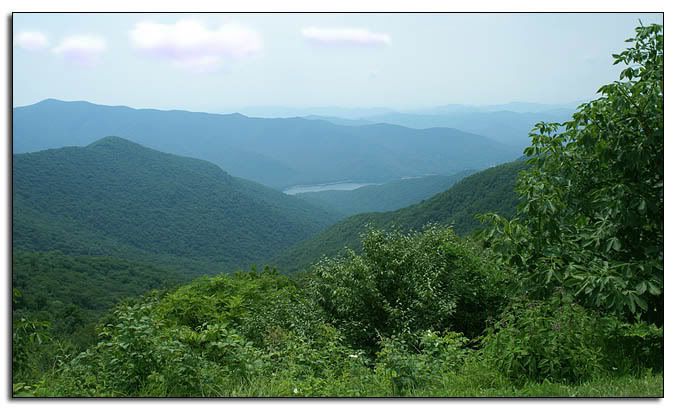 ---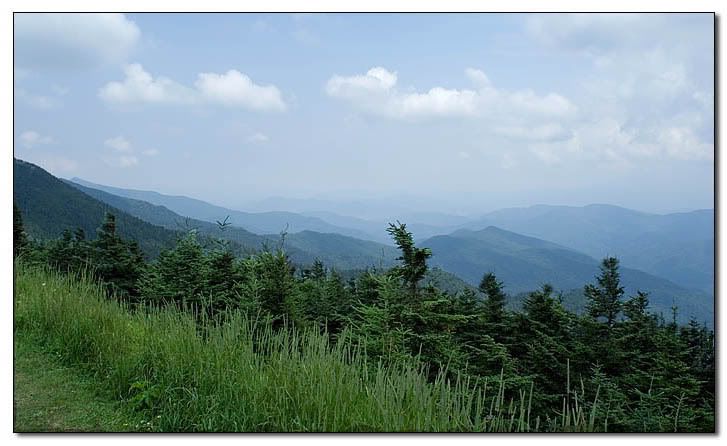 ---
---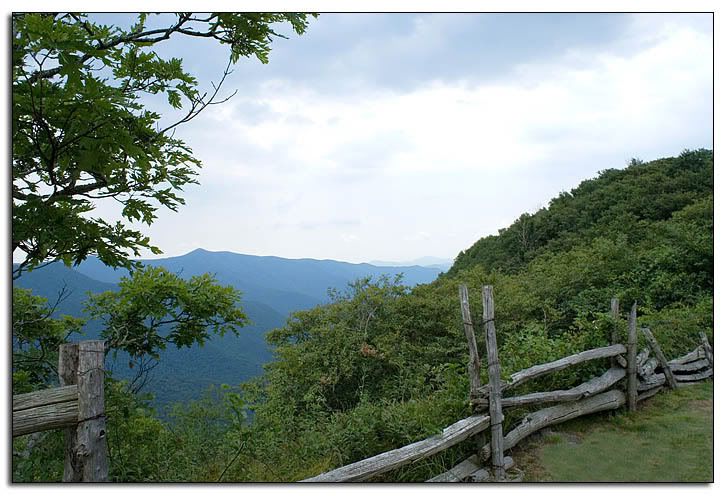 I stayed at an inn in central Georgia en route home that was decidedly strange (more in terms of the people than the accommodations, which were excellent).
I've had enough driving for a little while, but will be getting back out to my usual spots next week--by that time I will be more than ready to have a paddle in my hands again! Stand by.