Rivers run through our history and folklore, and link us as a people.
They nourish and refresh us and provide a home for dazzling varieties
of fish and wildlife and trees and plants of every sort.
We are a nation rich in rivers.
--Charles Kuralt

My recent outing on the turbo-charged boat tour from Wakulla Springs State Park made me realize how much I miss this river (and how much I prefer to see it at kayak speed). I have not paddled this river since June.

Anyone who takes a camera onto the Wacissa River, on any day in any year, hot or cold, rain or shine, will get photos of water birds. It's a given. The Wakulla River does not give up its wildlife quite so easily. When you take a camera onto this river, what you are offered is possibilities.

I was lucky on my paddling trip yesterday.

Early on I came to a small flock of prothonotary warblers in a low-hanging bush near the water.




---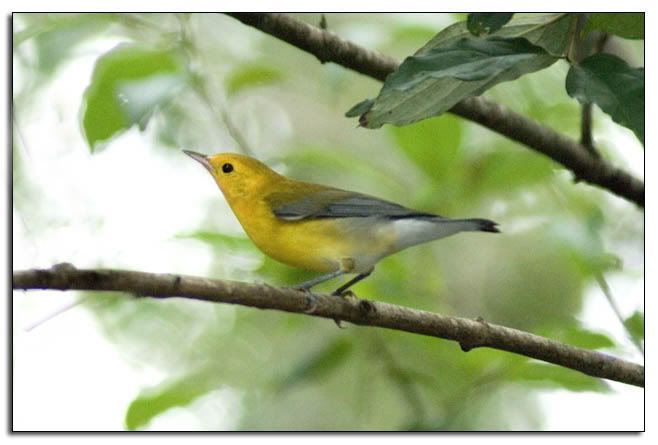 I passed several other paddlers on their way back to the boat ramp, and after that I encountered few other people on the river. I had noticed during the boat tour that there were little pockets of cool air over the water--this is a spring-fed river so it is always about 72 degrees. In a low kayak, that makes this one of the most comfortable places to be this summer.

This green heron was fishing along the edge just before I got to the little island.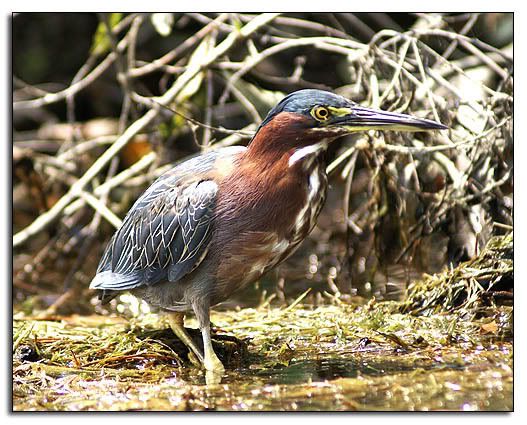 I decided to go to the left around the island since I have lately had luck spotting wildlife on that side. Two yellow crowned night herons were perched near the edge, a bit too far into the trees to photograph. This pileated woodpecker was working its way up one of those trees.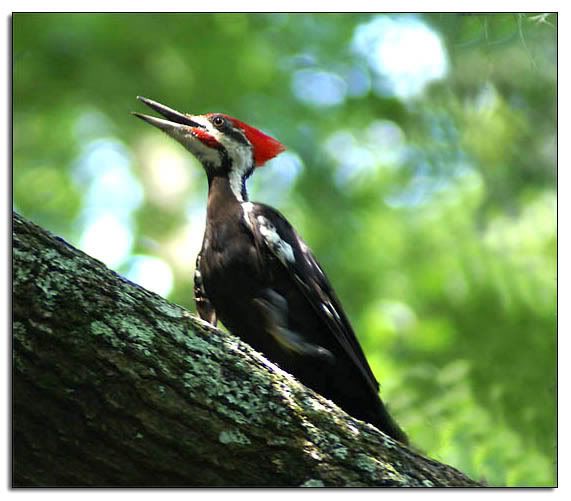 Once in a while you see ospreys on the Wacissa, but this is a better river for those, mostly in the wide area near the boat ramp and around the larger island near the upper boat ramp. This one was in the lower section.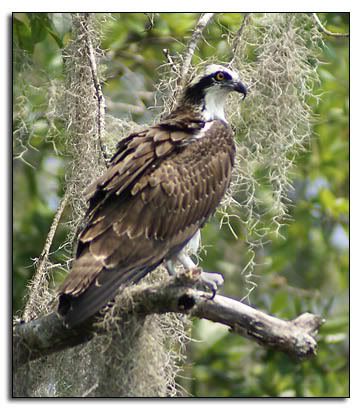 Just past the little island, I came to a group (pod?) of manatees, including one with the smallest baby I have ever seen in the water, which was pretty neat. Of course I whipped out the underwater camera. I took a lot of videos of these manatees as they fed on the bottom and came up to breathe. None of those videos are on this post because it turned out that (a) their feeding activity had stirred up the sandy bottom to the extent that the water was too murky to see anything from below the surface, and (b) I need to get a better idea of how much area is captured by the lens and therefore where exactly to aim it. I can't see the LCD display when it is underwater so I have to guess. I'm always a bit high (which didn't matter much with Blue Spring). Someday I'll master that and get manatee videos. Speaking of the water clarity, I was surprised at how much less clear it is throughout this section of river than the Wacissa.

Sound travels really well over water. A mother and daughter in a tandem Prijon came up behind me to a distance of maybe a city block and then stayed in pace with me, chatting nonstop. For the entire top half of the river I heard about the daughter's college book purchases (she was able to get a hardcover copy of the New Testament for $21!) and her new diet plan (cereal for breakfast and granola bars the rest of the day, to which her mother replied (I know this relationship because the daughter addressed her as "Mom") that maybe one granola bar a day would be fine but the addition of a more balanced diet throughout the day might be beneficial). They discussed their plans to get out at the upper boat ramp. For this reason, when I reached the far side of that large island at the top I opted to circle the island and not get out, so we parted company as they went on. I hadn't seen any birds during this chat time, so I didn't lose any photos because of it, it just cut seriously into the peace of the river. Not their fault; they weren't talking particularly loudly and they can certainly choose to spend their paddling time chatting.

Anyway, the birds showed up on the way downstream (I also realized how much I have missed the upstream-first aspect of this river). The payoff for paddling the first half against the current is to be able to just drift downstream.

This egret watched me drift by.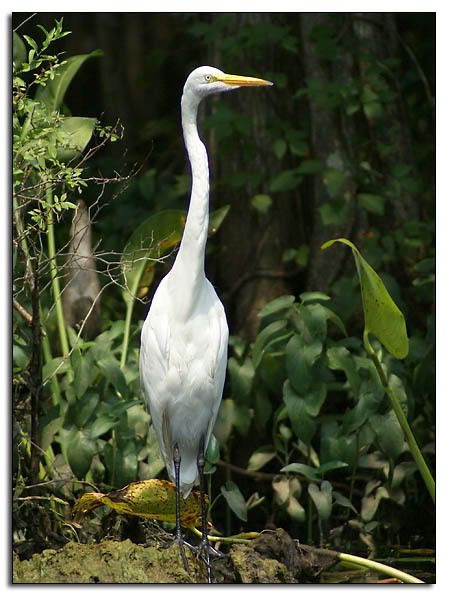 This post doesn't have the traditional Wakulla Suwannee Cooter (turtle) photo, but there is one of the usual ibis. This guy looks like he's posing, saying "Wait, get my best side. Here's my profile! Ok, count to three before you take it."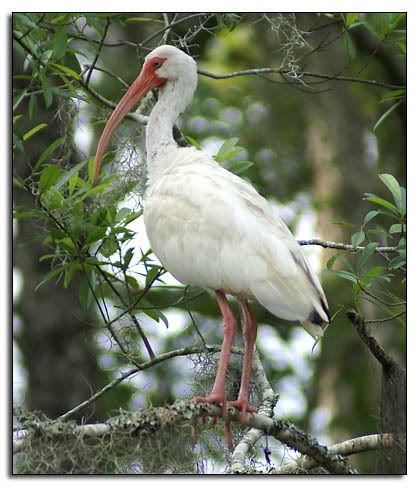 There is a large osprey nest in that upper area, and this osprey was perched at the top of a high dead tree.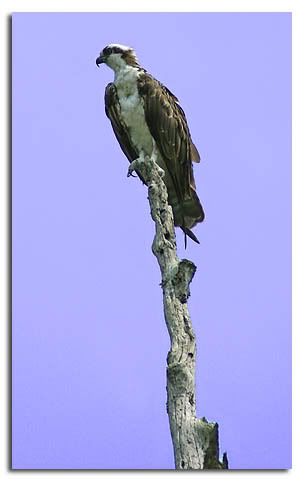 A small gator crossed the river in front of me and proceeded downstream a little ahead of me. I saw it approach a great blue heron sitting up on a small rise next to the water. I wondered to myself if the gator could see the heron, and at about that time it reached the bird. The gator stopped and turned to face it, with maybe a foot of water and a foot of inclined land between them. I'm sure the heron saw the gator. It stood unmoving. The gator did a weird thing I have never seen before, it sort of raised its head a little, and then started blowing air out of either its mouth or nose--small bubbles and a little splashing appeared in front of it. I had turned to cross the river as well to get a photo of the heron. I don't know if the gator saw me coming or just figured out that it could not get to the heron before it could fly away (or it was too big--this was probably a young gator), but it turned back downstream and continued on. As if the heron hadn't been harrassed enough, I also stopped near it (though not as close) to take a few photos. Hey, I may have saved its life, I should be granted a few pictures!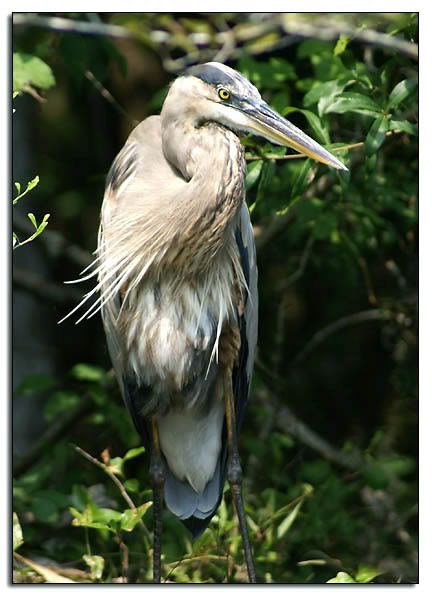 I recently saw a photo of a juvenile yellow crowned night heron on someone's blog and it occurred to me that I hadn't seen one of those for quite a while. So it was nice to see this one alongside the edge of the water.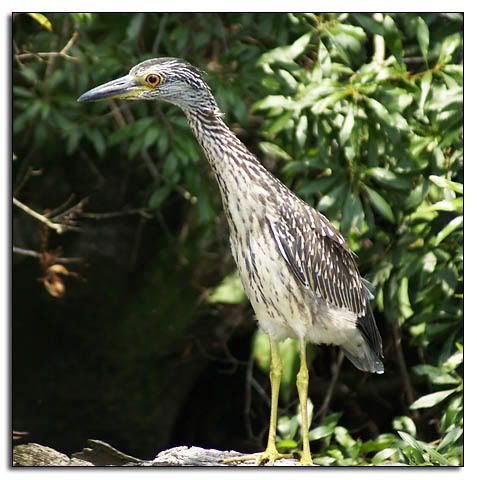 I saw two juvenile little blue herons on the river. I had pulled over to take some photos of this one when the mother and daughter tandom caught up to me. They were paddling much faster going downstream so this time I stayed parked over by the little heron till they were well past. The bird didn't seem to mind the company.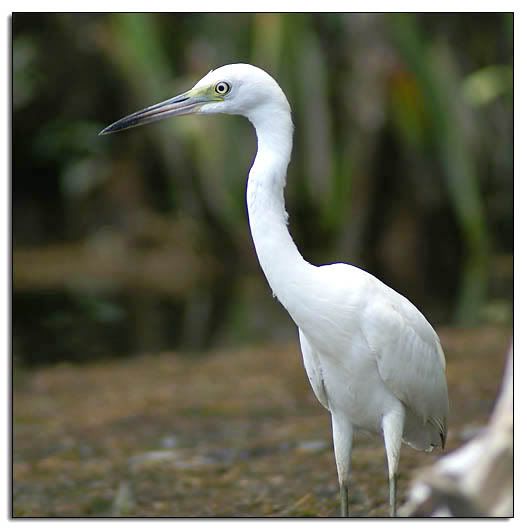 While I was sitting there, mostly just waiting for the Prijon to get farther downstream, I set up the camera to take another close-up of this white bird. I guess it decided it wasn't ready for another close-up and it took off. The camera was on it and focused so I went ahead and pressed the shutter. Looks like it is getting some adult color on the wing tips.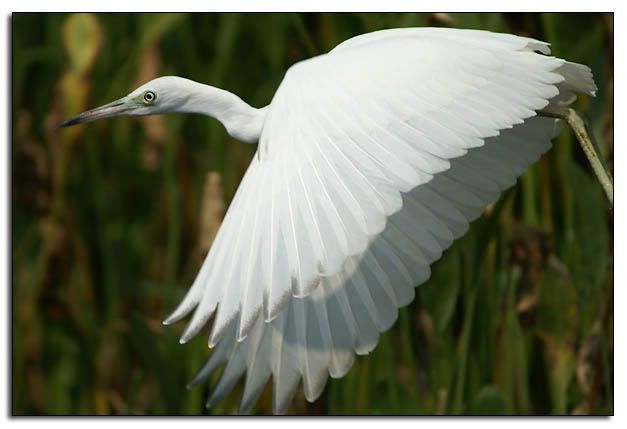 A belted kingfisher came chipping by and swooped into a tree as I was reaching the wide part of the river near the boat ramp.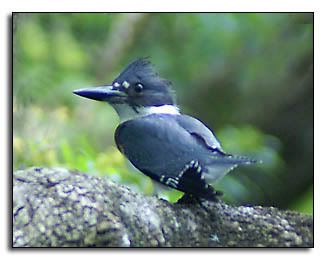 I'm always talking about how these birds go "chipping" by. I may have figured out a (workable, reliable) way to include sound files here again, so let's give this a go. This time it is a link.
Belted Kingfisher call. (Alas, I did not record that, it is courtesy of Cornell's Guide to Birds of North America.)
I was out about four and a half hours, and was surprisingly comfortable for all that time. This river is always a little cooler than the Wacissa, possibly due to the nature of the shoreline.

I have a choice of three such spring-fed rivers, so I guess that's where I'll be till cooler weather sets in (camping season!). Stand by.