Man is not an aquatic animal, but from the time we stand in youthful wonder beside a Spring brook till we sit in old age and watch the endless roll of the sea, we feel a strong kinship with the waters of this world.
-Hal Borland
I decided to get up early and try to beat the heat to the river (I beat it by about 30 minutes...). I wonder if the birds notice how hot it is?
Before we begin this trip report, I want to thank everyone who commented so kindly about the photos in my previous post! That kept me smiling for quite a while! I appreciated it!
So off I go. As usual, the tricolored herons were out near the boat ramp. They do this thing when they are fishing where they perform a sort of comical tiptoe move when they spot some food. The tiptoeing isn't too bad, but they usually spread their wings somewhat for balance, which, it seems to me, would alert the food to their presence.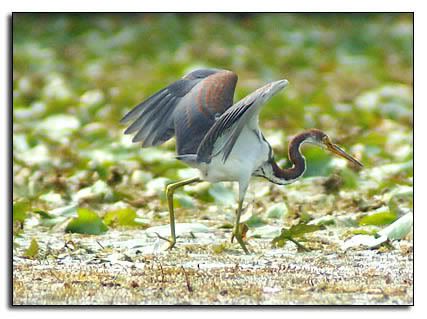 So I drifted downstream, not making much of any effort to paddle. I witnessed a very odd thing with a great blue heron. As I was approaching, it suddenly looked up into the sky with great intent.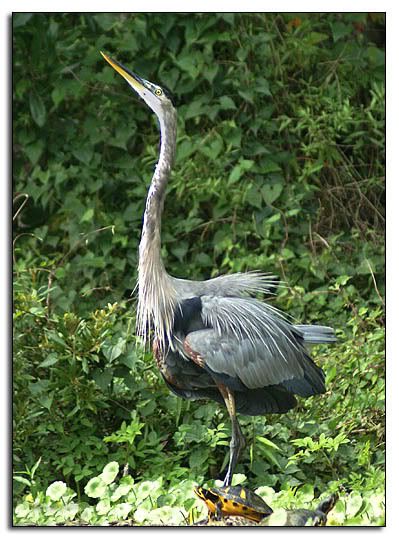 Of course I looked up to see what was so interesting. I saw nothing. The heron then puffed itself up and spread its wings (to look larger?), still staring skyward (at nothing I could see).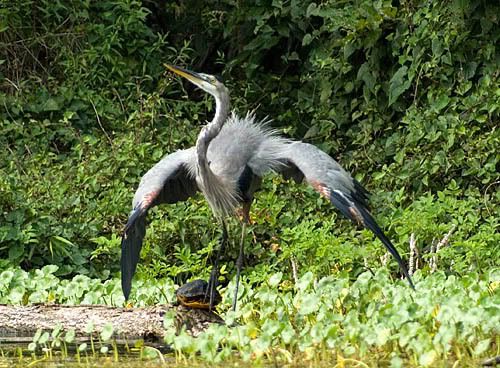 Still looking overhead as I drifted by...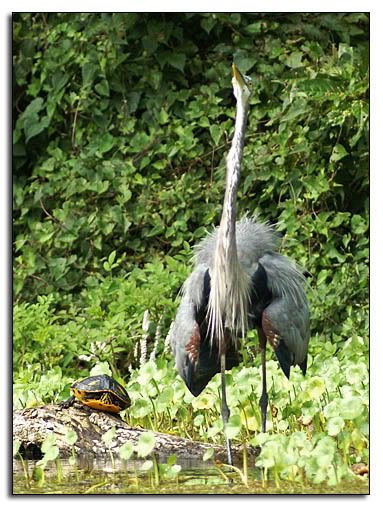 And then it took off,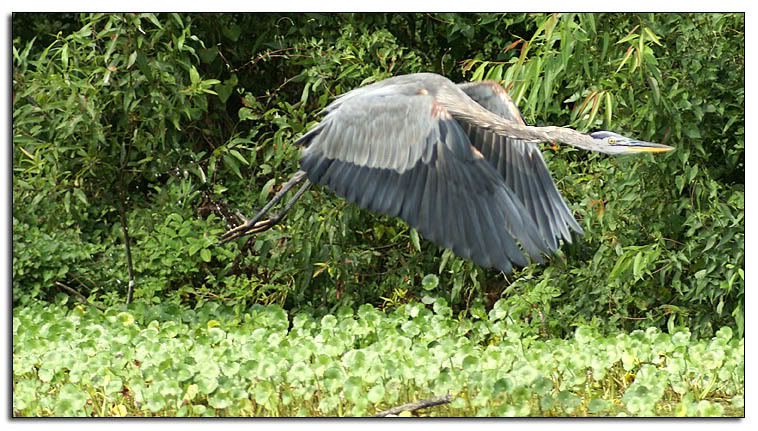 and went zooming by like a rocket.

Most odd.
This tricolored heron posed nicely along the edge for a moment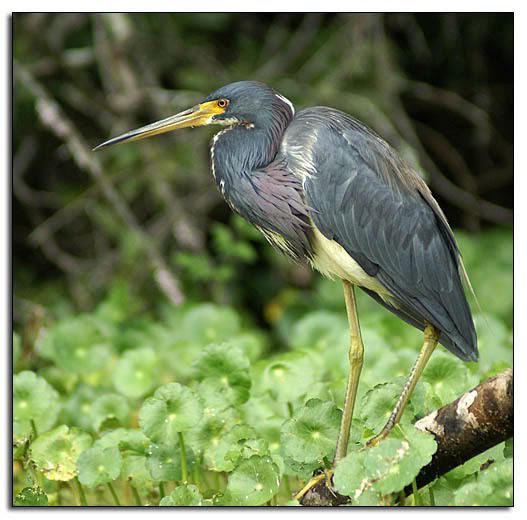 and then found something in the water more interesting than me.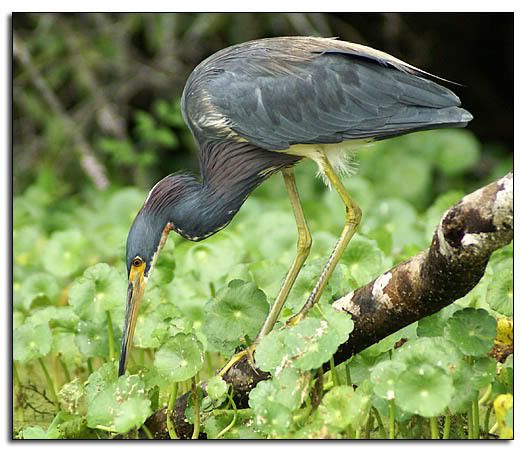 I went into Blue Spring, of course. It's actually a very small area, the inlet that leads to the spring and even the spring area itself, but it's easy to spend an hour in there without even realizing that much time has elapsed.
This limpkin paused in its pursuit of snails to watch me go by.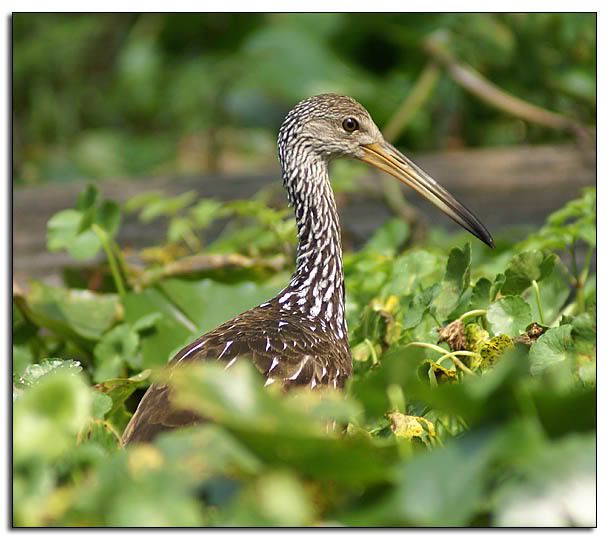 I drifted under this little blue heron, who had been preening (which is why that wing is out of place) but quit when I got near. This must be the view that small fish and other prey have of these birds...
These two ibis were also having lunch in the inlet area.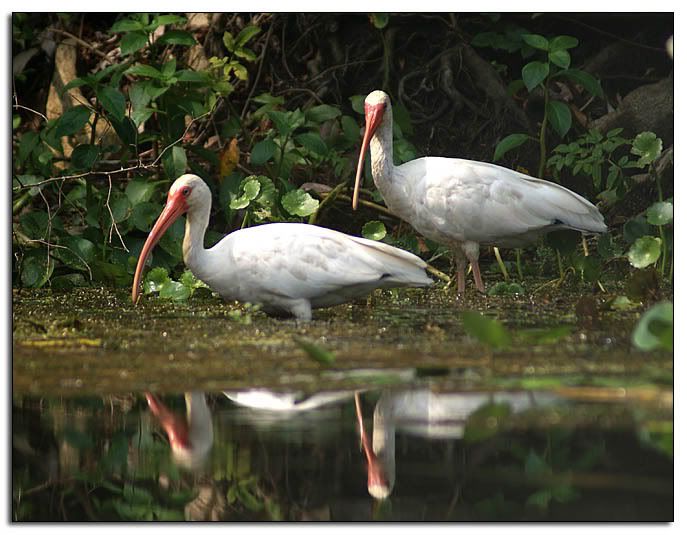 I spotted a great blue heron standing along the edge of the spring.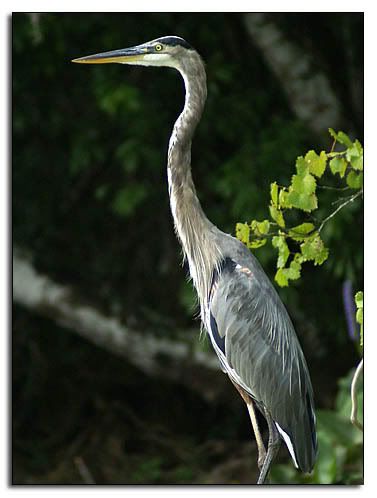 And then I made my way back to the main river. It was getting even hotter by then, but the sky was still blue with only a few clouds, so I continued downstream.
This day was unique in that I saw many, many groups of different birds in close proximity. That's just not that common. For example, this little blue heron that was sharing the log with the wood ducks.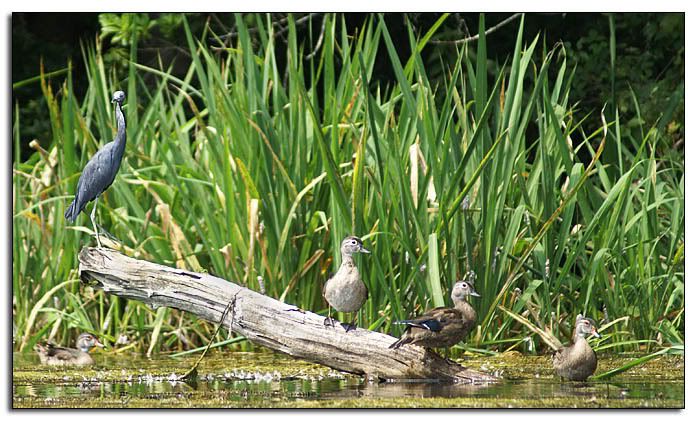 They all flew away when I got close, though.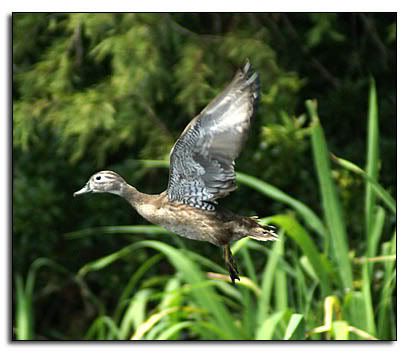 This great blue heron (this is a very GBH-intensive post, isn't it?) was in the middle of the river with two yellow crowned night herons (one in the background here--good for size comparison) and a limpkin.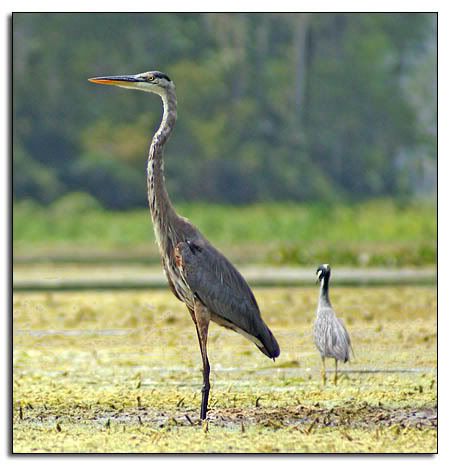 It also left when I approached--you can see the other yellow crowned night heron and the limpkin (fuzzy) in this photo.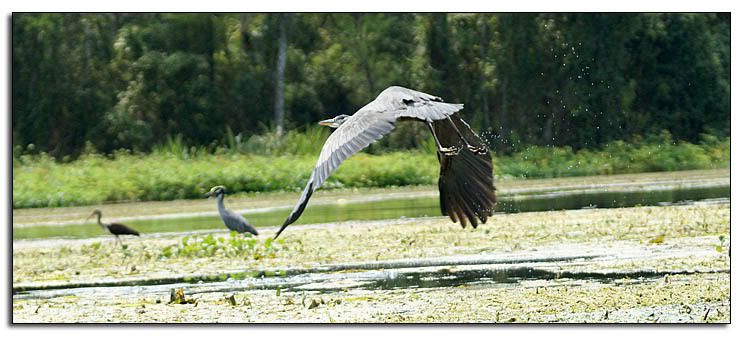 I went about as far as where we always see purple gallinules of all ages. I startled this one (I was startling a lot of birds today!) and it ran across the water in front of me, with much splashing and calling.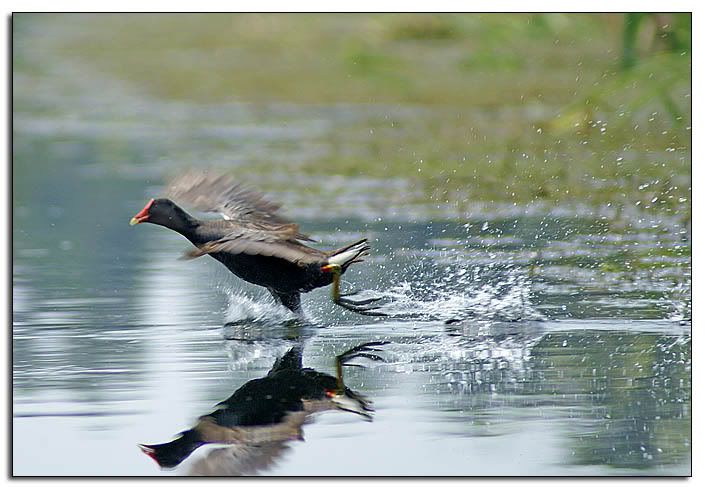 Paddling back upstream in what was now early afternoon was fun.... (I won't mention the heat index today; after all, it's August in Florida, what do I expect?). I may have been asking myself out loud (I did not, incidentally, see anyone else on the water the whole time I was out) why I thought paddling today would be a good idea when I spotted this egret, which spotted me at the same time.
There are so many ibis on this river now, more than I recall seeing in past years. This juvenile was looking for a cool snack in the surface growth.
Clouds started rolling in as I made my way upstream. I decided not to go back into Blue Spring--this was enough paddling in this kind of heat for one day. I did get one more photo of a tricolored heron as it decided, with much wing-flapping, to go somewhere else as I approached.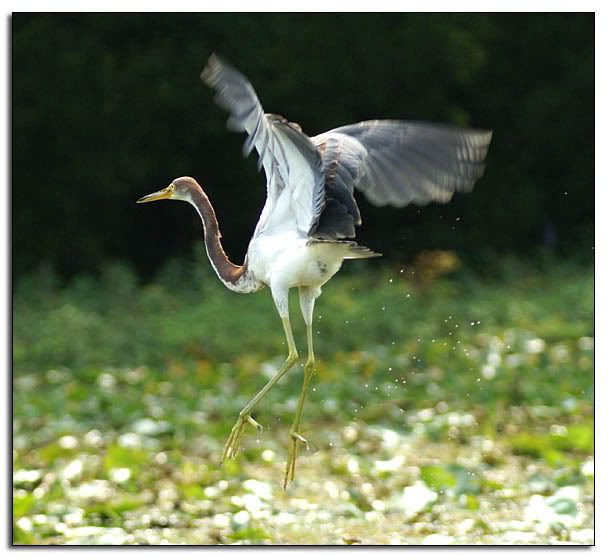 Just as I was getting out at the boat ramp, thunder started rumbling in the distance. There were a few people in the water (the single best way to cool off around here!).
I'm not sure when I will get out again; the difficulty with paddling in this kind of weather may win out over my discontent when I go too long without paddling. We'll see. This weather can't last forever. Stand by.