A river is more than an amenity, it is a treasure
~ Oliver Wendell Holmes
I was hoping to get one more Wacissa paddling day in before I leave for a camping trip to NC next week (and if you keep finding this post at the top of the blog, that's because I'm not back yet!)--and this was that day.
Lots of otters today, the first ones right near the boat ramp, in a group of four. These guys are hard to photograph (Abby definitely gets kudos for the wonderful otter pictures she consistently posts!). This isn't an Abby-worthy photo, but I like that the tail shows up as well!
And how about a little up-close-and-personal with a tricolored heron?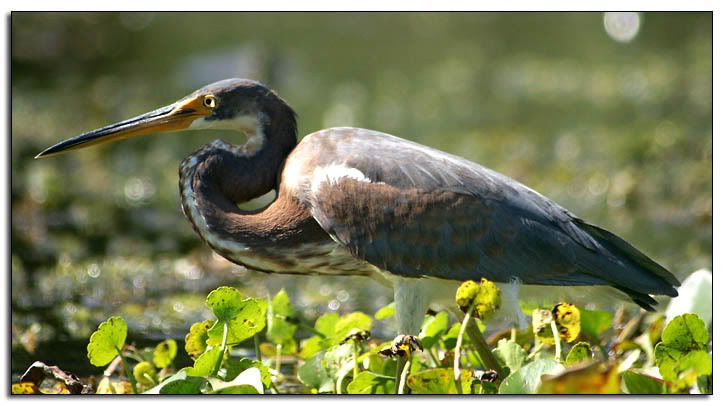 I paddled into Blue Spring, of course. While in the channel that leads to the spring, I noted the sun shining on these leaves. It may have been 90 degrees, but this almost looks like fall!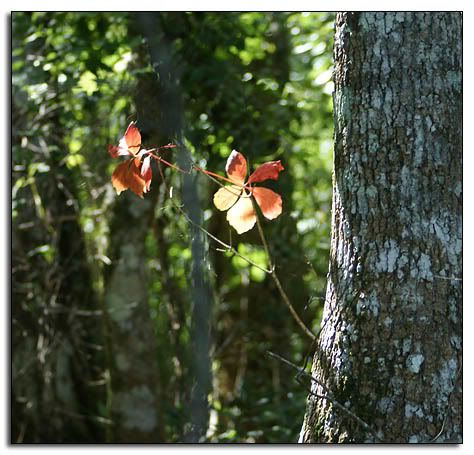 And then back out to the main river for a peaceful downstream drift. Except for a few seaweed harvesters, I had it completely to myself. In part, I'm sure, because it was a weekday, but I also suspect that a lot of boaters are just tired of this relentless heat.
This was definitely Great Blue Heron Day--I saw more than usual. This one went zooming by me, fussing as it went by--
There are a lot of white birds on the river--great and snowy egrets, juvenile little blue herons, and white ibis. This great egret came in for a landing just ahead of me.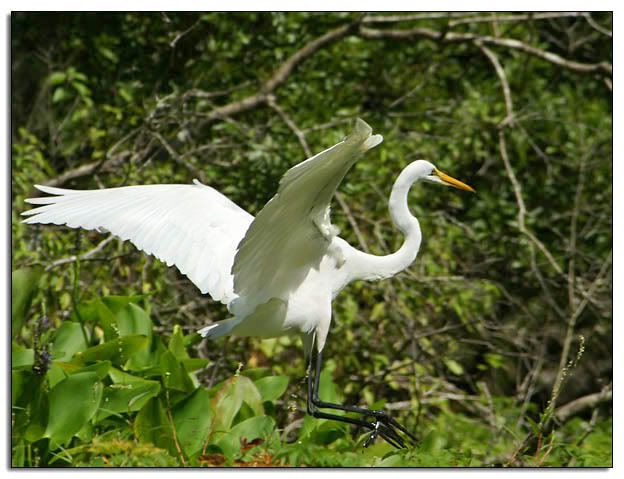 I went as far downriver as last time, mostly to see if I could spot an eagle again. I
really
looked. No luck on this trip.
So I turned around and headed back upstream. This little great blue heron (possibly a young one) was standing in the greenery in the middle of the river, very intensely watching something in the water. It looked up briefly when I pulled up to park in the surface growth and watch it.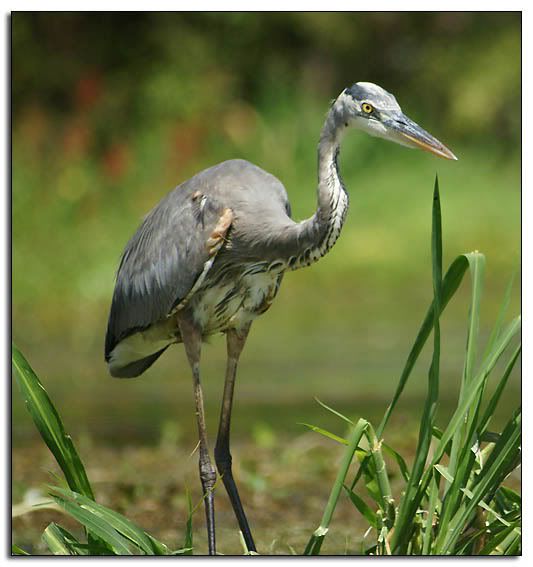 And then it went back to fishing.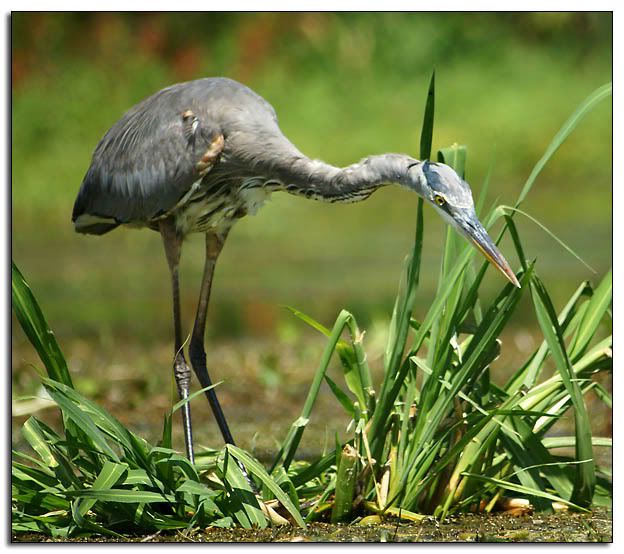 I watched it for a very long time while it totally ignored me. Eventually I backed out of my spot and went on my way. It stayed there.
I came to this juvenile little blue heron, who has almost finished changing to its adult coloring.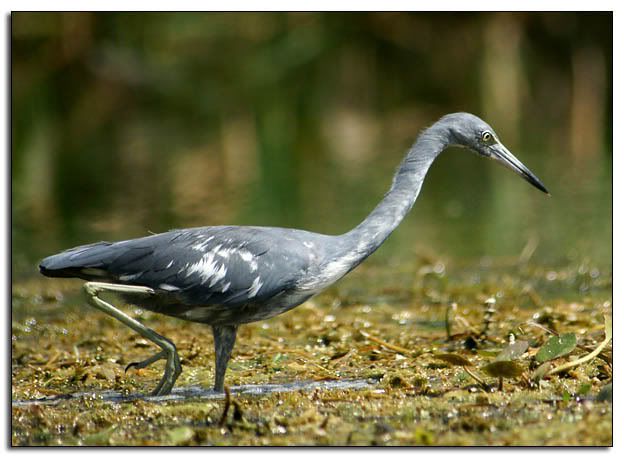 Did I mention it was hot today? I pulled over to a shady spot along the edge to cool off for a while and see what would appear. I watched a great egret land near some grass. Just when I had the camera ready to get another egret portrait, it took off.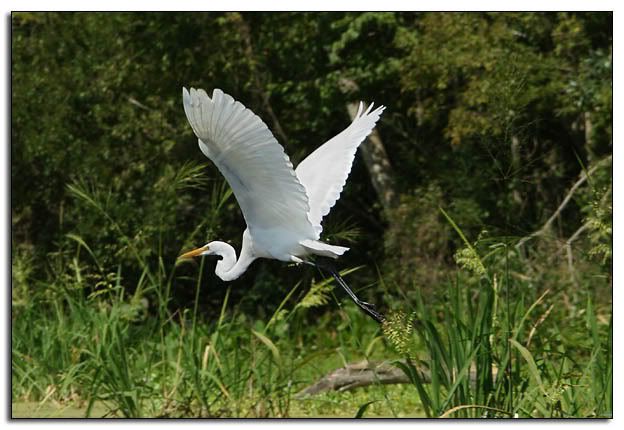 I also had a great blue heron (different one; I could still see the fishing one) fly by while I was sitting there in the shade.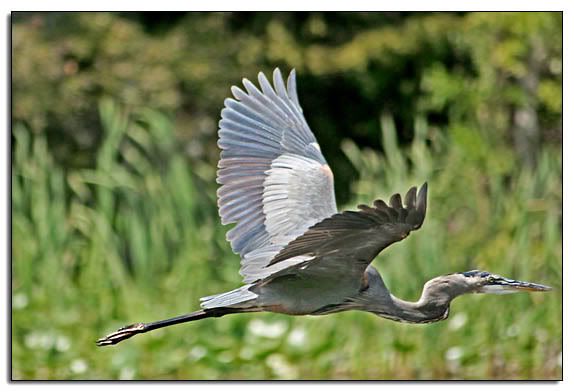 After a while I continued paddling upstream and back to the ramp. Near Cassidy spring I saw this snowy egret perched on a log and had to paddle over to photograph it.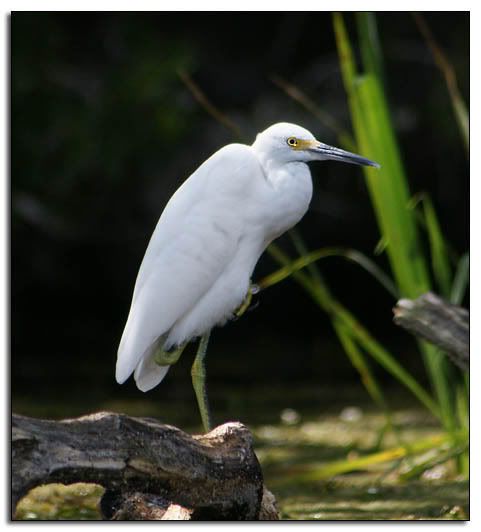 That one-legged stance is much more common in cold weather when they are trying to keep their legs warm...not sure what's going on there.

In the last post I showed you what this river looks like. I decided to add the sounds of the birds to this post as well as the birds themselves. I put together a mix of bird sounds that are very typical on this river (none recorded by me--all from Cornell's bird software). This includes purple gallinules, a great blue heron, and a little blue heron. They did particularly well with the little blue heron sound, which is the last--they have a most discordant squawk (in my opinion).

Here's what it sounds like on this river: Bird Sounds.

So that's all until I get back. I'm not taking the kayak to NC this time, so the trip posts will appear in the Camping Tent Tales blog (I'm camping) and the Photo Miscellanea blog (I'm driving around the mountains).
My friend Kimberlee, who lives in the arctic tundra of Alaska, has started a blog!! Check it out.

Until I get back to paddling, stand by.