Nature always wears the colors of the spirit.
~Ralph Waldo Emerson
It has occurred to me lately that a certain sameness has taken over my blog posts. This is not surprising since during our summer I tend to stay close to home and prefer this river. This leads to similar photos of similar birds. So I decided to do something different for this post. I often talk about the river and once in a while take a photo that gives you a glimpse, but today I am going to show it to you in more detail. This is just a one-post break from the birds to look at where they live.
We'll start where I do, which is in the parking lot of the boat ramp.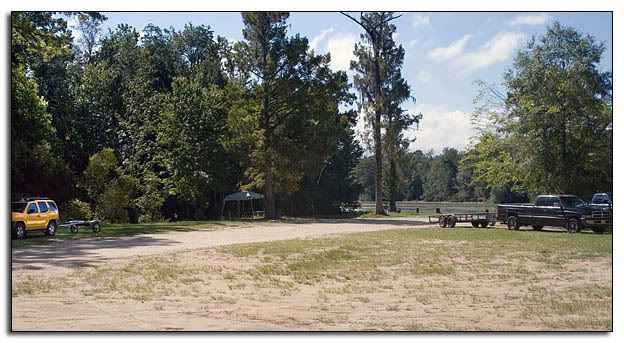 While there is a concrete ramp, paddlers prefer the grassy/sandy entrance and exit.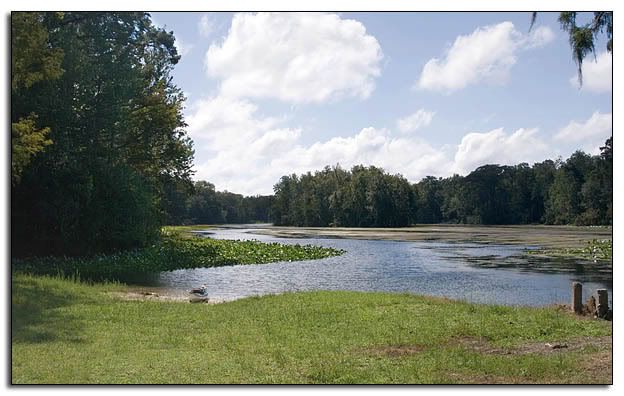 A glance to the right from where that photo was taken reveals the springs, a popular swimming area.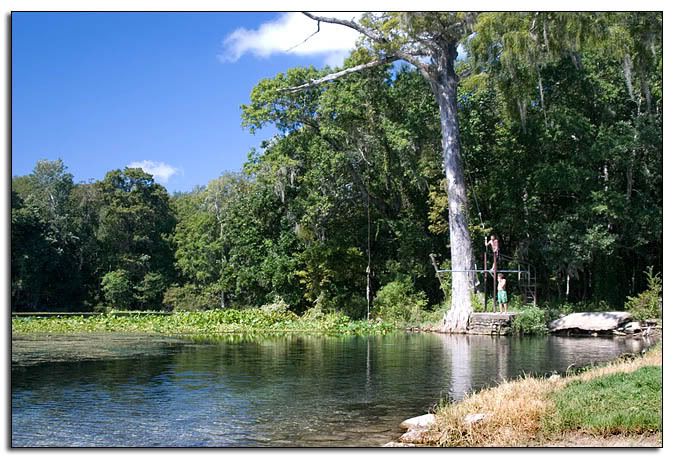 So off we go. I had not taken my favorite zoom lens since I knew this was going to be a day for scenics. I was going to resist taking bird photos, with one exception. Should an eagle appear, I would try to capture a photo of it.
The first thing you come to after leaving the ramp is Cassidy Spring on the right. It's a small inlet that leads to this somewhat small spring. This is an excellent spot to get out and stretch as well.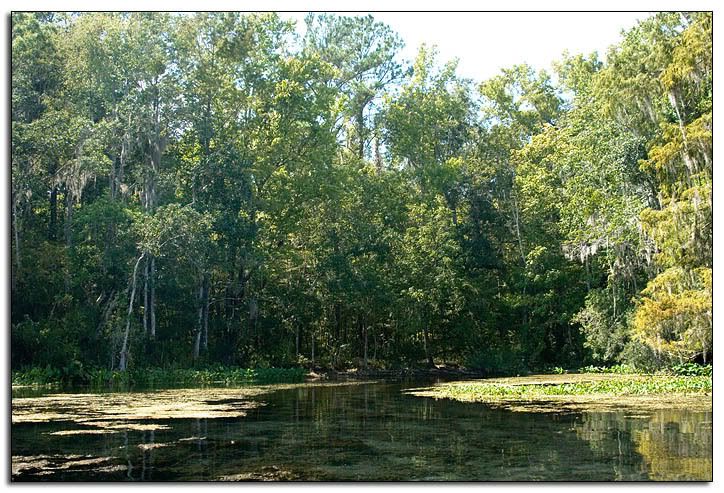 After that is the channel to Blue Spring on the left, which has been covered fairly well in this blog. There are many channels that lead off the main river and it can be difficult to distinguish one from another if you are new to paddling here. The best way to recognize Blue Spring's inlet is that there are many cypress knees on the far side of the turn into the channel.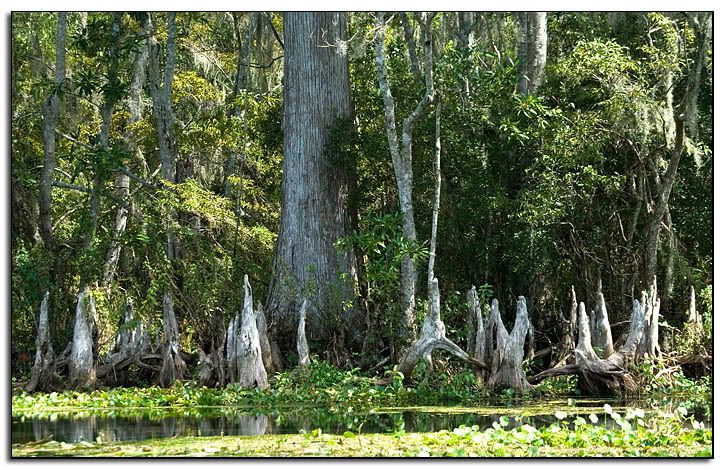 Just past Blue Spring we come to the only sign of humans between the boat ramp and Cedar Island. There is a mobile home under a large tin roof (I believe it is some sort of hunting/fishing camp) with a dock with many chairs on it.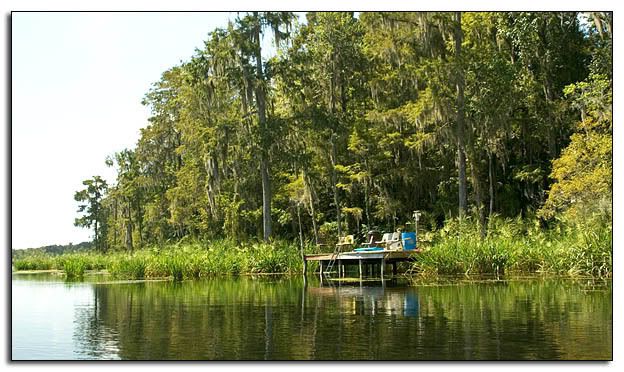 You will see wood duck nest boxes on both sides of the river, scattered here and there.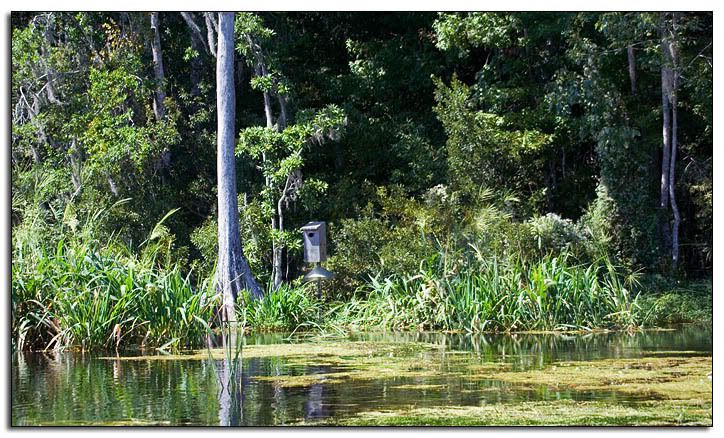 This is a very typical sight along the edges of this river--a pool of water separated on all sides by surface vegetation and lined by tall grasses: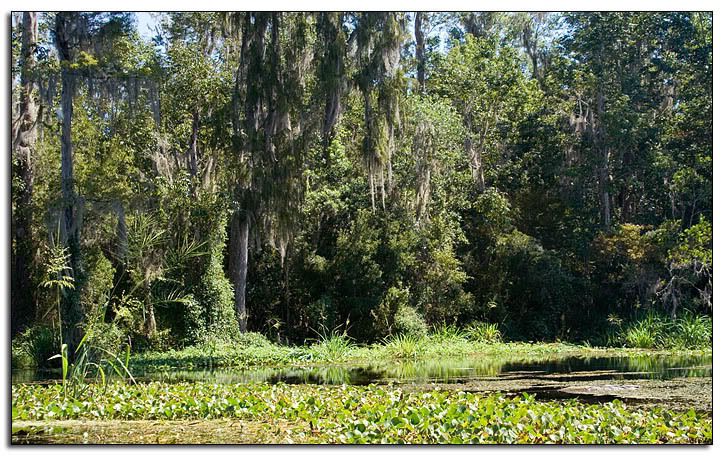 (There were actually several common moorhens swimming in the water when I took the first photo of that. I noticed today how much easier it is to take scenics. You take the photo and check it on the LCD screen of the camera. If it's too dark or light, you adjust the exposure value and take it again. If it's still not just what you were hoping for, adjust again. What a luxury to have so much time to tinker with settings! I don't think I'll be switching from birds to landscapes any time soon, though.)
I like to paddle on the west (left) side of this river after about the first mile and a half. This takes me through the channel that has the tall grasses in which moorhens and gallinules have nests and babies. And it's pretty.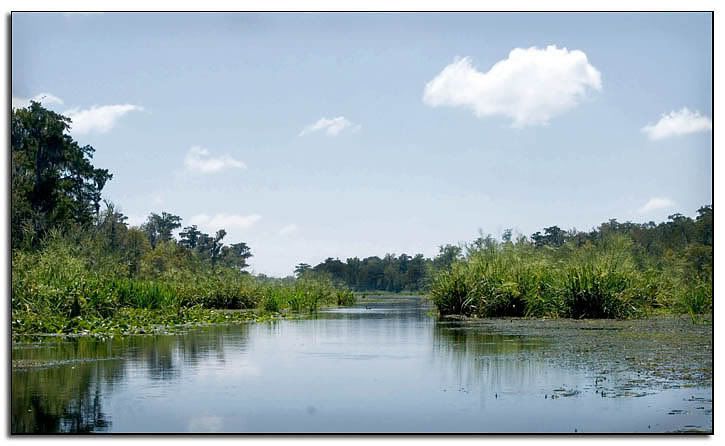 Since I wasn't spending a lot of time stopping to photograph birds, I got to my usual summer turnaround spot fairly quickly. So I decided to continue on downstream to Calico Hill boat ramp, another good place to get out and stretch.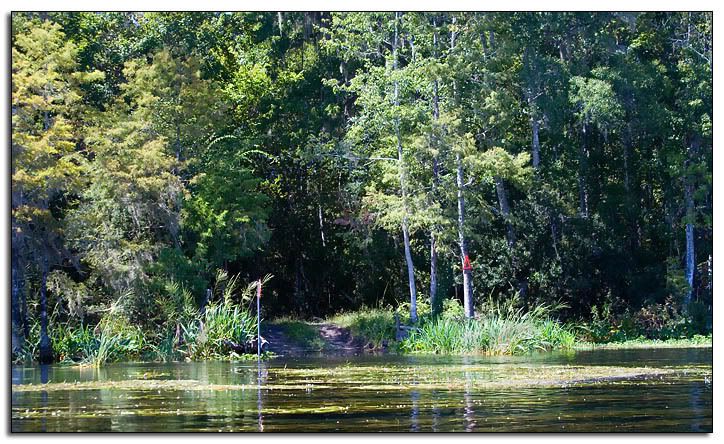 I didn't get out and stretch, though, I just turned around and began the upstream paddle.
Shortly after, I came to one of the very impressive bald cypress trees that line most of this river. There's a story from today that goes with this one.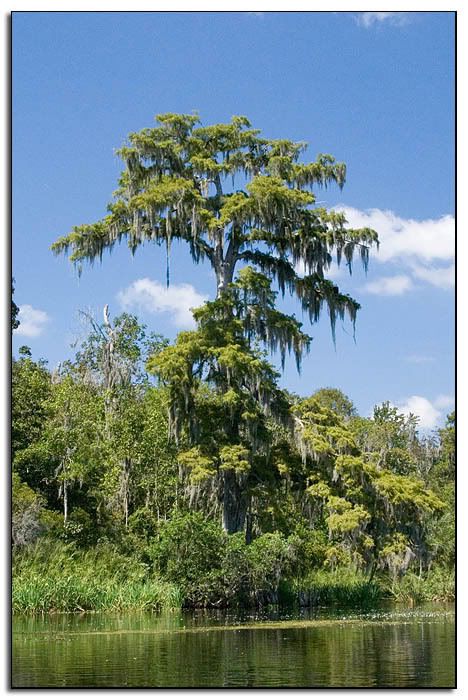 After I put the camera down and began paddling again, here's how my thoughts were running:
I will have to mention in the blog post that it is in trees like that, later in the year after they lose their leaves, that we often see bald eagles. Hmm. I've already seen one this year, in the dead cypress tree upriver from here. You know, I bet they are in those trees now, we just can't see them as easily with all the leaves to hide behind.
At that point I was next to the tree, thinking about eagles in hiding, and I looked up into it, peering into the leaf-shrouded branches.
Heh heh.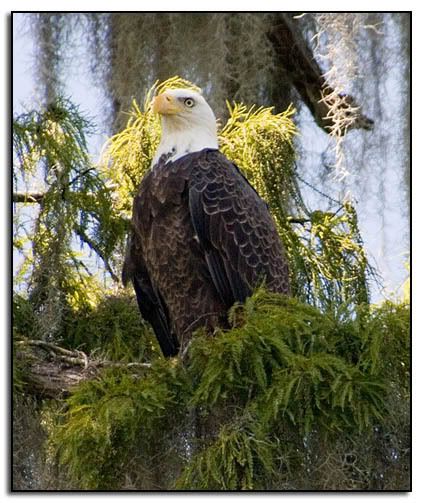 Yes indeed, spotted this eagle today. They are there now, we just have to look closer to see them. (And you didn't really think I could put up an entire post without a single bird photo? I knew that wasn't going to happen.)
On the way back upstream I passed Rock Pile, where Janice and Abby and I had gotten out of our boats once and spent some time cooling off in the water. Very pretty little spot.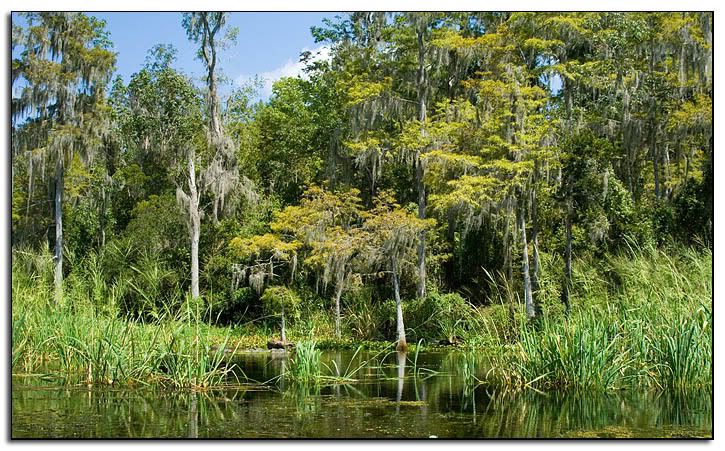 And the rest of the paddle upstream was peaceful. I saw four otters playing together but they saw me long before I was close enough to even attempt a photo. The otter that is often around Cassidy Spring was also there on my way upstream.
Here is what we see at the end of an hours-long paddle on this river. Much as I love paddling this river, after many hours in the heat, this is usually a welcome sight!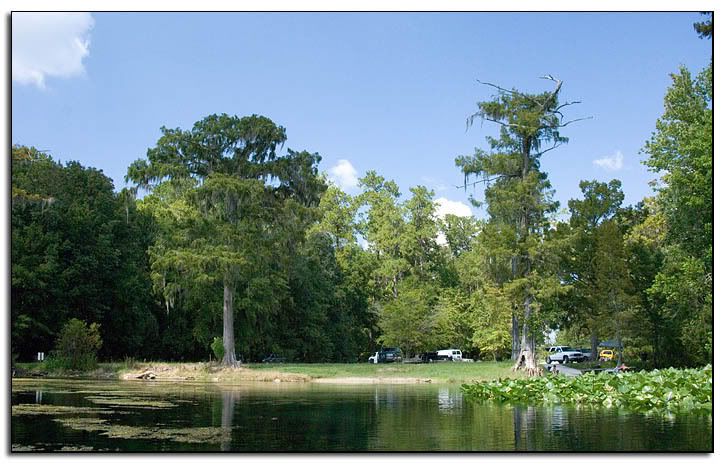 And that concludes our tour of the Wacissa. I hope you enjoyed it. I'll be passing the tip jar around momentarily. In the meantime, I hope to get back out soon. And the birds will be back on the blog! Stand by.