Eventually, all things merge into one, and a river runs through it.
--Norman Maclean
Just a short trip to the Wakulla with only a few photos to show for it.
This river seems to be getting fairly degraded, which is a shame. The water is far less clear than that of the Wacissa and St. Marks, with the telltale rainbows of gas or oil spills scattered across the surface from all the power boats. I don't think it's a coincidence that of the three rivers, this is the only one with houses on both sides of the shoreline. Most of those houses have power boats parked at their docks. Simple repairs to those boats while they are on the water may be responsible for some of the spills in the river. It's very sad to see the water quality so poor.
There were some manatees in the river; one adult in particular swam alongside me for quite a distance upstream, which was fun.
I found most of the birds to be in the backwater areas away from power boat traffic. While there are docks in that area, too, there don't seem to be as many boats parked in the water, and the houses aren't visible since the river is somewhat marshy in spots and of course affected by tide. This egret was hanging out in the grass.
This one came in for a landing near the upper bridge.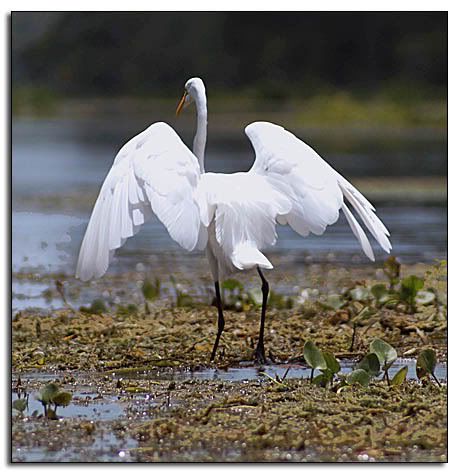 I also found some green herons, though not nearly as many as can be found on the Wacissa. These guys make it very clear when they are annoyed by your presence by raising the feathers on top of their heads
and flying away.
I didn't see any adult little blue herons and only one juvenile.
The redwing blackbirds are coming back. I saw several flocks of them in the grasses along the edge.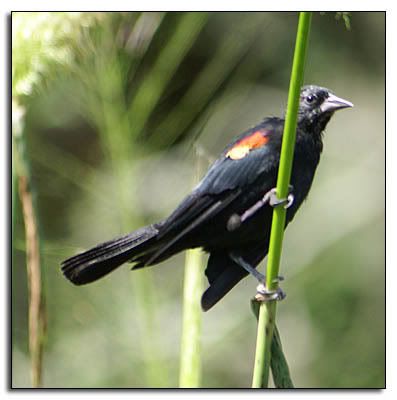 I had an enjoyable drift back downstream. This anhinga was perched high in a tree working at swallowing a recent catch.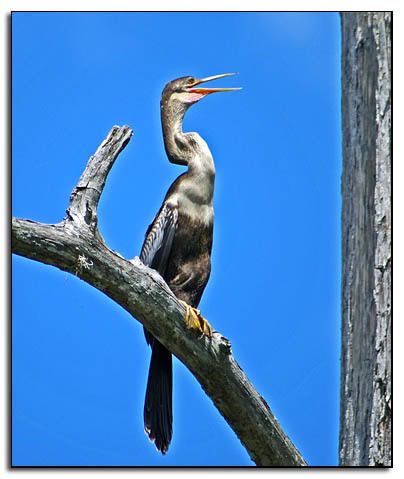 There is a large osprey nest near the boat ramp and another near the upper bridge. I haven't seen any between those two, but the osprey fly and hunt over the length of the river between bridges. I happened to see this one in a tree as I passed below it.
(As you can tell, it saw me too...)
Short day due to our rainy weather, and the birds seemed, for the most part, to be elsewhere today. This used to be my favorite river but I'm afraid it has dropped into third place among the Big 3. I enjoy it over the winter because several migrating birds hang out here, mergansers in particular, but I think my warm-weather visits will become fewer and farther between from now on.
As soon as our daily-thunderstorm phase ends, I'll be back out! Stand by.