For whatever we lose (like a you or a me),
It's always our self we find in the sea.
~e.e. cummings
Well, I did
take
the kayak. I just didn't use it due to weather and wind conditions. Nonetheless, many of the photos just simply belong in this blog, so this is one of those non-paddling posts.
I was camping at St. Andrews State Park near Panama City (campground info and scenic park photos are at
Camping Tent Tales
). I seem to be in some sort of mode where it rains when I camp--every day recently in NC, and all but a few hours on this trip. I'm getting used to dark skies and dampness. And I do like it at night when it patters on the tent roof.
On the day that I got there I set up camp and then went to explore. This park is sandwiched between "Grand Lagoon" and the Gulf of Mexico. I went first to a fishing pier on the lagoon side. This egret was on the pier.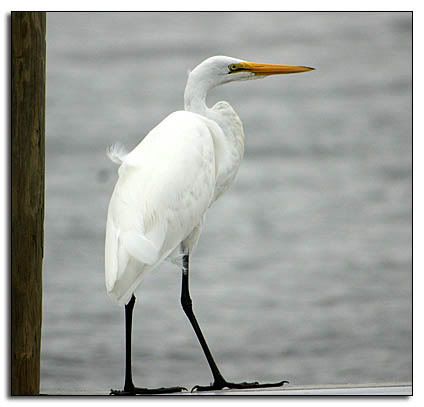 Later it posed for me in a grassy area.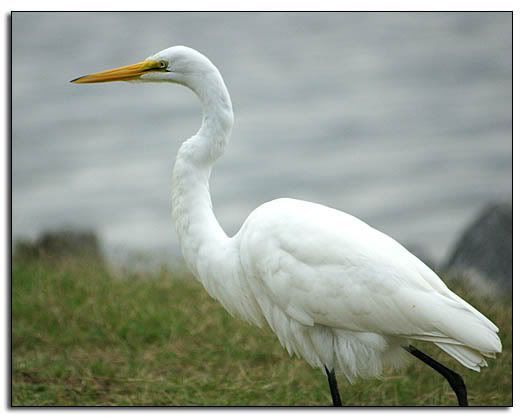 There wasn't much activity at the time so I went over to the Gulf side, where I watched the kite surfers for a while. I put together a slide show of one of them as he rose into the air. I posted it on the
Photo Miscellanea
blog.
And then it started to rain and that was it for the great outdoors on that day.
The next morning I drove around the park and checked out the small lake, but there were no birds there. It was extremely windy and the sky was very dark. I went back to the Gulf side and watched the waves for a bit. And then the sky started to change. While it was still very threatening overhead, normal beautiful blue sky with puffy clouds could be seen in the distance.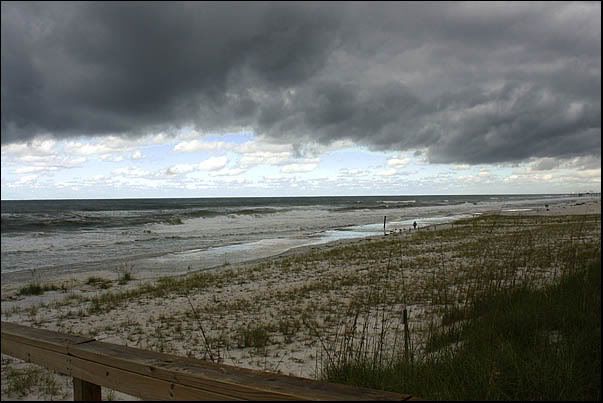 I watched that for a while and the dark clouds definitely seemed to be heading inland (the blue sky area getting larger), so I basically just wandered around killing time to see what would happen. When things started to look much better, I went back to the pier.
A man and a woman were fishing off the end, and a great egret and small great blue heron were hovering about, so I walked down the pier. At the same time, the woman brought up a fish she had caught, which was of interest to the egret. And I thought the Wacissa birds were casual about humans...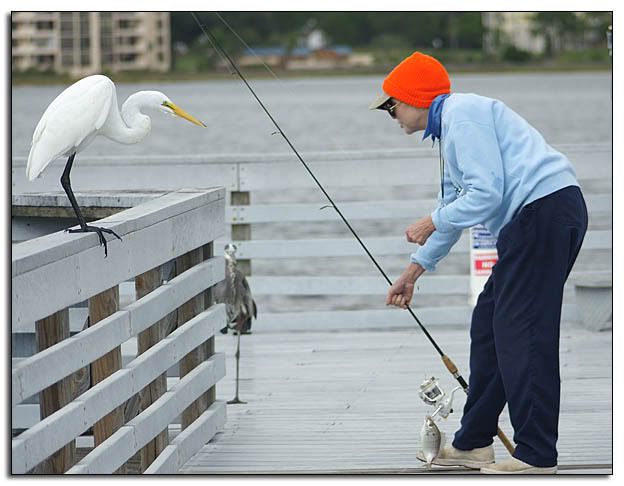 If you look in the background, you can see the great blue heron just around the corner, watching all this.
The egret became more interested when she began to remove the fish from the line.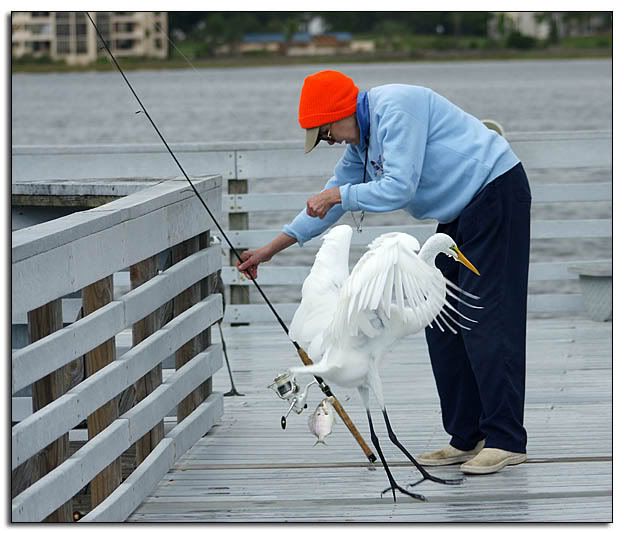 Needless to say, I was beside myself to be able to get that close to an egret when I was not in a moving boat! And one that didn't mind my being close!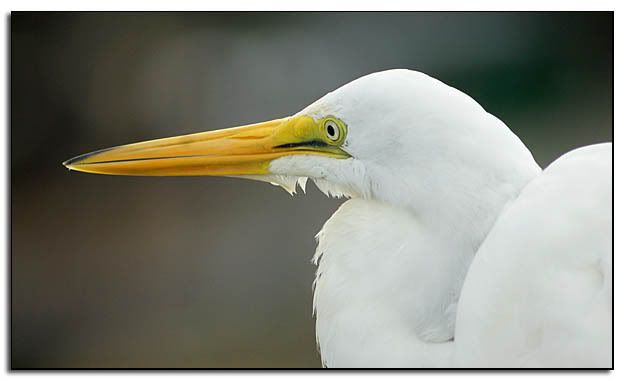 ---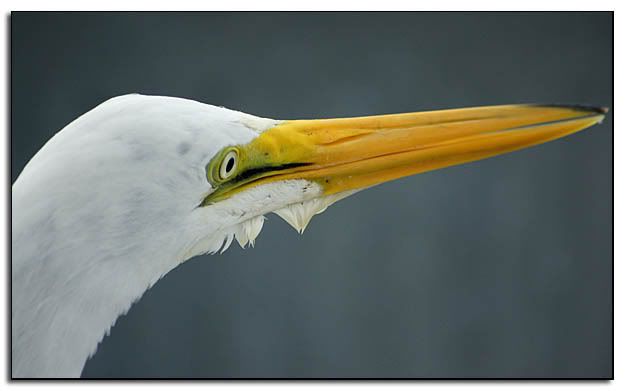 And then I turned to check out the great blue heron (the woman agreed that it must be a young one, since it was so small). Again, a joy to be so close to one in a natural (i.e., not confined) surrounding!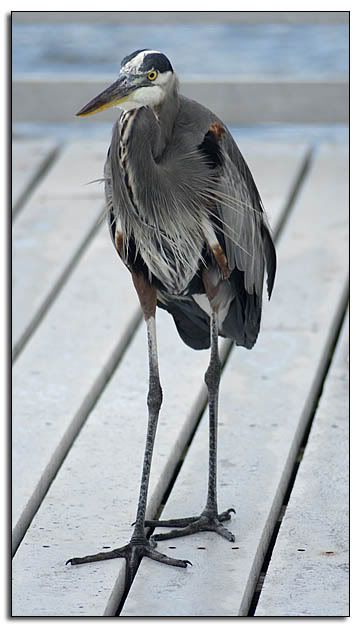 It was checking me out as well.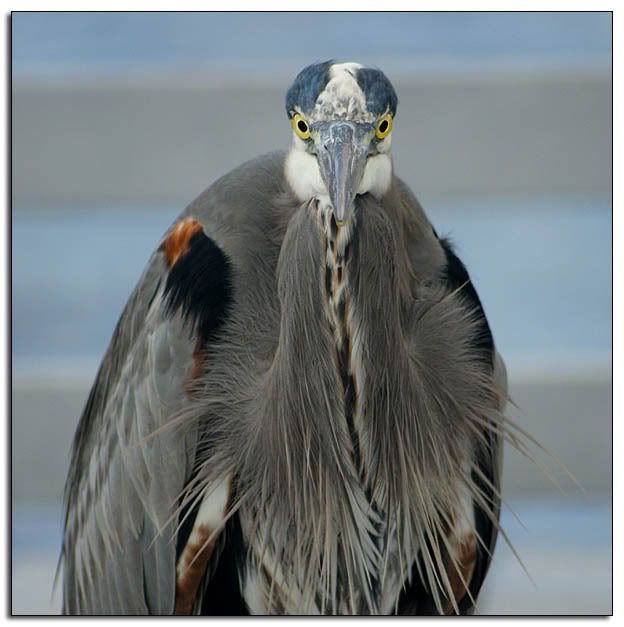 As you can imagine, I took several photos of it.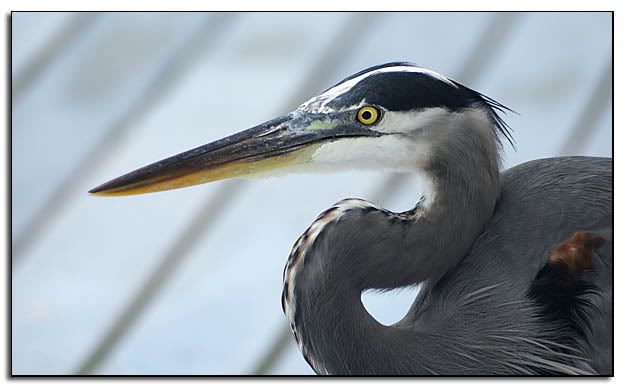 While I was on the pier with the birds, a paddler did go by.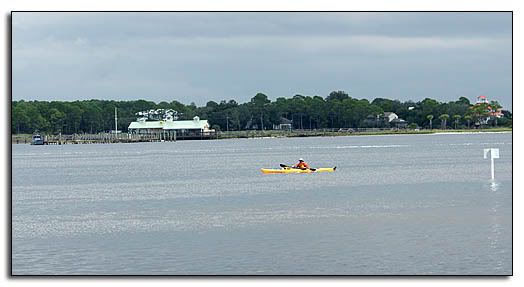 I asked the woman if she knew where the pelicans hung out. As much as I was enjoying the heron and egret, I do see them fairly often (if not so closely) and I rarely see pelicans. She said she didn't know where they were. At this point the blue skies appeared overhead, the sun shone down, and three fishermen went to a fish-cleaning station next to the water and started cleaning fish they had caught. And the pelicans started coming in. So I left the woman and the egret and the heron and headed over that way. I took rather a lot of photos of the pelicans; you may find this hard to believe but I really am only posting a small portion.
These two were the first to arrive.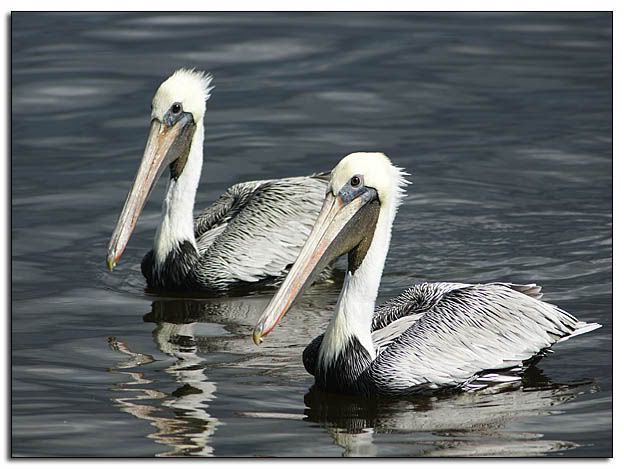 Then I saw this one approaching over the water: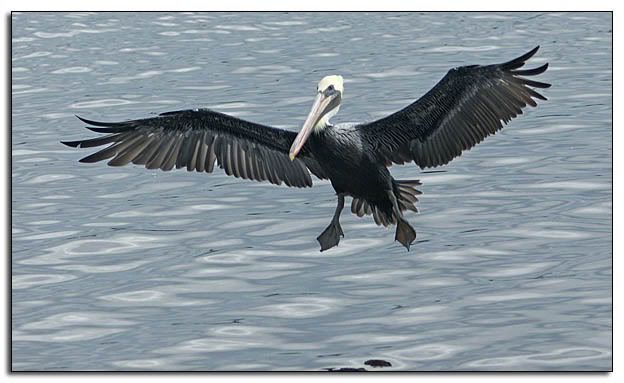 He skids in for a landing,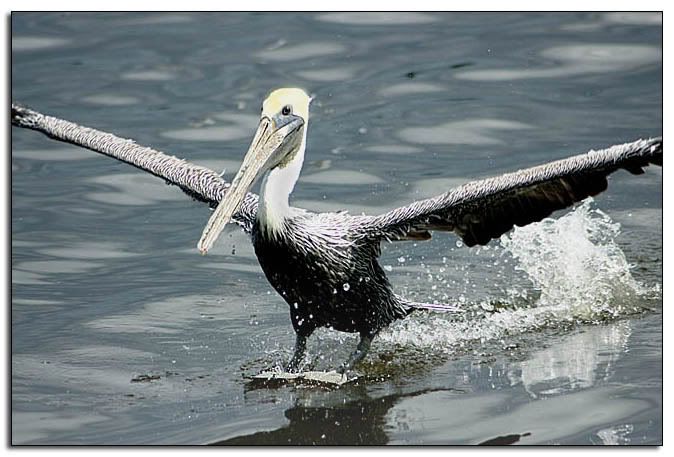 and wonders what I am looking at.
----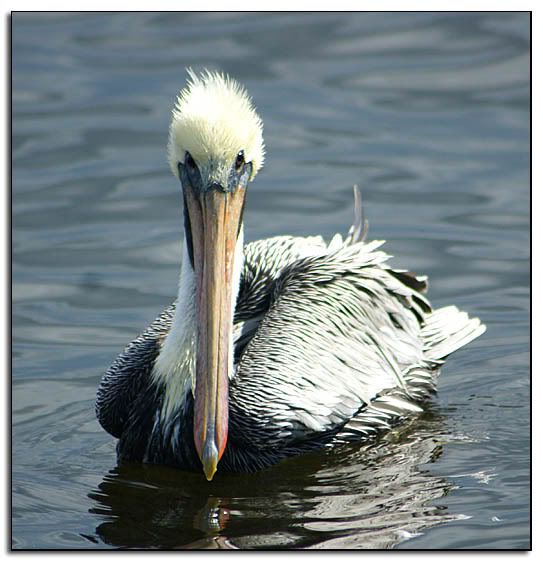 And then there were four.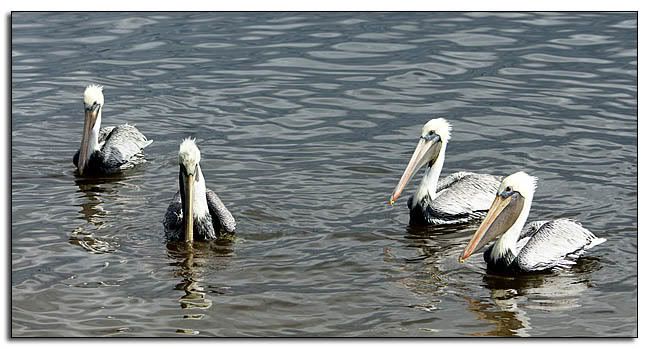 The men had been tossing fish remainders out for them. Here you see these four waiting eagerly for the next toss. The one on the right is particularly ready for it.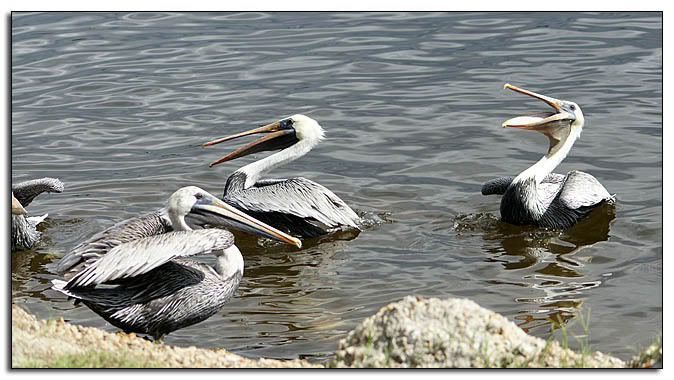 And here comes the fish toss (you can see it coming in the upper part of the photo). Our guy on the right is still ready.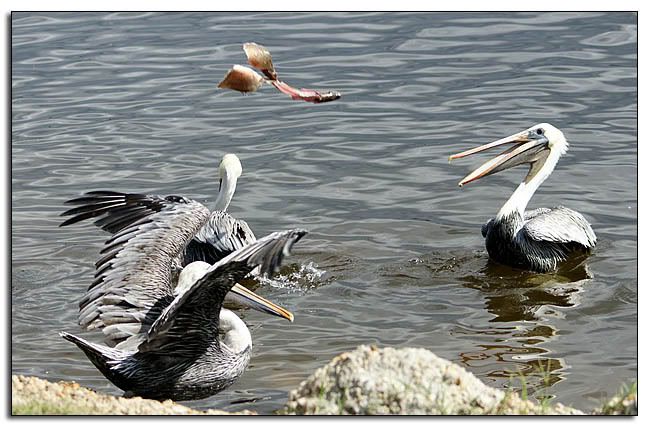 It lands in the water between Mr. Ready and another.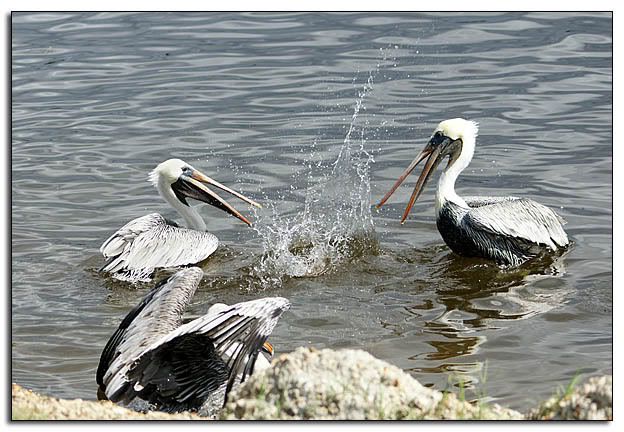 And this one swoops in and grabs it!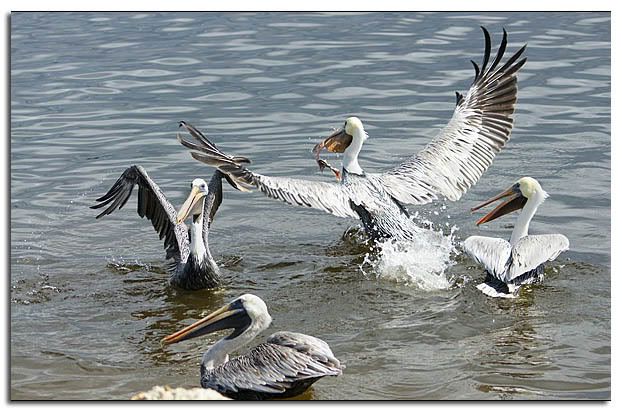 I got this picture of a frenzy after several fish bits were tossed, and I post it because I love the expression (these birds have such great faces!) on the juvenile in the back left of the group.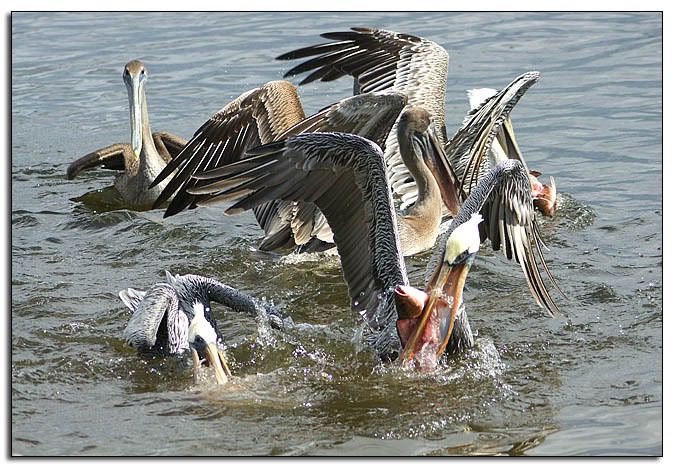 It seems to be saying
"So there's no line, or we don't, like, take turns or anything?"
Poor guy looks very daunted by this and probably doesn't expect to taste any fish that day. Later, since he didn't have anything else to do, he checked me out. (All pelicans are "he" to me, I have no idea why.)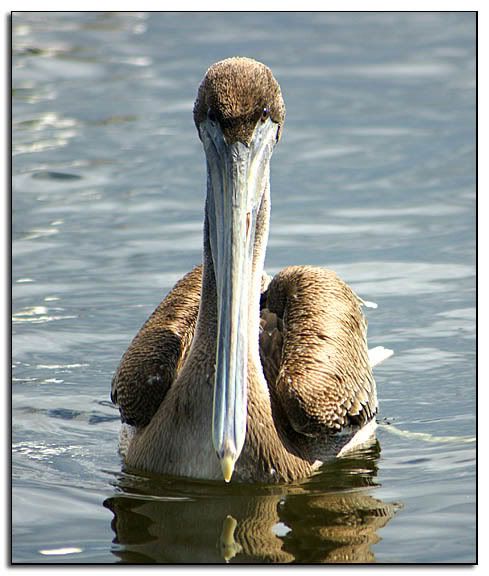 Gulls were also flying around looking for handouts.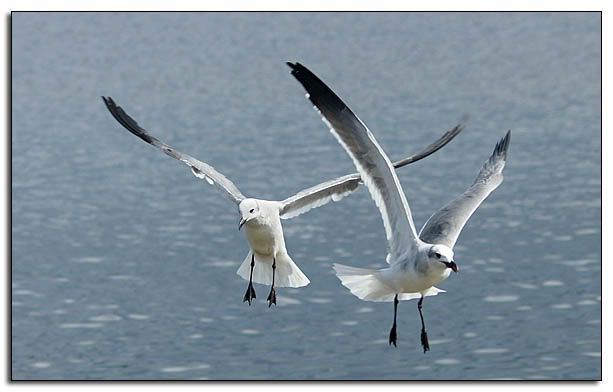 ---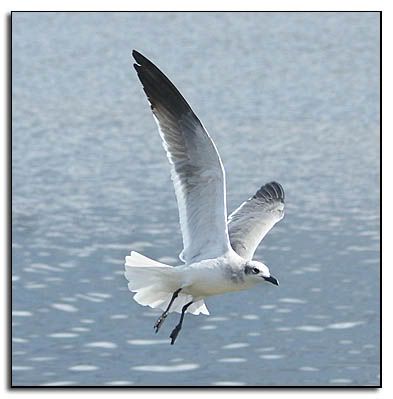 Two snowy egrets were watching all this from the grass and rocks nearby.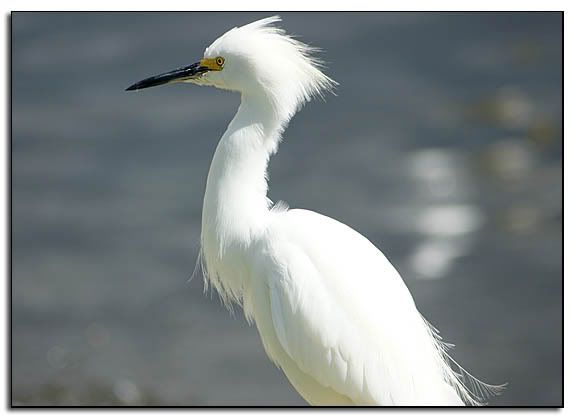 ---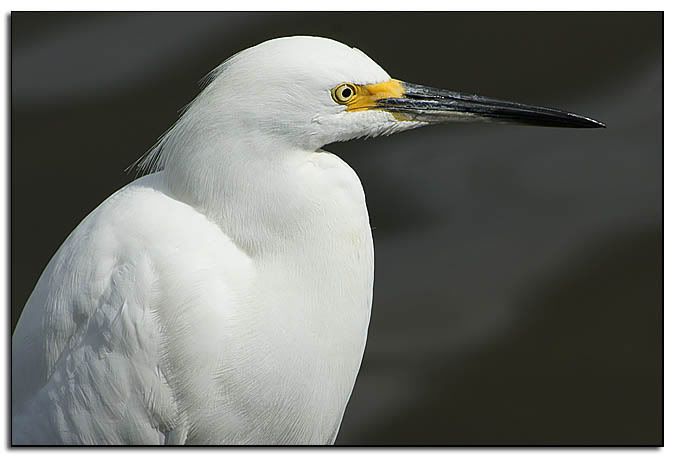 I decided to go back to the Gulf side while the sun was still out. More gray clouds were appearing and moving in so time was short.
The Gulf was in quite a turmoil, which was great to see--usually we have to go to the Atlantic side of the state to see waves like these. It was extremely windy by this time so there were no kite surfers or even regular surfers out--the water was very choppy and uneven. I noticed that it was crashing against a jetty of rocks some distance down the beach. Again, this is
not
a sight we commonly encounter at the Gulf, so I made my way over there through the wind, with the blowing sand taking a layer of skin off (I was protecting the camera beneath my sweatshirt, needless to say). (Conditions like this are why it's a good idea to have a protective filter over the lens (I had a plain clear glass filter on this lens--doesn't affect the photos at all)--it got hazy from the mist but the original lens glass stayed safe and clean.)
I took at least 20 pictures and so even though this is not even remotely related to paddling or this blog's usual content, I am posting one here, as well as on the camping blog (different one over there).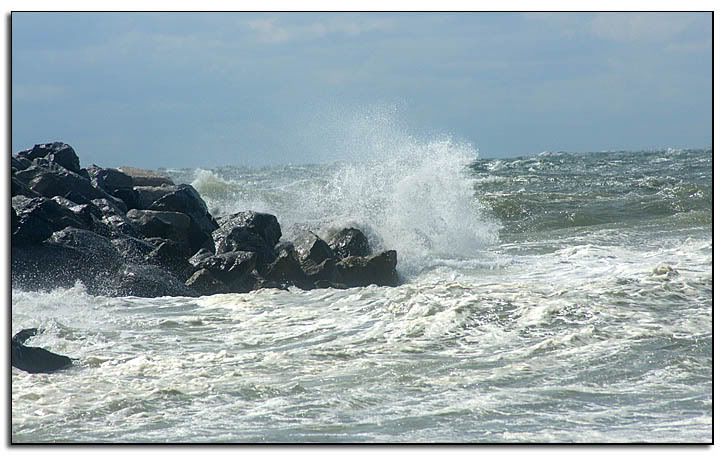 And then it rained, and it rained lightly for most of the rest of that day and overnight, and I came home the next day. Despite the weather, this was a great trip and I plan to return soon.
And I look forward to getting back to my usual rivers. Stand by.