Those who contemplate the beauty of the earth
find reserves of strength that will endure as long as life lasts.
~Rachel Carson

I decided to go to the St. Marks River today. I had no great expectations of photos as this river often provides less (visible) wildlife than the Wakulla and Wacissa, but it makes up for that with such beautiful scenery. As it turned out, while the only birds were one little blue heron, two grebes, one coot, and several belted kingfishers, I did encounter many manatees, just as I did a couple of days ago on the Wakulla River, and two turtles on a log. At one point a very small gator surfaced, saw me, and quickly dove out of sight; later I saw a midsized gator sunning along the edge. The paddling was wonderful--warm sunshine and little current since the tide was coming in. Our recent overnight freezes have resulted in some fall color here and there.

I paddled upstream for a little less than two hours. It gets dark early now and the wind was picking up and I know how I tend to dawdle while drifting downstream (at times nearly coming to a standstill while I peer into the woods on either side of the river) so it was time to turn around.

At about 3:00, as I was silently drifting downstream, I heard the sound of something large entering the water just around a gentle bend in the river to my left. Curious, but only slightly, I picked up the binoculars in a very leisurely fashion and searched the river surface ahead of me.

WHAT??? Is that a black bear???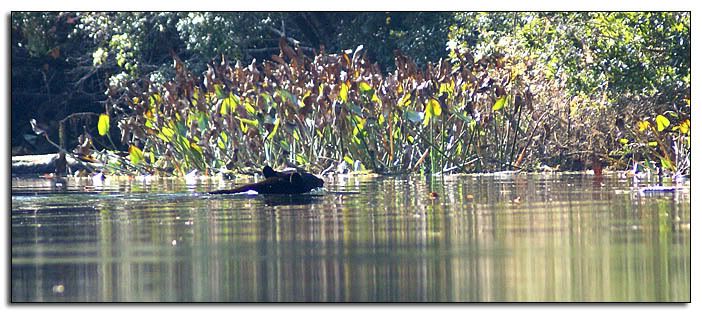 Down go the binoculars (in a less leisurely fashion) and up comes the camera. It's clearly interested in getting to the other side and will come out of the water soon.

A difficult photo--black bear in the shadows, in a location that requires manual focus. (Of course I knew I would post it even if it were only a black blob.) My downstream movement must have caught its eye as it emerged from the water and it turned to look at me.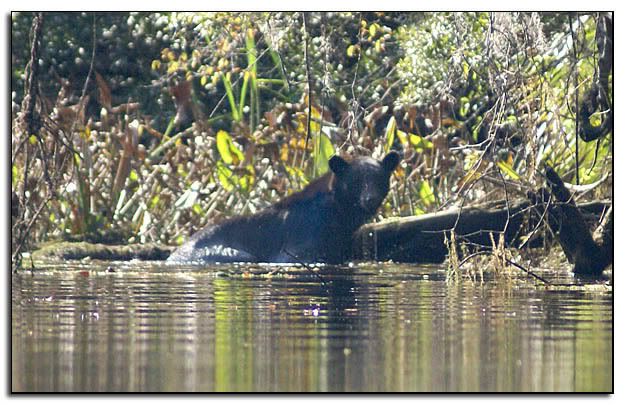 And then it climbed the rest of the way out of the water (not to be redundant, but in a leisurely fashion)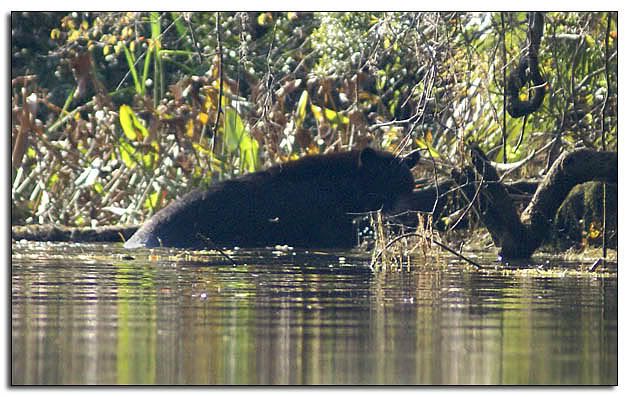 and ambled into the woods.
I was so excited and thrilled I was just short of literally shaking. This was without a doubt the high point so far in my paddling experiences. Right place, right time.

I had taken a few other photos prior to seeing the bear but I think I will let it have the post. The others sort of pale, in terms of subject matter, in comparison.

One other note about today--in the post from two days ago I mentioned (and included photos from) seeing a bald eagle alongside Hwy 59 on my way to the Wakulla River. I take that same route to get to the St. Marks River. Today, in pretty much the same spot as described before, I saw a bald eagle swoop down from a tree and pick something up from the ground (straw, grass, a twig?) and fly back into the trees. So it would appear they are indeed nesting nearby. I also was able to see into those woods at one point and it seems there is some water back in there.

Speaking of eagles, I want to get back to the Wacissa to see if I can spot the ones that spend time there. And I think I will be getting back to the St. Marks some more, looking for that bear! Stand by.