To stick your hands into the river is to feel the
cords that bind the earth together in one piece.
~Barry Lopez
The weather was good for paddling on this last day of 2007 and so I decided to take advantage of that (good timing--in two days our overnight low is predicted to be 12 degrees. Yes, it does get cold in Florida...). I had intended to go to the Wacissa but DH suggested that, being a holiday for many, there could be a multitude of airboats and power boats driven by those less than sober. The Wakulla seemed like a better choice. I don't know how it was on the Wacissa, but the Wakulla was loaded with paddlers--it was great! In the four hours I was on the water, I saw only two power boats; one was a canoe with a trolling motor on it and the other a large boat but going at no-wake speed.
As on the Wacissa, there are just fewer birds now, period. But they are there. I saw what must have been a juvenile anhinga sitting in a tree--the coloring was right but it was significantly smaller than usual.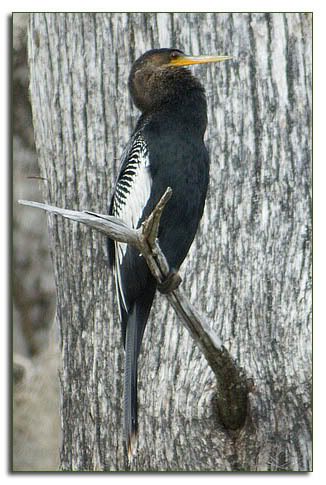 Anhingas and cormorants always seem to be together and this day was no exception. This cormorant was taking a break from fishing and was soaking up the sun,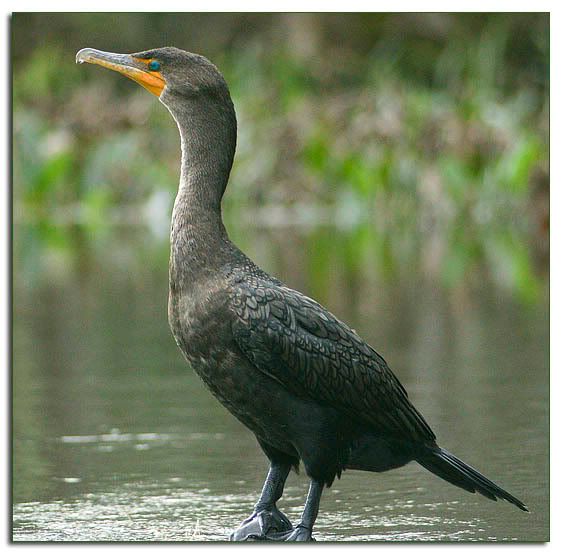 while this one was perched overhead.
There were many great egrets and ibis on the river. Speaking of which, I often overhear people misidentify great egrets as white herons. While there is a white morph version of the great blue heron, they are only found in south Florida. So, FYI, if it's a big white bird of that shape spotted anywhere but south Florida, it's most likely a great egret, not a white heron.
And there were a lot of egrets today. This one had dipped its head underwater and had just fluffed its neck to dry.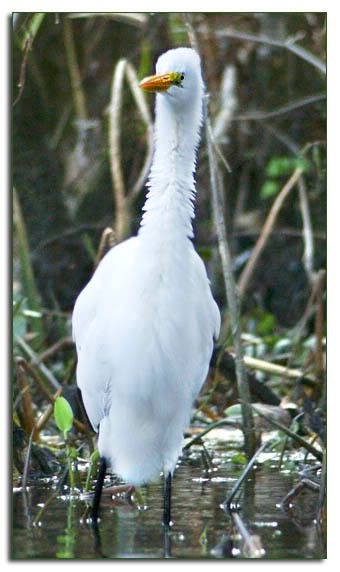 This one flew past me at close range.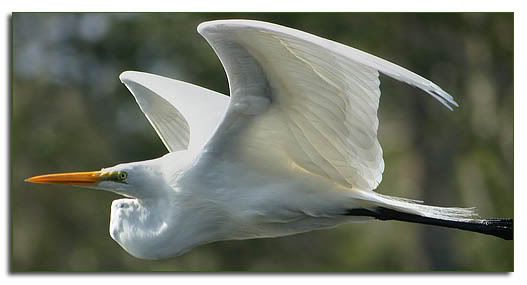 The Suwannee cooters were out on logs all along the shoreline basking in the warm sun.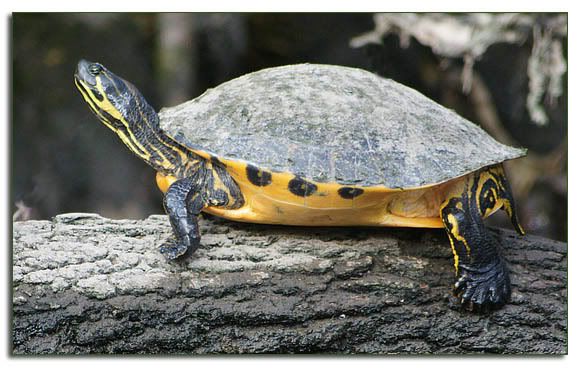 I paddled to the upper bridge and circled the island and drifted downstream. A belted kingfisher kept me company for much of the way.
I heard a woodpecker near the bank so I paddled over to see it. It was a pileated. About the time I got there, it flew to a separate tree, but overestimated the strength of the branch it landed on.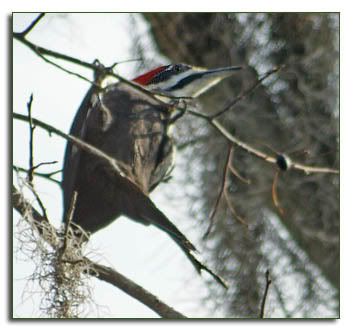 It swung there for a while trying to recover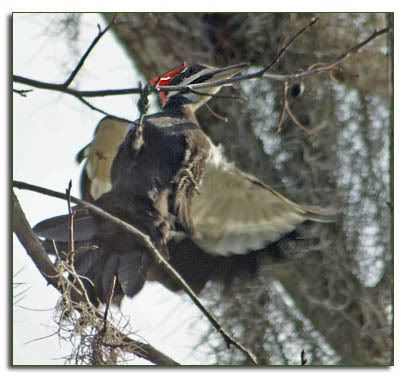 and finally got to where it wanted to be.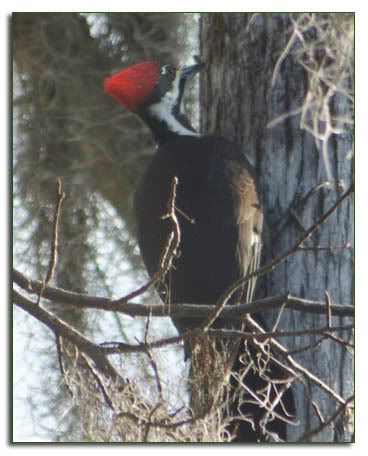 There were a few grebes here and there.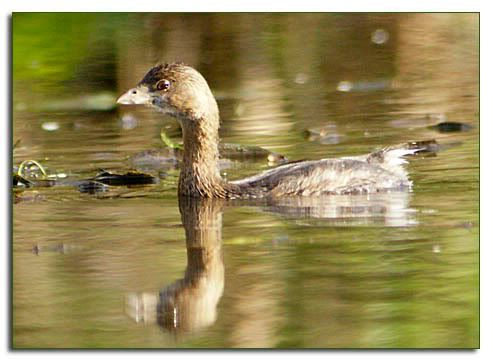 As I was drifting downstream, I came to this egret perched on a log at the edge of the river.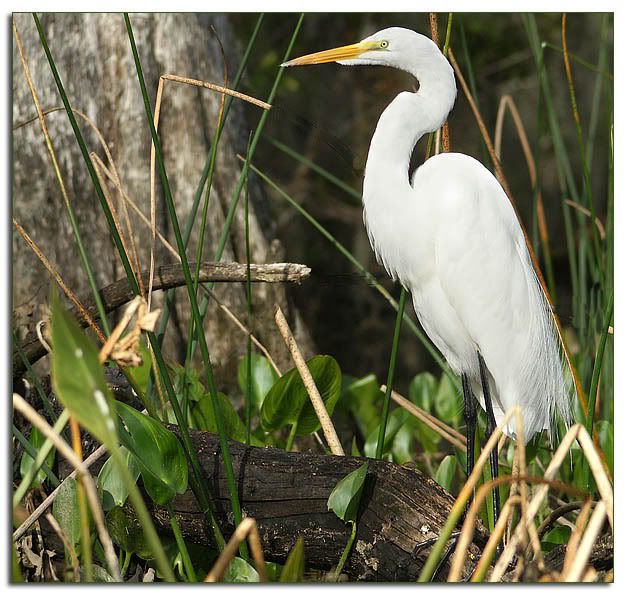 I decided to paddle to another vantage point to take another photo.
The interesting thing about the vantage point, and the photo, which I didn't notice until after I had taken a few pictures, is the baby gator sharing the log with the egret!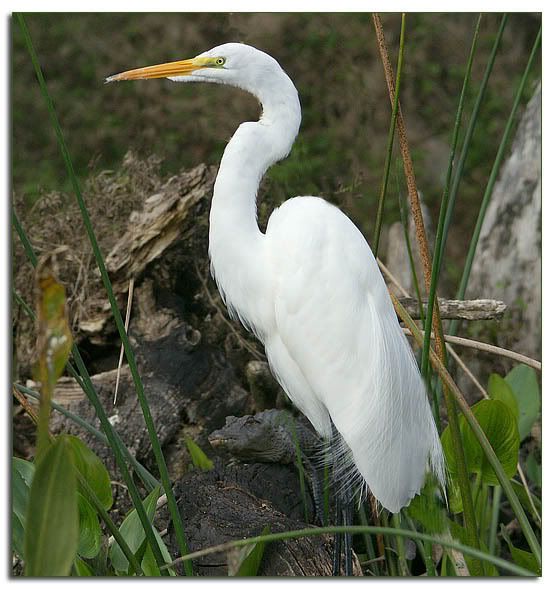 You can also see its face peeking out of the first photo of that bird.
While I was parked in the water greenery taking those pictures, a canoe with two people came by, one of them with a camera with a long lens. I pointed out that if they came over my way, they could see the gator on the log, and so they did, and he took a few photos. I think the egret got tired of all this attention; it left.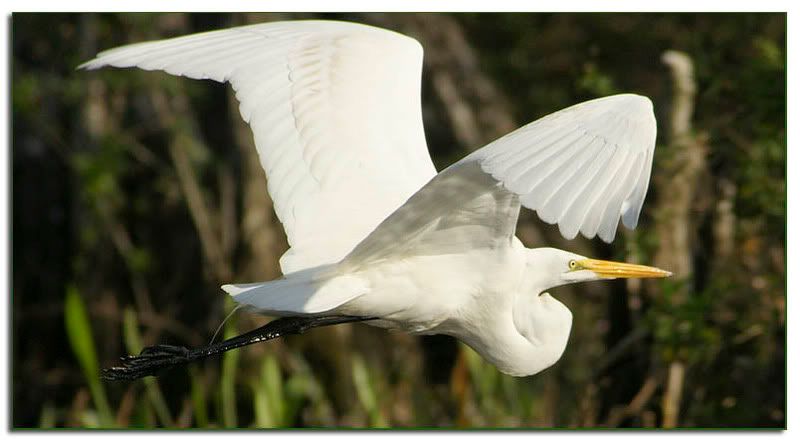 Given the cold snap in the forecast, I'm not sure when I will get out paddling again.
I want to extend my wishes for all good things in the new year to everyone who stops by to read these tales and look at the photos and even sometimes leave comments. Perhaps I don't mention often enough how much I appreciate all of you!
I'll be back; stand by.