Never a ship sails out of the bay
But carries my heart as a stowaway.
~Roselle Mercier Montgomery
When I first started this blog, I intended it to be a source of information for other paddlers regarding boat ramps, water conditions, shoreline conditions, and anything else I thought would be of use. In a very short time I realized that since I generally paddle the same waters, unless I changed the nature of the blog, it wouldn't get many updates. So it sort of morphed into a photo blog, even when I wrote about new destinations.
It's still
way
too cold to paddle here for this Florida wimp, so yesterday I decided to investigate an access point to the Gulf that I had heard about but never seen. Getting back to the blog roots, let me tell you all about it, in case you are in the area.
It's a small beach at the end of Wakulla Beach Road. If you are going west on Hwy 98, it is the first marked dirt road to the left after you cross the bridge over the Wakulla River. I can't help much if you are coming east on 98--except to say that if you get to the river, you passed it...
The road is flat, graded, and sandy. We have had a lot of rain lately and there was standing water along the sides of Hwy 59 and areas of 98, but Wakulla Beach Rd. was dry. You will drive on it for about 3.5 miles, give or take. There are a few houses in the beginning. It may say something about the area that most of them are behind very high cast iron fences and gates. After about 2 miles, you will enter St. Marks NWR land. I drove very slowly through that part since it seemed so likely that a deer--or better yet a bear--might show up. I don't think this road gets much traffic, particularly near the end. No deer or bears showed up today, though.
It dead-ends at the little beach. The tide was all the way out when I was there, so I'm not sure how big the beach is at high tide. It was a beautiful spot. Here's the beach: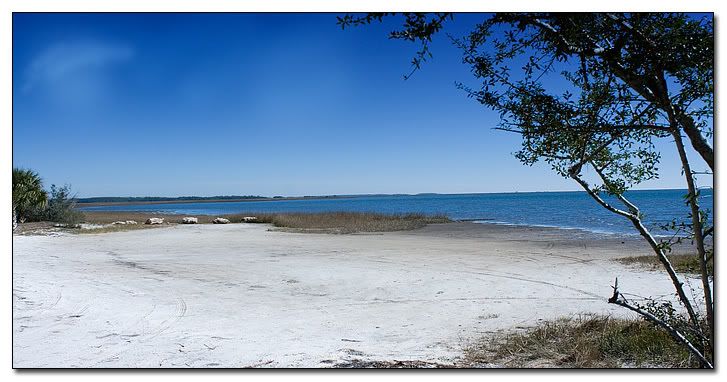 Walking down to the water and looking to the right shows you this: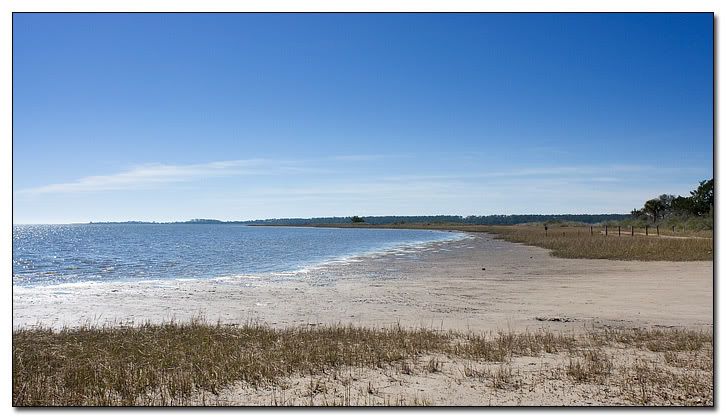 while the view to the left is this: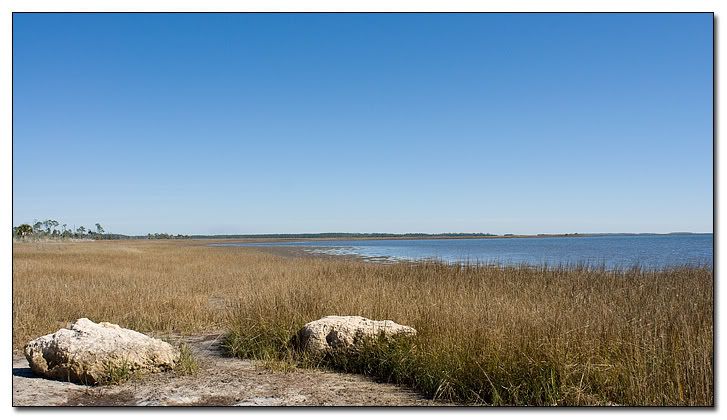 I walked all the way to the back of the cleared area, with the hope of getting the beach along with the road, which is on the left here, into the photo, but couldn't quite fit it all (even using a wide-angle lens...). And since I had not planned this photo when I parked, this looks like an ad for Nissan.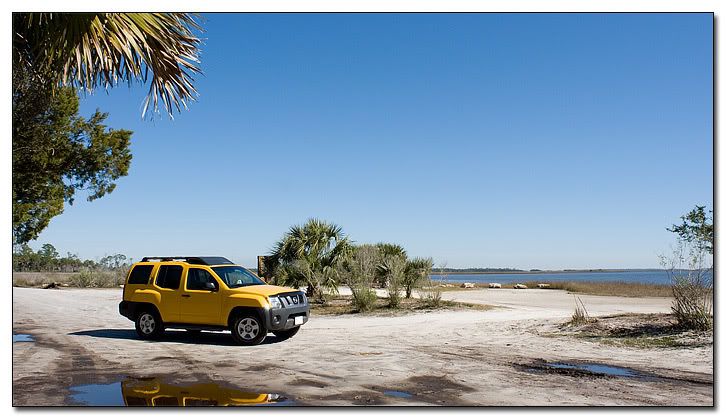 There are sandy trails blocked to vehicles along the shoreline, similar to those near the lighthouse at the refuge park. I also found this trail, also with posts to block vehicles, that led into the flat area in a direction away from the Gulf: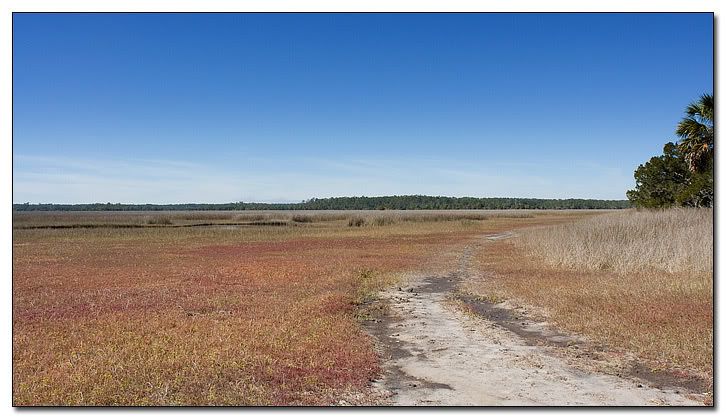 I didn't follow it. This is an extremely isolated area and I didn't want to get too far from the car. In fact, while I would love to paddle from here, I would not do so alone. I did spend a fair amount of time near the water, though, since the road is visible from there. It was one of the most peaceful spots I have visited for a while. There was a light breeze blowing the water and so little wavelets were breaking on the sand. There were some shorebirds. There were no man-made sounds. I was very glad to be there.
These two young ibis were wandering around near the beach and in fact didn't seem to mind my presence much.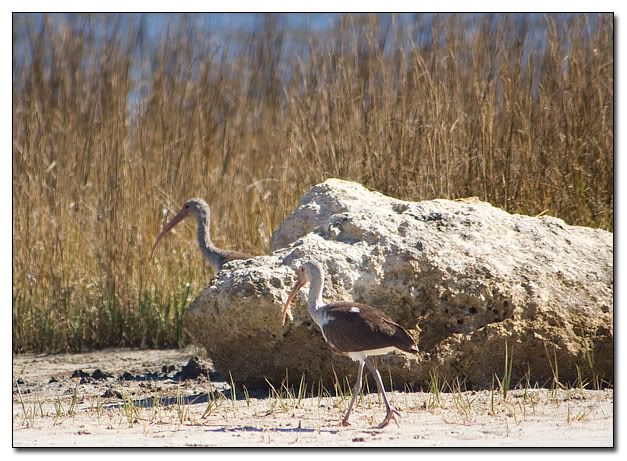 While I would not recommend this to women paddling alone (there is a trash can there, on top of which was a large empty bottle of vodka. Don't you want to be alone in this spot when some guys who just knocked that off show up?), if you have at least one partner, you might want to check this out. Or if you are in the area and want to visit a peaceful place on the Gulf, which I am guessing is unoccupied 98% of the time, take a drive down Wakulla Beach Road.
I left there and decided to go to the NWR park since I nearly pass it on the way home. Because of our recent rains, there was more water in the various pools than last time I was there, though not nearly as much as there used to be. These egrets were lined up in the pool near the lighthouse: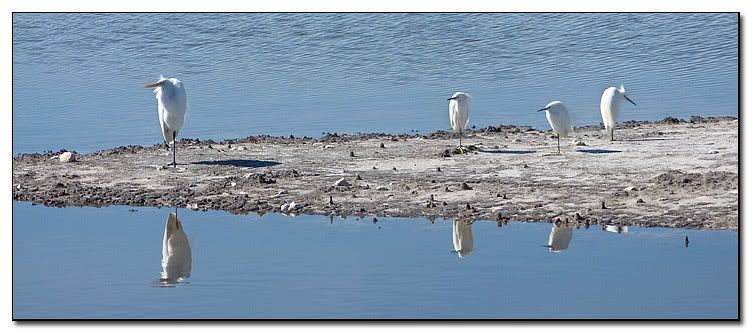 The largest of those looked a bit cold, with the wind ruffling its feathers.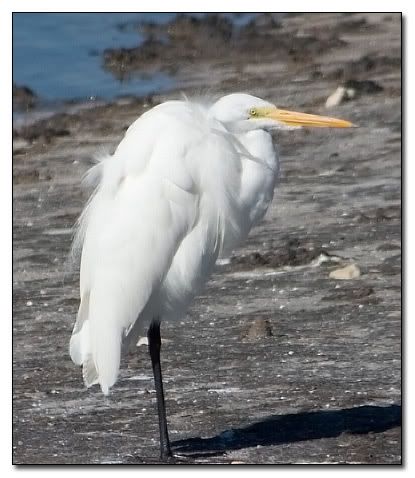 There were some teal ducks that I wanted to show you....but this was the only view I got of them. They were kind of busy.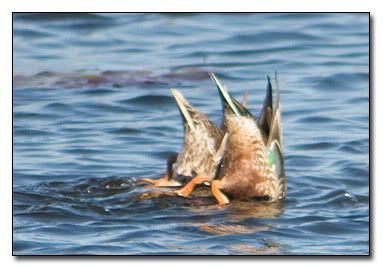 This great blue heron was looking out over one of the small pools near the lighthouse.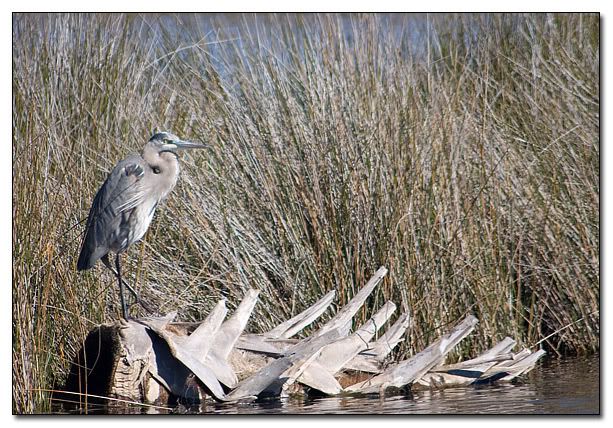 These brown crow-like birds (should have asked Steve for an ID before I wrote this!) are always hanging out near the lighthouse parking lot.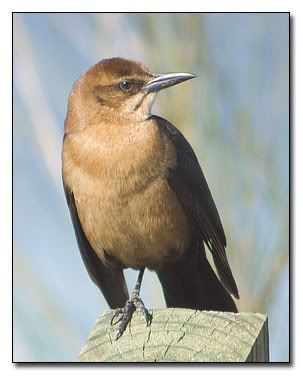 --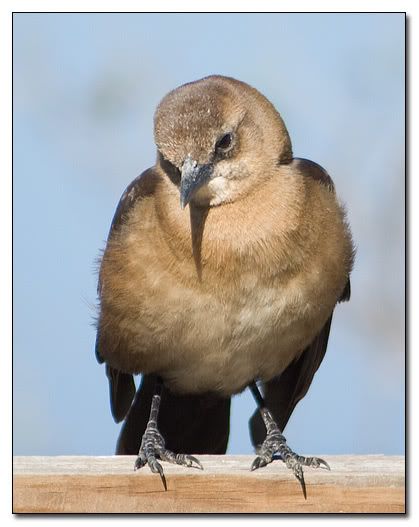 I walked the trail around the large central pool. As I was approaching the boat ramp, I saw a very welcome sight! A tricolored heron!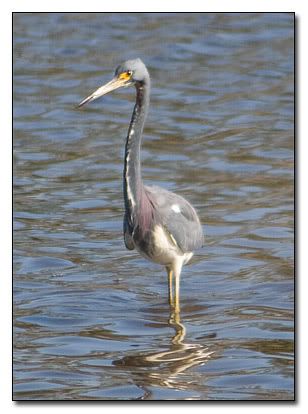 This one was very actively fishing in the shallow water along the edge. More feather-ruffling when the wind was behind it.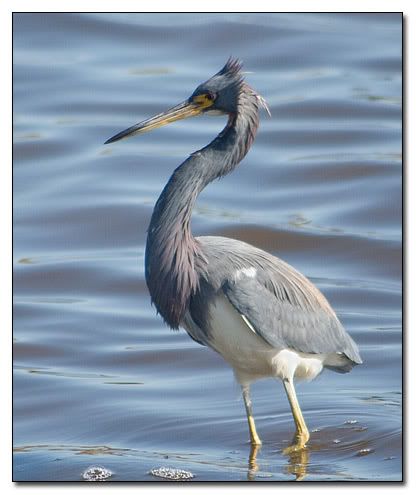 As I was driving out to go home, I saw a guy standing by the side of the road with a camera. I slowed down to see what he was photographing; I ended up out of my car so I could get a picture of it, too. I would have said it was too cold a day for gators to be out in the wind.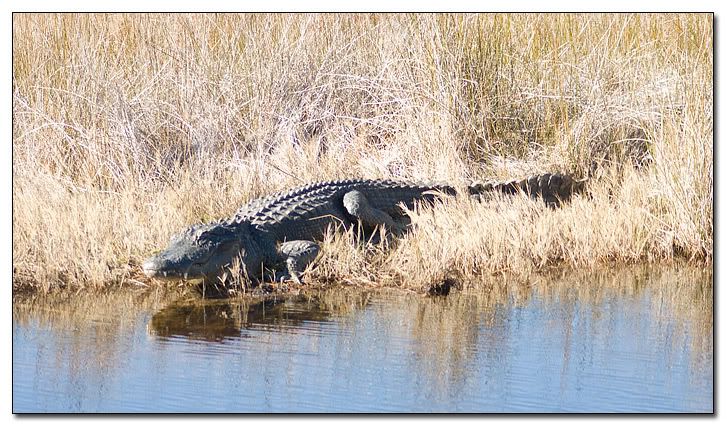 What? You'd like to get a little closer? Okay.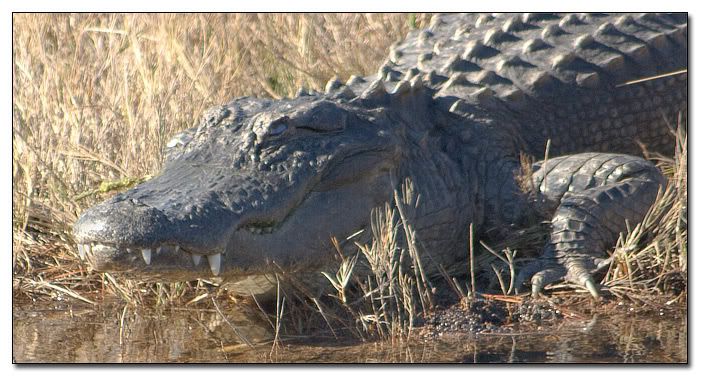 A bit farther down the road, near another of the little pools, I saw a lone pelican swimming around.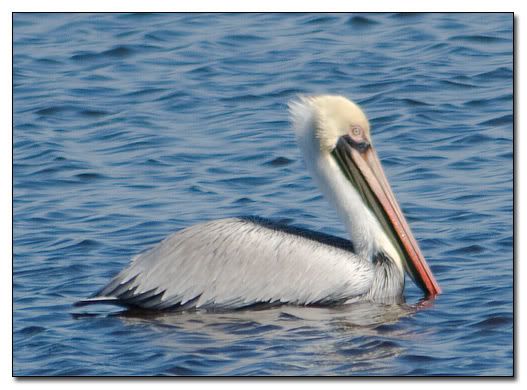 More cold weather and more rain is on the way. I'll be back when I get out again. Stand by.