I hear the wind among the trees
Playing the celestial symphonies;
I see the branches downward bent,
Like keys of some great instrument.
~Henry Wadsworth Longfellow
I decided to paddle the upper Wacissa yesterday, having been to the lower part of the river the day before. When I left home the air was calm and the sky clear. When I stopped halfway to the river to put gas in the car, I noticed a brisk breeze and looked up to see solid cloud cover coming fast.
When I got to the river and unloaded the kayak, a guy doing maintenance in the ramp area said "You're a brave soul." It was a wee bit windy by that time. But! Blowing upstream!
I have occasionally encountered waves on this river before. Their depth doesn't really show in photos but here's how the water looked as I set off downstream.
This creates a small photography problem in that the instant I put down the paddle, I am whisked back upstream several feet. I could solve this, however, by parking in the surface greenery to take photos.
I came to this egret, who watched me approach.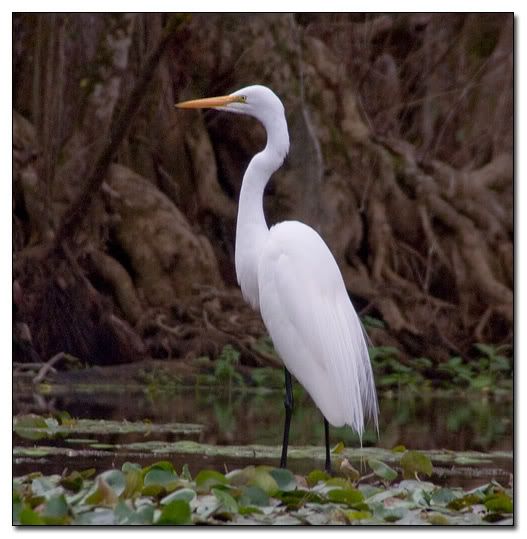 When I got too close, off it went. Normally I don't post photos in which any portion of the bird is cut off, but this one shows its impressive wingspan, so I want to include it here. I didn't expect the wings to extend out so far...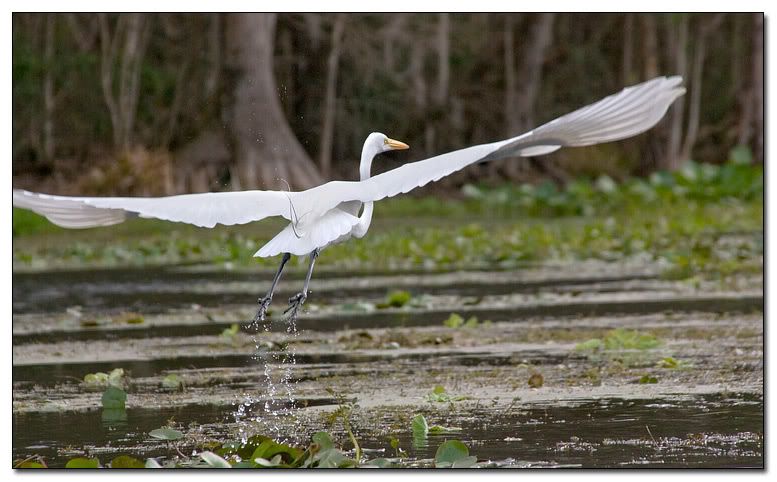 I made my way down to Blue Spring to get a break from the wind in the protection of the inlet. Amazingly, a paddler was coming out. He continued on upstream after we passed and exchanged a few words about the conditions.
I wanted to show you the difference in the water in there; it was as flat and calm as the whole river usually is. When I looked at the photo, however, I realized that the scene I chose to show the water is one that virtually every person with a camera that enters this inlet takes. In fact, essentially this same scene appears at least three times elsewhere in this blog. So I decided to change the presentation this time and tinkered with the photo. You get the idea about the calm water, and it doesn't look like every single other photo taken from this spot.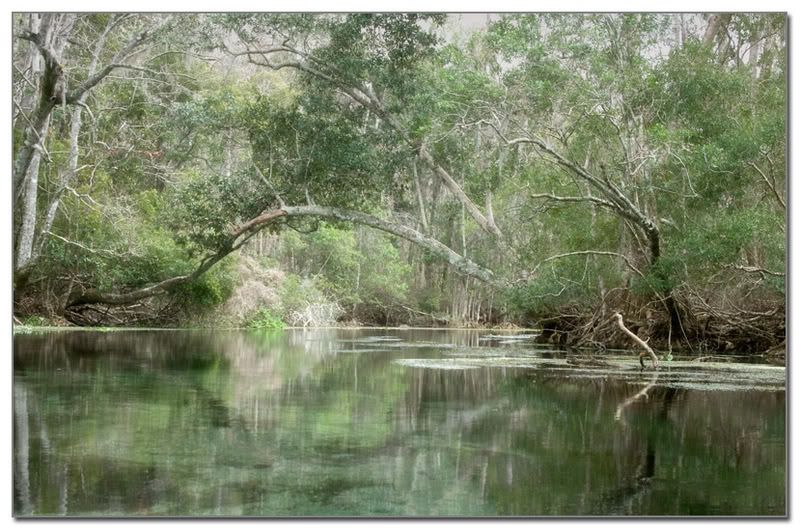 I stayed in there a while. The gator that hangs out at the spring was still there. I wonder where it will go when the swimming starts there?
After resting in the calm, I went back to the river. Still pretty windy.
I was delighted to spot not just one but several little blue herons here and there on the river. They are not my favorite birds but they have been gone and now they are back, which means maybe the tricoloreds and green herons might show up soon as well. I turned around shortly after spotting one of the little herons and stopped to photograph it.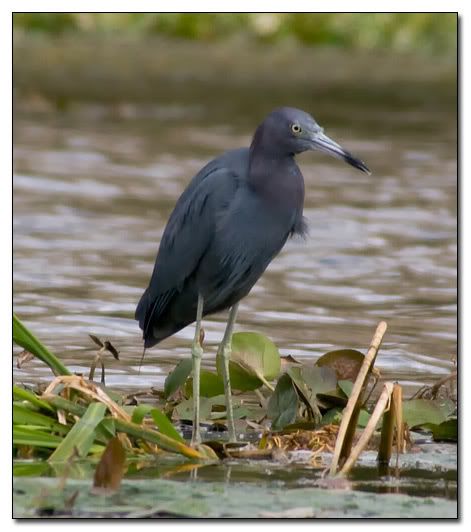 It watched me, uncertain of whether I was a threat.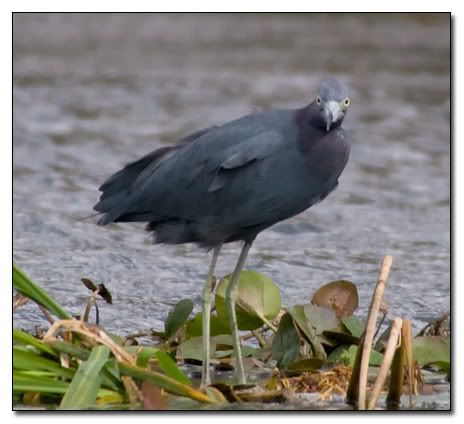 And then the wind seemed to let up; or at least there were lulls instead of the constant blowing. The sun came out from between clouds more often.
This egret flew by. It's a large great egret, but the tree behind it makes it seem small.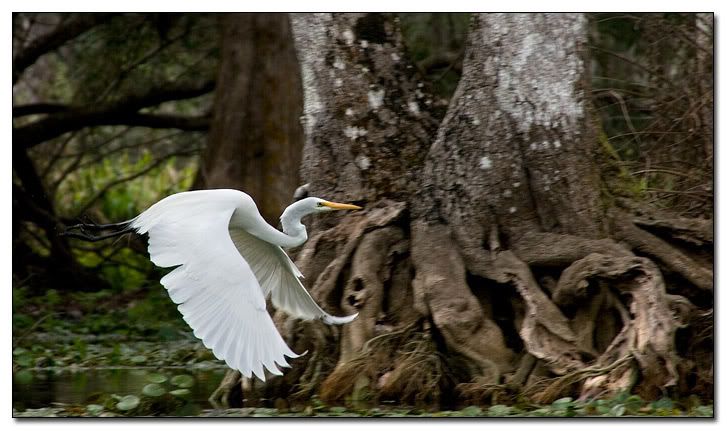 As I was sneaking up on a little blue heron sharing a branch over the river with an ibis, I heard an air boat coming. It occurred to me that there might be one possible positive thing about air boats, photography-wise. Since they frighten the birds and cause them to scatter in front of the boat like leaves in front of a leaf-blower, I just might be able to get the heron and the ibis in flight when the air boat passed by. I was all set for them but instead of flying over the river as I expected, they flapped wildly in fear into the woods next to the water. Ah well.
The lesser yellowlegs are still on the river, though I didn't see as many as last time I paddled here.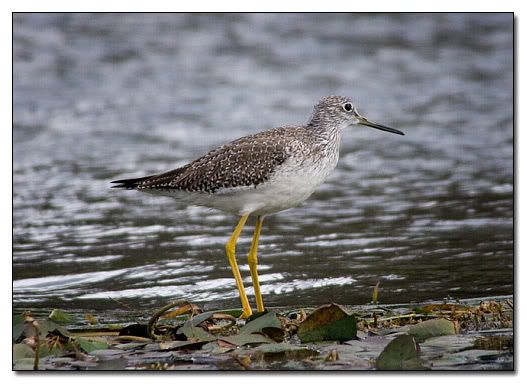 As the day moved into afternoon, the lulls in the wind increased and the sun stayed out for longer periods. There were quite a few turtles out warming up. This one had found a nice perch.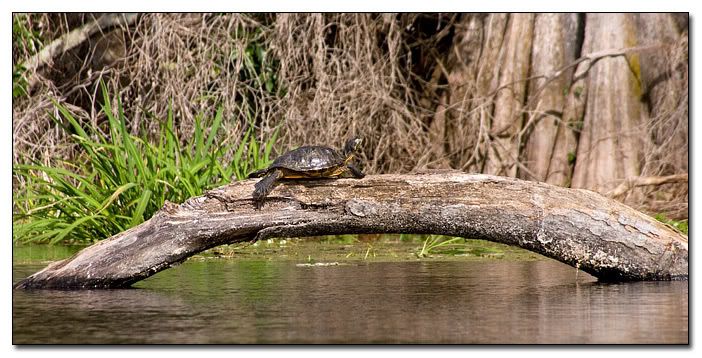 I went back into Blue Spring again, past this great blue heron near the entrance.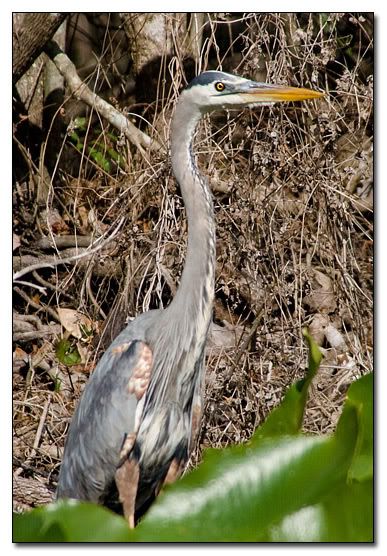 I lingered in there a while having a snack and watching for wood ducks or mergansers. No luck there. It's very common to see egrets on the east side of the river just upstream of the inlet to Blue Spring, and this day was no exception. One of my favorite moments is when egrets just take flight, particularly if they happen to be facing you.
And off he goes.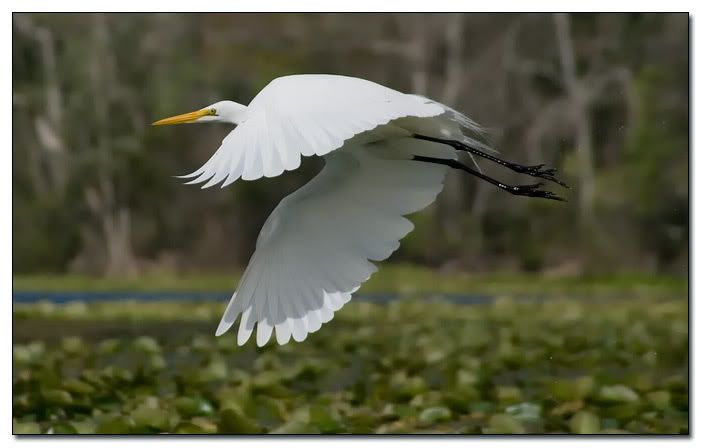 Since I had taken several photos of the lower Wacissa (post just prior to this one), I decided to take one of this river--this is facing upstream toward the boat ramp after leaving the Blue Spring inlet.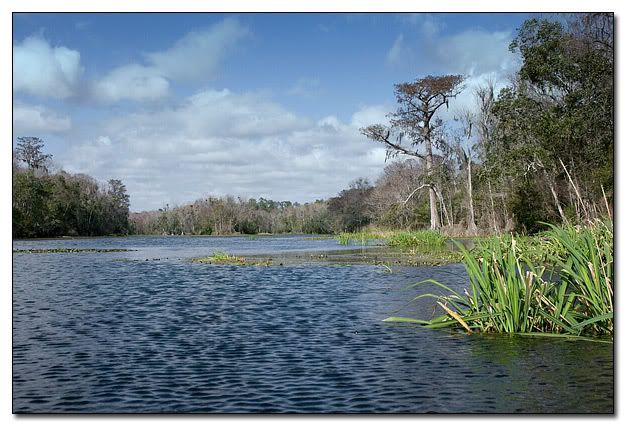 By this time there was only a breeze and I was not quite ready to get off the river, since I was finally able to paddle without a struggle. There is a channel that goes off the river on the east side--I think this might be what some people call the "air boat channel" or words to that effect. I've never paddled it. The air boat that had been on the water was not in earshot, and I would have about a mile of warning if it were coming back, so I went down the channel, which looks like this when you enter it: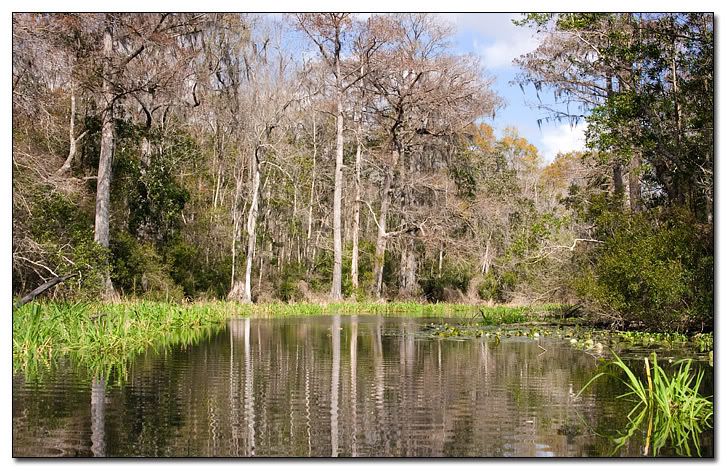 It was very pretty. Extremely shallow, lined with reeds. It wasn't uncomfortably narrow. It goes for much farther than I thought it would. When I got to a point where the water was only a few inches deep and it was becoming more reeds than water, I turned around. I took out the GPS unit to measure my return trip to see just how far it extended--I had gone almost exactly a quarter-mile from the main river.
After four hours, it was time to head home. As I rounded the bend very near the boat ramp, I found a flock of ibis in the greenery alongside the river.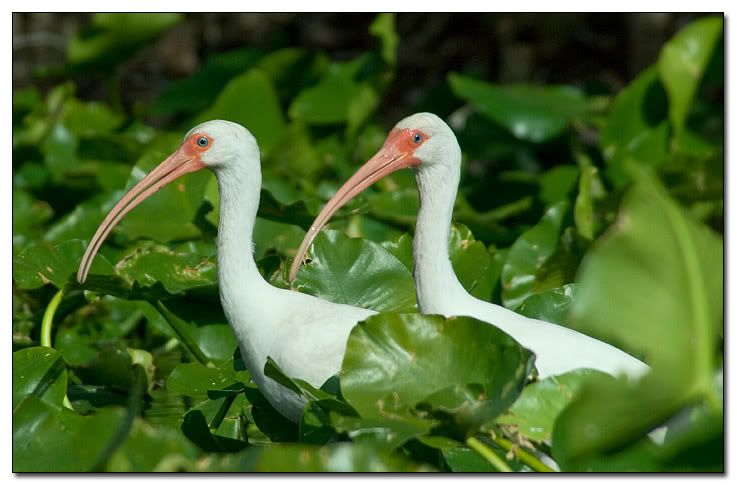 This was a good day but I look forward to getting back to this river in calmer weather (not that there wasn't a certain excitement in paddling hard through the waves, wind howling in my ears. Wouldn't want it every time but it was kind of fun). Seems I haven't paddled around Cedar Island for quite a while.
Stand by.