A lake is the landscape's most beautiful and expressive feature.
It is earth's eye; looking into which the beholder measures
the depth of his own nature.
~Henry David Thoreau
It's been quite a while since I paddled from this park. I decided to take the Riot Stealth kayak this time.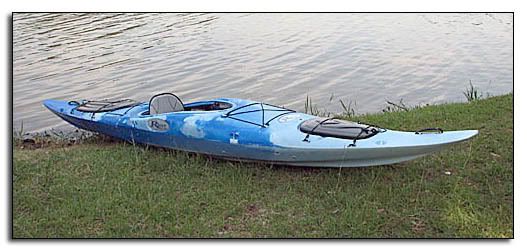 I don't use this boat very much, although it is a wonderfully comfortable and stable rec boat; it tracks very well and is made of durable material that can handle concrete ramps. If that sounds like an ad, there's a reason--it's for sale now (since I
don't
use it much). If anyone reading this happens to be in the market for a new kayak of this type, email me at the address in the sidebar of this blog.
When I got to the lake, the water was calm and there was no wind. I set off to the right, which is the less populated direction. The water is coffee-with-a-little-cream colored and for the most part, except very near the shoreline, you cannot see the bottom. Quite a contrast to the spring-fed rivers I spend most of my time on.
I startled two deer that were drinking at the water's edge--all I saw were two white tails darting into the woods. There were many anhingas and cormorants in the water and trees. I paddled to where the lake extends into a finger to the right and followed that channel. I have previously spotted a huge gator back in this secluded area. This time a large (but not huge) one that was sunning on the bank slid into the water as I approached. It's very pretty and peaceful back in that area. There were very few boats on the lake at all, and none at that end. When it started to narrow past the point of comfort, I turned around. On my way out I spotted this hawk in a tree and paddled over to watch it.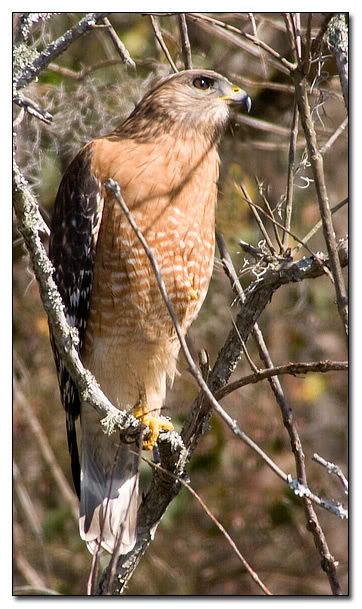 It did not seem to mind my being nearby, and became very interested in some movement in the water below it.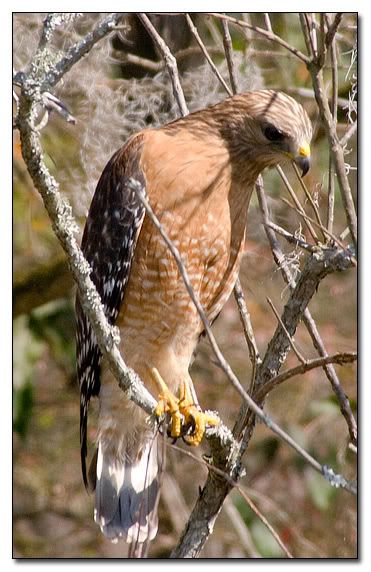 I watched a while more and then moved on. The wind got a little stronger, and with that of course came the waves. Lake paddling is very different from river paddling.
I spotted this very large turtle, which I believe is some type of snapping turtle, on the trunk of a tree that had fallen and was lying horizontally in the water.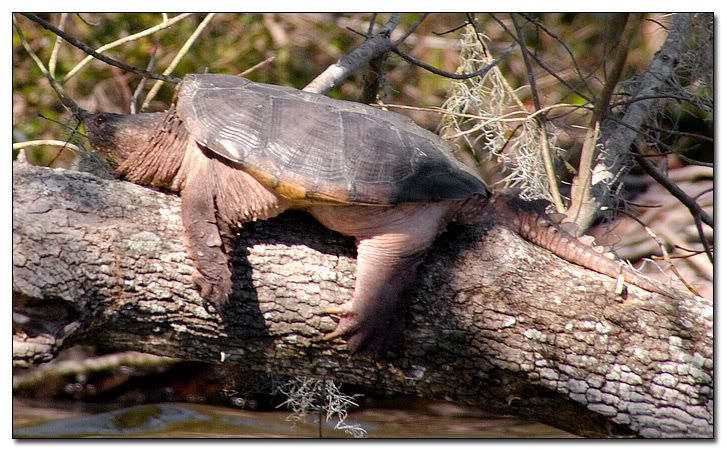 The great blue herons were doing an excellent job of concealing themselves along the shoreline; they blend in very well. Usually they were long gone before I could get the camera on them, but this one flew into the lake and settled on an underwater log or piling (it's not that the lake is that shallow!).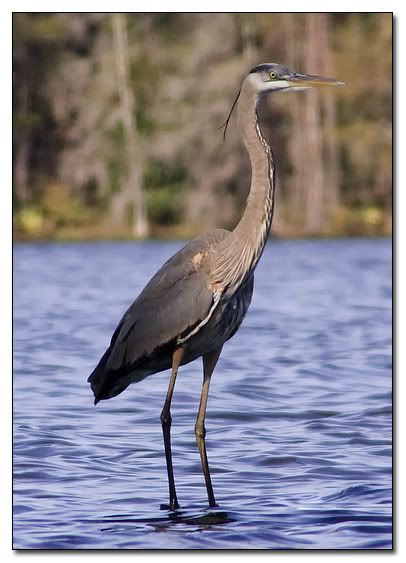 On the way back to the boat ramp I passed several of these little birds. The photo is less sharp than I would prefer...at this point I was bobbing like a cork in the waves!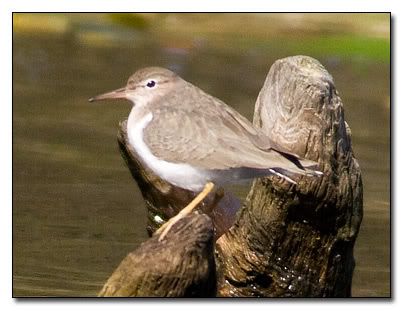 So then this large flock of white birds flew over the water and settled some distance from me. I had forgotten my binoculars so I couldn't see what they were, and they were far enough away that in order to get close to them I would have to paddle into the path of any power boats that might appear. I've already had one close call with a power boat on this lake, and once was enough so I tend to stay close to the shoreline. I took the photo anyway. I believe these were white pelicans, which my book says "colonize on large inland lakes"--which fits Lake Talquin. They were too light to be brown pelicans.

I was out for several hours. Here's the view of the boat ramp from the water, taken on my way back in.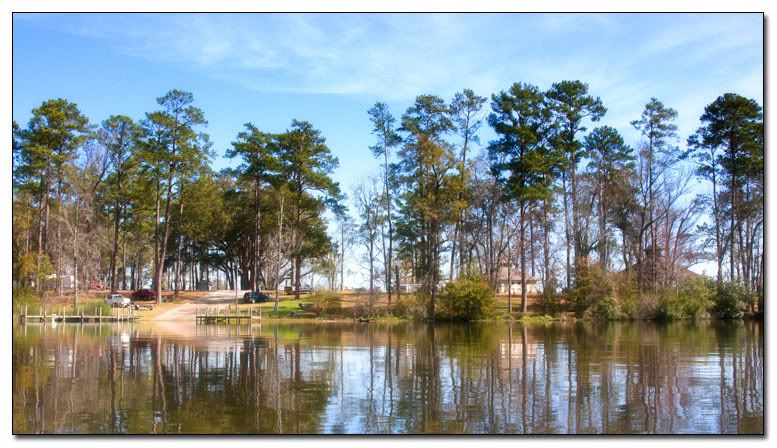 Paddling the lake was a nice change of scenery and I plan to go back again later in the spring. Meanwhile, I'll be getting to a river again soon. Stand by.