O, wind, if winter comes, can spring be far behind?
~Percy Bysshe Shelley
The weather graced us with enough warmth and sunshine for a paddling day, so off I went to the Wacissa. When I got to the ramp, one air boat had just come in and another was heading out, which was not a good sign. As it turned out, when it passed me a few hours later it flushed out a great blue heron, which
almost
resulted in a nice flight photo for me.
And speaking of great blue herons, this one was getting some sun in the reeds along the bank near the boat ramp.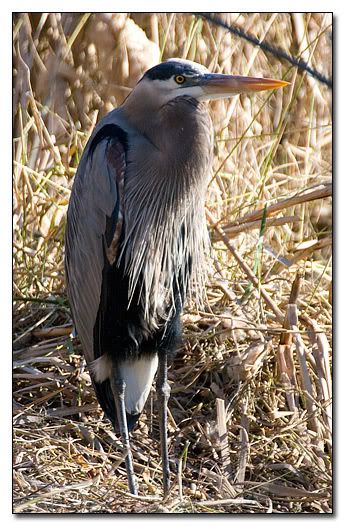 As I paddled toward Blue Spring, I spotted three others paddlers near Cassidy Spring, two of them in the longest tandem kayak I have ever seen. The other paddler was in a single kayak. I had stopped to sneak up on an ibis, which put me across the river from them. The ibis flew off--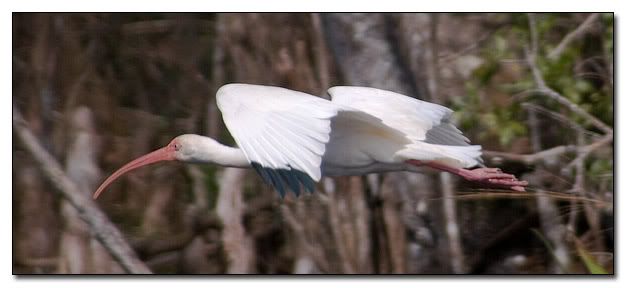 --and I turned to continue downstream, glancing over toward the other paddlers. The guy in the single kayak was headed my way. He said "I'm coming over to admire your kayak" so
of course
I stopped. In fact, I also admired his. He was in a Kevlar Gulfstream by Current Designs. It's longer than my 14' Mystic by about 2 feet, but we both noticed how very similar they are in shape. In fact, the only external difference I noted was that the Gulfstream has a slightly raised deck just forward of the cockpit whereas the Mystic deck is level. He said that he preferred a higher deck since he had been having trouble with his legs falling asleep in his previous kayak. (I'm not sure how the raised deck would affect that.) Regardless, that is an excellent boat. I asked him how long the tandem was and he said 22'--evidently he owns that boat as well. I had thought it was even longer. We talked briefly about how few birds there were on the river that day (I was soon to find this out), and then went our separate ways.
The Blue Spring gator is still there.

Of course there are egrets on the river and you know I can't resist the challenge of an egret on a sunny day. This one was on a log at the edge of the river.
It left as I approached it.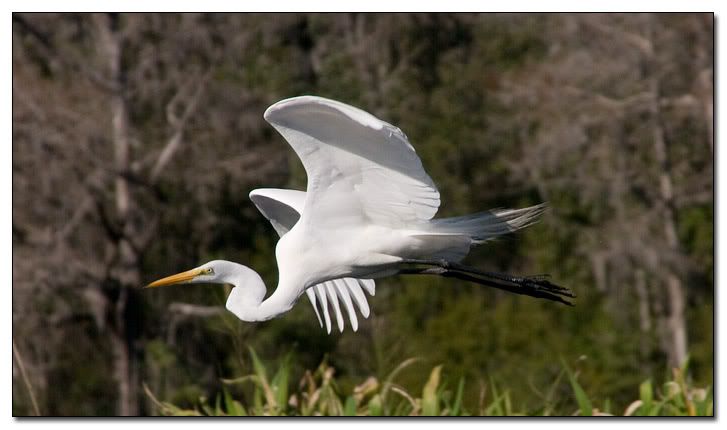 ---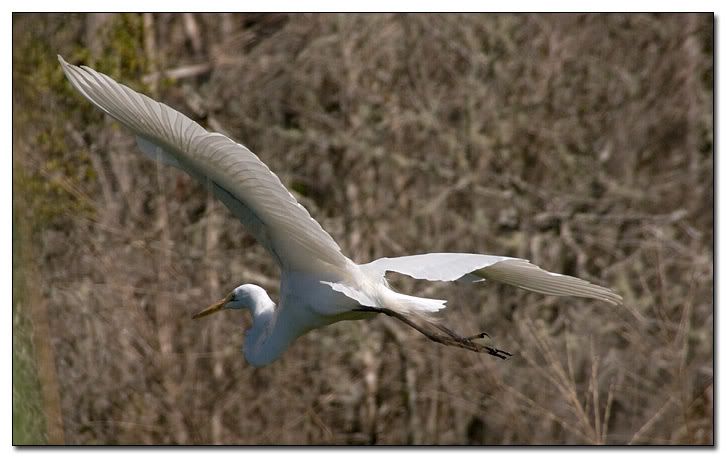 A very strong and chilly wind came up when I was a little over 2 miles from the boat ramp. Luckily, it was blowing upstream. I battled it for a while and continued downstream. The cold air blowing in my face made my eyes water, which in turn made my nose run copiously. Mostly for this reason I opted to turn around. It blew me rapidly upstream. And there were unusually few birds on the river.
I hadn't seen any otters, either, until I was very close to the boat ramp and came upon this one.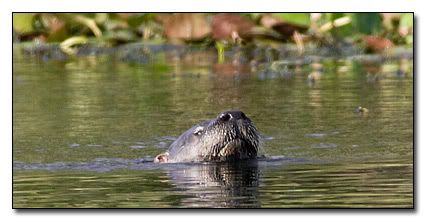 It swam off nonchalantly when it saw me.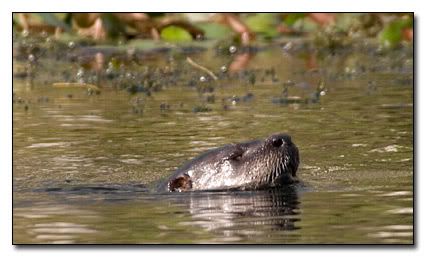 It went into the surface greenery, which gave me my favorite photo of the day. In
Where's Waldo
style, can you find the otter face in the leaves?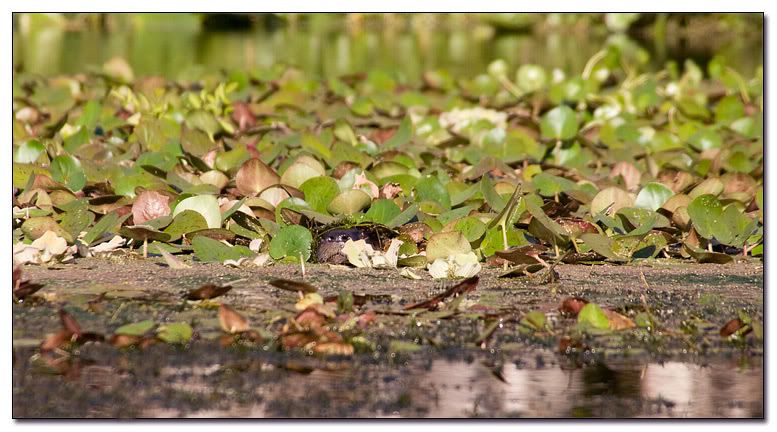 They are just so cute!
This was not the best paddling day I have had on this river, but it was nice to get back out in the boat. As I write this the next morning, the rain has been falling for a few hours. Sigh.
Stand by.