To understand water is to understand the cosmos,
the marvels of nature, and life itself.
~Masaru Emoto
The plan for yesterday was to head out to the Wakulla in mid-morning to do some paddling. However, at 7 a.m. we got a call from our neighbor out at the Withlacoochee River, where we have some property with a travel trailer on it for the occasional weekend overnight (and eventually a retirement getaway). He was calling to inform us that the river level and our property were, well,
almost
the same. Fifteen minutes later I was in the car and headed out there (25 miles away). When I arrived, the hitch at the front of the trailer was underwater, so that was that for hauling it out of there. Our property is not level and so the doorway was still easily accessible, the water had not even reached the bottom of two steps. Two hours later, when I had moved everything out that I could and chained down assorted lawn and deck items so that they would not drift away, the water had reached the top step. During one trip to the car, parked by the road (the highest ground), another neighbor drove by (a permanent resident there) with his riding mower on a trailer, taking it to high ground. He said "If you had asked me yesterday if this could possibly happen overnight, I would have said no way!" It's been pouring rain all day today.
I got home at about 11:00 yesterday morning, having done all I could to secure things out there. It was a beautiful day, warm and sunny. By the time I had something to eat and changed clothes, it was too late to go to the Wakulla, but fine for a Wacissa trip, so off I went.
When I stepped into the water to launch, the feeling of it closing over my feet was a familiar one, and it occurred to me that I had walked into two rivers that day.
The Wacissa is wonderfully and delightfully high. Still not back to where it was a few years ago but it was up at least 6" higher than it was last week. I did notice something new--the water in the first mile of river from the headspring is noticeably reddish; it looks like the Suwannee River. It's still clear, it's just rust-colored. This is probably related in some way to the sudden increase in the water table.
And spring is arriving! There were trees with bright red leaves lining each bank.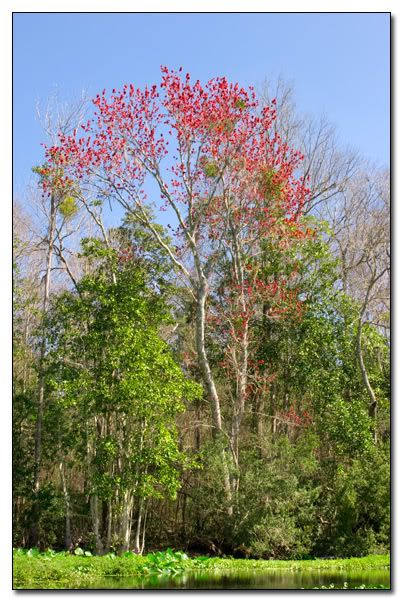 I saw these ibis along the river edge shortly after leaving the boat ramp.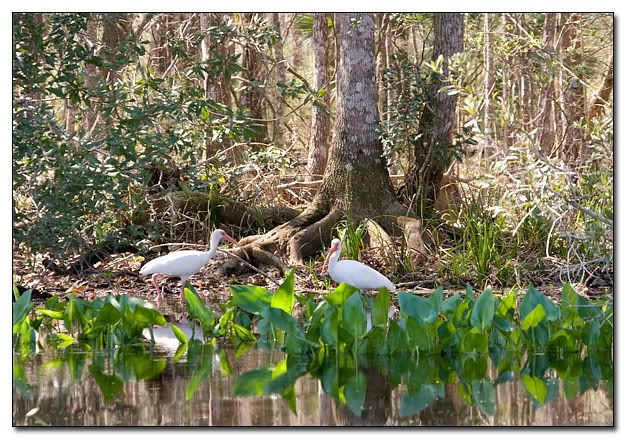 I went into Blue Spring, of course. The gator was in his usual spot. And the black crowned night heron was there again--he's getting to be as much a regular sight in there as the gator. He was so intent on his fishing that he did not seem to even notice me paddling by. Love that long white strand coming out of the top of his head!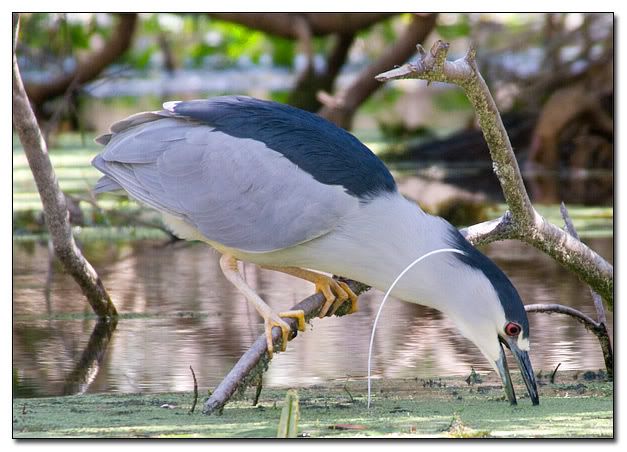 The water is so high now that one can now easily paddle through the back channel at the edge of the spring and come out on the river--it's been a long time since that has been passable.
Abby and I often refer to the seaweed harvesters that are a common sight on this river. Here's two of them at work.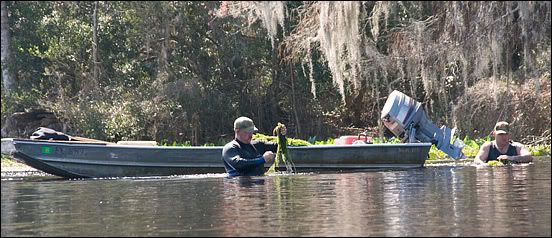 I continued on downstream, into a light breeze. The shoreline of this river is perfect nature.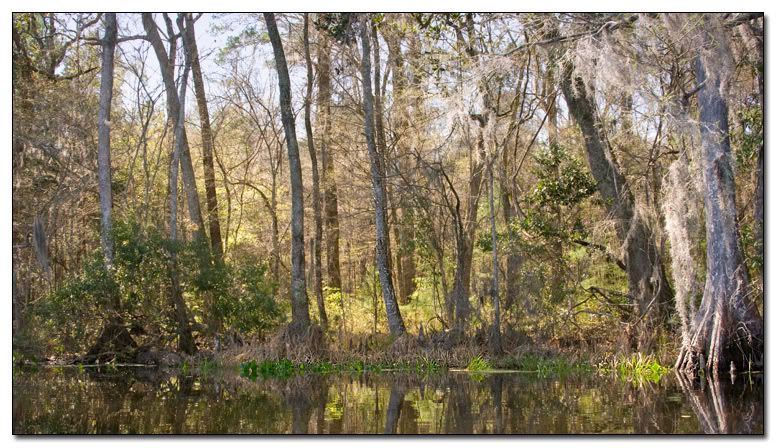 I passed a group of cormorants sunning themselves in the middle of the river.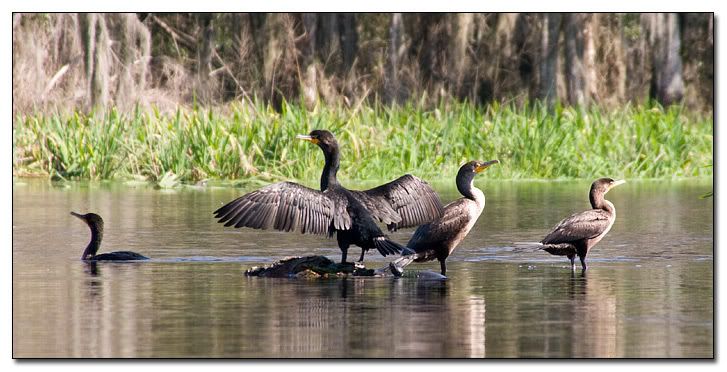 ---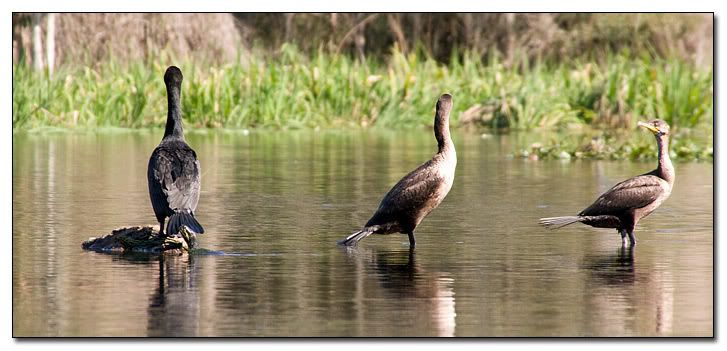 Kayak? What kayak? I don't see a kayak.
I was going to get out at Calico Hill boat ramp to stretch before returning upstream but a powerboater passed me and landed there so I decided to just make a U-turn and head back. The wind had picked up a bit but was still blowing upstream, which is always nice.
While I spotted only one great blue heron, which flew into the woods as I approached, I did see several little blue herons here and there.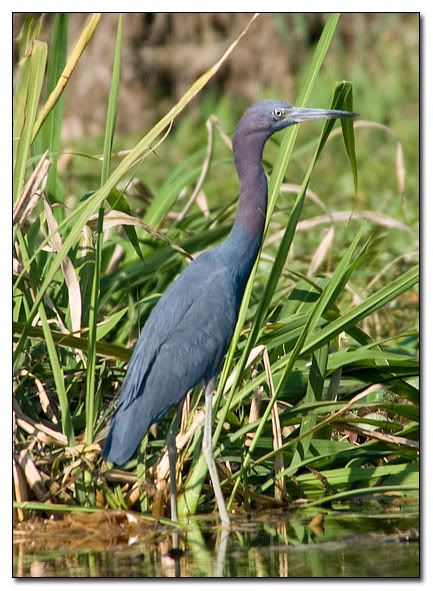 So then I came to this egret. I had resisted taking egret photos up to that point but it was so pretty in the leaves, I couldn't resist (if you are a new visitor to this blog, you can see egret photos in nearly every post...).
I decided to zoom in on him and take a close-up. And then several things happened at once. I zoomed in the lens at the same time that a gust of wind blew me rapidly toward the egret. This startled it and it raised its wings, catching that gust of wind for a nearly vertical take-off. I pressed the shutter, knowing that there was no way it was in the frame. I kind of like the way it shows the bird's neck, so I am posting it. I call this "
Egret Flies Out Of The Photo
"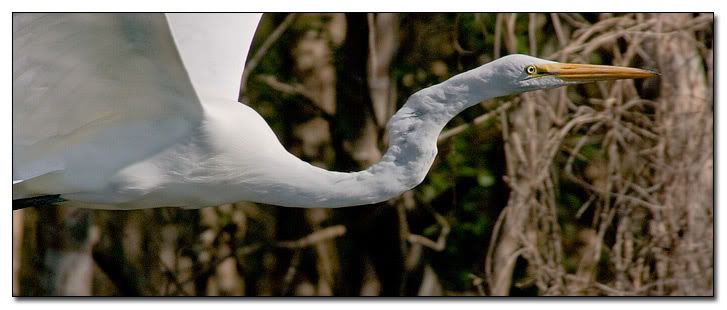 Or maybe it's flying
into
the photo.
On the way back upstream I passed another black crowned night heron perched on a log.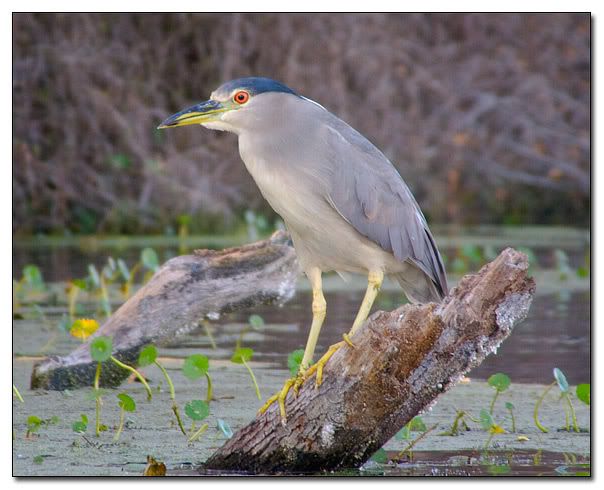 It was a great paddling day. While the rising Withlacoochee water is causing a real problem for us, the rising Wacissa is joyful. The river is coming back!
Meanwhile, I hope to make that Wakulla trip soon. Stand by.