How lovely the little river is, with its dark changing wavelets!
It seems to me like a living companion while I wander along the bank,
and listen to its low, placid voice...
~George Eliot (Marion Evans Cross)
A great day for paddling so I decided to return to Goose Pasture. I have not been there for several years (in fact, about a year ago I stated in this blog that I "never" launch from there...) and wanted to go back for another look at the river from that end. Goose Pasture is a recreation area near the end of the river; there is a primitive campground there. Interestingly, this is located at the end of a long dirt road, similar to the Wakulla Beach launch area, and yet this seems much safer to me as a solo woman paddler.
Continuing in the vein of the original purpose of this blog, let me tell you about this paddling destination. Access is off Hwy 98--you can find details on that online or email me if you need directions (one key point: when the road gently forks with no indication of whether you should go right or left, bear left). Here is the boat ramp from the campground: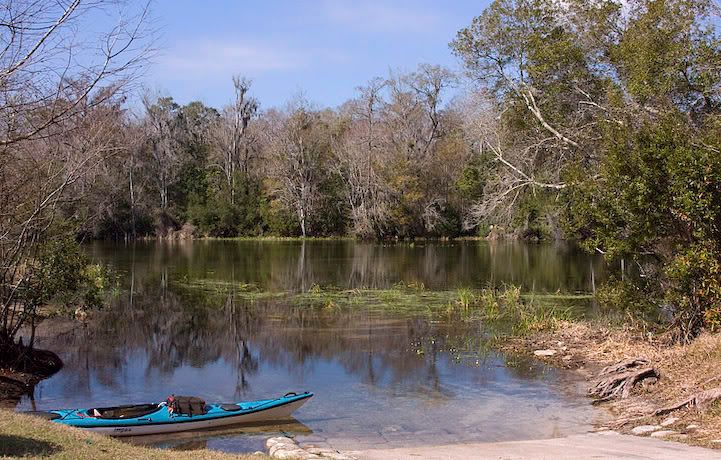 I wanted to look for the Slave Canal first. This is a manmade passage that was dug between the Wacissa and Aucilla rivers to facilitate shipping. Directions and instructions on locating this canal vary between vague and cryptic, and so I wasn't sure I could find it. I decided to go with the "cross the river and stay to the right" directive. I made one wrong turn, since clearly the term "marshy" means different things to different people. After correcting for that, I continued downstream in search of the correct passage.
Oh, look
. A clearly visible orange, black, and white sign that says "Nutall Rise Takeout" with a large black arrow mounted on a large PVC pipe. Nutall Rise is on the other side of the Slave Canal. Gee, that must be the way to go (no one actually mentioned a
sign
). Here's how it looks immediately after you make that turn.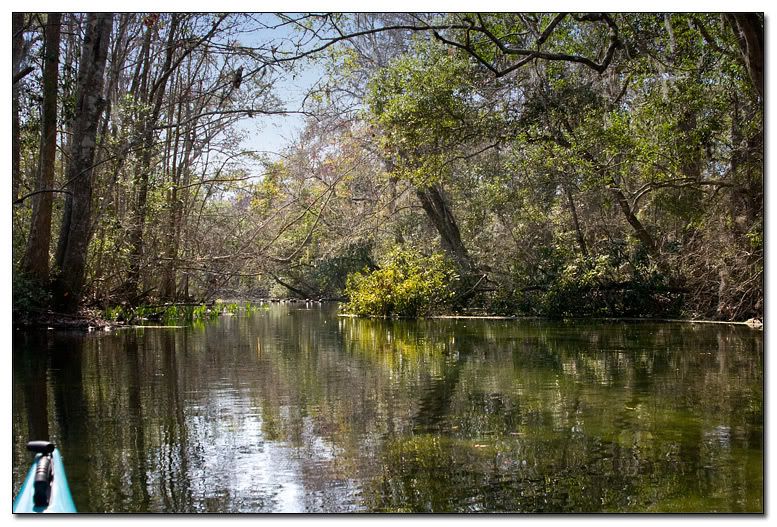 Very shortly after taking that turn, you come to another sign that seems like a much better indicator of where you want to go than, say, "look for three large cypress trees":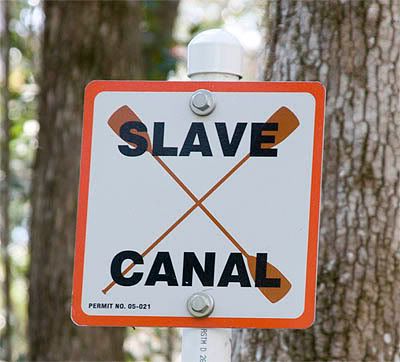 Ok, that helps. Here's the long view of the opening of the Slave Canal, with that sign pictured above on the left.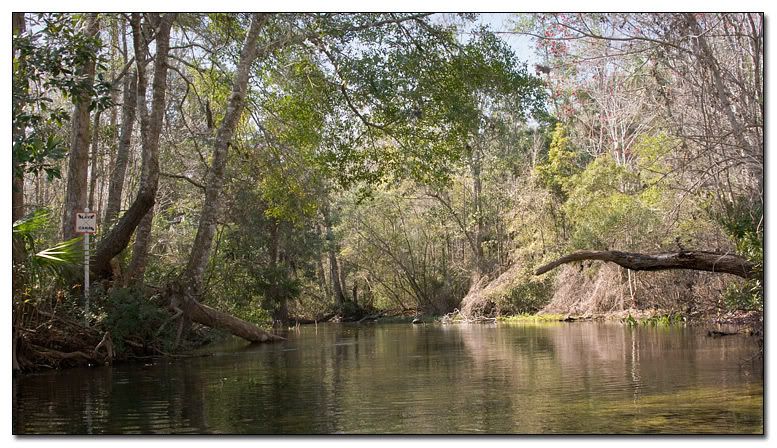 I started down the canal, which is serene.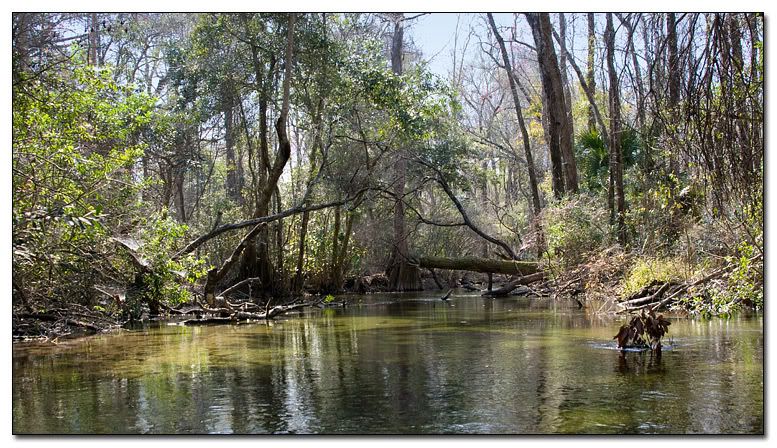 However, it's narrow. And the gators were out on this day. And the water is very shallow. I got to the point pictured below. Something large slid into the water just beyond that log extending out on the left. This is a tad tight for me; I prefer to outnumber (by way of companions) any gator I come to when the passage is this narrow. So this is as far as I got on this day before turning around.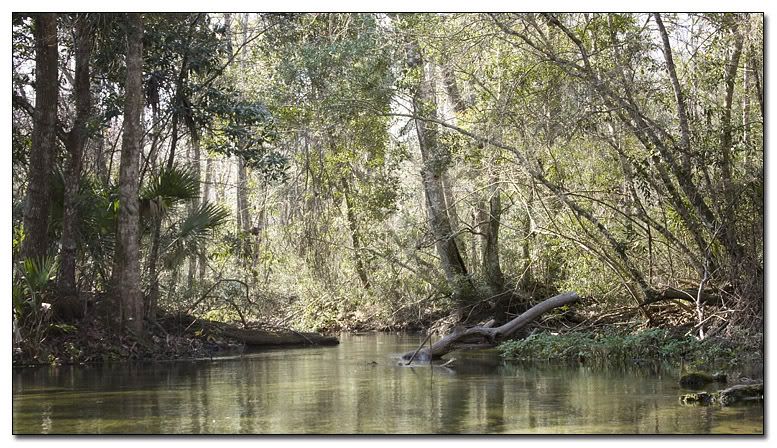 Once back out in the main river, I paddled to the lower end, where I found another narrow channel. I didn't follow that one; maybe I will when I have company! This was the view of the river as I paddled upstream--the boat ramp is just around that point to the right.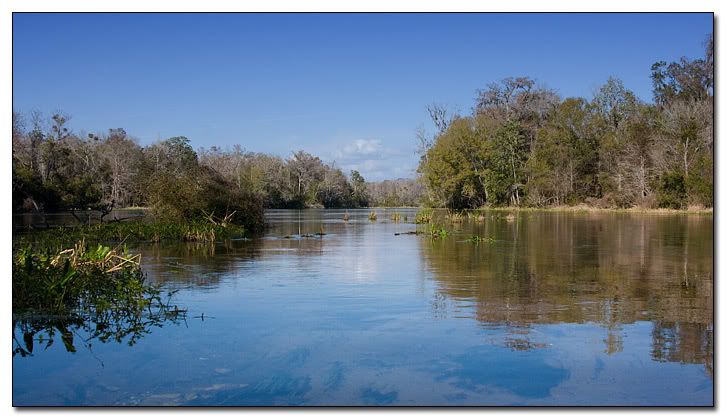 I passed the boat ramp and continued upstream. This was a perfect day in terms of the wind/current dynamic--it was blowing briskly upstream, so I didn't have to do much paddling in either direction and could just enjoy the ride.
The river is very wide at this point with lots of vegetation islands. And the alligators were out in this part of the river as well on this warm, sunny day!
---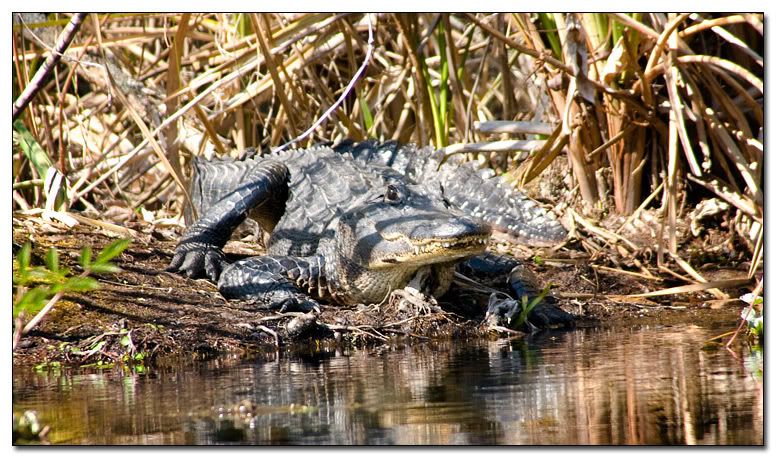 I paddled upstream for about an hour and a half at a very liesurely pace. I saw an egret and a great blue heron, some coots, and a few moorhens. No photos of them, though. I also startled some wood ducks and saw a hooded merganser in the far distance. There are birds here, but they are shy. I suspect this part of the Wacissa gets much less boat traffic than the upper part.
Eventually the river narrows. When it got to this point,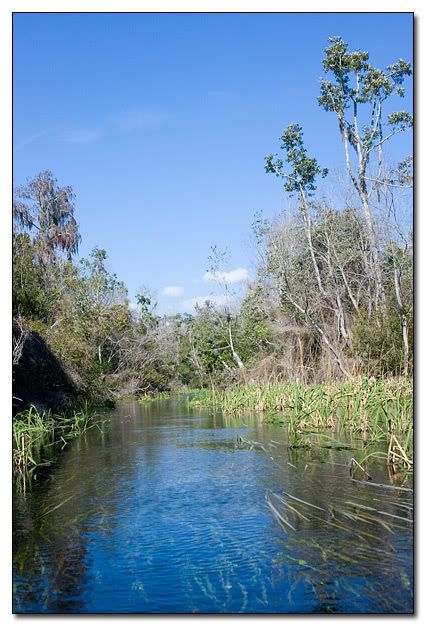 I turned around to drift downstream. I had been the only car in the parking lot (though a camper trailer was set up in the campground) and I saw no other people this whole day until I was quite close to the boat ramp and a single person launched a fishing boat. It was wonderful. The river seems even clearer here than at the head springs. About the same water depth.
I heard many limpkins and saw this one as I drifted by. The wind was blowing some feathers up.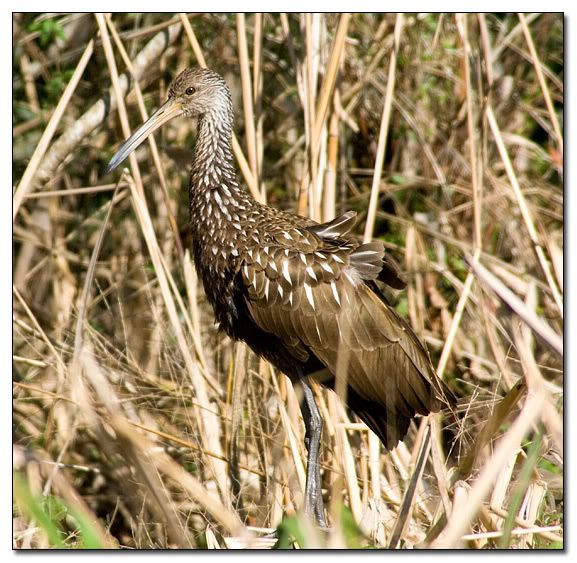 The sun was getting low as I got back to the ramp. This is how it looks from the water.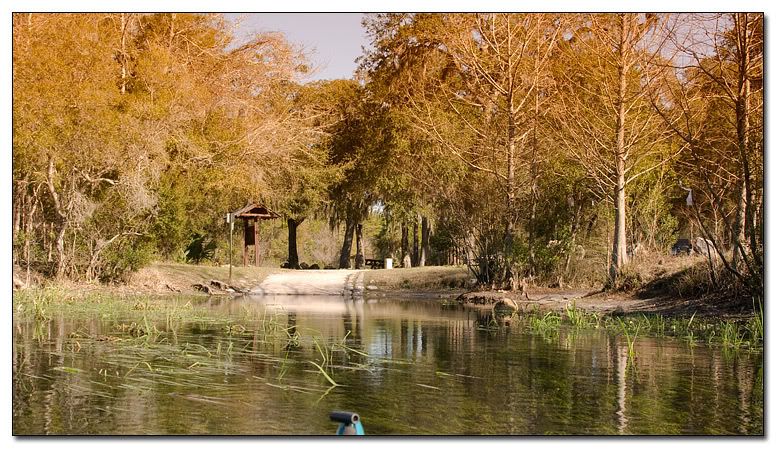 I want to get back and take another shot at the Slave Canal when I have someone with me. It was nice in there and I can't wait to see more of it. Meanwhile, my camping plans have been postponed (maybe next week?) but I hope to get back out in the kayak again tomorrow. Stand by.