We need the tonic of wildness…and some life pasturing freely
where we never wander.
~Henry David Thoreau
Well, I changed my non-paddling camping plans when the wind forecast for my original destination indicated gusts up to 25 mph. That makes it difficult to put a tent up alone! So I switched parks and went back to Three Rivers, which has been a favorite for a long time. The new Manitou went with me.
I was very lucky with the wind and weather this time, which gave me two great paddling days on a calm lake. On the first day I paddled out past Sneads Park, which looks like this on the way back: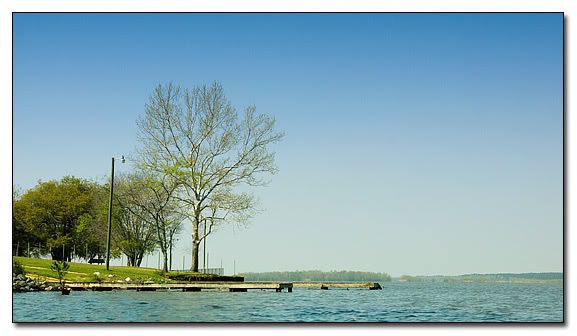 The shoreline of this lake varies from being woodsy to marshy. The tall grasses looked very pretty in the sunshine.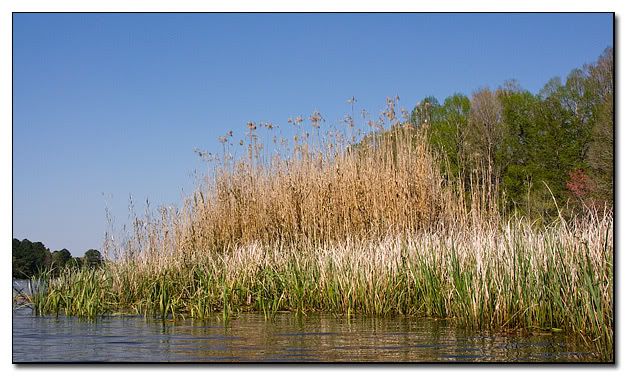 As with the rest of our area of north Florida right now, there are very few birds out and about (I wonder if the people south of us, in warmer climes, are remarking on how many birds they see on their waterways?). As I noted last spring, the American coots seem to enjoy this lake. And I enjoy the American coots because they literally make me laugh out loud with their method of running on top of the water when they are fleeing. "Ungainly" comes to mind (but I love them for it).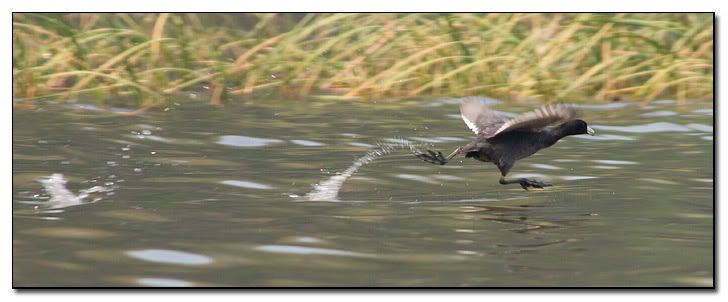 Once they get that running start, they
are
able to fly, though...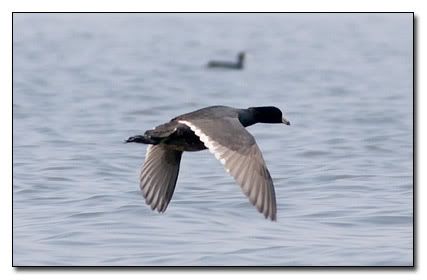 I was on the water about 3 hours the first day, and then decided to do some hiking. Spring has come to this area and the flowers and bright green leaves are simply gorgeous.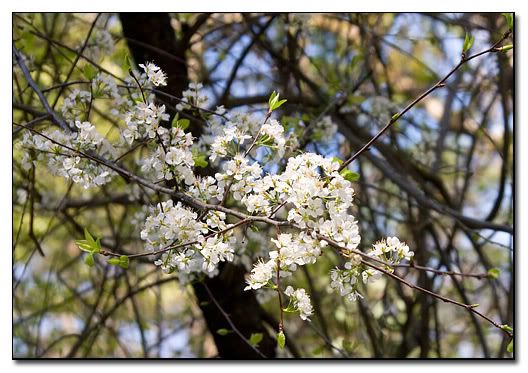 ---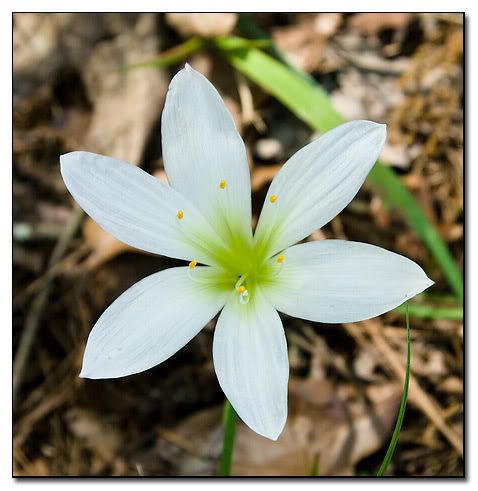 The nature trail from the campground to the boat ramp is very, very green, with wildflowers scattered here and there.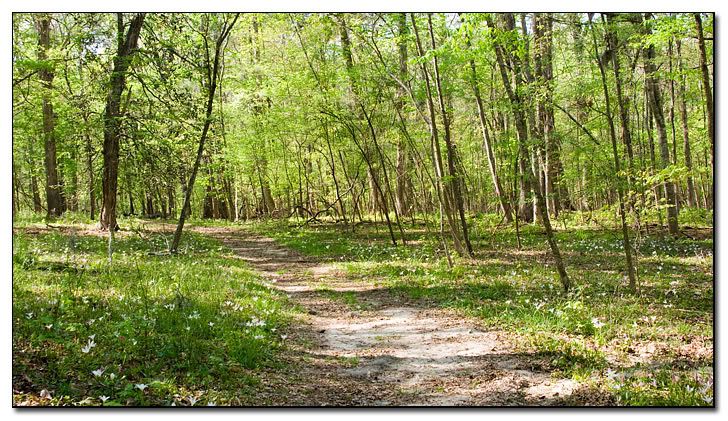 The next day I spent most of the morning at the campsite reading and enjoying the view. I met Lloyd, from the Niagara Falls area, who was camping with his wife Dolly. He had brought his kayak and after we chatted for a while he headed out to explore the lake. I waited for it to warm up a little and then set out myself.
Again, only coots for company, and one little blue heron. And then a great blue heron joined me. He would fish along the bank and pose for a while until I got too close, then fly a short distance ahead of me. Pose...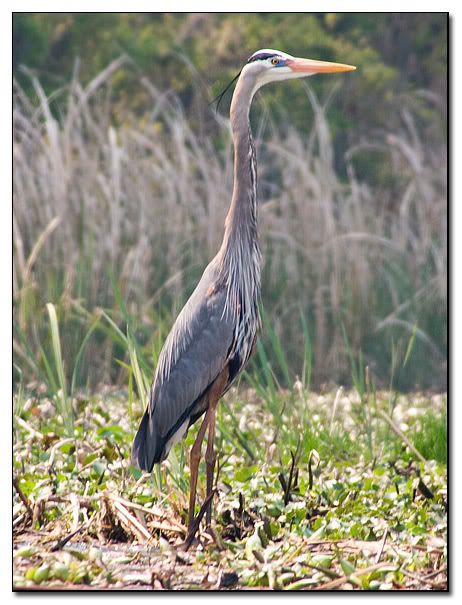 ...and fly away.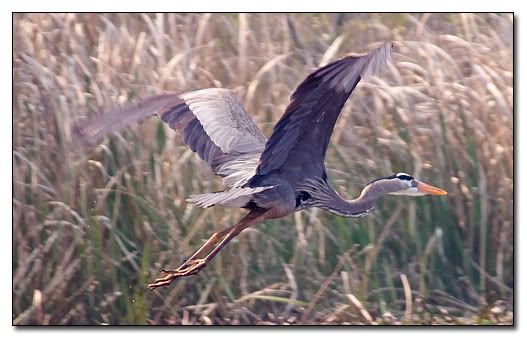 At one point he flew back in the direction we had come from, and I thought that was it for my companion, but shortly after leaving, he swooped back by me and stopped on the bank (yes, could have been a different one, though it was the same smallish size) in a woodsy area of shoreline ahead of me.
And then it was getting to be time to head back to the campsite for dinner, so goodbye, great blue heron.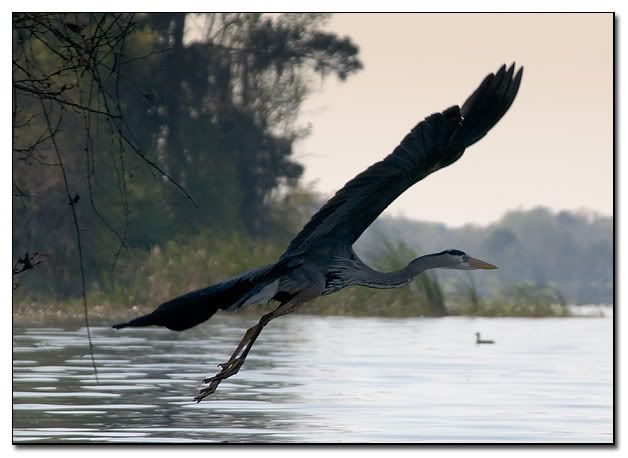 I wandered down to the fishing pier after dinner to see if the sunset was worth a photo (not really). While there I talked with some people who were fishing. A man came to the end of the pier with his daughter and their dog and proceeded to teach the girl how to fish. I took a stealth photo (that is, they weren't aware I was pointing the camera at them). When I was processing it, I realized that, except for the guy's camo pants, this could have been taken 50 years ago. (Camouflage clothing had been invented but wasn't widely used in civilian life...) (I checked.) So I decided to process it as an older photo to enhance that sense of timelessness (ignore the pants). I call it "Anticipation."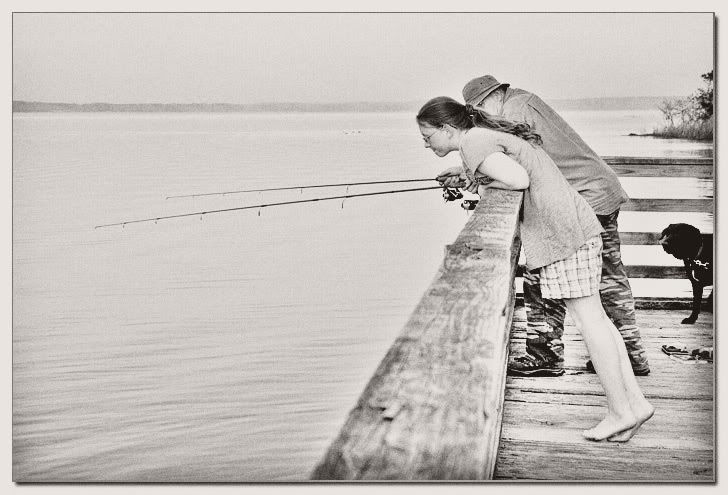 I didn't get out paddling the next day but rather just packed up after breakfast. A wonderful couple from Canada moved into the site next to mine and we spent a lot of time talking (I met fantastic folks on this particular trip).

I plan to get out next week to see if the birds are back to the Wacissa, and I have another Cedar Key trip coming up. I can't wait to get back on the water there. Stand by.
NOTE: I had a lengthy ranting nutcase comment here, despite having that code you have to enter (and the fact that I can backtrack such comments, "anonymous" or not). Apparently this guy really wanted to get his words out there. If this person comes back and does that again, I will have to moderate all comments, which I would prefer not to do. Wow, people are strange.