A lake carries you into recesses of feeling otherwise impenetrable.
~William Wordsworth
It had been over a year since the last time I paddled on Lake Munson. I assumed that after our recent rainfall the water level would be fine for paddling. This lake has such great potential as a recreational resource for the city of Tallahassee, but it has been neglected. Most of the shoreline is littered with bait buckets, bait containers, styrofoam cups, aluminum cans, and other trash. Fortunately the water quality is sufficient for wildlife.
Today made up for the lack of great blue herons on the Wacissa! There are many of them on this lake. And they are skittish! I saw this one wading in the shadows near the boat ramp before it saw me.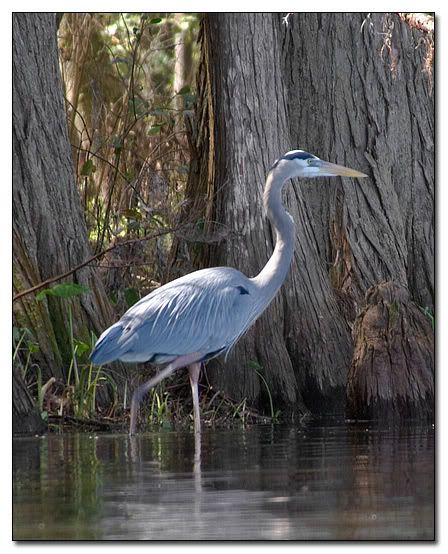 The lake was very calm and when I launched at around 1:00 there was only one other boat on the water, a fishing boat. Despite the trash along the edges, it is a peaceful place to paddle. The lake has many fingers that you can access by paddling through lines of cypress trees.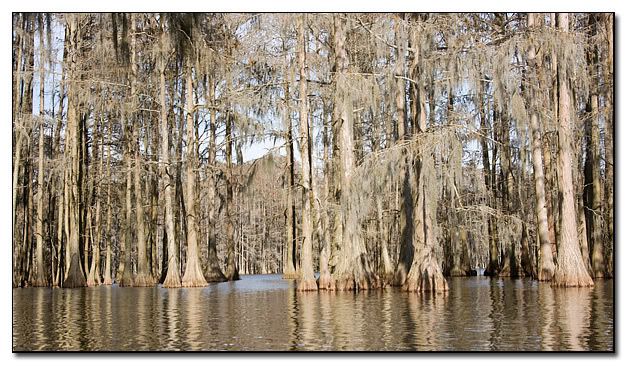 In fact, the entire lake is bordered with cypress trees. Early on in this trip a male wood duck swam to the shoreline and very slowly and calmly disappeared into the brush as I got close. I was hoping to see more and get some photos but that was the only one I saw.
An osprey flew directly overhead, checking me out.

There is a grassy area near the "Munson Slough" part of the lake, and that is where most of the gators like to lie in the sun on the banks. It's interesting how they always look like they are smiling. Here's a happy fella: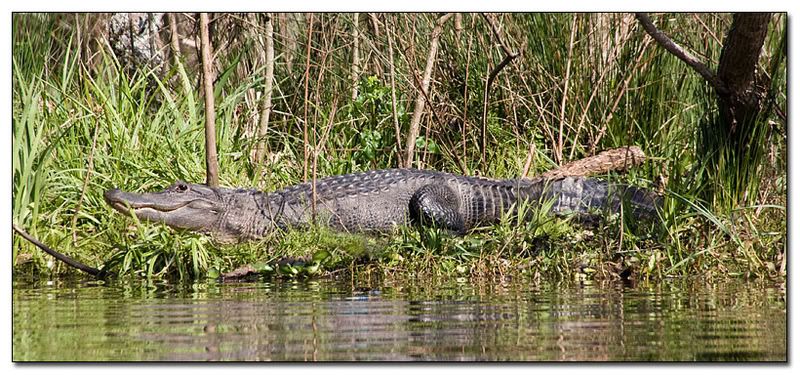 Just beyond that gator was a much larger one. I had him in the viewfinder when he saw me and made a dive for the water, which looks about like this (I think you can see his gray tail at the left)--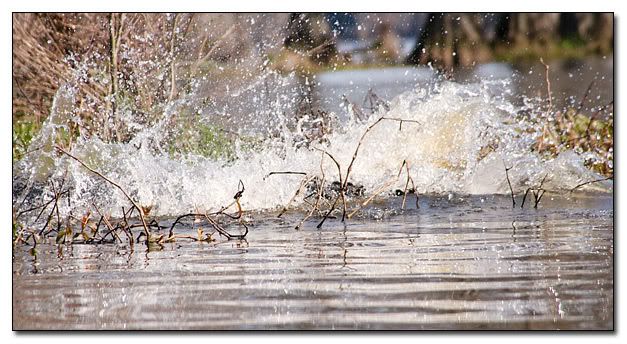 The splash startled a great blue heron that I had not seen, and it left.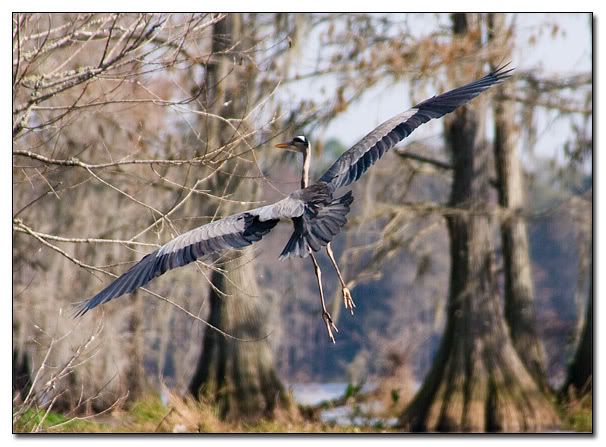 As I came around a bend immediately after that, I saw a wood stork. However, I also did not know where that large gator was, so before focusing (literally) on the wood stork, I wanted to find the gator. He popped up ahead of me, a safe distance away.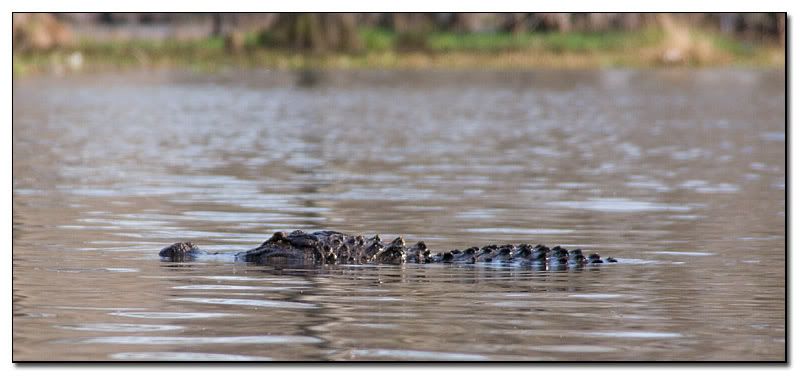 On to the wood stork.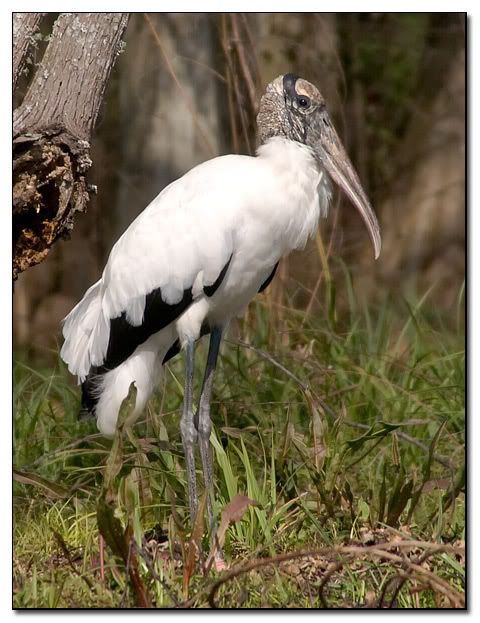 Such beautiful bodies and such, well, not beautiful (to me) heads... Normally these are pretty complacent birds but this one surprised me by taking off as I went by.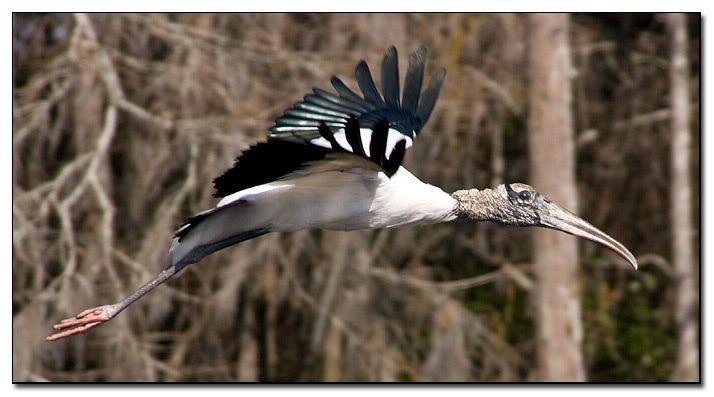 ---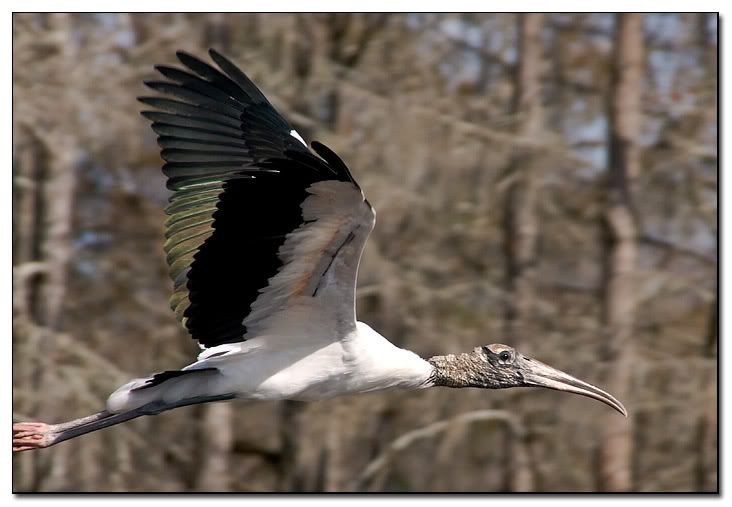 I continued around the lake as the sun got lower and the shadows a bit longer. In one of the fingers I spotted this great blue heron perched high up amongst the cypress trees.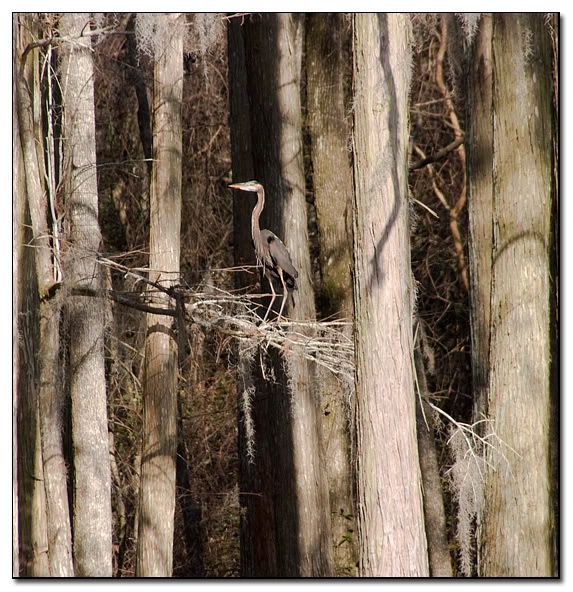 A little later, in a somewhat populated area of the lake, I saw a limpkin. It was eating a snail when I came upon it and continued to search for more as I passed by fairly closely.
As I was getting closer to the boat ramp, I saw a great blue heron fishing near the edge. The huge cypress trunks can make even a great blue heron seem small.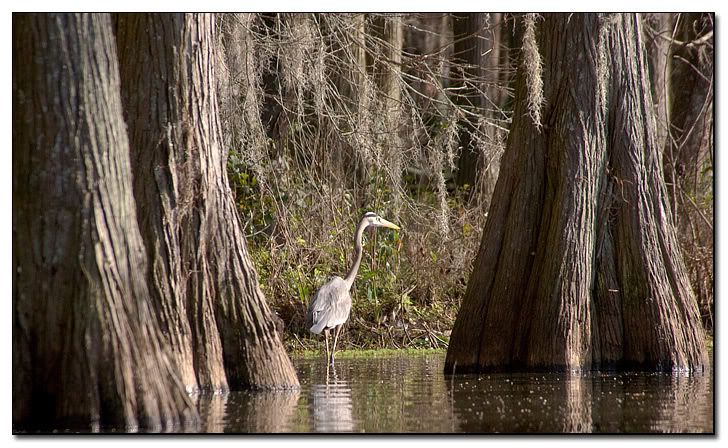 That one didn't see me as I passed by since the tree trunks hid me most of the way. Until I got past the trees...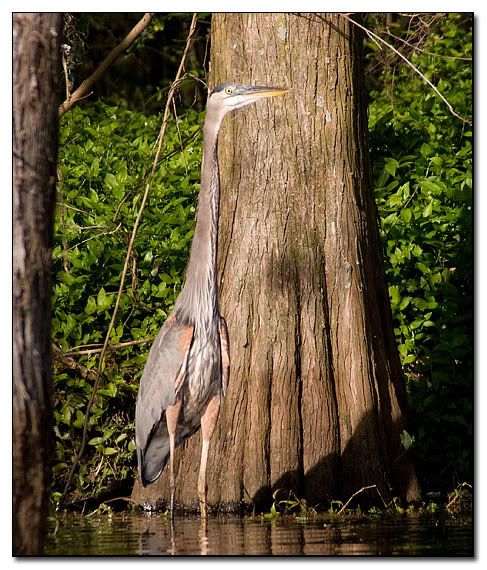 As I was pulling up to the boat ramp I looked back at the lake. I was looking into the sun at a line of cypress trees. These trees aren't very colorful right now to begin with, and less so in that lighting. Hmmm, I thought, looks like a black-and-white photo... While I was processing these to post, I decided to turn it into a gallery print, just for fun.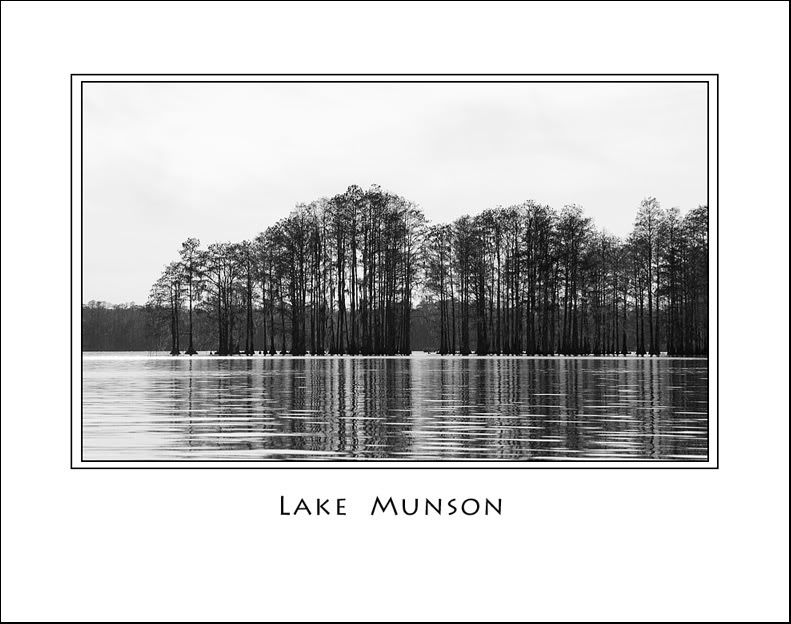 This lake is not good for paddling in the heat of summer, when the water turns bright kelly green from the algae bloom. Now that I know where to find the great blue herons, I'll have to get back here again before summer.
I'll post again after the next paddling trip. Stand by.