Sometimes, if you stand on the bottom rail of a bridge and
lean over to watch the river slipping slowly away beneath you,
you will suddenly know everything there is to be known.
~ Winnie the Pooh
Little by little the trees are popping out green leaves. It's beautiful! I'm a little surprised that there aren't more birds on this river yet; maybe we just need a few more warm days. This day was warm and a bit breezy. I was back in the Mystic. I love the new Manitou but not for wind and/or current (and nothing will ever take the place of the Mystic!).
I came to this limpkin. They don't have webbed feet and are not designed for swimming. I'm sure it was just walking along the bottom, but from my vantage point it looked like it was swimming, duck-style. That was kind of different...
As always, the egrets are out and about along the edges of the river. This one may have thought it was camouflaged in the tall grass. I don't think anything but a snow drift would effectively camouflage an egret.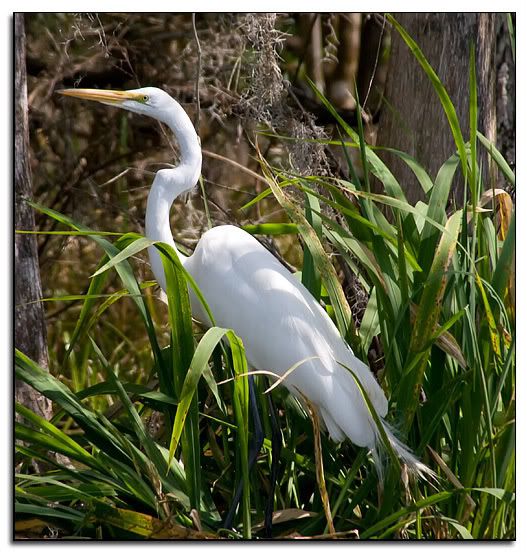 As I got closer, it must have figured out that it was quite completely visible, and off it went.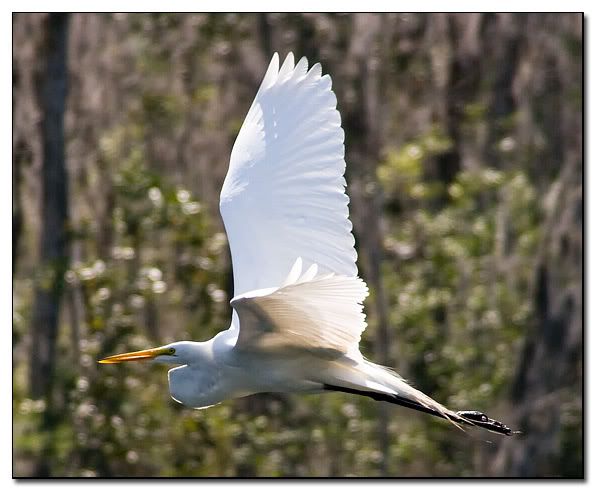 I continued on toward Blue Spring. As I turned into the inlet, I heard a very loud screeching sound from the direction of the spring. It sounded like a cross between a limpkin and a heron, it was quite eerie to hear. I continued to paddle toward the spring. Hmmm, I recalled that gator that has been hanging out there for a very long time now, I wonder if it has captured something and is in the process of eating it alive...
As I got within sight of the spring, I discovered the source of the shrieking. There were four paddlers at the spring, one of whom had brought his or her baby along. Perhaps this baby was a drowning victim in its previous lifetime and that's why it was making such a commotion. Or it was trying to say "Hey! There's an alligator
right over there
, you guys!" Anyway, I turned around and left and continued on downstream.
There are a few little blue herons here and there.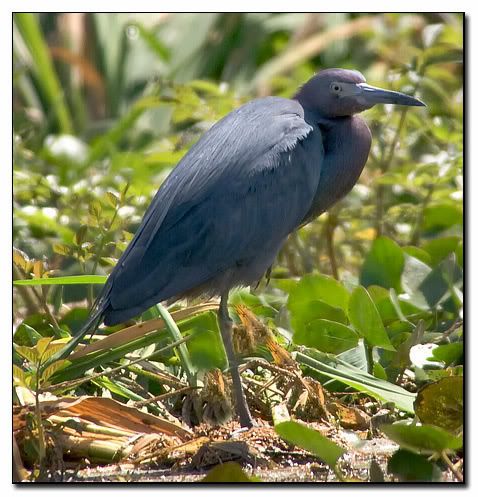 I did not see as many ibis as usual, only this one about two miles downstream.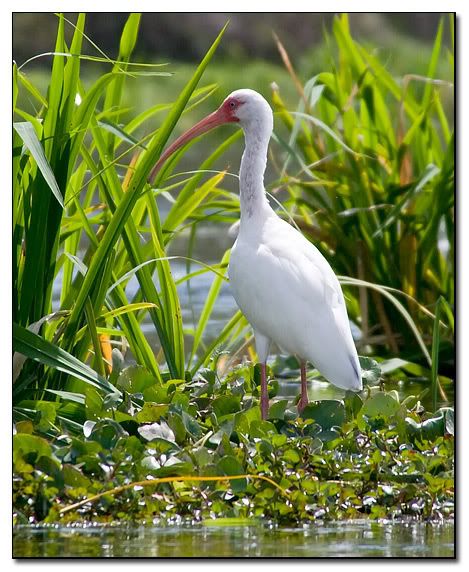 As I was deciding to turn around, a little north of the Calico Hill boat ramp, I spotted this pair enjoying the sunshine.
That was a good place to turn around so I decided to circle the rocky area where they were settled. The turtle dove into the water as I passed by. I rarely take photos of cormorants any more but this one didn't move as I got closer and closer so I decided to grab the opportunity for a picture.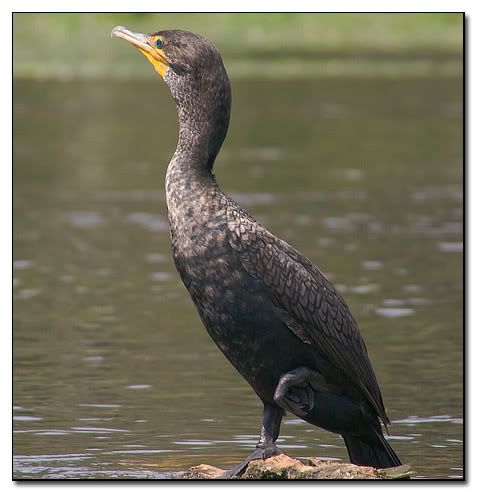 On the way back upstream I startled an egret I had not noticed behind a reedy tussock.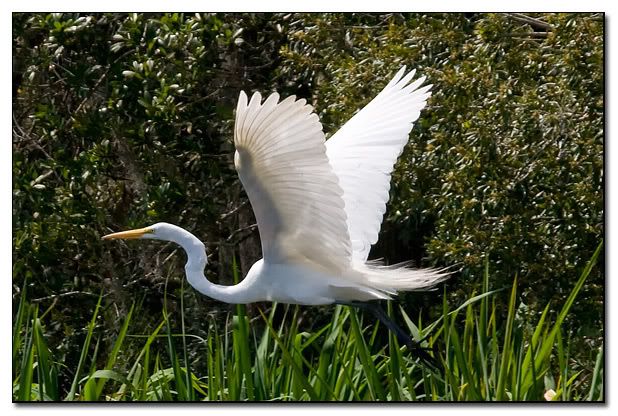 You know, I am partial to wings-up photos of birds flying, and almost all the flight photos on this blog are of that variety. When I was in Cedar Key recently, I went into a gallery filled with assorted arts and crafts by local artisans. One person offered several egret pictures, mostly paintings on very thin sheets of wood, matted for framing (they were really nice). In all of his paintings of egrets flying, the wings were down. In case any readers out there prefer that perspective, here's the same bird a second or two later: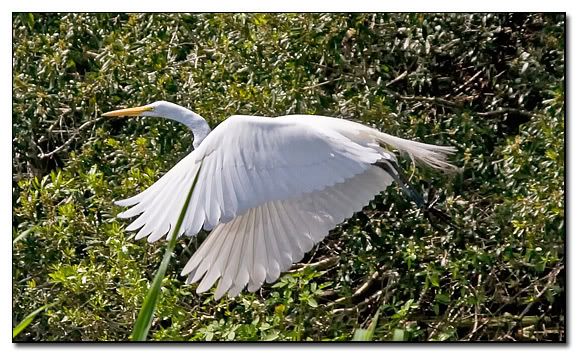 When I got back to the Blue Spring inlet all was quiet so I decided to go in again. I got about as far as I did the last time.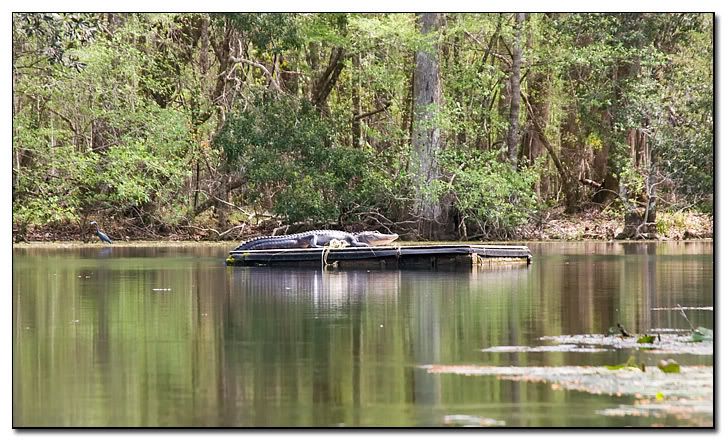 Hey, anyone want to go swimming at the spring?
I left him there on the swimming raft--he seemed very comfortable in the sun on the warm wood, but he was vulnerable that far out of the water and I knew if I approached he'd just leap back in. Why bother him? (And it's always nice to leave a photo op like that alone for the next person with a camera!) I'm wondering if the FWC people will attempt to relocate him when school lets out and swimmers start showing up at the spring.
On the way out I passed a baby gator, couldn't have been more than two feet long, sunning in a less exposed spot.

I had only seen one great blue heron all day, and that one only when it was flying across the river far in front of me. I have often had luck finding them near the small spring that is upriver of the ramp area, so I paddled up there. No great blue herons, but I was thrilled to see the first snowy egret that I have seen on this river this year! Hopefully they will be back in their usual numbers soon. It was still breezy.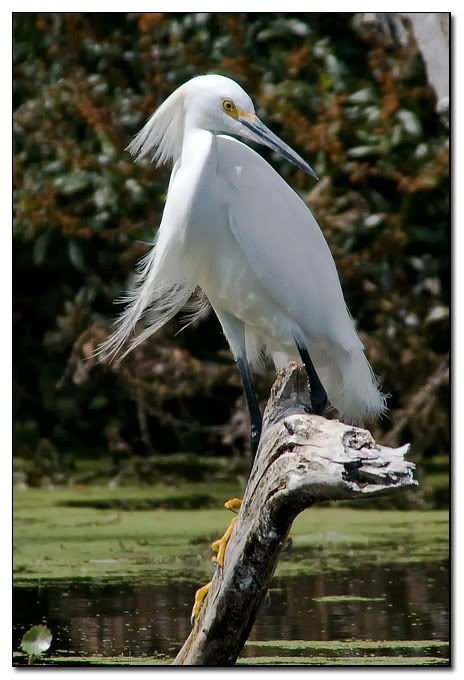 I look forward to getting back here on a non-windy day (although I love it when the wind blows the plumage like in the photo above!). I'd like to get back out again this week if the weather permits. Next week I have reservations for a non-paddling camping trip.
Stand by.