A wonderful bird is the pelican
His bill will hold more than his belican.
He can take in his beak
Food enough for a week,
But I'm damned if I see how the helican.
~Dixon Lanier Merritt
-and-
...I love this town
That's why I keep coming around.
~Jon Bon Jovi
I got to go back to Cedar Key, possibly my favorite place to visit. I stayed at Natures Landing again, this time on the third floor, which gave me a fantastic view of the backwaters and the non-stop bird show that is put on there. Non-paddling photos are here on
Photo Miscellanea
.
As for this post, some are from my paddling excursion and some are from walking around, but appropriate for this blog nonetheless.
The first set I want to show is from my observation of a pelican from the end of the boardwalk that leads from the condo property.The pelican hovers in the air and spots a yummy fish below.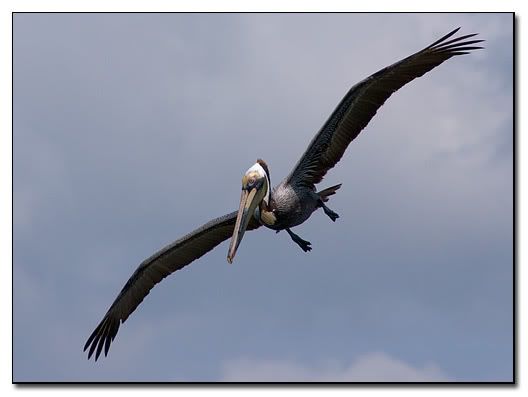 It divebombs in to get it,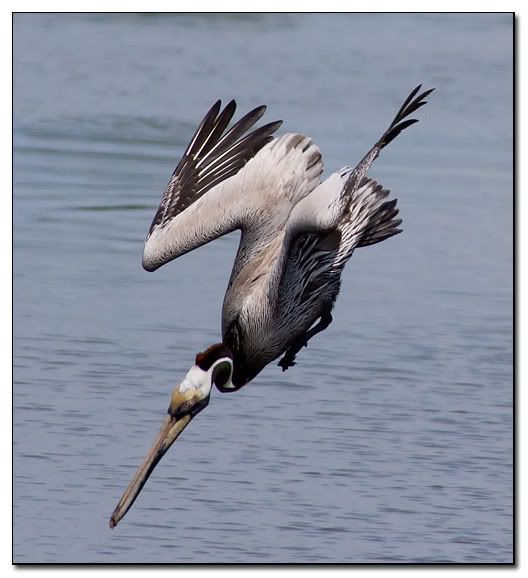 and slams into the water.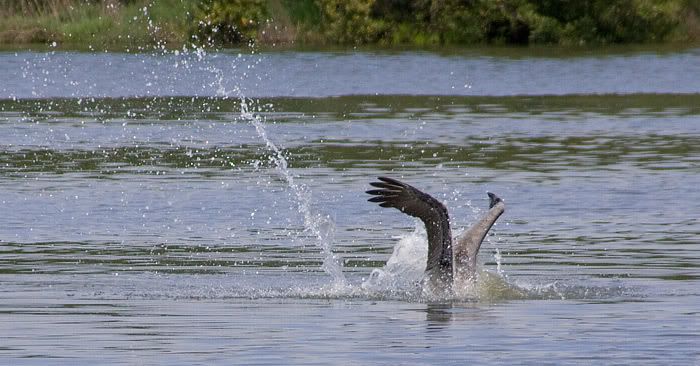 How wonderful! Lunch!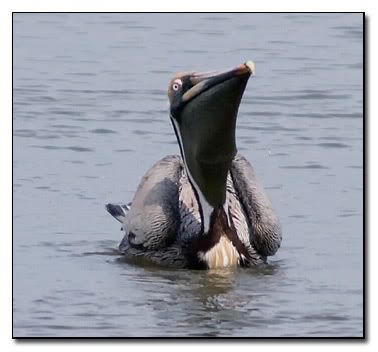 Time to go. Possibly not the most graceful bird on takeoff.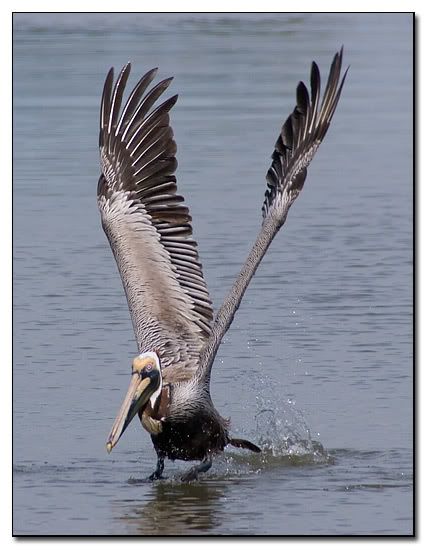 Get the wings going for lift...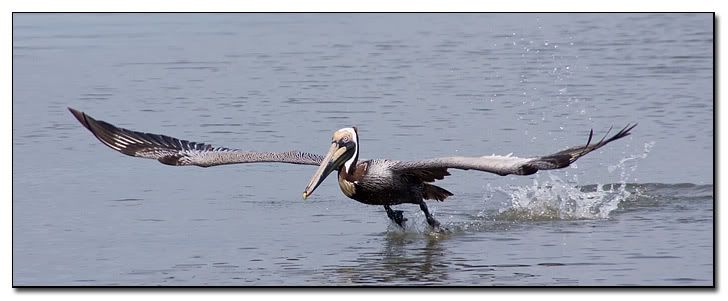 And it's aloft!

And off to look for more fish.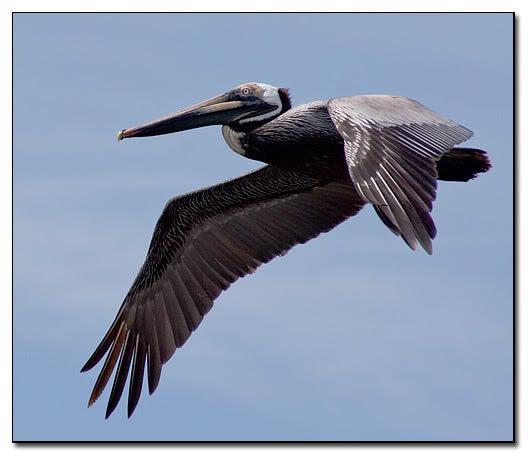 And I also am off to go paddling later that day. I hear an ibis but don't see it. Ah, there it is, high in a mangrove tree: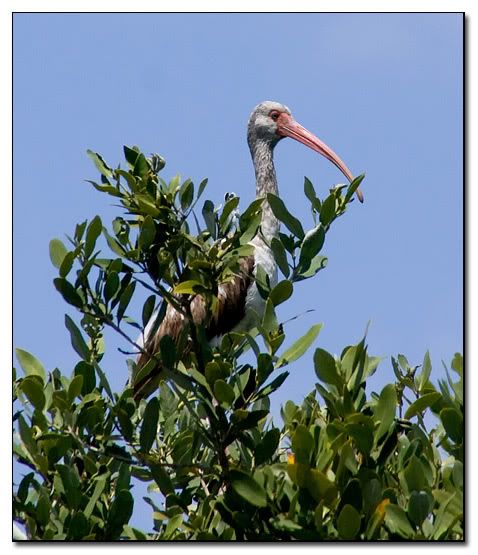 The paddling here is excellent, lots of little inlets and coves in the back bay area to go into--this worked out well on this day since it was a little too breezy to tackle the Gulf itself. I enjoyed the scenery and tooled around here and there. I saw a couple of people in a canoe and otherwise had the water to myself.
As regular visitors to this blog may have noted, I have long had the goal of encountering
roseate spoonbills
in the wild. I saw my first ones at the Homosassa Wildlife Park a year or two ago and have never seen one outside of a park enclosure. The more people I have told about this goal, the more photos I have been sent of their sightings, even in some areas I frequent. I wondered if I would ever get to see one not at a park.
I was sitting on my balcony in the late afternoon of the day I arrived, talking with DH on the phone and watching the bird show going on in front of me.
Wait....
was that a pink bird that just flew by?
Could it be?
The next morning before the paddling trip described above, I was back on the balcony having breakfast and I spotted a group of at least 5, maybe 7, spoonbills high in a tree to the right of the inlet that leads to the launch area. I watched them for a while. And then I went out for my paddling trip.
After covering a fair amount of water, I was heading back to the launch area at the condo property. Hmmm...here's an inlet that seems to lead in the general direction of the tree those spoonbills were perched in. I wonder where this goes? I moved very slowly and quietly through the water. As I rounded a bend, I frightened this black crowned night heron and snowy egret (what were they up to in there?):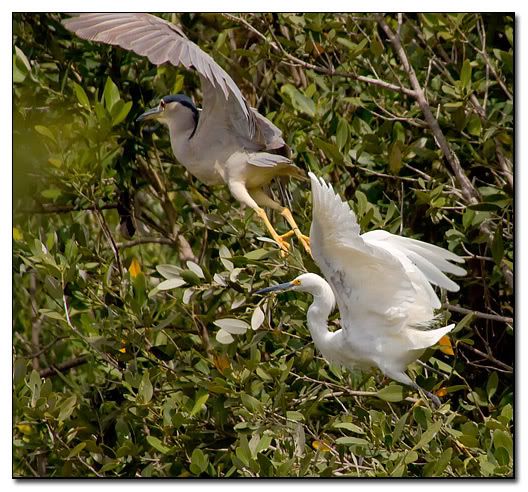 It was narrow and twisty. I heard a bird call I had never heard before. The camera came up, but the spoonbills had seen me coming.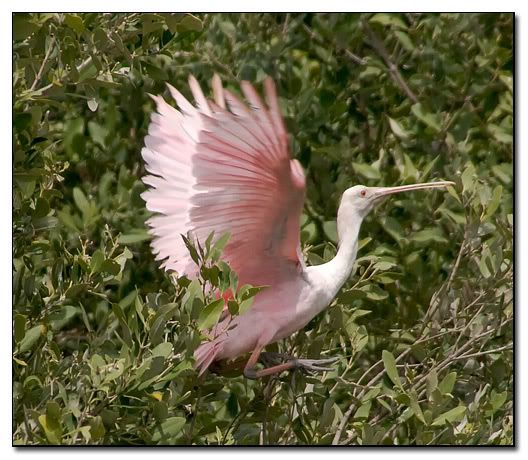 ---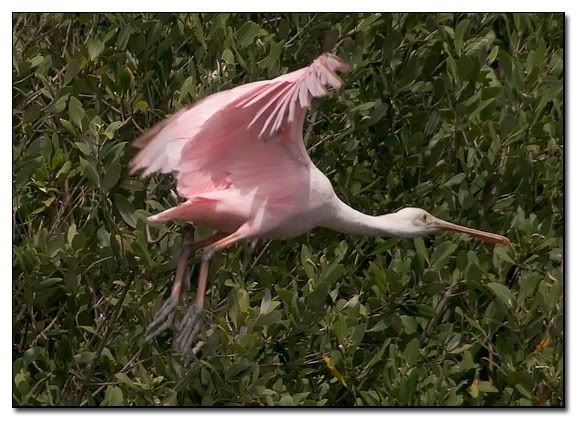 ---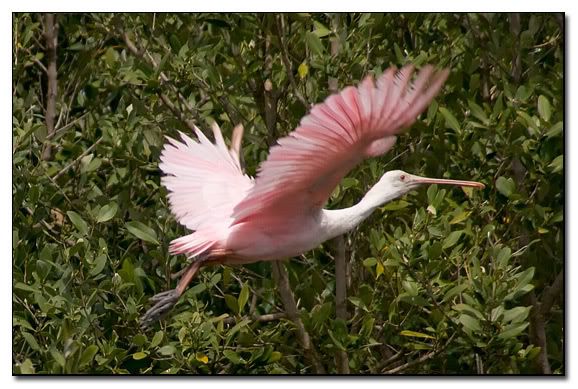 About five of them erupted out of the mangrove and took to the air. I hardly knew where to aim the camera. This one shows you the shape of their beaks, the reason they have their name: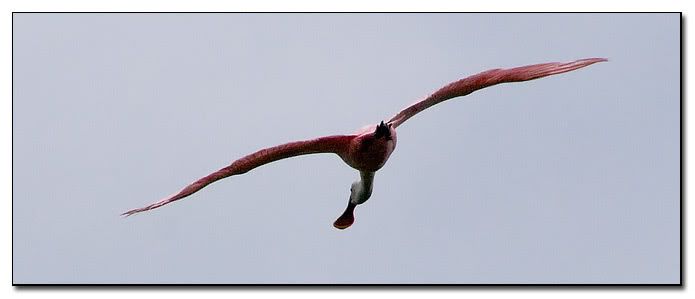 This one obliged me by flying near the blue part of the sky (thanks):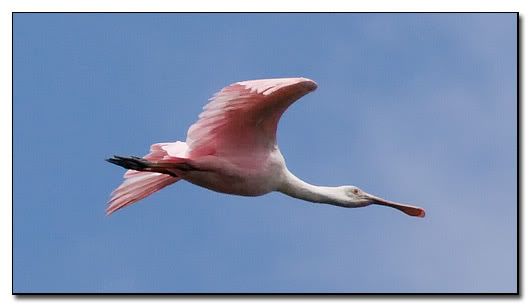 I took a few last photos as they made their way toward the Gulf and presumably somewhere paddlers won't startle them.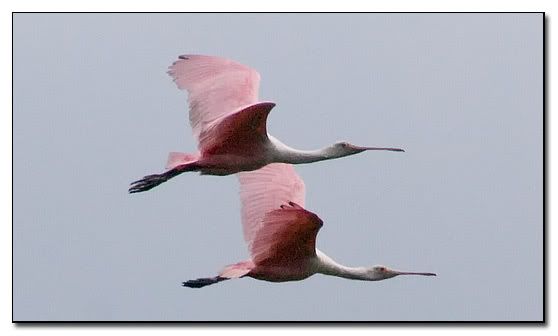 Needless to say, this was
hugely
exciting for me! I am still missing any photos of them on land. I was out on the balcony the next morning (I spent a lot of time on that balcony!) and saw the distinctive pink wings fly by and settle near the end of the boardwalk during low tide. I quickly dressed, grabbed the camera, and went down. I did in fact see one in the mudflat and I took a few photos but they did not come out as hoped. The bird saw me through the bushes and flew away. I guess getting a (decent) photo of spoonbills feeding on land is my next goal.
That evening as the sun was getting low I walked down to the boat slips/docks that they have in their little inlet. An egret flew down and walked around surprisingly close to me. These birds are very tall and so impressive to see up close on level ground. It probably came up to my chin (or would have, if I could get quite
that
close). I took this as it stood near me.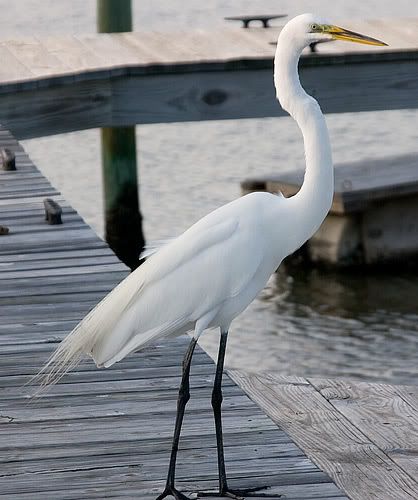 As the sun was getting lower, it crossed in front of me and stood partially in the remaining light.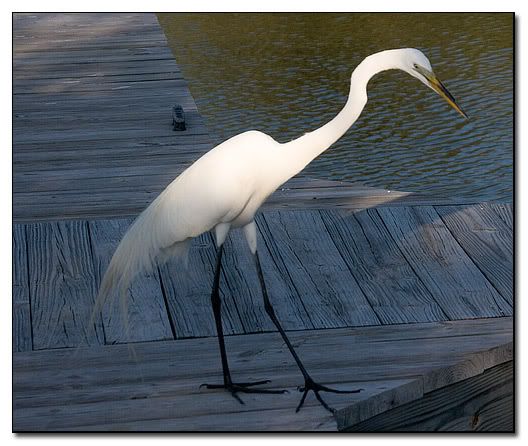 Later still it wandered to another part of the docks, a photo I decided to render in black and white since there were few colors at the time.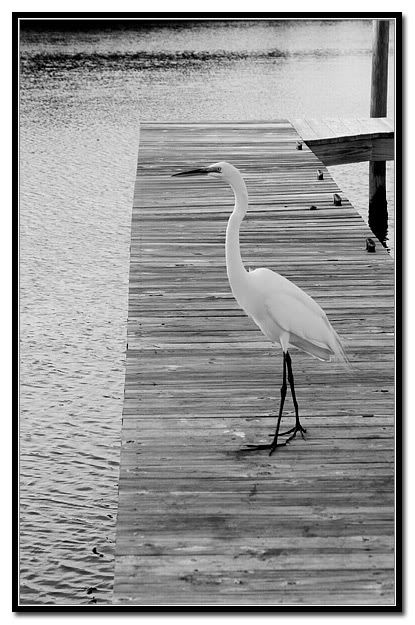 I had to leave the next morning. One more walk down the pathway before packing up and a greeting from a laughing gull.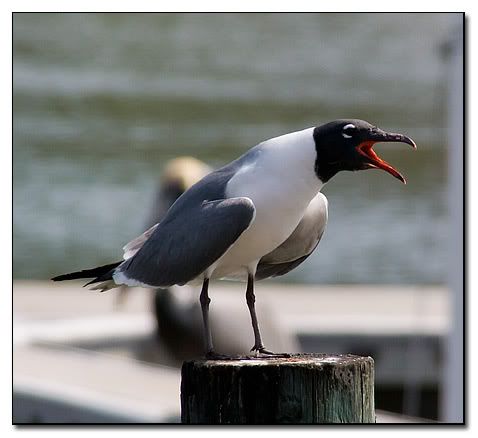 I will be returning to Cedar Key soon, it's hard to stay away from such a place. But until then I will be back to my regular paddling spots. Stand by.