Rivers are the primal highways of life. From the crack of time,
they have borne men's dreams, and in their lovely rush to elsewhere,
fed our wanderlust, mimicked our arteries, and charmed our imaginations
in a way the static pond or vast and savage ocean never could.
~Tom Robbins
We are still getting a wonderful break in the weather before the torrid heat of summer in Florida, and so I loaded up the boat and headed back to the Wacissa. I was surprised to be the only car in the lot when I arrived at about 11:00. I'm still trying to find the best new way to launch with the changes they made. This time I tried using the cart to get the boat to the normal sandy launch area, avoiding the concrete ramp altogether. It worked well.
Shortly after setting out, I saw the first wood duck babies of the day as this mother led a pair off the main river and into the reeds.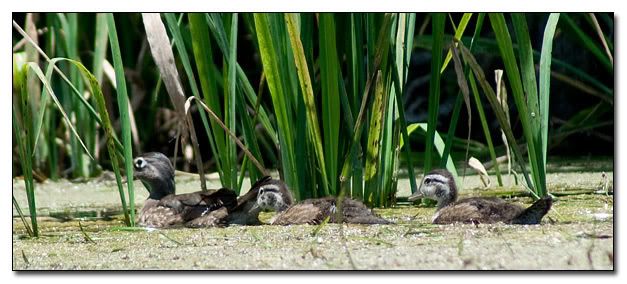 As I approached the Cassidy Spring area, I spotted this tricolored heron along the side of the river and paddled over to get a closer look.
It seemed much more interested in movement underwater than in my presence.
I watched for a while and then moved on. Look! A wood duck family out for a swim.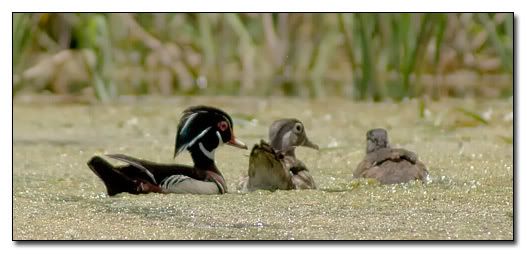 It's funny--last spring/summer I rarely saw any woodies, and this year they are showing up again.
Blue Spring was clearer than last time but still not back to normal clarity.
There were many,
many
green herons on the river on this day! Sometimes I saw two at a time in flight. For the most part they seem to stay in the grass and surface growth where the river meets the shoreline, which means they are often not easily accessible from a kayak; in some areas the lotuses and other greenery cover half the river surface--and those are difficult to paddle through when they get very thick. But then I came to this one on some branches near a clear area of shoreline.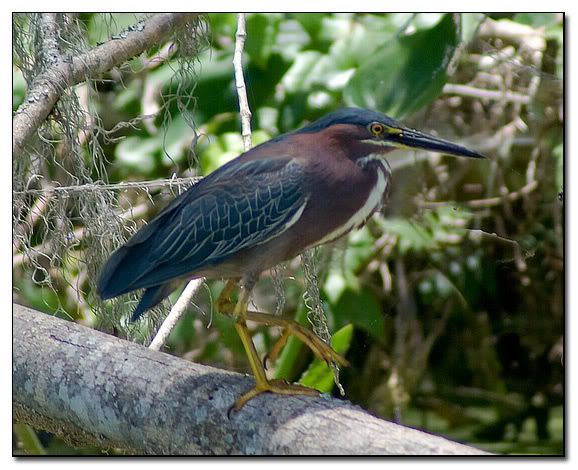 I love it when they raise that topknot.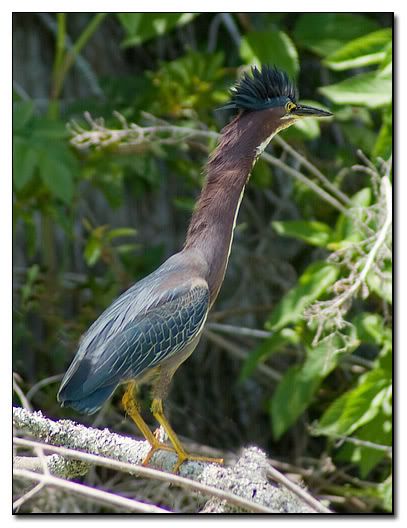 I paddled on downstream, the wind in my face but not too strong. I saw a small great blue heron standing near a vegetation island and paddled over to it. As I noticed last time I paddled this river, the small great blues are pretty timid right now. Knowing this, I didn't want to get too close. I sat still for a while. Finally, when I had him in focus for a nice portrait when he decided to go stand elsewhere.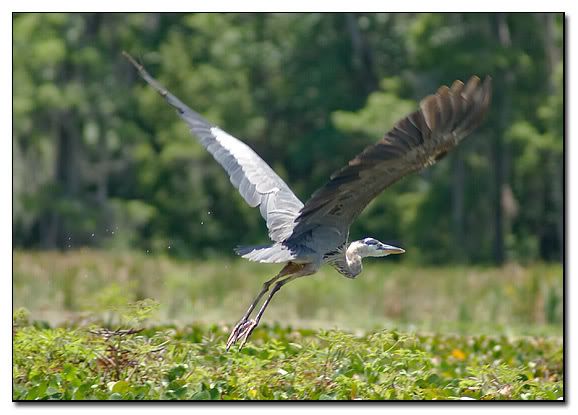 So I continued on. At about 2:00 I decided to turn around and meander back to the boat ramp. Of course, as every paddler experiences on a regular basis, the wind turned when I did, so I was paddling into it in both directions. This happens with phenomenal frequency.
I noticed an interesting thing--many of the egrets, both great and snowy, were perched in trees. I don't recall seeing quite so many off the ground in the past.
But I did pass a pretty little snowy egret on the river.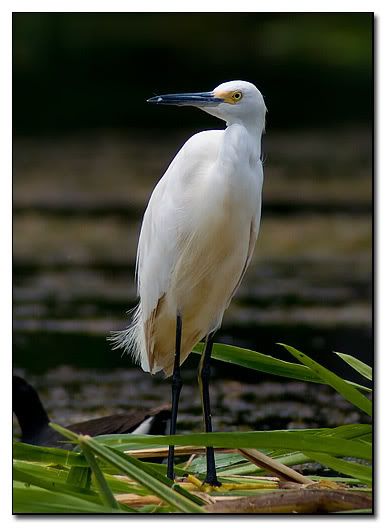 I took several photos of him before he flew off--landing a few yards away.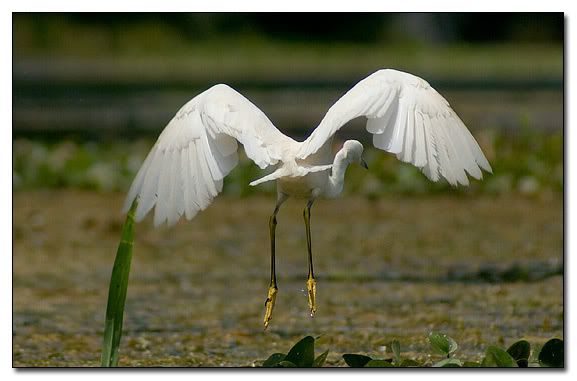 I was paddling on the east side going upstream when I spotted a male wood duck on a log on the other side of the river. I didn't think there was much chance it would stay in place long enough for me to get close enough for a photo, but I paddled slowly over there anyway. It must have been dozing since I was able to get fairly close before it saw me.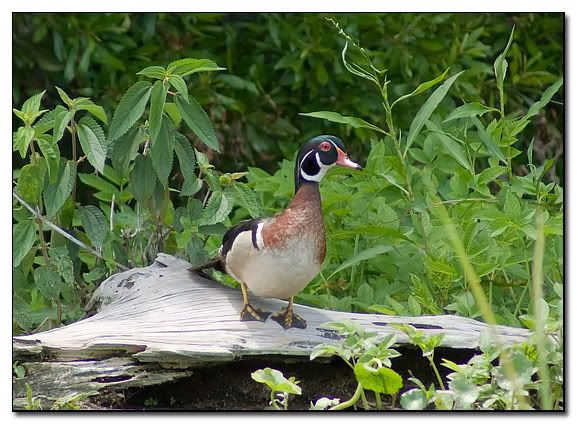 I stopped moving at that point--wanting to stay within that fine line of getting close enough for a picture but not close enough to alarm or disturb it. It didn't seem overly disturbed and stayed on the log, at one point standing up to show off its beautiful colors from a different perspective.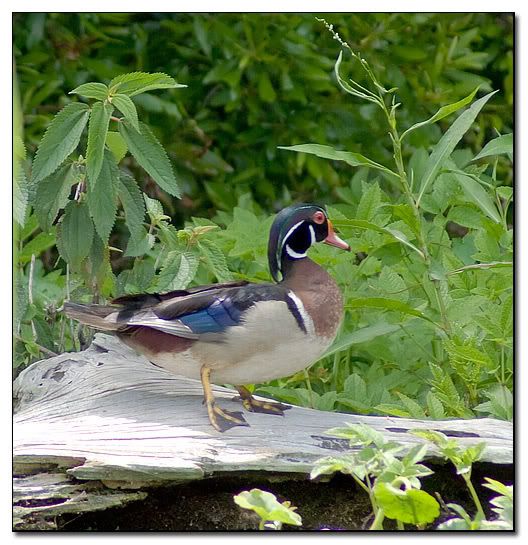 I backed away from it and left it in peace to enjoy the sunshine on the log.
Once again I had not encountered another boat for hours, but as I approached the boat ramp to leave the river, I saw several other paddlers in both canoes and kayaks. An air boat was just leaving the ramp area--good timing on my part for getting off the water! I recently read that high noise levels are very disturbing to nesting birds. Given the number of young wood ducks (oh! I also saw very small baby moorhens on this trip but could not get any photos of them) and other nesting birds, this does not seem like an ideal place for boats on which the passengers must wear protection over their ears due to the excessively high and potentially damaging decibel level. Not to mention the fact that baby wood ducks or baby moorhens or gallinules that happen to be in the middle of the river and unable to fly yet could not possibly get out of the way of a speeding air boat in time not to be mowed under; add to that the fact that these young birds are colored for camouflage, not high visibility. I worry about them.
My time on the river was peaceful and bird-filled. I'll be back out soon. Stand by.