Paint me a picture of the landscape. Dance me the dance of the waves.
Sing me the legends of the river.
~Unknown
I returned from North Carolina (photos and adventure tales are on
Photo Miscellanea
) and was ready to get back out paddling. And what a great day I had for it--warm and nearly windless!
They have made some changes at the Wacissa, effectively (for the time being) blocking off access to the preferred sandy canoe/kayak launching area, leaving only pavement and stones for launching (not surprising; the people who manage this head spring area are air boat and power boat folks and fairly clueless about the needs of paddlers). While it appears we will never again be able to drive right to the sandy launch area (which is probably as it should be, since that's the grassy area where people hang out during the summer), once they finish what they are doing, it may still be possible to drag a boat across the grass to launch in sand. They have covered all the sand next to the top of the boat ramp with large rocks, creating a problem for many kayak hulls (I could see no point in covering the sand with rocks...it was not eroding and gave us a place to enter and exit without having to drag across pavement) (but it's still just fine for air boats, which is the important thing). I guess we'll see what's what when they finish their project.
I decided to take a picture of the Mystic since I have not posted one for a while. This is #1 boat, I'm in the 4th year of paddling it and can't imagine a better boat for me.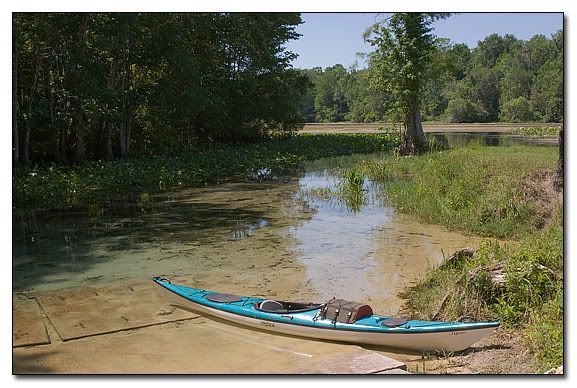 (The new rocks are out of the photo in the foreground.)
Off I went. This limpkin was hanging out near the boat ramp.
I heard the distinctive roar of a gator within a few minutes of launching--this is their breeding period. I don't recall ever hearing that on this river before. It's a very eerie sound.
The snowy egrets are back along the edges near the top of the river,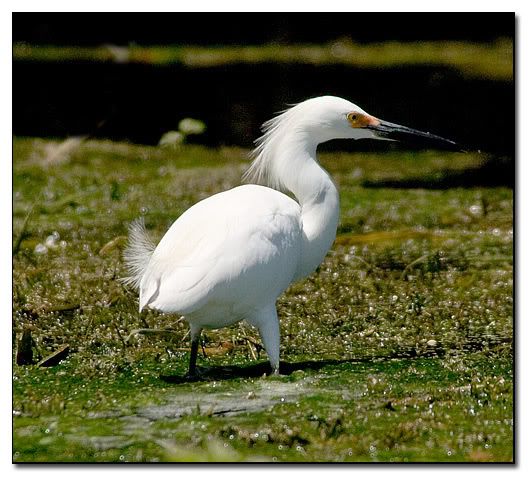 as are the tricolored herons.
About two miles downstream I came to what I believe are the same two baby wood ducks pictured here before--still with no adults in sight. It seems they are doing all right for themselves so far...
---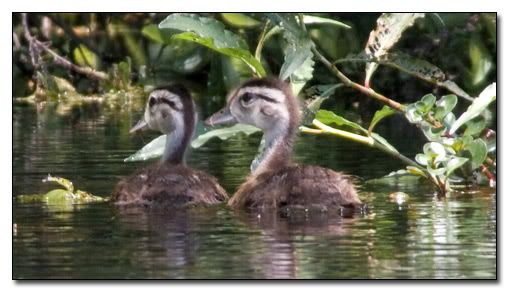 Of course there are egrets...and of course I can't help photographing them! I haven't gotten a photo of one staring right at me for a while, and I love it when they do that. Such a regal bird can look so goofy head-on.
I guess that one didn't like my being so close and so it took off. It didn't fly far, just a bit ahead before landing again.
---
---
---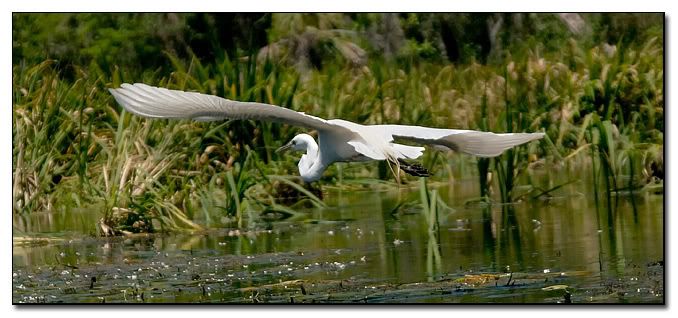 ---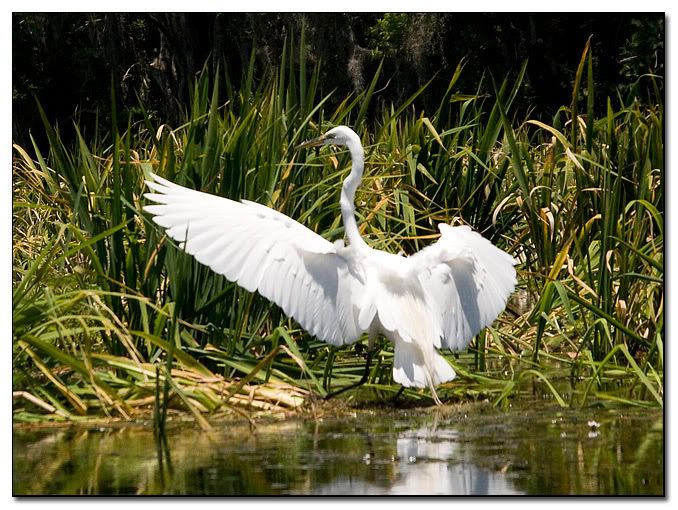 As I was paddling through the area where the moorhens and gallinules hang out, I saw this gallinule. I thought it was going to give me one of those comical runs across the surface but it opted to fly instead:
---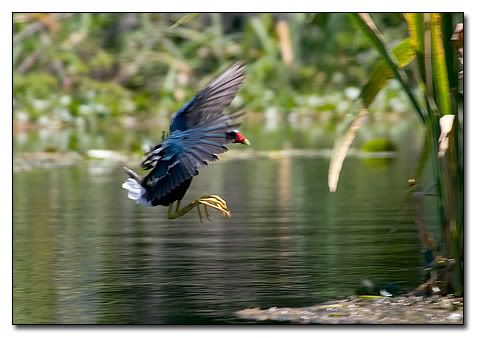 I turned around shortly after that. The lotuses are blooming here and there on the river and I began to paddle toward one to get a photo. And guess what was next to some reeds?
Finally!
A green heron!
First one of the year, and the only one I saw on this day. I continued on to the lotus.
The trip back upstream was uneventful and simple, with only an occasional light breeze blowing toward me.
Perfect
paddling weather.
Shortly after passing Cassidy Spring I spotted this great blue heron (the only one of these on this day as well) along the river's edge.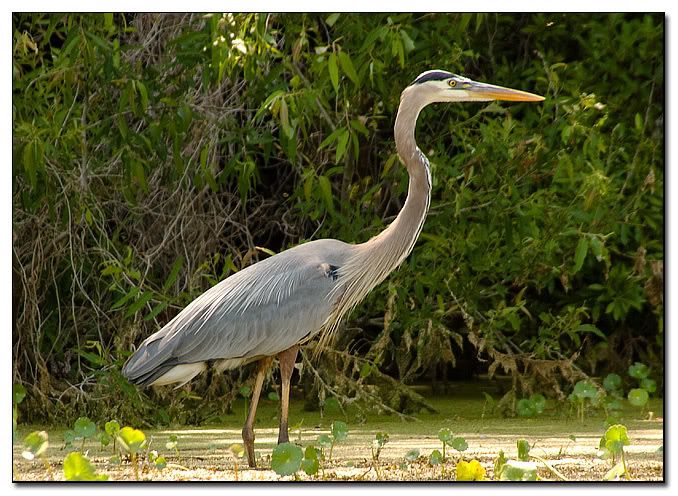 Just past the heron I saw a yellow crowned night heron swoop into a tree from across the river. I pretty much chased this bird back and forth across the water for quite a while. This is also the only yellow crowned night heron I saw this day--and the first one I have seen for a long time. Lots of black crowned ones, but these have been oddly absent. The plume on the back of its head was unusually long, perhaps it is part of the seasonal breeding plumage. These are such impressive birds, and not typically as shy as this one.
I was out for a little over four hours. Nice to be back. I hope to get out paddling again soon to take advantage of our relatively balmy weather before the heat of summer sets in. Stand by.